There are many great survey sites and GPT sites (Get-Paid-To) that are worth joining and that can make you some extra money.
SurveyDen is one of the sites that claims to have amazing opportunities.
But is SurveyDen a scam or really a great platform to join?
I have looked deeper into it, and let me reveal right away that it is definitely not one of the sites I recommend joining. But do not just take my word for it.
In this SurveyDen review, I will tell you exactly what I found during my test and research and share all the signs on the site that make it a site I think it is best to stay away from.
After this info, you will be able to judge for yourself, if it is a site you want to join or not, but then at least you will have a better idea about what you are getting into.
What is SurveyDen and what does the site offer?
This is not much information about the owners and the company behind on SurveyDen's website.
All you can see is that it supposedly offers several ways for you to earn. So let's start by going over the opportunities that are offered on the site.
Option 1 – Reading emails:
One of the methods you can earn on SurveyDen is by reading emails. It does not say much about this option on the site but there is a box that describes each of the options.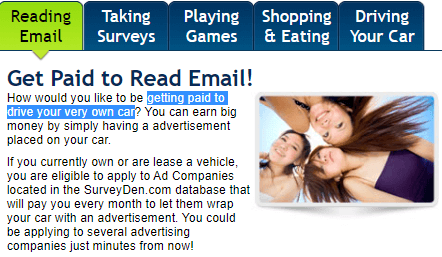 The box that describes the email option does, however, have the same text as the box that describes how you can make money by driving your car.
This seems very strange and this error has been there for years as I first looked into the site several years ago and it also had the error there. So it is clear it is not really a site where they pay attention to details and update it.
And having the wrong description is just one of the many inconsistencies I found on SurveyDen.
Option 2 – Taking surveys:
If you join SurveyDen, the site claims that you will get access to a large database of paid surveys. It is very possible that you will get a list of surveys, but I cannot say for sure, as I have not joined myself for the reasons I will explain later.

But one thing is for sure – it is very unlikely that you can make up to $175 per hour doing surveys as SurveyDen claims.
I have taken thousands of surveys and joined many sites, and this is just not a realistic expectation.
There are sometimes surveys that give a really high reward. Especially for certain groups of people. For example, do sites with special surveys for doctors often have very high rewards.
But I have never seen or heard about anyone getting this much an hour and if you expect this, you will surely be disappointed.
Option 3 – Driving your car:
This is a way to make money I have not seen on any other survey or GPT site. It says that you can make money by having companies put advertisements on your car.
Through SurveyDen you will get access to applying for this. It does however not mean that you will actually be able to do it or get approved. You will just get access to a list of companies where you can apply – something Google can probably also do for you.
Option 4 – Playing games:
Getting paid to play games is often a way to earn on the top GPT sites.
SurveyDen does, however, claim that in just a few minutes, you can start earning a full-time or part-time income just from playing games.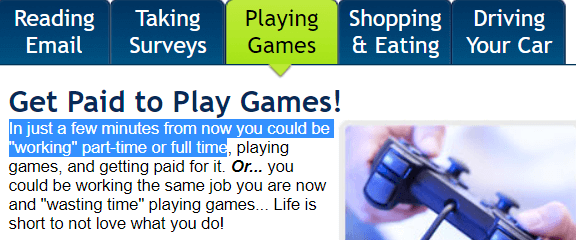 Usually, the rewards for playing on sites like this are not very high, and mostly a way to earn a little extra, if you enjoy playing the games anyway.
There are of course people that are making a living by playing computer games, but they have usually practiced for years. It seems very unlikely that you will suddenly be able to just sign up for SurveyDen and then make a living from playing games there, right?
Option 5 – Shopping:
SurveyDen says you can earn money by shopping in malls and eating in restaurants if you sign up. It does however not clarify further how this is possible.
I always get suspicious when a site makes claims but does not give much information. In my experience, if it seems like a site has something to hide, it is often because the reality does not live up to the promises.
It is true that at some sites you can sign up to become a mystery shopper and get paid to test shops. And some sites like for example SwagBucks have great cashback offers if you shop through their portal, but it is not exactly like getting paid, as it is more a discount you get.
SurveyDen does not mention further how to earn by shopping, or if it is by signing up as a mystery shopper, giving cash back offers, or something else.
As you can see, supposedly SurveyDen has quite a few ways to help you earn money. But before rushing off to sign up, please continue reading and see what you have to be aware of before joining.
What does it cost to join SurveyDen?
Yes, it costs money to join SurveyDen. In general, it is always a bad sign, if you have to pay to join a survey site or GPT site.
At first, you cannot see that it cost money to join. You can just see that you have to put in your email to sign up like you have to do with all survey sites.
After you have put in your email, you will then be taken to a site with the joining fee.
There is a special offer that says that the usual price for a lifetime membership is $69.95, but there is a special joining offer until a certain date, where you can join for only $34.95.
The date where the joining offer expires does, however, keep changing. It will be the day when you enter the site, and I have tried to go to the site on many days and also checked it several years later, and the date is always the date where I visit the site.
It is a trick to create a sense of urgency and creating a "special" offer so you sign up right away before you can think about it. So if you decide to join, you do not have to hurry – I am sure the "great" offer will still be there a few days later if you still want to pay to join.
Is it worth the money to join?
In general, I would say that it is never worth paying to join a survey site or GPT site. I have never heard of any good experiences with joining the paid ones.
Joining survey sites or GPT sites should be free, and if you find a site that charges a joining fee, I would suggest looking around for another site, unless you personally know somebody really well that is a member and can show you that it gives good opportunities.
But I honestly doubt you will find this and be very skeptical if someone claims something else.
But what about the great testimonials?
Testimonials can be a great way to see what other people think about a certain service or platform. The problem is however that it is difficult to check if the testimonial is real and by a real person or just made up.
On the bottom of SurveyDen's website, you can see 2 testimonials with pictures. It is a picture of an elderly couple (Mike & Jenny) and one of a young woman (Crystal).
I decided to take a closer look at these testimonials by running the pictures through an image recognition tool that can scan the web to see where images occur all over the web.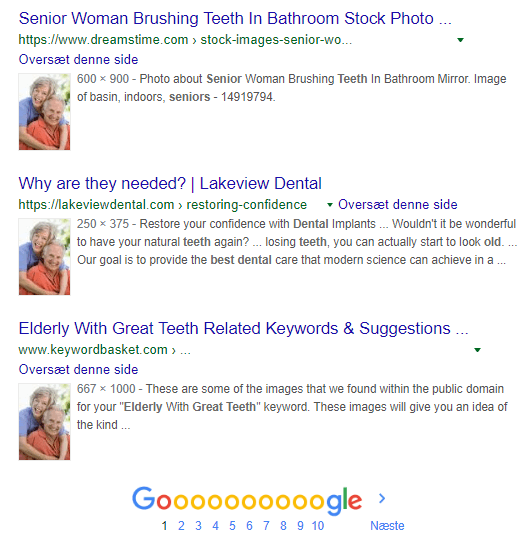 I found out that the picture of the elderly couple is a stock photo and is used on many websites. The picture of the young is from a photographer's website from the portfolio and is a picture of an actress called Danielle – on SurveyDen her name is Crystal.
After looking into this, I do not feel that the testimonials on SurveyDen are worth much and it is a very bad sign when a survey site uses stock photos for testimonials like this, in my opinion.
Red flags to be aware of
As you have already seen, there are several things I believe should raise a red flag about SurveyDen.
But let's go over the most important warning signs in a structured way, so you will get a better overview of what to be aware of before joining.
Red flag #1 – It cost money to join:
The first big red flag is that it cost money to join. As mentioned before both in this review and in many other articles on my site, you should never pay to join a survey site.
All survey sites that are worth joining and actually give you opportunities to earn by sharing your opinion will be free.
Red flag #2 – The price is "hidden":
One thing is that it costs money to join. Another is that on the front page, you cannot see that it costs money, and it just looks like you can sign up with your email.
When a company is trying to hide the cost like this, it should raise a red flag.
Red flag #3 – Exaggerated income claims:

On the front page, there are some examples of what you could make. For example that you can earn up to $175 per hour doing surveys, which is not realistic.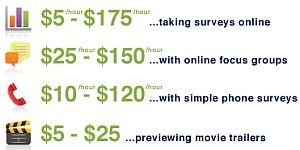 Also, you can supposedly earn up to $25 per hour watching movie trailers.
It is true that some sites pay you to watch movie trailers and other small videos, but this is usually a very low paying task, and I have never seen any videos even come close to this income.
That the income claims are so exaggerated should raise a red flag.
You can make some nice extra money from doing surveys, watching videos, etc. but if a site feels the need to make claims like this to get you to join and pay to join, I would stay away from it.
Red flag #4 – Testimonials are questionable:
Testimonials are great, but when what seems to be untruthful pictures are used, it makes you question why.
Maybe the site does not have any real happy users? No matter what, using images like this is not honest, and it adds to the distrust of SurveyDen, in my opinion.
Red flag #5 – No information about owner:
You cannot find any real information about who is behind the site. The site is just signed by "Jamie".
If there is no real information about the owner or who is behind the site, it should raise a red flag.
Red flag #6 – "Special" offer for you:
The special offer is not really special. It updates automatically and tries to create a sense of urgency whenever you enter the site.
Trying to push you into paying a joining fee this way is another warning sign.
Red flag #7 – The disclaimer:
The income potential sounds great and there is a money-back guarantee, so what is there to lose?
Well, make sure to read the small print in the disclaimer. It says:
There is no guarantee that you will earn any money using the techniques and ideas and this product. The level of success in attaining the results claimed in our materials depends on the time you devote to the program, ideas and techniques mentioned, your finances, knowledge and various skills.
I think the disclaimer speaks for itself!
Final verdict
Usually, I make a list of pros and cons in the conclusion of my reviews. But I honestly do not think SurveyDen has any pros and all the cons you can see in the warning list above.
In short, it is a site that is full of red flags, in my opinion.
Yes, it is possible to make some extra money by taking surveys and on the other ways SurveyDen has on its site, but you should never have to pay to join a site that offers it.
If you are interested in making money this way, there are plenty of great and free survey sites you can join in your country.
If you have any questions, any comments, or any experiences with SurveyDen yourself you would like to share, I would love to hear from you in a comment below.