Angus Reid Forum is a survey panel that claims to pay you for answering surveys.
It is one of the more popular survey sites in Canada. But is Angus Reid Forum legit?
Well, let me just tell you right away, yes, Angus Reid Forum is a legit survey site.
But that doesn't automatically mean you should sign and become a member. You have to figure out first if this site provides good opportunities and if it will be worth your time.
This Angus Reid Forum review will tell you everything you need to know about this survey site so you'll know exactly what to expect so you can decide if it is for you or not.
So let's get this review going.
What is Angus Reid Forum and what does it offer?
As mentioned, Angus Reid Forum is a survey site that will pay you for answering the surveys they offer.
Here's where the background of Angus Reid Forum gets a bit confusing. Apparently, the previous members of this survey site have been migrated to a different survey site called Maru Voice Canada.
The current members of Angus Reid Forum are the previous members of another survey site called Your Insights. The important thing though is, Angus Reid Forum is still operational and a survey panel on its own.
In order to get a clear picture of what this site has to offer, you have to understand how to earn from Angus Reid Forum.
So let's take a look at the earning opportunities it presents.
Option 1 – Angus Reid surveys
Since it is a survey site, you can expect that the bulk of the rewards you will accumulate will come from answering paid surveys.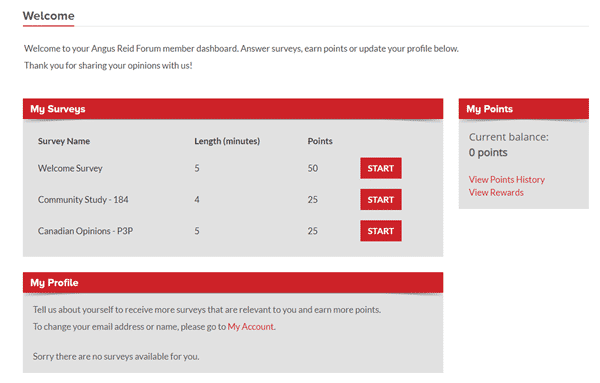 Once you've finished the registration process, you can then log in to their member dashboard (as shown in the photo above) and see all the available paid surveys you can take.
You will also receive an email with survey invites when there are new ones available. So if you are unable to access their member dashboard for some reason, you can check your email to see if there are any available surveys you can take.
There will be two types of surveys available.
They have what they call the "fun" surveys and the longer paid surveys. The "fun" surveys are shorter in length and will usually just take around five minutes to complete.
When you complete a "fun" survey, you will receive an entry to their prize draw where you will have the chance to win gift certificates from Amazon.ca.
The longer paid surveys, on the other hand, are the normal surveys you would expect from survey sites.
These are the surveys that will allow you to earn rewards that will be redeemable through their payment/rewards center.
You will have to answer pre-qualifying questions so that they can determine if you belong to the demographic the survey is targeting.
Once they determine you are qualified, you will then proceed to the actual survey so you can earn the reward promised. If you don't qualify, you will then be informed. However, they don't mention what happens if you don't qualify for a survey.
As you can see in the photo above, you will immediately know how long the survey is and the reward you will get for completing it. This makes it easier for you to prioritize which surveys to take.
Just be aware that there will be limited number of the longer paid surveys. Sometimes maybe only 1-2 per month. So it is not the survey site with the most available surveys.
Option 2 – Prize draws
As mentioned, answering the "fun" surveys will earn you an entry on their prize draws. There isn't much information on their website about this though.
The only information I could find is the prize you get if ever you win, which is an Amazon.ca gift card. But they are not clear about how often these prize draws take place.
Anyway, you can't really rely on this type of earning opportunity because it will solely be based on chance.
It is, however, a nice bonus chance for answering surveys that won't really eat up a lot of your time, in my opinion.
How do you get paid?
Angus Reid Forum uses points as the currency on their website. For every paid survey you successfully complete, you will earn a specific number of Angus Reid points.

As you can see in the photo above, you need to reach 2,500 points (which is equivalent to $25) before you can start exchanging them for rewards which is a little high, in my opinion.
Once you reach the payment threshold, you have the choice to either redeem it for an Amazon.ca, Best Buy, Boston Pizza, Cineplex or iTunes e-gift card.
The way I understand it is, you will only be able to redeem rewards in increments of 2,500 points or in other words, $25. It's not the most convenient method in my opinion, because you have to keep waiting for your point balance to reach 2,500 in order to redeem rewards.
They also mention you have to allow up to 2 weeks for processing of the rewards you have redeemed which is a bit slow for an electronic gift card.
If you are looking to convert your points into cash though, unfortunately, they don't have that option.
For survey sites that will allow you to turn your rewards into cash, I recommend you check out the top survey sites that pay through PayPal.
As for the prize draws, if you win, you will be notified via email within 48 hours of the draw. You will then be required to acknowledge by email, receipt of notification of eligibility for the prize.
Afterward, they will arrange for a mutually convenient day and time to administer a time-limited mathematical skill-testing question. If you fail to respond within 7 days of notification, the prize will be forfeited.
The prize you win will then be delivered by mail within 60 days of correctly answering the mathematical skill-testing question and upon receipt of a signed waiver. It's a pretty stringent process as well.
Overall, the payout conditions on Angus Reid Forum are not very flexible and that makes it a lot less appealing compared to other sites, in my opinion.
How much money can you make?
The amount of money you can make from a survey site will always depend on the number of invites you receive, the number of surveys you decide to take and the number of surveys you actually qualify for.
According to Angus Reid Forum, you can expect to receive at least one survey invite per month. That's a pretty low amount in my opinion.
They also mention the maximum reward you will get for a survey is 500 points (or $5). So, if you take into consideration the number of invites you get, the earliest possible time for you to start redeeming rewards will be after five months. That's quite a long time.
That is also if you receive the maximum reward for each survey you complete, which is rarely the case, in my experience.
So, you will really need a lot of patience to get to the payment threshold.
If you are looking for survey sites that will allow you to cash out quickly, I recommend you check out the fastest paying survey sites with low payment threshold instead.
Can you use it on mobile?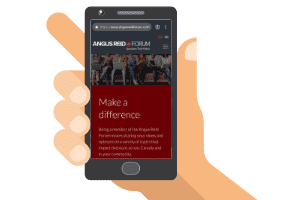 There is no Angus Reid Forum app you can download and install on your mobile device so you can answer surveys even when you are not sitting in front of a computer.
However, you will be able to access their site using a mobile web browser.
The good news is, it is optimized for mobile use. You will be able to view all the content without having to scroll left and right or zoom in and out.
This, at least, makes it easier for you to accumulate points because you can answer surveys while waiting in line in the bank, commuting or anywhere you are, as long as your mobile device has an internet connection.
Who can join Angus Reid Forum?
Angus Reid Forum is one of the purely Canadian survey sites, so naturally, it will only be available to Canadian residents.
You also have to be at least 18 years of age in order to join their panel.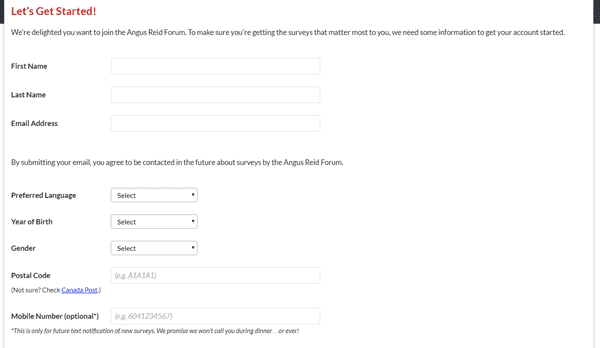 To register, simply click the "Join Now" button on the upper right-hand corner of their homepage. If you are registering on a mobile device, you have to scroll to the bottom of the page to see the "Join" button.
Their registration process is pretty straightforward. You simply have to fill out the form shown in the photo above and then wait for the confirmation email.
Once you receive the confirmation email, just click the confirmation link and the registration process will be completed. You can now log in to their member dashboard and start answering surveys.
Overall, this is one of the simpler ways to register for a survey site. The registration form isn't very long and the confirmation process is fairly fast.
You do have to make sure you update your profile once you are logged in to their member dashboard. You have to do this so you will get the best possible chance of qualifying for survey invites.
One thing to remember is, you have to respond to a survey in the last 6 consecutive months to make sure your account stays active. Otherwise, they will terminate your account and all the points you've accumulated will be forfeited.
Can you get support?
One good thing I can say about Angus Reid Forum is, their FAQ section covers most of the relevant questions a new member or anyone interested should be asking, which is good, in my opinion.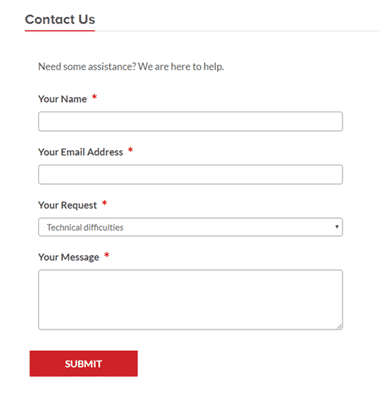 If you have a question that isn't answered by their FAQ page, you can then use the contact form shown in the photo above. You can send in your question through that form.
I also checked their social media pages to see if they are active in those platforms (because some people prefer to inquire via these social media platforms).
They have a pretty active Facebook page, which is a pretty good sign that you will be able to communicate with them through that platform.
Overall, they have a pretty decent form of support for their members. At least, you will be guaranteed you won't be left hanging if ever you encounter any issue with their site.
Final Verdict
Angus Reid Forum is a legit survey site that does reward you for completing surveys. But it does have its downside.
So let's finish this review with a summary of its pros and cons so you can get a better overview before deciding if this site is for you or not.

Pros:
Pretty decent support system
Registration is very straightforward

Cons:
Fairly high payment threshold
No cash rewards
Low earning potential
Even though you can easily register as a member of Angus Reid Forum (that is if you live in Canada), the earning potential it offers is really just too low to match up with other top survey sites, in my opinion.
They do have a decent support system in place, which is good. But, you really need patience in order to reach the payment threshold so you can start redeeming rewards.
If you have that patience and live in Canada, it can be a legit extra site to join.
If you, however, are looking for survey sites that offer better earning potential, I suggest you check out the top paying survey sites in your country instead.
This list will have plenty of survey sites you can join no matter where you live and they offer a lot more earning opportunities in my experience.
If you have any comments, questions, or have any experiences with Angus Reid Forum yourself, I would love to hear from you in a comment below.