Nowadays, it's become easier to earn extra money online. There are plenty of sites offering ways for you to earn money. One way is survey sites. If you are new to survey sites, they are basically online survey sites that will pay you for sharing your opinion.
One such site you might have already encountered is called InsideHeads. This survey site promises to pay you for answering their surveys. But is InsideHeads a scam or is it a legit survey site? Well, let me answer this question right away so we can move forward.
No, InsideHeads is not a scam. It is a legit survey site that will pay you for answering their surveys. However, before you sign up for it, we must take full stock of what it has to offer so you can figure out if it is a site worth investing your time into or not.
This InsideHeads review will reveal all the details you need to know so you can make an informed decision.
What is InsideHeads and what does it offer?
InsideHeads is a market research company that specializes in providing keen and actionable insights to brands and companies through their research activities.
To put it simply, they help companies gather insight of their products and services through research.
Here's a short video explaining what the site is all about.
These research activities are actually the earning opportunities they offer.
So, for you to understand clearly how well you can earn from this site, we have to take a closer look at the earning opportunities it offers. So, here's how you can earn from InsideHeads.
Option 1 – Paid surveys
Since it is a survey site, you can expect to answer online surveys to earn rewards. However, it's quite different from other survey sites you usually encounter. Let me explain.
Usually, with survey sites, when you log in to their site, you will be able to see the total amount you've earned or the number of points you've accumulated.
But with InsideHeads, they don't really have that kind of option. It usually means one thing, you don't have to reach a certain threshold to withdraw your earnings. I will discuss later how their payment system works.
As for the survey answering process, it's the same as any other survey site. When you receive a survey, you will be informed how much you will earn from it. When you start answering it, you will have to answer a set of qualifying questions first.
Survey sites do this to determine if you are among the people the survey is intended for. If you qualify, you get to proceed to the actual survey. If you don't, then you just have to try your luck on the next survey available. When you complete the survey, you will then be eligible for the reward.
They will send you an email if there are any surveys available or you can just log in to their site and check on the dashboard if there are surveys you can answer.
Option 2 – Focus groups
Another way you can earn from this site is by participating in focus groups. This is a fun and interesting way of earning, in my opinion, because you will be asked to interact with other people.
Here's a video of how a focus group is conducted on InsideHeads.
As you can see in the video, their focus group utilizes chat as the method of communicating. So, you have to always pay attention to what messages appear in the chat window. You can easily recognize the moderator's message because the font color will be blue.
The topic and other materials you need to take note of will appear at the section on top of the chat window so it will be clearly visible. When you participate in a focus group, the key thing you need to remember is to always respond to the moderator's inquiry or message.
This shows you are still paying attention. It's a fairly straightforward process. The one thing you just have to remember is to pay attention to what the moderator is talking about. You will receive the compensation once the focus group is finished.
How do you get paid?
As explained earlier, you do not need to reach a specific threshold to withdraw what you've earned on InsideHeads unlike other survey sites. Every activity you complete on this site will get you paid, but not right away, of course.
Payment will usually be done within 2 to 4 weeks. So, you will need to be patient because it's a pretty long wait. You will be paid via check which will be sent through the mail or through bank transfer.
Although you will be able to earn cash from this site, the payment options they offer are a bit inconvenient and takes quite a while to receive.
It would have been better if they also offered payment via PayPal because it is the most convenient payment method around, in my opinion.
If you are interested in sites that pay via PayPal, I recommend you also check out the top sites that pay via PayPal.
How much money can you make?
As you can see, the site offers limited earning opportunities. You will only get paid if you are able to complete a survey or focus group interview. Plus, feedback from many members say the site rarely offers any surveys. So, don't expect to earn a lot from it.
However, if you get lucky and get selected to participate in a focus group, you stand to earn a significant amount if you are able to complete it. Their focus groups typically pay around $40 to $75 and sometimes, even more.
But again, this type of earning opportunity doesn't happen often. As for paid surveys, they usually pay a lot less than focus groups. So, you can't really expect to earn a lot from this.
That's why I would say this site has a low earning potential mainly due to the fact their earning opportunities aren't available on a regular basis.
Can you use it on mobile?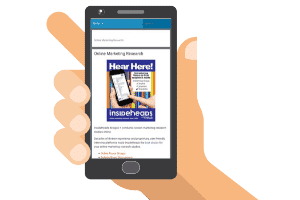 If you take a look at their website, it looks kind of outdated. It looks like a site made during the 1990s.
I'm not sure why they designed their site that way, but it is what it is. So, you would think their site has not adapted to the mobile culture.
But the surprising thing though is, their surveys are always mobile-friendly and work on any device, operating system, or connection speed. So, if you were wondering if you can use it on a mobile device, then the answer is yes.
They don't have an app though but you can access their site from a mobile web browser. Plus, you can access their surveys from your email. So, using your mobile device to answer surveys is certainly possible.
For focus groups though, you will definitely need to use a laptop or a desktop. There's no way around it.
Who can join InsideHeads?
They don't specifically mention on their site which countries their panel is available in, but during the registration process, you will figure out that it is available more or less worldwide (refer to the photo below).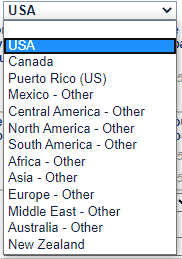 Although it tends to favor the Americas, you can still join if you live in a different region. I guess this is also where the bank transfer payment option comes into play.
If you live in a different region like Europe or Asia, then you can only receive payment via bank transfer since it's the most practical option.
If you are in the US, you will receive payment via check since they are based in Florida and sending a check via postal mail is certainly doable.
Can you get support?
As you already know, their website is pretty outdated but they do a good job at explaining what they do. So, you will be able to get a clear understanding on what they offer.
But in my opinion, it would have been better if they had a FAQs page to address common issues encountered on the site. That way, you won't always have to contact their support team if you have any questions.
Fortunately, they do provide ways for you to contact them through email or you can contact the phone number provided on their Help page if you really want to talk to them immediately.
Overall, I would still say they have a decent way of providing support for their members.
Final Verdict
InsideHeads is a legit survey site that does pay you for participating in their research activities. It has a couple of interesting qualities but it does have glaring limitations.
Let me end this review with a summary of its pros and cons to give you a clearer overview of what the site has to offer so you can decide if you should join or not.

Pros:
You will earn cash for doing surveys and focus groups
Focus groups pay rather well
No payout threshold
Cons:

Limited earning opportunities offered
Survey availability is quite low
Takes a bit of time to receive payment
In terms of earning potential, InsideHeads really just pales in comparison to other survey sites. This is the main drawback of this site.
Although you can earn a significant amount from participating in focus groups, they are quite rare. You will be lucky if you get chosen to participate once in a year.
You also can't depend on earning from their surveys because the availability is quite low. There are far better options if you want to earn extra cash regularly.
For a list of these sites, I recommend you check out the top survey sites in your country. The sites on this list all have better earning potential and the availability of earning opportunities is quite regular.
Plus, you will be able to find a site you can join regardless of where you live.
If you have any comments, questions, or have any experiences with InsideHeads yourself, I would love to hear from you in a comment below.