If you live in the Philippines and you are looking for a way to earn extra cash, you might have already encountered an app called Tangere and are wondering if it is worth using.
Before you download this app, I would recommend you read this Tangere app review.
That way, you'll know what to expect from it. I've personally tested the app and I will share everything I have learned about it in this review to help you come to a decision on whether this app is really worth using or not.
So, let's go ahead and take a closer look at Tangere, shall we?
What is Tangere and what does it offer?
Tangere is a survey app that will allow you to have a chance at winning various prizes. It is indeed a legit app since the app will really hand out prizes to the winners.
So, the question now is, is it worth it?
To answer that, you must first understand how the app works, and the best way to do that is to examine the earning opportunities it offers. So, here's how to earn from Tangere.
Option 1 – Surveys
The only way to get something out of this app is to answer the surveys it offers. However, there's no guarantee you will earn from every survey you answer.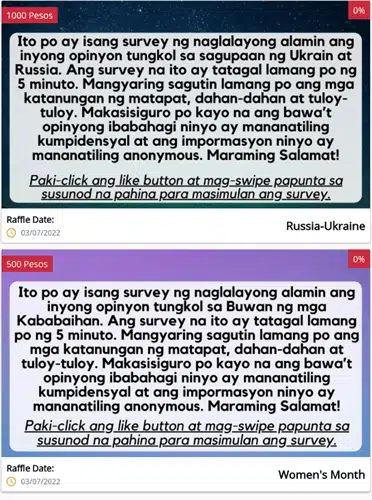 That's because every time you answer a survey, you will only earn points which are actually just entries to their weekly raffle. So, if you answer a survey, you will automatically join the raffle for that specific survey which is done weekly.
In the photo shown above, you can see that you will immediately see the prize you can win if you are chosen as the winner for that survey raffle (I will discuss later what you can win from their raffle).
The good thing about Tangere's surveys is, they are quite easy to answer. It will only take you less than a minute to answer one. Most surveys will only contain around four or five questions and usually, you will just have to choose the answers from a list.
For every question you answer, you will earn around 3 to 5 points. So, if you encounter a survey opportunity that has a lot of questions, you can earn more points.
It's actually a no-brainer survey, in my opinion, which is good because it won't eat up a lot of your time. However, during my testing, I only encountered two surveys. So, there aren't really a lot of surveys available.
That would mean you won't earn a lot of entries for their weekly raffle. But on the flip side, you don't have to go through a qualifying process like you normally would with other survey apps and sites. That means you will qualify for every survey that will appear inside the app, which is probably also the reason why there aren't a lot of surveys available.
Option 2 – Referral program
Another way to earn points from this app is to invite other people to join through their referral program. And the good thing about Tangere's referral program is it is very simple.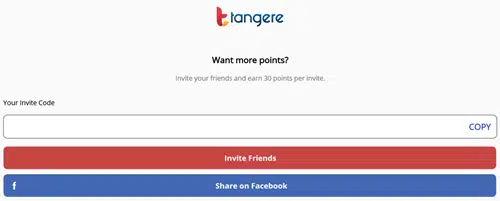 All you have to do is share your invite link with the person you want to invite. Then, when they click the link and install the app, they will become your referral.
Once they become your referral, you will receive 30 points as a reward. So, it's very easy to earn from their referral program. Normally, on other surveys or Get-Paid-To apps, your referral must meet a certain requirement first before you will be compensated.
So, the fact that you receive the reward as soon as your referral signs up is a good thing. But then again, you won't be "earning" a lot since all you will really get are points that will be used as entries to their weekly raffle.
Recommended: Check Out the Top Survey Apps
How do you get paid?
As explained above, you don't actually earn any money from answering the surveys. Instead, you will only receive raffle entries. So, if you are looking for a guaranteed way to earn, then this app isn't for you.
As for the prizes you can win, it will usually be cash that will range from 500 to 1,000 pesos. But the good thing is, there will usually be multiple winners of these prizes. There will also be raffles where you can win a mobile phone, dinner packages, a staycation for two in some posh hotel, and more.
The date for the raffle draw will always be indicated in the survey you answered. So, you will know when to expect the results. If you get lucky and you win their cash prize, the money will be sent to you via GCash. So, make sure you have a GCash account if you plan to join this app.
Overall, I would say the payment system of Tangere is relatively simple, but again, I have to stress that there's no guarantee you will ever earn anything from this app. If you prefer guaranteed ways to earn cash, I would recommend you check out the top sites that pay via PayPal instead.
How much money can you make?
As mentioned, you can win up to 1,000 Pesos from their weekly raffle draw, which is actually already a significant amount. But again, the downside is, there's no guarantee you will ever win.
Plus, as I've mentioned earlier, the app doesn't really have a lot of surveys available, so you won't really earn a lot of points to increase your chances of winning, unless of course you spend a lot of time inviting other people to join the app.
I personally wouldn't want to invite a person to use an app where there's no guarantee they can earn anything. It's just a waste of time, in my opinion.
Overall, I would say the earning potential of Tangere is very low since there is really no guarantee you will earn anything from it.
Can you use it on a desktop?
Tangere is a mobile-only platform. The login option on their website is actually only for their clients who are making the surveys, so you will definitely need a mobile device if you plan to use Tangere.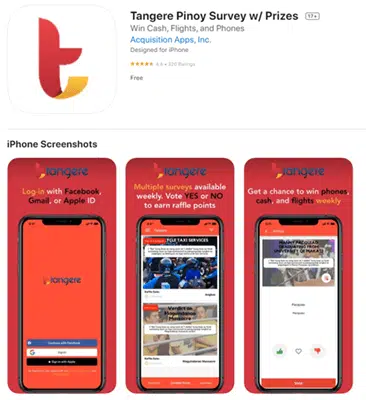 As for the app, it will work with both Android, iOS devices, and even Huawei devices (Huawei has its own app store). So, you won't experience any compatibility issues.
The app is very easy to use and you won't encounter any pop-up ads, which actually surprised me because in my experience, apps that offer the same opportunity usually have a lot of pop-up ads. So, the app does offer a decent user experience, in my opinion.
Who can join Tangere?
Tangere is only available in the Philippines. So, if you live somewhere else, then this app is not for you.
The surveys they offer are in the local language too. If you are interested in more survey sites that are available in the Philippines, I would recommend you check out the top survey sites in the Philippines as well.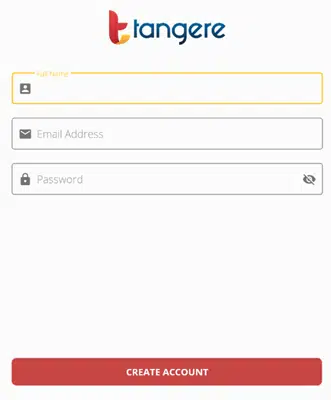 To register as a member, you have to be at least 16 years of age. Then, you have to install the app first and then just go through the registration process which is fairly simple. You just have to fill out the form or you can use your Google or Facebook account to log in.
Then, Tangere will send a confirmation link via email. Just click the link to complete your registration. After you've confirmed your registration, you can now log in to the app and start answering surveys.
Can you get support?
If you have any questions about the app or your account, you can first check out the FAQs page inside the app. It discusses some of the basic topics you need to know about the app. However, it's not as comprehensive as you might have hoped.
But the good thing is, Tangere does provide a couple of ways for you to get in touch with their support team. You can either call them on their mobile number (which will be displayed on the Contact Us page of the app) or email them at martin@tangereapp.com.
They also have an active Facebook page you can follow to get regular updates. Overall, I would say the app has a decent support system in place for its members. I especially like the fact that they have a mobile number you can call in case you really need to talk to a representative immediately.
Final Verdict
Tangere is a legit survey app where you can get a chance at winning various prizes by answering surveys. It has a couple of decent features but it also has some limitations you need to consider.
Let me end this review with a summary of its pros and cons to give you an overview of what the app has to offer. Then, you can decide if you should use it or not.

Pros:
You will always qualify for every survey offered
The app is user-friendly

Cons:
Limited earning opportunities offered
Doesn't offer guaranteed rewards
If you are looking for a guaranteed way to earn, then this app is not for you. Because, in order to earn from this app, you actually have to be chosen as a winner of one of their weekly raffle draws.
But the good thing is, the surveys you need to answer won't really take up a lot of your time. So, if you don't mind spending a few minutes on the app every week, you can download and use this app. Just make sure to set your expectations properly.
But if you are looking for guaranteed ways to earn extra cash, I would recommend you check out the top survey and GPT sites in your country instead. The sites on this list all have good earning potential and they all offer opportunities where you are guaranteed to earn something.
Plus, you will definitely find a site you can join regardless of where you live.
If you have any comments, questions, or have any experiences with Tangere yourself, I would love to hear from you in a comment below.