One way to earn a few extra bucks is to join a survey site. This type of site has become a popular choice for people, especially students.
One such survey site is called SurveyU. Although this site is mostly geared towards students, non-students can also join.
The question is, is SurveyU legit?
This is the first question you should be asking. After all, you need to make sure that you join a legit site so as not to waste your time.
So, let me just answer that question right away. Yes, SurveyU is a legit site. It does what it claims to do, which is to pay you for answering their surveys and for other earning opportunities they offer.
However, this doesn't necessarily mean it is a good idea to become a member of this survey panel. Before you decide if you should join this site or not, you have to weigh in several things.
This SurveyU review will show you all the details you need to know so you can decide if you should join this panel or not.
What is SurveyU and what does it offer?
As mentioned above, SurveyU is a survey site that will pay you for participating in their research activities.
This survey panel started in 2007 and has been continuing to provide market research services to its partners.
It offers several earning opportunities and in order to gauge how good this site is in terms of earning potential, we have to take a closer look at the earning opportunities it offers.
So, here's how you can earn from SurveyU.
Option 1 – Paid Surveys
The main method of earning rewards on SurveyU is by completing paid surveys. Once you finish the registration process, you will be able to access the member dashboard.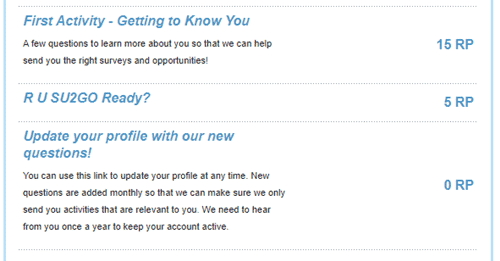 You will then see all the available paid surveys you can take. You will also be notified via email if there are paid surveys available for you.
Each offer will indicate how many points you will receive once you complete if.
When you click the survey offer, it will open up a new window. It will then ask you several qualifying questions to determine if you belong to the demographic the survey is targeting.
If you qualify, you then get to answer the actual survey. If you don't, you simply move on to the next offer.
Once you've completed the survey, you will receive the points promised. It will be credited to your SurveyU account.
Some of the survey offers will be done via a mobile device and some are required to be completed on your computer. You will know which type of paid survey offer it is through the invitation.
Option 2 – In-Person Research Activities
From time to time, SurveyU will also ask you to participate in in-person research activities. Not much is mentioned on their site about this type of opportunity.

But they do say during the registration process (the part where you have to fill out your profile) that they conduct focus groups and on-site studies from time to time.
In my experience, this type of earning opportunity pays a lot more.
This is because it will require a significant amount of time to complete.
Usually, with focus groups, you will have to go to the location where the focus group is being held. So, if the location is pretty far from where you live, this opportunity won't really be very practical.
On-site studies are a bit more ideal because they will be the ones visiting your location. But then again, they don't really talk about this type of opportunity.
So, if you ever receive an invite to participate in these activities, expect to receive the instructions in the email they will send you.
Option 3 –  Referral Program
Again, there isn't much information about their referral program (which is a recurring issue with their site). But they do hold referral campaigns from time to time.
If there is a referral campaign available, you will be able to invite people to join the panel.
Usually, if this is the case, you will then receive some sort of compensation once the person you invite signs up as a member of the panel.
How do you get paid?
For every paid survey you complete, you will be awarded SurveyU points. You can then use the points you've accumulated to redeem rewards.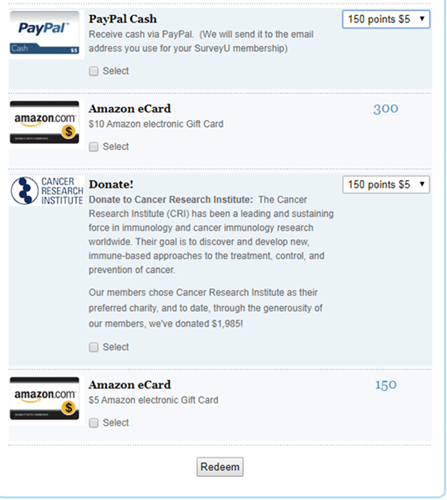 You can choose to withdraw your earnings via PayPal. You will need at least 150 points to do so. That will be equivalent to $5.
Withdrawal via PayPal can only be done via $5 increments. So, keep that in mind when you are calculating the money you can withdraw.
You can also choose to redeem Amazon gift cards. You have the choice to redeem a $5 or $10 Amazon gift card. The $5 gift card is worth 150 points while the $10 gift card is worth 300 points.
Lastly, you can choose to donate your earnings to charity. You can donate to the Cancer Research Institute in increments of $5, up to $20. The same point requirement applies.
As for the in-person research activities, in my experience, these types of earning opportunities will be paid via check or cash. It all depends on them.
The good thing about their payment system is that the threshold is relatively low ($5).
If you are interested in other survey sites with a low payout threshold, I recommend you also check out the fastest paying survey sites.
How much money can you make?
On a survey site, the amount of money you will make will purely depend on how many survey invites you receive, how many actual surveys you complete and how much money you receive per survey completed.
They mention on their website that you will receive a survey invite at least once a month.
In my opinion, that is a pretty low rate. So, even though they have a relatively low payout threshold, getting to that threshold can be a bit challenging.
Receiving survey invites will mostly depend on your profile. There isn't really a fixed way to increase your chances of receiving survey offers. The best you can do is make sure you've completed your profile honestly.
All in all, the earning potential of SurveyU isn't that great, in my opinion.
Can you use it on mobile?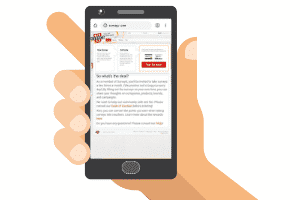 They do mention they offer mobile surveys. So, you will be able to use SurveyU on a mobile device. However, they don't have a standalone mobile app you can download.
You will have to access their site using a mobile web browser. The problem is, their site is not optimized for mobile use. That means you will have to zoom in on some parts of the website in order to read the content.
This makes it a little uncomfortable to navigate from a mobile device. If you want to conveniently navigate through the site, I recommend you work on it on your computer or laptop.
Who can join SurveyU?
You will only be able to sign up as a member of SurveyU if you live in the US. You also have to be at least 13 years old or older in order to register.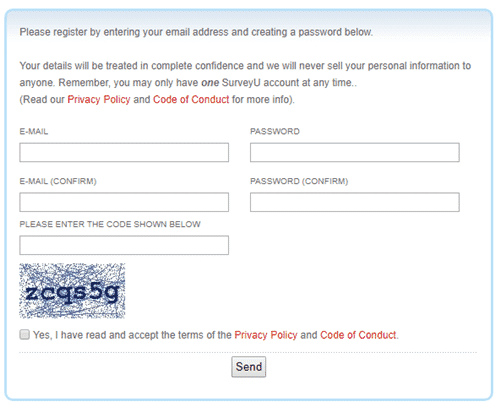 As mentioned earlier, the site is aimed towards students but you can also join if you are not a student.
You will, however, find the most options if you are a student. But there are survey sites for students with a lot more options, in my experience.
To sign up as a member of the panel, you simply have to fill out the registration form. Once you've submitted the form, you will then be asked to confirm your membership.
Check your email and click on the confirmation link to activate your membership. You will then be taken to a new window that will ask you to complete your profile.
The profile questionnaire is a bit long but you will have to power through it in order to log in to the site.
This is also a very important part of becoming a member of their panel because they will use the information you've provided to qualify you for survey offers. So, make sure to do that before anything else.
Can you get support?
One of the main problems with SurveyU, in my opinion, is that there isn't a lot of information about how the site works, specifically the other earning opportunities they offer.
They do have an FAQ section, but it doesn't cover other important topics.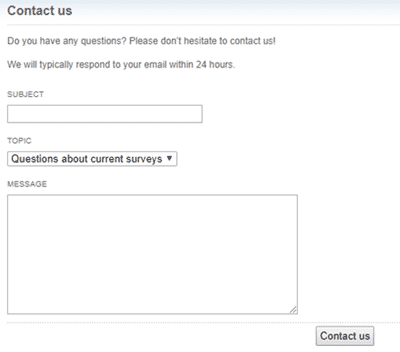 So, chances are, you will, at some point, have a question you need to ask. Fortunately, they do provide a contact form you can use to send in your questions for their support team.
They do say that they typically respond to your questions within 24 hours. So, at least, you won't have to wait that long to receive their reply.
But in my opinion, they will be able to lessen the volume of inquiries if they just provided enough information about their earning opportunities from the start.
Final Verdict
SurveyU is a legit survey site that does pay you for participating in their survey offers and other activities. It has some good qualities but it also has some major flaws.
Here's a summary of its pros and cons to help you decide if you should become a member or not.

Pros:
Low payout threshold
Payment via PayPal is available

Cons:
Their site lacks some important information which makes it less user-friendly
Only available to residents in the US
Limited earning opportunities which lead to low earning potential
Although SurveyU has a low payout threshold, being able to earn from this site quickly won't be that easy though.
That's because it has limited earning opportunities. There aren't a lot of surveys available on a regular basis.
It can be a decent secondary survey site to join mainly because it offers payment via PayPal, which is the most convenient payment method available today. Just don't expect to earn a lot from it.
If you prefer a site that will allow you to earn on a regular basis, I suggest you check out the top survey sites in your country instead.
The sites on this list have good earning potential because they offer several earning opportunities. Plus, you will be able to find a site that will fit your needs regardless of where you live.
If you have any comments, questions, or have any experiences with SurveyU yourself, I would love to hear from you in a comment below.