CitizenMe is a survey site that claims to pay you for answering their surveys.
But is CitizenMe a scam or one of the legit opportunities? Let me just clear the air right away. No, CitizenMe is not a scam. It is a legit survey site that does what it claims to do.
But that doesn't mean you should sign up as a member right away. It would be best if you take your time and understand what this survey site has to offer before you commit to becoming a member.
This CitizenMe review will give you all the details you need so you can decide if this site is for you or not. After reading this review, you will know exactly what to expect and can make an informed decision about joining this site or not.
What is CitizenMe and what does it offer?
As mentioned, CitizenMe is a UK-based survey site that will pay you for completing their surveys (but this does NOT mean it is only available in the UK – more about this later).
But what's unique about this site is, it is only available via a mobile app.
In order to answer their surveys or even register as a member, you have to download the mobile app to your phone.
So, if you are interested in becoming a member, you have to make sure your mobile device has an internet connection when you work on their offers.
But to be able to get a full grip of how you can earn from this website, we have to take a closer look at its earning opportunity.
Option 1 – CitizenMe Surveys
With CitizenMe, the main way for you to earn rewards is to complete paid surveys (also called CitizenMe Quizzes).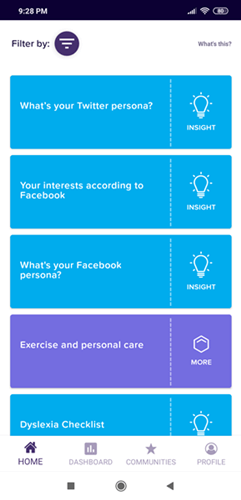 Once you've finished registering for the site, you can then log in to the member dashboard and start answering surveys.
CitizenMe has six different types of surveys, insight, fun, donate, info, paid surveys and unlock.
Each survey has a different purpose. Insight surveys are for gathering more information about you, while fun surveys are more about just comparing your results with others.
Info surveys are more about how the CitizenMe app can provide more help for you. Unlock apps are surveys that will allow you to unlock more surveys.
Donate and paid surveys are the only surveys you will be able to earn from.
Answering a donate survey will allow you to donate to a charity of their choosing. The paid surveys, on the other hand, are the surveys that will allow you to earn rewards.
For all intents and purposes, the paid surveys are what you will be looking for if you want to earn money from this site. The surveys will be from different brands looking to gather important information about their products.
Some of the other surveys can, however, still be great to take as they will be a way to get access to more paid surveys by, for example, giving more info about yourself so they can match surveys with you.
You will quickly identify the paid surveys in your dashboard because they will be marked green. Once you complete this type of survey, you will receive rewards (which I will discuss next).
In general, the surveys are fairly short and do not take too long to complete.
Option 2 – Share your data
According to CitizenMe you can also earn by sharing your data with companies and causes you believe in and help those who sell ideas and products to get it right.
They do not mention much about how this works. But I know several companies like, for example, the Nielsen Panel that does the same.
How it usually works is that you will share data about how you use the internet anonymously and this info will then be combined with the data of all the other users and used for market research.
It is a kind of passive way to earn by giving feedback but it would have been nice if CitizenMe had been more clear about exactly what you get for it and how it works.
How do you get paid?
Now that you know how you can earn with CitizenMe, you need to understand how you will get paid.
The good thing about CitizenMe is, once you complete a paid survey, you will be paid right away via PayPal. You don't need to accumulate a certain number of points or amount like other survey sites.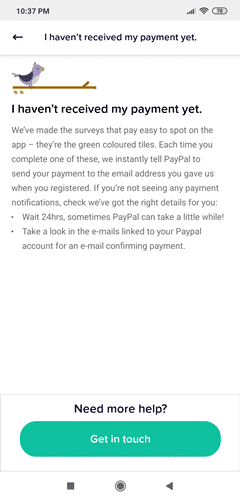 Their process is pretty straightforward. When you complete their paid survey, CitizenMe will instantly tell PayPal that they will be sending money to your account.
One thing you need to take note of (because this was not mentioned on their site) is, when you register to the site, you need to make sure the email address you use is also the email address of the PayPal account you are using.
Otherwise, you will never receive your payment.
This information should have been stated right from the start when you register as a member.
This is a very crucial mistake on their part, not telling you right away that you need to use the same email address for your PayPal, in my opinion.
Apart from that critical lack of information, everything about the payment process of CitizenMe is very convenient.
How much money can you make?
The potential income you can earn from CitizenMe will depend on the number of paid surveys you will be able to answer and the reward you get for each paid survey.
If you get a lot of invitations to take a paid survey, then naturally, you will earn more. Also, if each survey will reward you with more, then the potential income will increase.
However, paid survey invites aren't very frequent. Plus, the amount you get for completing a paid survey isn't really very substantial. This just makes the earning potential of CitizenMe quite low.
So, even though the surveys are shorter and easier to complete (because of the mobile format), don't expect to earn a lot from this site once you become a member.
If you are looking for survey sites that will allow you to earn a decent amount, I suggest you check out the top survey sites in your country instead.
Can you use it on mobile?
CitizenMe is a survey site that is strictly for mobile use. In order to answer surveys or earn by sharing your data, you have to download their app.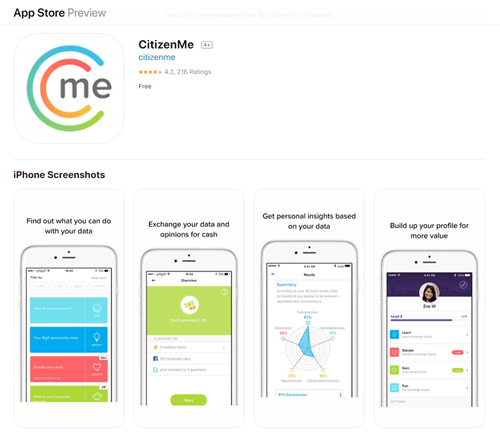 The app is available for both Android and iOS devices, so you need not worry if your mobile device is compatible or not.
You won't be able to answer surveys on your computer because everything will be done via their mobile app.
Their website is only for information purposes and for those who are interested in partnering with them (e.g. brands and businesses).
The good thing about their mobile app is, the user interface is quite good. It is very easy to navigate and the content can be clearly read. So, for all intents and purposes, everything you need to do with this site will be done through their mobile app.
If you are interested in becoming a member, you have to download it on your mobile device and make sure your mobile device has an internet connection when you work on the surveys.
Who can join CitizenMe?
CitizenMe is open to anyone who wants to join. Your geolocation won't be a problem.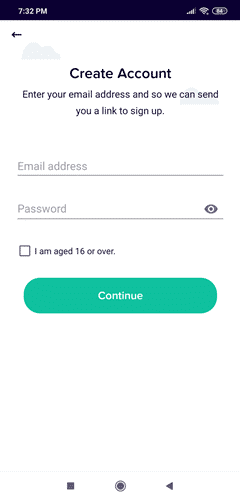 As shown in the photo above, it will only require you to enter your email address. You do have to be at least 16 years of age to join their panel.
You also have to have an active PayPal account in order to receive your payment. And as mentioned previously, the email address you should use when registering should be the same email address you are using for your PayPal account.
There is no mention on their website whether or not only one member per household is allowed to register as a member. Normally, with survey sites, only one member per household can register as a member.
But judging by their registration process, they don't seem to have that kind of limitation because they have no way of checking which household you are from because they don't ask for your mailing address.
So, if anyone from your household is also interested in becoming a member, they should be able to do so.
Can you get support?
Part of gauging the worth of a survey site is to see if they also provide good support to their members.
That's because, at some point, you will either have a question for the support team, or you've experienced some issues with your account.
So, naturally, you'd want it to be resolved right away. With CitizenMe, you will be able to contact their support team by either using the contact form on their website, or you can also send your question using the contact form in their mobile app.
They also mention you can send an email to hello@citizenme.com for questions you might have.
They do have an FAQ section as well in their mobile app. It contains most of the basic questions you can ask.
They also have a Facebook page you can visit, which is pretty active. You can send them a message through that platform. I'm just not sure if they will be able to reply to you quickly.
I also took a look at the reviews left on Google Play and this gives you a good indication of what you can expect in terms of support.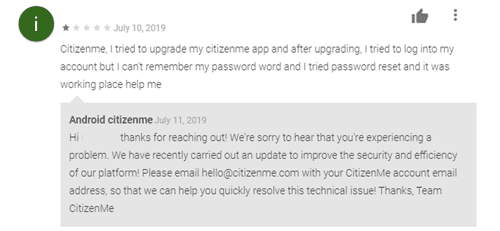 Every single person who has left a review there has received an answer. And this is whether it has been a positive or a negative review.
This is a good sign as it shows they have active support.
So overall, it seems they do have a decent support mechanism for their members, which is good.
Final Verdict
CitizenMe is a legit survey site that will allow you to earn real money for completing their surveys and sharing your data. But it does have its limitations.
So let's finish this review with a summary of CitizenMe's pros and cons so you can better decide whether this site is for you or not.

Pros:
User-friendly mobile app
No payment threshold
Pays via PayPal
Anyone can sign up as long as he or she is 16 years of age or older

Cons:
Low paid survey invite frequency
Low rewards for paid survey completion
Not enough info about how the data sharing works
CitizenMe has a lot of different types of surveys you can answer. Plus, the surveys are quite short, mainly because they think no one wants to answer long surveys on a mobile device. At least, that's what I think.
But even though you do get to answer a lot of surveys, you still won't be able to earn a decent amount of income from CitizenMe because the paid survey offers are few and far between. This is the only issue with this survey site.
But aside from that, if you don't mind taking a few surveys here and now, this can be a decent addition to survey sites you can join. Just don't expect a lot from it.
If you are looking for survey sites that will allow you to earn more regularly, I recommend you check out the top survey sites in your country.
This list will have plenty of survey sites to choose from, all of which are known to provide good offers. Best of all, you will be able to find one regardless of where you live.
If you have any comments, questions, or have any experiences with CitizenMe yourself, I would love to hear from you in a comment below.