OnlineMicroJobs.com is a Get-Paid-To (GPT) site that promises to pay you for completing job offers.
There are plenty of GPT sites out there. So if you are planning to join one so you can earn a bit of extra money, it is best to join a site that will give the most value for your time.
You also have to make sure you join a legit GPT site. So is Online Micro Jobs a legit GPT site or one of the scams to stay away from?
Let me just answer this question right away so we can proceed to discuss more details about this site.
Online Micro Jobs is potentially a way to earn. But is it worth your time though? This Online Micro Jobs review will tackle that question and show you exactly what you get so you can find out if it is indeed worth your time or not.
What is Online Micro Jobs and what does it offer?
As it says above, Online Micro Jobs is a GPT site that offers micro jobs as a way for you to earn extra money.
It's not your typical GPT site. If you have been a member of other GPT sites, you will quickly notice that once you log in to their site. It is a bit similar to RapidWorkers if you know that but different from most other GPT sites.
The opportunities they offer come from sites and other members of the site. This is the key difference.
Yes, you can post your own micro job if you want something done for you. But we won't discuss that since it isn't really related to this review.
For all intents and purposes, this article will examine the earning potential of this website. And in order to do that, we have to take a closer look at how you will be able to earn from this site.
So here are the earning opportunities they offer.
Option 1 – Credit Jobs
Credit Jobs are basically just paid offers you will see in other GPT sites. The premise is the same. It is just called a different name.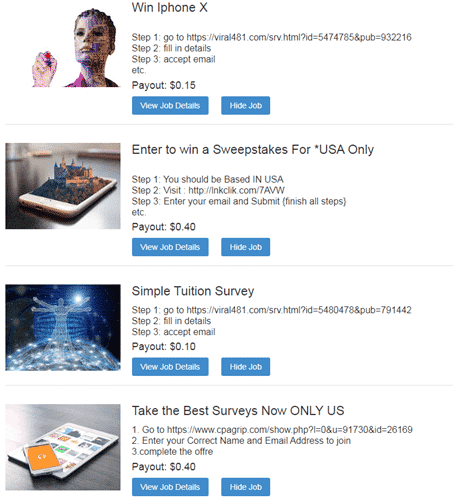 When you log in to the site, you will quickly see all the credit jobs you can take to earn rewards.
Each credit job will have a set of instructions you need to follow in order to earn the reward it offers. So, make sure to follow the instructions down to the letter to make sure you get the reward.
Most of the jobs will ask you to sign up for a certain website. Other jobs will ask you to view videos on YouTube and some will ask you to download certain programs.
But regardless of what a job will ask you to do, the important thing to remember is to follow the instructions provided properly. This is to make sure you earn the reward once you complete the job.
You will also have to provide proof that you've completed the job. That means you will have to upload a screenshot proving you've done it.
This also means you won't receive the reward immediately because the site or individual who posted the job offer will have to review the proof before crediting you with the reward.
You also have to be careful about providing bogus proofs. Because too many complaints from job providers will result in the termination of your account, thereby forfeiting the earnings you've accumulated.
There are quite a lot of tasks. But make sure to choose carefully as some of them are really a waste of time and also can lead to you receiving a lot of promotional material.
Not all members that create tasks care too much about the quality, in my opinion. But if you just are aware of this and choose carefully, you can find many tasks here every day.
Option 2 – Referral Program
You can also invite people to join Online Micro Jobs to get additional rewards.

To invite a friend to join the site, you simply have to share your referral link with them. Once they click the link and sign up as a member, they will automatically become your referral.
The reward you will get from referring people to join is a bit confusing though. It says on the referral page that you will earn up to 30% of the payout for every job completed by your referral.
But when you check their worker guide, it says you will earn $1 when you refer someone who earns a payout and $0.0025 for every job they complete.
In my opinion, they need to make sure the information they provide on their site should be uniform. That way, they can avoid confusion from members.
But overall, it's not a bad way to earn extra income from the site, in my opinion. But it is also not a way to make a lot of money – just so you are aware of this and do not expect too much.
Recommended: Check Out The Top GPT Sites
How do you get paid?
Every job you complete will reward you with a certain amount in $. It will then be credited to your Online Micro Jobs account.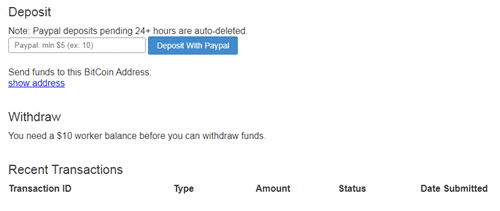 Once you've reached $10 in your account balance, you can then withdraw it via PayPal. Their payment process is pretty simple, in my opinion.
However, in my experience, GPT sites usually have other payment options available. Don't get me wrong, PayPal is a very convenient payment method to use. In fact, it is one of the most convenient and preferred payment methods available, in my opinion.
It's just that, it would have been much better if they offered other ways to withdraw your earnings. It adds more versatility to the platform.
If you are interested in other sites that pay via PayPal, I suggest you also check out the top paying survey sites that pay via PayPal.
How much money can you make?
Oftentimes, the most important factor to consider when deciding to join a GPT site is its earning potential. Ideally, you will want to join a GPT site that will allow you to earn more without having to invest a lot of time.
And seeing as the amount you can earn from a GPT site will mostly depend on how many offers you can complete, it is therefore ideal that you pick a GPT site that rewards you more for each offer you complete.
This is where OnlineMicroJobs.com falls off, in my opinion. The rewards for the jobs offered are simply too low. In other words, the earning potential of this site is very low. You will have to devote A LOT lot of time to reach the $10 threshold.
Plus, most of the jobs offered take a significant amount of time to complete. So, the money to time ration is pretty low as well.
There are plenty of other GPT sites that will allow you to earn the same amount with less time investment.
All in all, the earning potential of Online Micro Jobs isn't enough to warrant becoming a member of, in my opinion. There are plenty of other GPT sites that pay better.
Can you use it on mobile?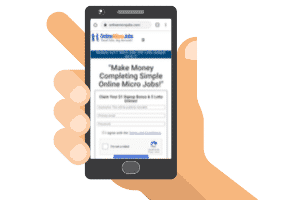 Online Micro Jobs doesn't have a mobile app you can download on your mobile device so you can work on jobs even when you are not in front of a computer.
But you will be able to access their site using a mobile web browser. Their site is optimized for mobile use, so you won't have a hard time navigating through the site.
I don't recommend you work on the jobs on your mobile device though since most job offers will require you to open a lot of browser tabs. It is best done on a computer or laptop, in my opinion.
Who can join Online Micro Jobs?
The best thing about Online Micro Jobs, in my opinion, is that it is available globally. Anybody can join the site.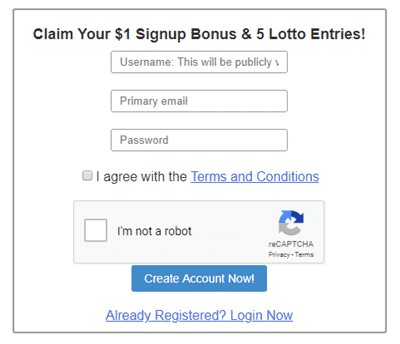 All you have to do is fill out the registration form (shown in the photo above) and confirm your membership by clicking on the activation link in the email you will receive.
Once you've done that, you can start working on the credit jobs. Another thing to keep in mind is, you will have to be at least 18 years of age in order to register as a member.
Can you get support?
If you need assistance or if you ever encounter any issues with the site or your account, you can contact their customer support by using their contact form.

You will be able to access their support page by logging in to the site and clicking on the Support tab. You will then see the photo displayed above.
Just choose the appropriate topic and tell them what issue you are facing and hit submit once you are done.
They don't have an FAQ page, but they do have a Worker Guide you can check. It covers most of the important aspects of the site. All in all, I can say they do offer a decent way for you to get support if ever you need it.
Final Verdict
Online Micro Jobs is a GPT site that pays you for completing the credit jobs they offer, as well as for referring people to the site.
But that you can actually earn there does not necessarily mean it will be worth the time compared to other sites.
So let's finish this review by summing up the pros and cons so you can get a full overview before deciding if you should join the site or not.

Pros:
Offers a convenient payment method
Available globally

Cons:
Limited earning opportunities
Low rewards per task
Limited reward system
When you look at Online Micro Jobs, it will become quite clear that its main drawback is its low earning potential.
It simply pales in comparison to other better GPT sites. They don't pay you well for the jobs you complete (which will take time to complete, I might add).
It also doesn't help that it only offers limited earning opportunities, which is quite surprising. Normally, with GPT sites, there are plenty of earning opportunities available. But with Online Micro Jobs, the only way to earn is to complete credit jobs and refer people to the site.
In my opinion, you are better off investing your time in sites that pay well. If you are looking for sites with better earning potential, I recommend you check out the top GPT sites instead.
The GPT sites on this list all have good earning potential and you will surely be able to find one that will fit your needs regardless of where you live.
If you have any comments, questions, or have any experiences with Online Micro Jobs yourself, I would love to hear from you in a comment below.