SurveyBods is a survey site that claims to pay you money for completing the surveys they offer.
But is SurveyBods legit or just a waste of time? This is the obvious question you should be asking before joining any survey site.
Well, let me just tell you right away that yes, SurveyBods is a legit survey site.
Even though it is legit, it, however, doesn't automatically translate into a good site to be a member of.
So before you go and sign up, I suggest you read this SurveyBods review. I'll discuss all you need to know before so you can determine if this site is for you or not.
So let's proceed with the review.
What is SurveyBods and what does it offer?
As mentioned, SurveyBods is a survey site that will reward you for answering surveys they provide.
SurveyBods is a UK-based research community. It is owned by ResearchBods, which is a company that partners with other brands and organizations to provide analytical data.
Since it is a survey site, you can expect the main source of income will be from answering surveys.
But let's take a look at how you will be able to earn from this site, so you can better understand if this site is for you or not.
Option 1 – Paid surveys
As I've mentioned, the number one method for you to earn money on SurveyBods is by sharing your opinion through paid surveys.
The problem though is, as of the writing of this review, when I logged in to the dashboard to check their paid surveys, there was nothing displayed. It was just a blank blue page with their logo.
And I have been experiencing these technical difficulties several times. So you just need to be aware that this might happen at times (at least it has happened to me several times).
But anyway, let's continue with what you get when it does not have technical difficulties.
According to their website, finishing the profile surveys is a must once you complete your registration. This will be their basis for allocating surveys to your account.
For each profile survey you complete, you will be awarded 50 points. In my opinion, that's a good thing because the time spent completing your profile will be rewarded.
Think of it as a bonus for just completing your profile.
Once you've completed your profile, you can then start receiving surveys.
The topics of the surveys sent to you will vary and will depend on the answers you provided on the profile surveys.
Now you might be thinking that you can manipulate their system by choosing answers you think would increase your chances of receiving surveys. I do not recommend doing that though.
You have to answer all the surveys as truthfully as possible because providing misleading information is grounds for termination of your account.
And survey sites often have systems in place to detect too many inconsistencies.
The surveys offered will vary in length. The longer the survey, the higher the reward you will receive.
The good thing is, you will be told right away before you start the survey what the reward is and the estimated completion time.
This way you can always decide which surveys you think are worth your time and which ones are not.
Option 2 – Prize draws
Prize draws are also common on survey sites. SurveyBods is no different. They hold prize draws every month.
The prizes will vary though, so don't expect any specific prize for every draw. Usually, the prizes will reward points or gift cards but the will announce the exact reward when they announce the prize draw.
Normally, you will be able to earn entries for the prize draw as a reward from surveys being offered.
In my opinion, you really can't rely on this type of earning opportunity since it will be purely based on chance. You can consider yourself lucky if you can win one prize draw in a year.
But if you are lucky, it is nice with an extra chance of earning.
How do you get paid?
SurveyBods uses a points system for their rewards.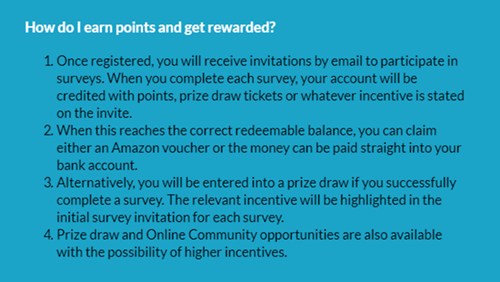 You will earn points for completing surveys. You can then use those points and exchange them for cash or gift cards.
And as mentioned above, you will also be rewarded with an entry for the prize draw for every survey you complete.
Once you reach the appropriate point balance, you can exchange it for an Amazon gift card, or have it deposited directly to your bank account.
You can also request for payment via check. But this normally takes time because it will be mailed to your address.
You will need to reach a payment threshold of 1500 points (equivalent to £15) though before you can redeem rewards.
This, in my opinion, is a bit on the higher side of payment thresholds. That will mean you have to complete a considerable number of surveys.
If you want to earn money quickly though, I suggest you check out the quickest paying survey sites.
These survey sites have a low payment threshold, so you should be able to withdraw your money quite quickly.
How much money can you make?
In terms of possible income, don't expect to earn a lot from SurveyBods.
Your possible income will really depend on how many survey invites you will receive and how many surveys you actually qualify for.
Right from the start though, you will be asked to answer 4 profile surveys that will reward you with 50 points each upon completion. That means you will already have 200 points just by completing your profile.
That is worth £2 so a pretty good reward for filling out your profile.
So, you will only have to accumulate another 1300 points. But that isn't easily achievable though.
Unfortunately, I won't be able to give you an exact figure of how many points you will earn per survey completed on average. That information isn't available on their site. But usually, you can expect to receive around 50 pts or twice that for each survey you complete.
So you can expect you have to answer at least 20 surveys before you can request for your first payout – but that is if you are lucky and get the highest rewards for all of them which is not likely.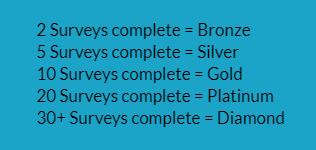 Also, they have a system in place that will upgrade your panel status depending on the number of surveys you've completed.
As shown in the photo above, there are five panel membership levels – the bronze, silver, gold, platinum, and diamond.
As to what you can get out of this, unfortunately, they don't explain. I can only surmise you will receive certain benefits for each level. Otherwise, that type of system would just be completely useless.
If you are looking for survey sites that offer better rewards, I recommend you check out the top paying survey sites in your country.
The survey sites on that list offer better rewards and decent survey invite frequency.
Can you use it on mobile?
There is no mention on their website about a SurveyBods app you can download on your mobile device.
So if you were hoping to work on surveys using your mobile device, the only way to do that is to log in to the site using a mobile browser.
Fortunately, the mobile version of their site is optimized for mobile use. That means you won't have to scroll left to right or zoom in and out just to view the content properly.
This, at least, gives you a chance to be more efficient at accumulating points since you can answer surveys even when you are not in front of your computer.
Who can join SurveyBods?
During the registration process, you will be asked which country you live in. This is the confusing part of the registration process.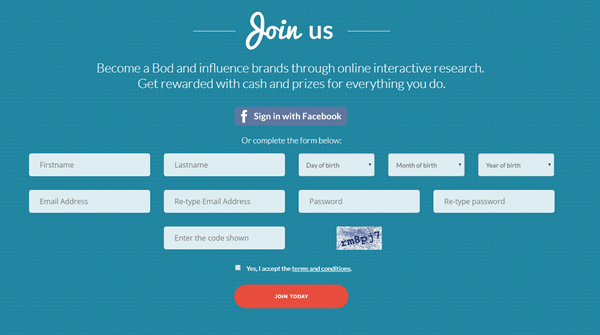 You will be asked which country you live in and you will have plenty of choices. But upon checking in their FAQs section who are eligible to join, it says that only UK residents aged 16 years or older can join SurveyBods.
Their registration process could have been structured so that you would be notified right away that you are not qualified to become a member of the site because you live outside the UK.
That would save you a whole lot of trouble trying to register.
There are plenty of survey sites that do it this way. So that leaves me to question why they would ask you which country you live, when in fact, only UK residents are allowed to join?
That, in my opinion, is just poor website planning and design. If they lack the capability to check where you live, there is a simpler solution. They could have just displayed the information on their homepage where you can see it right away.
An ordinary website viewer would not think of checking the FAQs section first before trying to sign up.
Anyway, there are so many great survey sites in the UK, so even if you live here, SurveyBods is not really the best choice, in my opinion.
Can you get support?
Here's another issue that you may encounter with SurveyBods.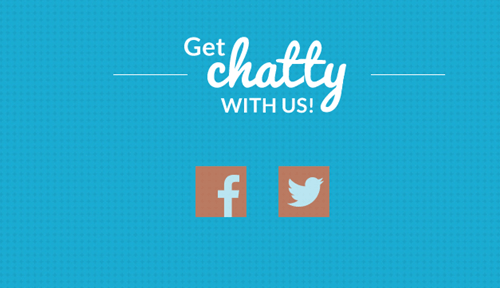 When you get to their homepage, you can clearly see a tab on the top that says Chat. So normally, you can expect you can chat with a representative by just clicking that link.
But what happens is, you will just be redirected to a section of their homepage that contains their Facebook and Twitter links.
So really, what they mean by Chat is you will be able to chat with a support representative if you click any of the two social media links provided.
Then another problem arises. If you click the Facebook link, you will be redirected to a page that doesn't exist. When I doublechecked, it seems that the link wasn't really broken.
They just don't have any Facebook page at all – at least not anymore. But since they have a Facebook address, it seems they used to have one but for some reason, it has closed and they have not updated this link on their website.
Their Twitter link does work though, and it seems they are pretty active on that platform. So you will be able to contact them via that page. But that's about it.
Apart from the FAQ section they provide, the only way for you to contact them is through their Twitter page.
They don't have a contact form on their website, which is really a shame. That would have been at least the most basic form of support method they could provide.
Final Verdict
Based on the feedback from members of SurveyBods, they do pay you for the surveys that you complete. So that means they really are a legit survey site.
But in all honesty, the bad website design and lack of support avenues offered are what really ticked me off with SurveyBods.
If that isn't enough for you to make a decision, let's finish this review with a summary of their pros and cons to help you decide if this site is for you or not.

Pros:
Payment via direct bank transfer is available
Cons:
High payment threshold
Lack of support avenues
Poor website planning and design
Limited to UK residents (but they are not clear about this)
All in all, the lack of technical support avenues, region limitation (and not being clear about this), and the high payment threshold really don't make it an optimal choice for earning a bit of income, in my opinion.
There are simply many survey sites that offer better rewards, lower payment threshold, and better technical support avenues.
You are better off checking out the best survey sites in your country. That list will contain a lot of survey sites you can choose from that will allow you to earn a good bit of income without any hassle and region limitation.
If you have any comments, questions, or have any experiences with SurveyBods yourself, I would love to hear from you in a comment below.