If you've been looking for ways to earn extra income, maybe you've encountered a site named BARE International.
It is mostly a mystery shopping site that promises to reward you for doing shopping activities in their partner shops.
But is BARE International legit or a scam to stay away from?
This is an important question to ask and must be answered immediately. So, let me just say that yes, BARE International is a legit mystery shopping site that will pay you for becoming one of their mystery shoppers.
Is it worth your time though? This BARE International review will answer that question and more. After reading this review, you know exactly what to expect and can decide if you should register as a mystery shopper or not.
What is BARE International and what does it offer?
As suggested by its name, BARE International is a global company that specializes in market research.
They are able to provide valuable insight for their partners by employing mystery shoppers to do some research.
That's where you come in. If you want to earn from BARE International, you have to sign up and become a mystery shopper (I will talk about their registration process later).
To truly find out if this site is worth joining or not, we have to take a closer look at how you can earn from it. So, let's take a look at the earning opportunity that BARE International offers.
I have made a short video that will give you an inside look so you can see exactly how it works. You can also read all the details below the video:
The earning opportunity – BARE Jobs
Once you become an evaluator (the term they use for mystery shopper) for BARE International, you can access their member dashboard and look for BARE jobs available.
You will find all the available jobs on the Job Board section of their dashboard. All the shops listed will be relative to where you are.
You will then see a list of stores you can shop from, how far it is from where you are, and the payment you will get for shopping from that store.

Take note that the Fee posted will be in Euros in most countries even if you do not use Euros as a currency in your country. So don't be alarmed if you see a small number.
You can decide how far from your home you want to see available jobs. However, in my opinion, it makes the most sense to keep it as close to your home as possible – if you have to spend too much time and money on transportation it will suddenly not be profitable anymore (more about how much you can earn later).
To figure out what you have to do with the job, you have to click the More button. Doing so will display the instructions you need to follow.
If you want to do the job, you then have to click Apply. Once that clears, you can then visit the shop according to the time it is available in the job offer.
When you do the job, it is important to follow all the instructions provided for the job because you will then have to create a report about it later. The report is also very important because this will be BARE International's basis on whether you will receive the reward or not.
Even though it is a mystery shopping job, not all jobs will involve you having to spend money. But sometimes you will either have to buy one of the products in the store or avail of the services they offer.
Other times, you just have to go there and ask a lot of questions and evaluate the service you get and how the overall experience in the shop is.
If you do one of the jobs where you have to spend money, make sure to get the receipt because you will need to photograph it to provide proof that you did the purchase. Once you complete the job, as mentioned, you will have to submit a report.
When making the report, you will have to provide proof of visit, photo of the receipt or job order (if it is service-related), selfie picture at the site and government-issued ID. You have to submit the report as soon as possible.
When you apply for the job, you have to indicate if you are able to submit the report within 24 hours. There is no right or wrong answer here. You just have to be honest about it.
Once you've submitted the report, BARE International will then review it and once it clears, you will receive the fee/reward, as well as a reimbursement of what you've spent on the site (I will talk about this next).
As you can see, the process is not that simple, in my opinion. It's quite a long process. So, if you are looking for a simple way to earn a few bucks, this is not the ideal site for you.
It can be a fun and different way to earn but you just have to also think about the time it takes to go to the shops before deciding if it will be worth your time or not.
Also, you have to make sure to follow the instructions carefully – if not, they will not approve your work and you will not get paid.
How do you get paid?
Every job you take will have a reward. And as mentioned the currency used for the reward will be in Euro in most countries. Bare International payment will be on a monthly basis.
They pay you every 16th of the month and it will cover the reimbursement of the money you spent on shopping in the stores they listed, plus the reward you will receive for successfully completing the job.
One thing about their site though is, it won't notify you of the total fee you've accumulated every month. You will have to track it manually by going to their Shopper's Log tab on their dashboard.
This is quite inconvenient, in my opinion, but with such a complicated process of completing jobs, it's a bit expected.
So let's talk a bit more about the reimbursement process because this is very important.
Every job you take on BARE International has a reimbursement clause. They will only reimburse you with a set amount, depending on the job you take.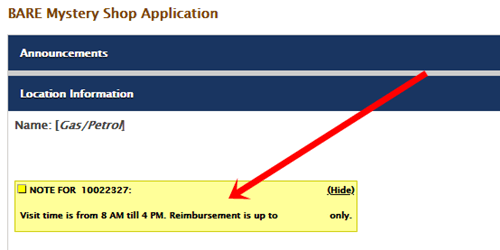 You will know right away how much they will be willing to reimburse you when you take the job because it will be included in the instructions. So make sure to not overspend when doing jobs.
As for the payment, if you live in Canada, they will pay you via check. If you live anywhere else, you have the choice to receive the payment via bank transfer or via PayPal.
All in all, they do offer a convenient payment method, unless of course if you live in Canada.
If you do and are looking for sites that offer a more convenient payment method, I suggest you check out the top survey sites that pay via PayPal instead.
How much money can you make?
Theoretically, there is no limit to how much money you can make on BARE International. But of course, this will all depend on whether you receive plenty of offers to shop where you live.
Also, BARE International doesn't limit your job activities to where you live. You can also take jobs in other parts of the world. This can be useful if you travel frequently.
But as for the earning potential of this site, in my opinion, it is quite low considering the time you have to invest in doing a single job.
You have to keep in mind that you have to travel to the store, spend some time getting everything you need to make a report and then travel all the way back home.
That's a lot of time to invest, in my opinion. It can even take a whole day and all you get is a couple of Euros.
The money/time ratio simply isn't good enough unless you are already going to the particular shops anyway. There are plenty of other sites that will allow you to earn more with less hassle.
Also, unless you live in a big city, you should not expect to find jobs very often. So no matter what, it should just be seen as a fun way to make a bit extra but you should not plan on it to provide continuous income.
In addition to this, there is the risk that your job will not get approved if they do not think you have followed the instructions.
If that is the case, you will not get reimbursed and you will not get paid. So in that sense, you need to make sure you know what you are doing. If not, it can be a bit risky as you can end up losing time and money.
Can you use it on mobile?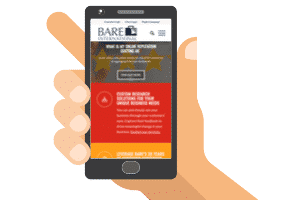 Using your mobile device when completing jobs can be very helpful. Fortunately, you won't have a hard time doing so because you will be able to access their site on your mobile device with ease.
You will be able to log in to their website from your mobile device by using a mobile browser. You will be able to conveniently navigate through their site too because it is mobile-friendly.
That means you will be able to see all the content properly without having to zoom in or scroll left to right just to read all the content. This can be quite handy when you are double checking the instructions of the job you are about to do.
Aside from that, you can also submit reports using your mobile device. This can also be useful because you can easily upload the photos you've taken for your report. You can also check if there are any jobs available near your current location.
So, if you travel frequently, having this option can be very useful, in my opinion.
Who can join BARE International?
As stated in the earlier part of this article, BARE International is a global company. That means it caters to people anywhere in the world.
This also means you can become an evaluator regardless of where you live so it is truly an international mystery shopping option and this way it lives up to its name.

To become an evaluator, you have to undergo the registration process (which is longer than most). You have to provide all the necessary information.
Then once you've finished the registration process, you then have to answer some form of survey.
This survey is intended to help them qualify you for more job offers, especially in your area. The survey won't take very long to complete so make sure you do that once you become an evaluator.
You also have to be at least 18 years of age in order to become an evaluator.
Can you get support?
One thing to note about their site is, there isn't really a lot of information about how the site works and what you need to do to earn from it.
You will have to figure that out on your own because their Help section is, well, not very helpful. This, in my opinion, is the most pressing concern about the site.
If you are a newbie on being a mystery shopper, you will have a hard time figuring out what to do on the site.
It would have been better if they provide some sort of guide on what you should do to get started. That way, new members who don't have any idea what to do will have some sort of starting point.

And seeing as there's hardly any information about how the site works when you are an evaluator, you will naturally have several questions you want to ask their support team.
The problem is, there is really no way for you to contact their support team once you are in their member dashboard.
You will have to log out of their dashboard to get to their contact page, which is found on their company website. You will then find all the contact details you will need (shown in the photo above).
Whoever designed the user interface of their member dashboard didn't really think things through, in my opinion. Getting support is basically a must if you have a site like this and making sure you are able to request for support pretty easily should be a priority.
All in all, although they do provide a way for you to contact their support team, the accessibility of the contact details isn't really done in a convenient manner.
Final Verdict
BARE International is a legit mystery shopping site that will pay you for becoming a mystery shopper. It has some good points to offer, but it does have its drawbacks.
So let's finish this review with a summary of its pros and cons so you can get a full overview of what you can expect from their site before deciding if you should join or not.

Pros:
Available globally
Provides a convenient payment method

Cons:
Limited earning opportunities
Will require a significant time investment just to do one job
The registration process is a bit complicated
Site is not user-friendly
As you can see, there are plenty of concerns about this site. The main one is that it simply takes too much time to earn a few bucks. Plus, you won't get paid until the next month, which can be quite long for some.
The lack of information about what you can do on the site also doesn't help. There are simply better sites to earn more extra cash and with lesser time investment, in my opinion.
But if you are often going shopping and live in a big city with several Bare International jobs, then it can be a way to earn a bit while shopping anyway.
However, if you are looking for sites that will allow you to earn a decent amount without having to invest a lot of time and without going to certain locations, I recommend you check out the top survey sites in your country instead.
The survey sites on this list all have good earning potential. Plus, it won't eat up too much of your time as you can do it from home. You will also be able to find a survey site that will fit your needs regardless of where you live.
If you have any comments, questions, or have any experiences with BARE International yourself, I would love to hear from you in a comment below.