OneOpinion is a survey site that claims to reward you for sharing your opinions.
But is OneOpinion legit? Let me just say right away, yes, it definitely is one of the legit survey sites out there.
This doesn't necessarily mean though that you should become a member. You have to determine if joining this site is really worth your time or not.
This OneOpinion review will take a look at all the opportunities it has to offer and everything else you need to know.
That way, you can make an informed decision on whether joining this online survey panel is in your best interest or not.
What is OneOpinion and what does it offer?
As mentioned, OneOpinion is primarily a survey site. The reason I included the word "primarily" is it mainly deals with paid surveys.
But that is not the only opportunity it offers (we'll take about the earning opportunities later).
This site is owned by Critical Mix, which has been acquired by Dynata. If you are not familiar with Dynata, it is among the world's leading providers of first-party data. They acquire the said data from consumers and business professionals alike.
So it is involved in a lot of market research and survey sites – you know that it is a legit site when Dynata is behind it.
With OneOpinion, you have two ways to earn.
Let's take a closer look at how you can earn rewards from this site so you can better understand what they have to offer and if it will be worth your time to join.
Option 1 – Paid Surveys
The main opportunity OneOpinion offers is paid surveys. This is not surprising because as I said, they are primarily a survey site.
Once you become a member of OneOpinion, you will have access to the paid surveys they offer. You simply have to log in to their site and you will see all the available surveys you can take.
You will also be notified via email if there are available paid surveys you can take. So you might want to check your email from time to time instead of just logging in to their website.
Normally, before you can take the actual survey, you have to answer a few pre-screening questions.
They do this to check if you qualify for the survey. This is their method of ensuring you belong to the target demographic the survey is looking for.
After you've finished answering the pre-screening questions, you will be notified right away if you qualify or not. If you do qualify, you can then proceed with answering the survey, so you can get your reward.
If you don't qualify, you simply move on to the next available survey.
Unfortunately, there is no information on their site about whether or not you still receive points even if you don't qualify for a survey.
Some survey sites still reward you with a small number of points even if you don't qualify for a survey. But if they do not mention it, it is likely because they do not offer this option.
Most of the paid surveys they offer are open for a predetermined amount of time. But sometimes, some surveys are more popular than others, which will lead to more respondents answering it.
When this happens, the survey will be closed and won't be available for you even if you haven't answered it yet. So, it is recommended you answer the survey as soon as you receive the invite.
Once you complete the survey, you will then be rewarded with points, which you can use to exchange for rewards. I'll discuss later how you can redeem your rewards.
Option 2 – Product Testing
They mention in their terms and conditions page that they do offer other activities where you can earn rewards.
From what I have heard, it seems like they also offer product testing as a way for you to earn rewards at times.
Unfortunately, there isn't any information on their website about how they conduct product testing.
Other members say though that you will be offered product testing opportunities if you have been a member OneOpinion for more than a couple of months.
So you might want to check your dashboard from time to time if there are any product testing opportunities available if you have been a member of OneOpinion for quite some time.
How do you get paid?
OneOpinion uses points as the currency of their website. So, for every paid survey you complete, you will be rewarded with a certain number of points.
You can then use the points you've accumulated and exchange them for certain rewards.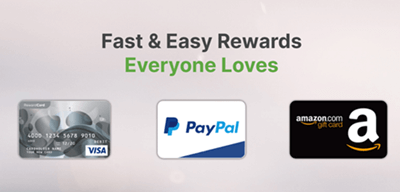 In order to start redeeming rewards, you have to accumulate a minimum of 25,000 points. It sounds like a lot and it really also is. 25,000 points are actually equivalent to $25.
So in terms of payment threshold, in my opinion, a $25 payment threshold is actually quite high. There are plenty of sites that will allow you to get paid quickly because they have a lower payment threshold.
If you are looking for one, I suggest you check out the fastest paying survey sites.
Once you reach 25,000 points, you have the option to exchange it for a prepaid debit card, withdraw it via PayPal or exchange it for Amazon gift cards.
If you choose to exchange it for a prepaid debit card, it will be sent to you via mail. So you will have to wait a long time before you receive your reward.
If you choose to redeem Amazon gift cards, you can opt to receive a virtual version of the gift card.
That way, you will be able to receive the reward right away since they will only email it to you. It's a more convenient and faster option, in my opinion.
Just keep in mind, before you can receive the virtual gift card, you will have to undergo a verification process. You just have to answer honestly and accurately all of the questions they will ask you.
Overall some good payout methods but the payout threshold is just a little too high, in my opinion.
How much money can you make?
In terms of the potential income you can make from OneOpinion, it will actually depend on how many survey invites you receive and how many surveys you qualify for.
This is just how it is with all survey sites. There is no set number of surveys you can answer each day. The survey invites will be based on the information you provide them and the needs of their clients.
So some days, there will be several survey invites and some days there won't be any.
Just to get a clear picture of how much you can earn per survey, the average rewards for each survey will range from $1 to $5. Also, the longer the survey, the higher the reward you can expect.
But again, you really can't expect a stable amount of earnings from them because the availability of the paid surveys will vary from time to time.
Can you use it on mobile?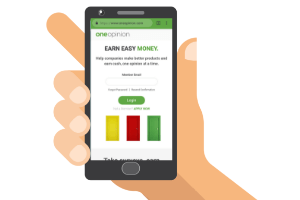 There is no mention on their website about a OneOpinion app you can download and install on your mobile device.
So I checked the mobile version of their site and the good news is, you are able to access their site via a mobile browser. And it looks like their site is optimized for mobile use.
When I say it is optimized for mobile use, it means the site is able to display all the content properly without having to scroll left or right just to view all the content.
So if you are hoping to work on paid surveys on your mobile device, you can do that by just logging in to their site using a mobile browser.
This at least gives you a chance to answer the available surveys right away even when you are not at in front of a computer.
Who can join OneOpinion?
OneOpinion used to be open to people living in the US, UK, Canada, Spain, Germany, Italy, France, Netherlands and Australia are able to register as a member.
However, since I first reviewed it, they have closed the option in several countries and you can now only join if you live in the US and the UK.
You do have to be at least 18 years of age or older in order to register. If you are between the ages of 13 and 17, you can still join but you have to obtain permission or consent from your parent or guardian.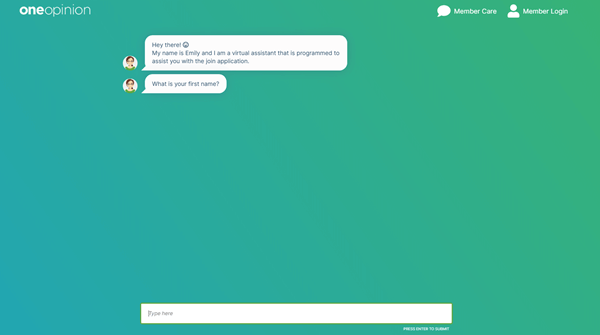 Their registration process is quite unique. As shown in the photo above, it will be like you were interviewed by a person via chat. The one interviewing is actually a chat AI which will just ask all the necessary information.
You simply have to answer the questions as honestly as you can.
It is a fun gimmick but it is also not quite as effective as just filling out a joining form, in my experience.
Once you become a member, keep in mind you have to be active within a certain amount of time (90 days in OneOpinion's case) in order for your membership status to stay active.
Once you become inactive for more than 90 days, they will give you 30 days' notice.
If you do not remedy the situation (answering surveys or do product testing), they will cancel your account and you will forfeit the points remaining in your account.
So if you are planning to be inactive for a long time, make sure to cash out your points.
Can you get support?
One good thing going for OneOpinion is, they have several ways you can contact their support team.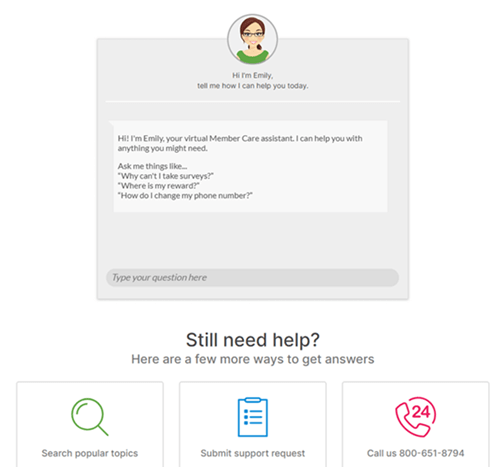 They coin their support as Member Care, which in my opinion, is only fitting.
If you have any inquiries, you can ask their chat AI (the same one in the registration) and it will answer your questions. Just make sure to follow the instructions on how you ask questions.
They also have a comprehensive FAQ section which should answer most of the common questions you have in mind. If you do want to talk to a real person, you can call the number provided on their Member Care page – it is quite unique for a survey site to provide member support via phone but I think it is great it is an option.
I also checked their Facebook page to see if it could be a valid platform to get support from.
Theoretically, you can send them a message if you have any concerns. But I'm not sure if they will get back to you quickly seeing as they haven't been active on the page for several months now.
So, if you are really looking for support, I recommend you go via their Member Care page or give them a call.
Final Verdict
OneOpinion is a legit survey site that is actually a fairly popular site.
But this does not mean it will necessarily be a good option for you.
To help you come to a decision whether to join or not, let's finish this review with a summary of its pros and cons.

Pros:
Excellent support team
High rewards per survey offered
Payment via PayPal is available

Cons:
High payment threshold
Membership is limited to certain countries only
Limited earning opportunities
As you can see, OneOpinion can be a decent secondary site. It can be a nice addition to your roster of survey sites you can earn from if you want to be a member of as many as possible.
The only things hindering it from becoming a top ranking survey site are the high payment threshold and the relatively few earning opportunities it has.
But it does have an excellent support team which is a valuable asset if you should ever need help.
But if you are looking for survey sites with better earning potential, I recommend you check out the best survey sites in your country.
You can find plenty of sites to choose from no matter where you live and each of them offers better rewards and lower payment threshold, in my experience.
If you have any comments, questions, or have any experiences with OneOpinion yourself, I would love to hear from you in a comment below.