One way to earn extra money online is to join a survey site. Of course, it can only be a good option if the survey site you join is actually a good survey site.
And if you've been searching for good survey sites to join, you've maybe already encountered a site called Canview Connect and you're wondering if it is worth it?
Well, if you read this Canview Connect review, you will learn all about what this site has to offer.
You will find out whether this site is legit or just a scam and it will also show you everything the site has to offer so you can properly determine if it is truly worth joining or not.
So, let's go ahead and get this review started, shall we?
What is Canview Connect and what does it offer?
As mentioned above, Canview Connect is a survey site that will pay you for answering surveys. This survey panel is owned by Canadian Viewpoint, a popular market research company in Canada. And yes, it is indeed a legit survey site since it will really pay you for answering surveys.
Now, to figure out if it is really worth joining, you must first understand how it works. And to do that, we have to first examine the earning opportunities it offers. So, here's how to earn from Canview Connect.
Option 1 – Paid surveys
The main way to earn from this site is to answer surveys. From time to time, you will receive an email inviting you to participate in one of their surveys.
This email will tell you how much you will earn for completing the survey, how long it will take to complete it, and the topic of the survey. It will also give you the link to the survey.
Now, it is important to answer the survey as soon as possible since every survey they offer is available to a limited number of respondents. When that number is reached, they will stop accepting new respondents. So, it is in your best interest to never ignore the survey invites they will send your way if you want to earn the most.
When you answer a survey, the first thing you have to go through is their qualification process. Canview Connect needs to make sure they are only gathering relevant answers and the only way to do that is to ensure the right people answer the survey.
If you get past the qualification process, you get to answer the actual survey. If you get disqualified, then the process ends and you'll just have to move on to the next survey available (if there is any).
When you've successfully completed the survey, you will receive a certain number of points. Later on, I will discuss what you can do with the points you've earned.
Option 2 – Referral program
Most survey sites offer a referral program. Canview Connect is no different. In case you don't know, a referral program is a type of earning opportunity where you'll have to invite other people to join the site.
To invite a person to join Canview Connect, just share your invite link with them. When they click the link and sign up as a member, they will become your referral. But before you will receive your referral reward, your referral must complete a survey or get disqualified for a survey three times (whichever comes first).
When one of those conditions is met, you'll receive 500 points as a reward. You will also earn 10 points every time your referral completes a survey. It's a decent form of passive income, but you have to make sure the people you invite are really interested in being active on Canview Connect.
Recommended: Check Out the Top Survey Sites in Your Country
How do you get paid?
As explained above, for every survey you complete and referral you get, you will earn a certain number of points. Now, the points you've earned can be converted to cash and the conversion rate is 100 points equals $1.
To redeem your rewards, you will need to earn at least 1,000 points. So, that means the payout threshold of Canview Connect is $10, which is relatively low. When you've reached the threshold, you can then request for a payout and it will be paid to you via check which they will send via postal mail.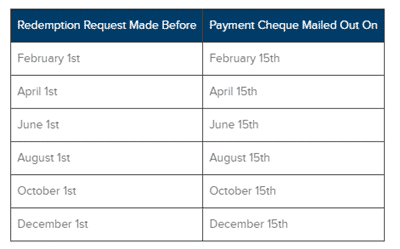 The photo above shows the schedule of when they will mail your check. So, if you, for example, requested a payout before February 1, the check will be mailed to you on February 15. And usually, it will take around two weeks before the check will arrive at your doorstep.
It's actually quite a long wait before you will receive your reward, which is the one thing I don't like about this survey site. There are plenty of more convenient payment methods available today where you can receive your rewards quickly, but they still choose to use the "old" method.
Their payment system is pretty simple, but you'll have to wait a long time before you will receive your reward and you have to take the extra step to have your check exchanged for cash before you can actually use it.
If you are looking for sites that offer a more convenient payment system, I would recommend you check out the top sites that pay via PayPal instead.
How much money can you make?
The thing with Canview Connect is, as explained above, it offers limited earning opportunities. So, if there aren't any surveys available, you really won't earn anything. And you don't really have any control of the availability of their surveys.
As for how much you can earn for every survey you complete, you will typically earn around $1 to $3 per survey, which isn't that bad, in my opinion. However, they don't really have that many surveys, so it will still take a significant amount of time before you will be able to reach their threshold and withdraw your earnings.
That's why I would say the earning potential of this site isn't that good. You will have to be very patient since there aren't a lot of ways to earn.
Can you use it on mobile?
Canview Connect doesn't have a mobile app you can download so you can answer surveys conveniently from your mobile device. But, since you can access your email inbox from your mobile device, you can still answer surveys even when you are not in front of the computer.
Their site is optimized for mobile use, so you can expect the surveys will also be mobile-friendly. So, you don't have to zoom in just to read all the content.
This is a very useful feature because as explained earlier, it is important to accept the survey invites quickly since there's a limit to the maximum number of respondents per survey. So, if you can answer the surveys immediately using your mobile device, it will certainly help you maximize your earnings from this site.
Who can join Canview Connect?
Canview Connect is only available for people who live in Canada. So, if you live somewhere else, then this site is not for you. That also means that the site is using Canadian dollars as its currency.
Now, if you are interested in more survey sites for Canadian residents, I would recommend you check out the top survey sites in Canada as well.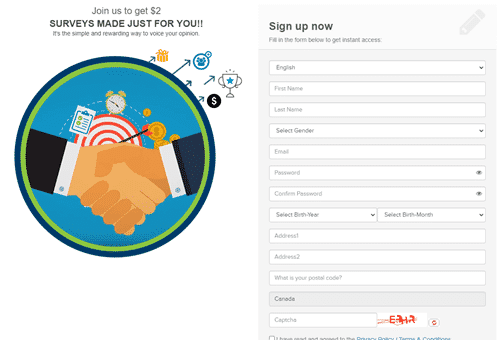 To join their survey panel, you have to be at least 18 years of age to join. Then, you have to fill out their registration form. Canview Connect will then send a confirmation email. Simply click the confirmation link to complete your registration.
When you've done that, you will receive a $2 sign-up bonus, which is a good head start, in my opinion. Not a lot of survey sites offer a sign-up bonus. It will help you reach their payout threshold for the first time a bit faster.
Can you get support?
The site really doesn't have a FAQ page you can check out if you have any questions about the site or your account. But, the good thing is, they have a phone number you can call if you really need to talk to their support team right away.
You can also just fill out their contact form on their website to send your inquiries. Overall, I would say that their site does have a decent support system in place for their members even though they don't have a FAQ page you can check out.
The reason why I say this is, having a phone number you can call for support can actually be a big help if you experience any issues while using the site. Not a lot of survey sites offer this kind of support option. But I do wish they would also provide a FAQ page for a better overall user experience.
Final Verdict
Canview Connect is a legit survey site that will pay you for answering their surveys. It has a couple of good features, but it also has some limitations you need to consider.
Let me wrap up this review by summarizing its pros and cons to give you an overview of what the site has to offer. Then, you can decide if you should go for it or not.

Pros:
Their site is mobile-friendly
Offers decent rewards per survey you complete

Cons:
Limited earning opportunities offered
Limited payment options offered
If you are eligible to join this site, then it can be a decent secondary option, in my opinion. That is, if you set your expectations properly. It will take some time before you can withdraw your earnings mainly because of the limited earning opportunities offered.
Plus, their payment system is actually a bit outdated, in my opinion. You will have to wait for at least a month before you can receive your earnings, which is quite a long wait. If you are okay with that, then, by all means, sign up as a member.
But if you are looking for better ways to earn extra cash, I would recommend you check out the top survey and GPT sites in your country instead. The sites on this list all offer good earning potential as well as convenient payment methods.
Plus, you will definitely find a site you can join regardless of where you live.
If you have any comments, questions, or have any experiences with Canview Connect yourself, I would love to hear from you in a comment below.