GPTbee is, as the name suggests, a Get-Paid-To site and it is available worldwide.
But is GPTbee legit and worth your time, or is it a scam?
I have joined to test the site thoroughly and see exactly what it offers and compare it to the hundreds of other free online earning methods I have tested over the last 6 years.
In this GPTbee review, you will get an inside look and see what it offers and exactly how good the earning options are so you can easily find out if it is a site you want to join or not.
What is GPTbee and what does the site offer?
GPTbee is, as mentioned, a GPT site (Get-Paid-To) and it has existed since 2014 so it has been around long enough to prove it is sustainable which is a good sign.
The company behind the site is located in India but it allows members to join from all over the world (more about this later). The company behind it is the same company that is also behind the platform ThinkOpinion.
The two sites are very similar so if you are a member of one, the other will in many ways look very familiar.
As GPTbee is a GPT site, it offers several ways to earn, so let's go over all the options it has and how good each of the options is, so you can find out if it has what you are looking for.
I have made a video that gives you an inside look and shows you exactly how to use GPTbee. You can also read all the details below the video:
Recommended: See the Top GPT and Survey Sites in Your Country
Option 1 – Paid surveys
As on most other GPT sites, paid surveys are one of the main ways to earn on GPTbee.
Let me just reveal right away that it is not the most user-friendly survey site so at first, it can be a bit confusing to find out how to navigate and find the survey options there.
The reason for this is that there are several options called something with surveys. You can find both a tab called daily surveys, daily surveys – unlimited, and one just called surveys.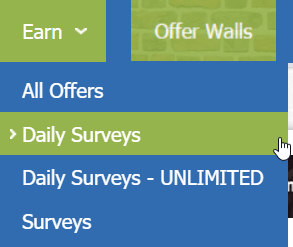 All three options have different survey opportunities. So if you want to take surveys on GPTbee, it can be a good idea to look through all of them.
The surveys there are from third-party providers, which means you will be taken to a different site to take the surveys but the earnings will go into your GPTbee account.
It has quite a lot of survey opportunities. Exactly how many, however, depends a lot on the country you live in.
The rewards per survey are decent but in my experience, they are not among the top paying survey sites even though some of the surveys do pay very decently compared to other sites.
So the paid surveys on GPTbee is definitely a real way to earn but just be aware that you will not qualify for all the surveys so sometimes it can take patience to find the surveys you qualify for.
And when you first join, it will likely take a bit of time to figure out how to navigate on the site as it can be a bit confusing.
Option 2 – Paid to sign up
GPTbee has a section with Paid to Sign Up offers.
This means you can find a list of other GPT sites or similar, and if you go and sign up for them through the link on GPTbee, you will get a small reward for this.
The list is, however, very small, and the rewards are also very low for this. So this is definitely not the best way to earn on GPTbee. The total offers I have seen there would make less than $1 even if you signed up for all of them.
But if you want ideas for other similar sites to sign up for, you can get some inspiration in that section (alternatively, you can check out the list of the best options in your country here)
Option 3 – Paid to click (click ads)
Paid to Click (PTC) is a section where you can get paid to click ads and visit certain websites.
I am usually not too crazy about PTC options as they give very low rewards on most sites – but at least they are easy to do.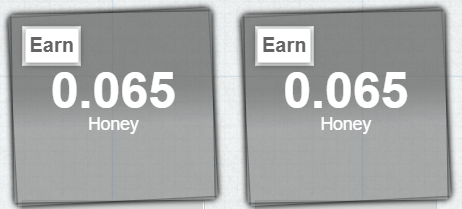 On GPTbee the rewards are also low and there are very few PTC options. So it is definitely not a way to make a lot of money. But if you are on the site anyway, it does not take long to check this section.
However, compared to other sites that offer PTC, the option on GPTbee is not very user-friendly.
Usually, you will have a timer and see exactly how long you need to visit a site to get paid – that is not the case on GPTbee.
There is no timer. All it says is that you need to wait for the site to load completely.
But I have tried to leave a page quickly after it was loaded and did not get paid for it. So it is not completely clear how long you need to be on the sites to get the rewards.
So overall, if you want to spend your time wisely, many of the other earning methods on GPTbee are better options.
Also, you cannot always find PTC options on GPTbee so do not be alarmed if you do not see any options in that section.
Option 4 – Offer walls
Most GPT sites have a good selection of paid offer walls.
That is also the case for GPTbee – in fact, they have a very big selection of offer walls.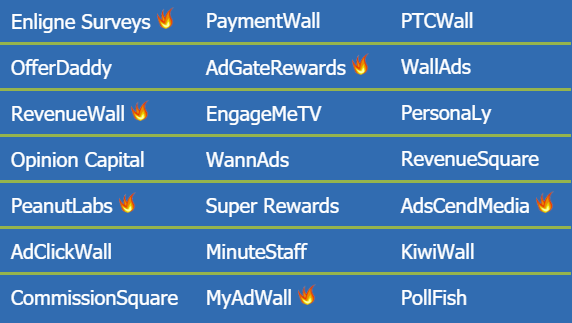 In my opinion, this is one of the best options on GPTbee because it has so many offers in one place.
You can find many of the same offer walls on, for example, PrizeRebel or on the site ySense, but on GPTbee a big amount of them are gathered in one place.
The rewards on the offer walls are average compared to other sites.
You can find some great offers here to boost your earnings. But make sure to read the conditions for each offer carefully, as some of them are not so great.
But if you take the time to read the conditions for the offers and find the good ones, this can be a good earning option on GPTbee.
Option 5 – Invite friends to join
You can earn by inviting other people to join GPTbee.
You will earn a 15% commission of what your level 1 referrals earn and 5% on level 2 referrals (people invited by your direct referrals).
This will not affect the earnings of the people you will invite but is paid by GPTbee. So if you know a lot of people that could be interested in joining and using the platform actively, it can be a nice way to earn a bit extra.
Option 6 – GPTbee promo codes
When you are logged into GPTbee, you can find a section where you can add a promo code to get free points.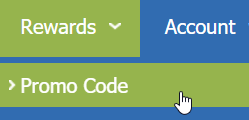 According to the site itself, you can find these promo codes regularly on their Facebook page.
I have checked and at the moment of writing this review, it has been several months since a promo code was last posted.
So it is not a way to earn a lot. But if you are a member it can be a way to get a few free points once in a while but as it is now, it will take quite a bit of patience.
It is, therefore, better to rely on the other earning methods for more consistent earnings.
Recommended: See the Top GPT and Survey Sites in Your Country
How do you get paid?
As you can see, there are several ways to earn on GPTbee but to find out if it is the right site for you, it is also very important to know how you will get paid.
When you earn on GPTbee you earn points, which they call honey.
This honey can then be exchanged for cash you can get out in several ways.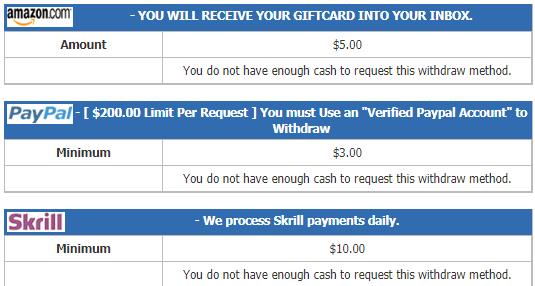 The exact payout methods can vary from country to country, but some of them are PayPal, Amazon gift cards, Skrill, PayTM, and Flipkart gift cards.
1 honey point equals $0.01 – remember this conversion ratio as that will make it easier for you to figure out how much you get for the different tasks on GPTbee.
The minimum payout threshold depends on your chosen payout method.
If you use PayPal, you can get a payout already when you have earned $3, for Amazon, it is $5, and for Skrill, the threshold is $10. This can, however, vary a bit from country to country.
But overall some quite low payout thresholds no matter your chosen reward, so it should not take too long to be able to get paid.
If you are a new member, you will get the money within 3 – 7 business days after requesting a payout. As a verified member, you will usually get paid within 24 hours.
If you live in India, you have to verify your account by uploading ID to get paid. For all other countries, this is not necessary.
How much money can you make?
How much money it overall is possible to make on GPTbee is difficult to say exactly.
It depends on a lot of things. First of all, it depends on your activity level. And also the country you live in as not all countries have the same amount of opportunities.
Overall, I can, however, say that it is possible to make some extra cash but it will not make a full-time income online.
It is completely free to get started and you can start earning today, but if you are looking to replace your full-time job with it, it is not the right option for you.
But if you are looking for some extra cash without having to invest anything, then it can definitely be an option.
Can you use it on mobile?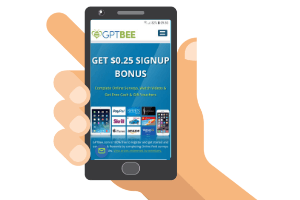 You can use GPTbee on mobile which means it is possible to use it to earn on the go.
The websíte does not have an app but you can log in through the browser on your mobile and tablet.
GPTbee is fairly well optimized for mobile. In general, it is not the most user-friendly site but if you have gotten used to how it works, it will also be possible to use it on mobile.
So that is great as you can then use it to get access from all devices.
Who can join GPTbee?
GPTbee is open to all countries worldwide which is great.
However, not all countries have the same opportunities.
The countries with the most opportunities are India, USA, Canada, Thailand, France, Brazil, Italy, Finland, China, Germany, Australia, France, Vietnam, Hong Kong, and Denmark.
In these countries, you can use all the earning methods and find a good amount of opportunities.
You can still join from all other countries, but in most other countries you can only earn by using the PTC option, referring people, and promo codes.
Can you get support?
Being able to get support is important on a GPT or survey site.
On GPTbee you can easily submit a support ticket in the member area.
By taking a look at their Facebook page, it is possible to see the support is quite active as they reply to the messages people leave there.

I have also been in contact with GPTbee myself and I got quick and useful answers.
So it seems like they have good support which is great.
Final verdict
No doubt that GPTbee is a legit site and it is a real way to earn some extra money online.
This does, however, not mean it will necessarily be the best option you have.
So let's finish this review by summing up the pros and cons so you can get a better overview before deciding if it is for you or not.

Pros:
Good payout methods
Several earning methods
Available worldwide

Cons:

It takes a bit of time to learn to use it at first
Rewards are not always the highest compared to other sites
Overall, GPTbee is definitely a site where you can earn some extra cash. It has many earning methods, good payout options, low payout threshold, and it is available worldwide.
However, the user-friendliness and the size of the rewards are not always as good as on some other sites. Therefore, you can consider checking out the best sites in your country instead.
If you have any comments, questions, or have any experiences with GPTbee yourself, I would love to hear from you in a comment below.