Grindabuck is one of the many Get-Paid-To (GPT) sites that claim you can join for free and easily earn some extra money.
If you are not familiar with GPT sites, they are basically websites where you can register and complete offers. In exchange, they will reward you or pay you (depending on their payment system).
GPT sites can be a good way to earn some extra bucks as long as you join the legit ones.
So is Grindabuck legit and one of the worthwhile sites, or is it a scam?
To answer it right away, yes, it is a legit GPT site that will pay you for completing offers, among other things.
But is it worth joining, though?
That is another story. This Grindabuck review will give you an inside look at what the site has to offer so you can determine if this GPT site is really worth your time or not.
What is Grindabuck, and what does it offer?
Grindabuck is a GPT site that has plenty of earning opportunities you can do on a regular basis.
It is owned by Grindabit Interactive, a market research company that started in 2014.
The good thing about GPT sites, in general, is that there's always something you can do every day to earn rewards.
So, let's take a closer look at what earning opportunities Grindabuck offers so you can understand its earning potential.
Option 1 – Paid surveys
Most GPT sites offer paid surveys as a way for you to earn rewards. Grindabuck is no exemption.
When you become a member of Grindabuck, you can log in to their site and take surveys. You will see all the available survey offers under the surveys section.
Each survey will ask a few questions about yourself. So when you click on a survey offer, you will be asked those questions first.
You will need to answer these questions because they will use the answers you've provided to check and see if you belong to the demographic the survey is intended for.
If you qualify, you will then proceed to answer the actual survey. Once you finish the survey, you will receive the reward promised (which can be seen in the offer).
If you don't qualify, you simply proceed to the next survey offer.
Option 2 – Paid offers
A GPT site won't be a GPT site if it doesn't have paid offers available for its members.
If you are not familiar with paid offers, they are basically small tasks you can do, and once you complete the task, you will receive a reward.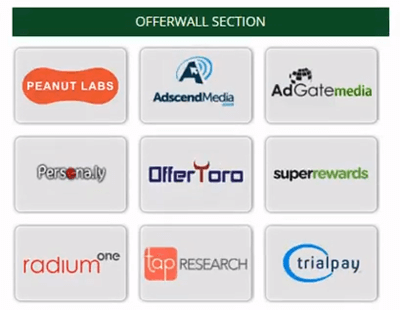 The paid offers on Grindabuck are accessible through their offer walls section, as well as their exclusive offers section.
Offer walls are really just paid offers from other GPT sites. So don't be surprised if you click an offer on an offer wall and you are redirected to a different website. That's just how offerwalls work.
Most paid offers will ask you to complete a survey, answer a quiz, sign up for a website, or play games.
The important thing to remember when doing these paid offers is that you have to make sure you meet all the requirements in order to earn the reward.
Each offer will have a certain set of instructions you need to follow to the letter; otherwise, you won't get the reward.
And make sure to read all the conditions before doing any offer. Some offers can give great value for your time, while others are really poor.
That is not just for Grindabuck but how it is with paid offers like this in general.
Option 3 – Watching videos
You will also be able to earn rewards from Grindabuck by watching videos. The premise is really simple. Every time you watch a video, you will receive a reward.
Most videos are around 20 seconds long, so it won't really take a lot of your time. Although it might seem like a good way to earn at first glance, it really isn't the best way to spend your time, in my opinion.
This is because, in my experience, this type of earning opportunity doesn't really pay well. So instead of maximizing your time to get the highest earnings possible, it really becomes counterproductive.
You will earn more by spending your time completing survey offers, and other paid offers, in my opinion. But it can be a fun way to earn some rewards.
Option 4 – Downloading apps
Downloading apps is another way for you to earn rewards on Grindabuck.
In reality, though, this type of earning opportunity is really just part of their paid offers. I just feel that we need to highlight this because, in order to do this, you will have to use your mobile device (which I will talk about later).
You can find offers for downloading apps on their offer walls. Most of the apps you will be asked to download are mobile games, and most of the offers will ask you to play them for a little while first before you get the reward.
In my experience, there is usually some sort of condition you need to meet to receive the reward. After all, this is still part of their paid offers.
Option 5 – Referral program
With Grindabuck, you get the chance to refer friends and other people to the site, and in exchange, you will receive a percentage of the rewards they will earn when they become a member.
As you can see in the photo above, you will earn 10% as a commission for the earnings of your referrals.
The commission will not be deducted from your referral's income but will instead be shouldered by Grindabuck.
You can refer people by providing them with your referral link. Once they register as a member, they will receive 100 Grindabucks (their currency, I will talk about this later) as a reward.
So, it's like they will have a head start when they use your referral link to register as a member. This becomes their incentive for using your referral link. It's a nice little bonus, in my opinion.
Option 6 – Monthly bonus
This is probably the best feature that Grindabuck has to offer, in my opinion.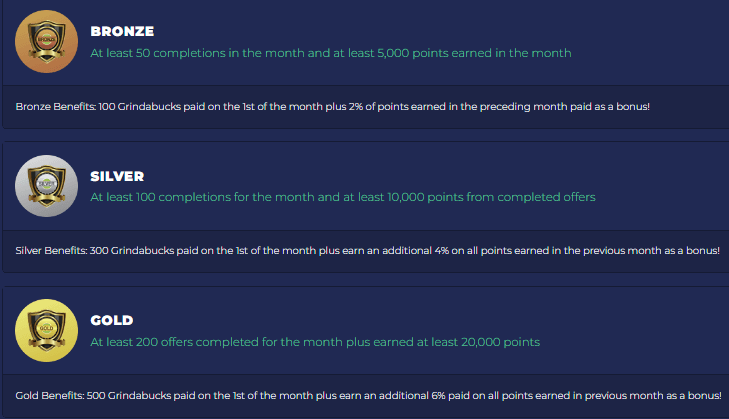 Every month, you have the chance to receive a bonus if you meet certain requirements. Their monthly bonus has three categories: bronze, silver, and gold.
Their bronze category will require that you complete at least 50 offers and accumulate at least 5,000 points to receive the bonus. You will get 100 Grindabucks during the first month and 2% of your monthly points for the succeeding months.
For the silver category, it will require you to complete at least 100 offers and 10,000 points to qualify. You will receive 300 Grindabucks during the first month and 4% of your monthly points for the succeeding months.
Lastly, the gold category will require that you complete at least 200 offers and 20,000 points in order to qualify. You will then receive 500 Grindabucks the first time and 6% of your monthly points in the succeeding months.
In my opinion, this is a good way to incentivize your activity on the site.
It's nice to get a bonus, and it will be achievable, but you will have to invest a bit of time, especially if you are aiming for the gold category.
So it will not be an easy bonus to get, and with the reward, you will get for it, you should not only do it for the bonus, as it is not really that high.
But if you like the options on Grindabuck anyway, it is great to get the bonus if you are very active.
Recommended: Check Out The Top GPT Sites
How do you get paid?
Every offer you complete on Grindabuck will earn you a certain number of Grindabucks. This is the currency they are using. Think of Grindabucks as the points you will earn.
Every 100 Grindabucks will be worth $1. Once you reach 1000 Grindabucks ($10), you will then be able to request payment.
However, after you have cashed out once, the payout threshold will be lowered. Grindabuck has several membership levels, and as you earn, you will get higher ranks, which gives certain benefits like a lower payout threshold.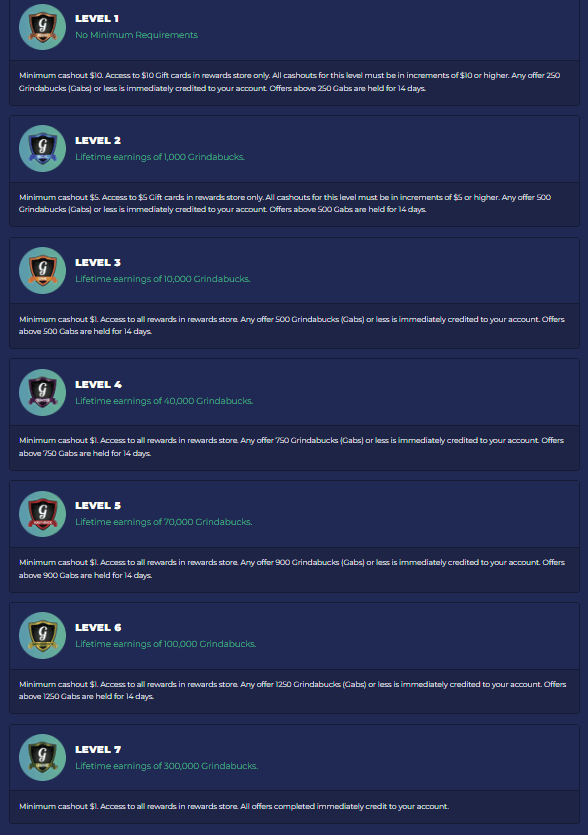 There are several payout options available – for example, PayPal, gift cards, and cryptocurrency.
However, when you are on membership levels 1 and 2, you can only withdraw your earnings as gift cards. That means you need to earn a total of $100 to reach membership level 3 and get access to cash or crypto rewards.
Personally, I think this makes it a very poor payout system compared to most other similar sites. Usually, you will get access to all the available rewards as long as you reach a payout threshold, but that is not the case for Grindabuck, which is a big minus, in my opinion.
If you are interested in more sites that pay via PayPal, where you get access to that as a reward as soon as you join, I suggest you check out the top survey sites that pay via PayPal.
How much money can you make?
As with all GPT sites, you will be able to earn more if you complete more offers. This is basically the unwritten rule on GPT sites.
The more offers you complete, the more points you get. The good thing about Grindabuck, though, is that it incentivizes your tenure on the site.
They have a VIP program, as mentioned above, that will allow you to earn more benefits as you move up the program. The program works like this.
Everyone starts at the VIP level 1. The main difference in this level is the payout threshold.
At VIP level 1, the payout threshold is $10. But once you move up to VIP level 2, the payout threshold will now only be $5. As you move up the ladder, you can reduce that minimum payout amount to just $1.
To move up to the next VIP level, you simply have to accumulate more Grindabucks. So, you will naturally increase your VIP level the longer you are a member of the site and the more Grindabucks you accumulate.
This also means the more offers you complete over time, the faster you will be able to request payment. This, in my opinion, is what can make Grindabuck a decent choice to earn extra cash.
Can you use it on mobile?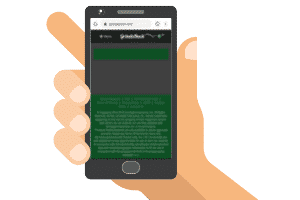 I mentioned earlier that you will need your mobile device to complete some of the offers on Grindabuck.
To do that, you can log in to their website using a mobile web browser. They don't have a mobile app you can download, so you can work on your offers without using a mobile browser.
The mobile version of their site is easy to use, though, because it is mobile-friendly. This means you won't have to zoom in or scroll left and right just to see the content.
All content will be displayed fully on your mobile screen. This, at least, makes it easier for you to complete offers even when you are not sitting in front of the computer.
And seeing as some offers will require you to use your mobile device, it is therefore recommended you also do some of the offers on your mobile device and not just rely on your computer.
Who can join Grindabuck?
Grindabuck is a bit limited as to who is eligible to become a member. As of the writing of this article, Grindabuck is only available in the United States, United Kingdom, Canada, Germany, and Australia.
There's no indication on the website whether this will change in the near future or not. So, if you don't live in any of those countries, you won't be able to join their site.
If you do, you will have to be at least 18 years of age or older in order to join. To register as a member, just go through the registration process, which you can access by clicking the sign-up button.
Can you get support?
If you need to get in touch with their support team, you can use the contact form they provide on their website.
They also have an FAQ section that covers some of the basic questions. The only thing I can say about their FAQ section, though, is that the answers aren't detailed enough, in my opinion.
For example, for the question " Does it cost anything to join Grindabuck?", it does answer the question, but there are some important points that they did not include, like who can join the site.
Sure, you can find the details on their Terms and Conditions page, but making info like this easy to find are the small things that say a lot about a site, in my opinion.
But overall, though, they provide a decent way for you to get support, which is really all you can ask for.
Final Verdict
Grindabuck is a legit GPT site that will pay you for completing offers and other activities. It has several earning opportunities for its members, but it also does have its flaws.
So let's finish this review with a list of its pros and cons to help you decide if you should join their site or not.

Pros:
Offers a convenient method of payment (PayPal)
VIP program incentivizes your tenure on the site

Cons:
Low earning potential
Limited to only 5 countries
Their FAQ section doesn't provide all the details
You do not get access to all rewards right away
The main issues about Grindabuck, in my opinion, are its low earning potential and the fact that you do not get access to all the rewards until you have earned quite a lot of money.
There are simply better GPT sites out there that pay better for each offer you complete.
However, Grindabuck can be a legit way to earn a bit extra.
It has a convenient payment method (once you get access to them, and the VIP program and monthly bonus rewards will give incentives if you become more active on their site.
Just don't expect to earn quickly from this site.
If you are looking for other GPT sites that will allow you to earn more, I recommend you check out the top GPT sites instead.
The GPT sites on this list all have good earning potential. And best of all, you will be able to find a site for you regardless of where you live.
If you have any comments, questions, or have any experiences with Grindabuck yourself, I would love to hear from you in a comment below.