Pureprofile claims to be a site where you can answer questions, have your opinion heard, and earn rewards.
But is Pureprofile a scam or is it one of the legit and worthwhile survey sites?
I have joined and tested hundreds of online survey sites and Pureprofile is a site I have tested through several years by now.
In this Pureprofile review, you will get an inside look and get all the details so you know exactly what it offers and if it will be worth your time or not.
What is Pureprofile and what does it offer?
Pureprofile is a survey site that has been around for quite a few years and according to itself, it has more than 1 million members.
I have been a member of it for a few years myself – but let me just reveal right away that it is not a site I have been very active on for various reasons I will explain in this review.
But it is a legit site and it gives you some real ways to earn. However, this does not mean it will necessarily be worth it.
To find out if it is, you, first of all, need to know what kind of earning opportunities it offers. So let's go over these below.
I have made a video that gives you an inside look and shows exactly how Pureprofile works. You can also read all the details below the video:
Option 1 – Pureprofile surveys
Pureprofile is, first of all, a paid survey site and the main way to earn here is by taking surveys. The site has what it calls campaigns, and there are two different kinds: profile update surveys and paid surveys.
Paid surveys are, as the name suggests, how you earn money.
The profile update campaigns are small questions about you, that will keep your profile updated. Pureprofile claims that the more info you give, the easier it will be to match you with surveys, and therefore you will be offered more surveys and other offers if you keep your profile updated.
You can also connect your social media accounts (Google+, Twitter or Facebook), to your profile, and thereby some of your basic information like age, country, etc., will automatically be filled out. But if you do not like to connect your social media accounts, you can also just fill out this information manually.
Just be aware that you will not get paid to answer the profile questions. It is only the actual paid surveys you will get paid to take. Compared to some other survey sites this is a bit cheap if you ask me.
But it does not take that long to fill them out and if you want the best possible chances to earn on Pureprofile, it is a good idea to take the time to fill out your profile.
you will have to fill out some of it in the sign-up process and the rest is something you can do once you are inside the members area.
I will be honest with you and say that I have not been impressed by the amount of paid surveys I have seen on Pureprofile. But this really depends on the country you live in though (more about which countries you can join from later).
But do not be surprised if you regularly see a screen saying there are no options.

This is the main reason it is not a site I have used a lot. I have actually been a member for quite a few years just to check it out once in a while and see if everything changes as it is quite easy to use.
But I have not received many options there at all.
It is, however, important to say that this will vary depending on the country you live in. But in my opinion, you should not expect too many survey opportunities on Pureprofile compared to on the top paying survey sites.
But there are definitely paid surveys there.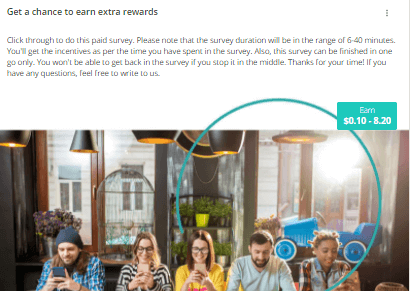 The only thing is that it is not easy to see exactly what you get per survey. In the image above you can see that it says you will get between $0.10-$8.20.
And the survey will take between 6-40 minutes. So it is not easy to know exactly what you can expect before starting a survey. Luckily some of the Pureprofile surveys are more precise in the estimation.
And as you can see, some surveys pay quite well for the time spent if you live in a country where you regularly get surveys.
Option 2 – Paid content
When you log in to Pureprofile, you will see your dashboard and your feed where you can see the available surveys.
Here you can also find a tab called "content".

This can be all kinds of different options you can get paid to take. On most other similar sites this is what is called paid offers but Pureprofile calls it content.
It can, for example, be links to visit a website that will pay you a small amount, small videos to watch, or other similar kinds of offers.
Again, this will vary from country to country and even though it definitely is a way to earn, the top GPT (get-paid-to) sites have way better options in this area if you like earning online by doing small micro-tasks.
In this area on Pureprofile, you can also sometimes find contests you can participate in for free. And it is also here you will see if there are any of your profile data you need to update. So not all the options in the "content" section are paid.
But overall, there are a few different ways to earn on Pureprofile but it is not the site with the most opportunities.
How do you get paid?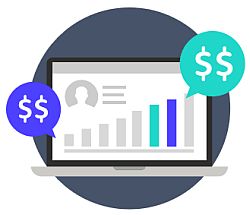 One thing is to know what earning opportunities a survey site offers but to find out if it is a site you want to join or not, it is very important to also know how you will get paid.
On Pureprofile, you will earn dollars or pounds depending on the country you live in. You can then choose to have paid out in a few different ways. Before you do a survey or take any kind of offer, you will be able to see what the reward will be.
If you want your rewards in cash, you can choose to have it paid out through bank transfer or PayPal. And there is also the option to use the reward for different vouchers. The exact rewards that are available depend on the country you live in.
Before you can get your reward paid out to your bank account, you have to verify your Pureprofile account. You do this through SMS after you are logged in to your profile.
You have to make $20 before you can request a payout. That is a fairly high threshold compared to the fastest paying survey sites, and I prefer when it is quite a bit lower – especially when it is a site like Pureprofile where you cannot always find ways to earn so it can take some patience to reach that threshold.
You can maximum get $70 / £70 out every 60 days, so if you make more than this, you will have to wait to get it paid out. But to be honest, on Pureprofile there is, in many countries, not a great chance that you will make more than this in 60 days anyway, so not a big problem with that limit in many countries.
But it is still a bit strange to have a maximum like this, in my opinion. You should be able to get all the money you can make out without restrictions like this.
Once you request a payout, Pureprofile says that it takes up to 30 working days to process. This is very slow compared to how quickly you get your earnings on many other sites.
How much money can you make?
Exactly how much each survey or offer on Pureprofile will make you vary from offer to offer. But as you can probably hear from the above, Pureprofile is not a place where you will make quick money. In some countries, you will find it very hard to ever reach the payout threshold.
This does however not mean that you won't be able to make money on the site. You might live in a country where there are more offers available.
But as you could see in the previous section, the maximum you can get paid out every 60 days is $70 / £70. So that means you will be able to earn a maximum of $35 / £35 per month even if you live in one of the countries where it gives the most options.
It is also important to remember that even if you find better paying survey sites to join, doing online surveys cannot make you rich. If you want to make a full-time income online, you have to look for other options.
Can you use it on mobile?
In my opinion, it is important to be able to use a survey site on mobile as it then makes it easy to earn a bit whenever it fits into your schedule without having to start your computer.
In this area, Pureprofile has a very good option as you can download the Pureprofile app in Google Play Store or in the App Store.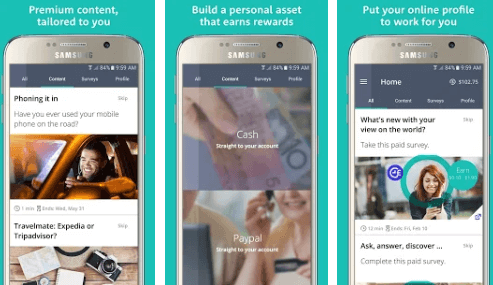 This is a very good option and one of the positive sides of Pureprofile. So if you like to take surveys on the go, this is definitely possible with Pureprofile.
Who can join Pureprofile?
Pureprofile is available worldwide, and you can sign up no matter where in the world you live. The number of offers that are available does, however, vary greatly depending on the country you live in.
So even though you can sign up no matter where in the world you live, Pureprofile divides the available countries into 5 groups: Australia, New Zealand, United States, United Kingdom, and other.

So it seems like there are most offers for people living in English speaking countries.
If you have other experiences than this and live in another country where you have success with Pureprofile, I would love to hear your experiences in a comment below.
Anyone who is 13 years or older can join Pureprofile.
But be aware that if you do not live in the UK, US, Australia, or New Zealand, you should not necessarily expect any options even though you can join. So do not get disappointed if you join from another country and are never able to reach the payout threshold – that might very well be the case.
Can you get support?
Being able to get support on a survey site is important as you might sometimes run into technical problems.
On Pureprofile you can submit a contact form and ask for help. Or you can write them through their Facebook page. By taking a look at their Facebook page, it looks like the support is pretty responsive there.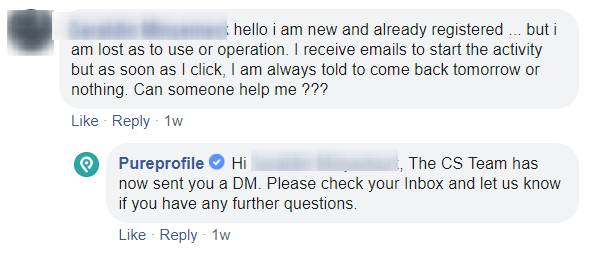 Whenever a person asks a question, there is a quite quick answer. This is definitely a positive sign and a sign that you can expect help if you should need it.
You can even find a phone number on their Facebook page so you can give them a call, or you can submit a form on the website.
So overall Pureprofile has good options to get support if you should need it.
Final verdict
Pureprofile is definitely a legit online survey site and it is a site where you can actually earn a bit of extra cash.
This does, however, not mean it will be the best option for you. Let's, therefore, finish this review by summing up the pros and cons so you can get a better overview before deciding to join or not.

Pros:
Good payout methods
User-friendly app
Support seems to be responsive

Cons:
Limited earning opportunities
Fairly high payout threshold
You do not get paid for profile surveys
If you are looking to join as many survey sites as possible, then Pureprofile might be a good extra site to check out.
But to be clear, I have had a lot more success with many other survey sites, than I have had with Pureprofile. And the number of opportunities you will get will depend a lot on the country you live in.
But no matter which country you live in, there are survey sites that offer better opportunities, better rewards in relation to time, and better payment conditions, in my opinion.
There is, however, one very positive aspect of Pureprofile, and that is that its platform is very user-friendly and easy to navigate on. So if you decide to join, it is fairly easy to figure out how to use the site. But as mentioned, in some countries, your time is better spent on other survey sites.
If you have any comments, questions, or have any experiences with Pureprofile yourself, I would love to hear from you in a comment below.