One way to earn some extra money is to join a survey site. If you are new to this type of site, it is basically an online rewards site that will pay you for sharing your opinion.
One such survey site is called SurveyDownline. Now, before you go and register as a member, it is important to ask, is SurveyDownline a scam?
This is a valid question to ask because before you join, you must make sure you are joining a legit survey site.
So, to answer that question, no, SurveyDownline is not a scam. It is a legit survey site that does pay you for surveys you complete. But this doesn't necessarily mean it is a good idea to sign up and become a member.
You have to figure out if this survey site offers good earning potential. And to figure that out, we have to take a closer look at what the site has to offer and this SurveyDownline review will help you do that.
So, without further ado, let's proceed with the review.
What is SurveyDownline and what does it offer?
As mentioned above, SurveyDownline is a survey site that promises to pay you for completing their surveys. It will also reward you for inviting people to join, which will act as your downline (hence the name).
If you are not familiar with the term "downline", it is actually a term used in multi-level marketing, which pertains to the members you have recruited or who have joined the program after you did and whose sales or referrals also generate income for you.
Now, to get a good idea of how good its earning potential is, we have to take a closer look at the earning opportunities the site presents.
So, here are the ways you can earn from SurveyDownline.
I have made a video that gives you an actual inside look so you can see exactly how it works. You can also read all the details below the video:
Option 1 – Paid Surveys
Paid surveys are the bread and butter of SurveyDownline.
When you finish the registration process, you can then log in to the member dashboard and see all the available paid surveys you can take.
When you see an available survey, simply click on it and it will open up a new window.
The questions you will have to answer aren't the actual survey yet. They are just preliminary questions. These questions are for finding out if you actually qualify for a survey or not.
This is done to check if you are included in the demographic the survey is targeting. If you qualify for the survey, then you can answer the actual survey. If you don't qualify, simply move on to the next offer.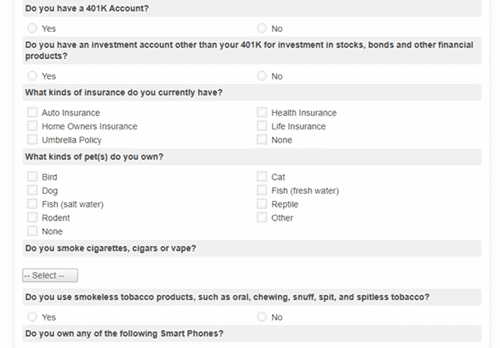 Before you can hope to answer paid surveys though, you have to fill out your profile (shown in the photo above).
The information you provide on your profile will be used by SurveyDownline as a basis for which surveys to send your way.
Even though you won't receive any reward for completing your profile, you will stand to benefit from doing it because it is what will qualify you for more survey invites. So, make sure to spend some time completing your profile.
Option 2 – Referral Program
The other way you can earn from SurveyDownline is by inviting people to join the site. This is where the "downline" part comes in.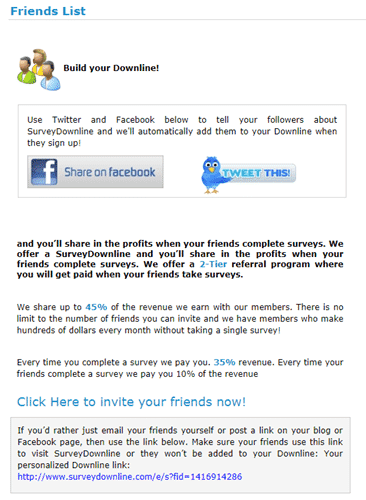 To invite people to join, you can simply click the Facebook or Twitter button (shown in the photo above) in their Downline section.
Anyone who will click that Facebook or Twitter post and register to SurveyDownline will become your downline/referral.
You can also share your downline link with them. It acts the same way as Facebook and Twitter posts. As for the rewards you will get, you stand to earn a portion of their rewards.
To put it into perspective, every time your downline completes a survey, SurveyDownline will pay you 10% of the revenue. It won't be much, but if you have a lot of referrals, it can pile up to a significant amount.
So, think of this referral program as a form of passive income. The beauty of it is you won't have to do anything else apart from spending a few seconds posting your invite links.
But just by posting the links does not mean you will get a lot of people to join though so it will not be easy money.
It is only relevant if you really know a lot of people that might be interested in joining.
How do you get paid?
Each survey you complete will earn you a certain amount, which will then be credited to your SurveyDownline account.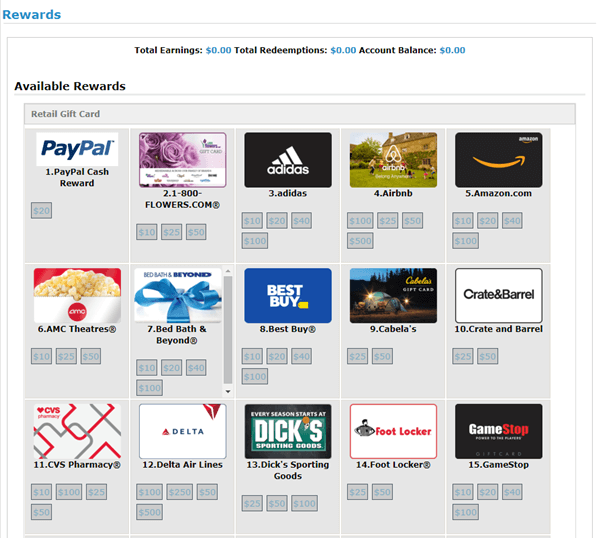 You can then use the money you've accumulated and exchange it for certain gift cards like Amazon or Footlocker gift cards.
One thing to note about the gift cards available is that there are a decent number of gift cards you can choose from.
You can also choose to withdraw your earnings via PayPal. And if you are feeling charitable, you can donate your earnings to a charity that has partnered with SurveyDownline.
The minimum amount for gift cards you can redeem is $10. If you choose to withdraw via PayPal, you will have to accumulate $20.
So, if you choose to get gift cards, the payout threshold is relatively low. But if you want cash, the threshold is quite high.
Also, you can only withdraw via PayPal in $20 increments. Now, if you are interested in sites that have a lower payout threshold, I suggest you check out the fastest paying survey sites instead.
How much money can you make?
The amount of money you can earn from a survey site will depend on how many survey sites you complete.
The thing though is, the number of surveys you can complete will mostly depend on how often you receive survey invites.
And as mentioned, in order to maximize the survey invites you receive, you have to fill out your profile. This is the primary factor that affects the number of surveys you get to answer.
Now, based on feedback from longtime members though, there aren't a lot of surveys available on this site. So, don't expect to earn a lot from this site.
Can you use it on mobile?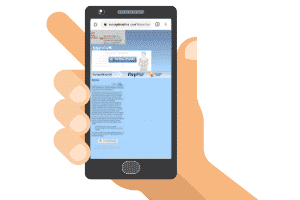 Unfortunately, SurveyDownline doesn't have a standalone mobile app you can use to answer surveys on a mobile device.
However, you will be able to access their site from your mobile device using a mobile web browser.
The downside is, their site is not mobile-friendly.
So, even though you can log in from a mobile device, you will still have a fairly uncomfortable time navigating through the site because you will have to constantly zoom in just to read the content and click links.
So, SurveyDownline is really best done on a computer or laptop. But if you prefer to work on a mobile device, here's a list of the best paid survey apps you can download.
Who can join SurveyDownline?
This survey site is only available in the US, UK, Canada, and Australia. So, if you don't live in any of the countries listed, this survey site is not for you.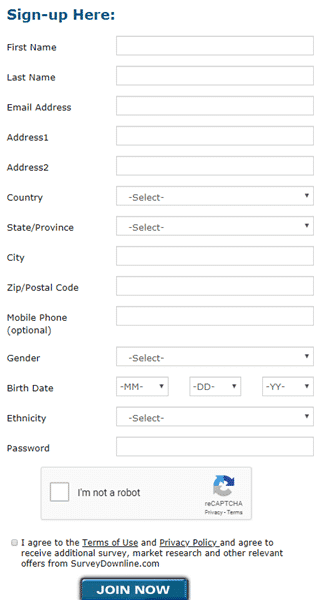 If you are eligible to become a member, then, all you have to do is fill out the registration form and click the Join Now button. Once you've done that, you can already log in to the dashboard.
During your first login, it will ask you to complete your preliminary profile. You will have to answer a few questions about yourself.
This isn't the whole profile though. There is a designated section for your profile that you will have access to once you log in to the actual dashboard.
Their site doesn't mention any age requirement, but you will have to be at least 18 years old or older in order to register if you hope to withdraw your earnings via PayPal because that is the minimum age required to register for a PayPal account.
So, keep that in mind before you register.
Can you get support?
If you need to contact their support team or you want to ask a question, you can click on the Contact Us link at the bottom of their site. It's in fine print so you will have to look for it.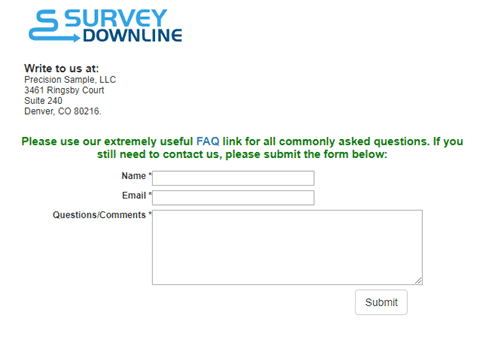 You will then see the contact form. Just fill out the form with your inquiry and hit submit. And as you've noticed, they have also displayed their postal address. You can use that to send them a letter.
But before you send your inquiry, I recommend you check out their FAQ section first. You might find the answer you are looking for. Their FAQ section covers most of the basic topics about the site.
Final Verdict
SurveyDownline is a legit survey site that has its upsides. But, it also has some glaring disadvantages.
Here's a summary of its pros and cons to help you decide whether you should join this panel or not.

Pros:
Payment via PayPal is available
Has a decent number of gift cards you can choose from

Cons:
Limited earning opportunities
Site is not mobile-friendly
Overall the design of the site is outdated
You can say that SurveyDownline is a decent survey site because it offers a convenient payment method and there are plenty of gift cards to choose from.
However, the main drawback of this survey panel is that it has low earning potential.
This is due to the fact that it has limited earning opportunities and there aren't a lot of surveys you can answer. Their site is also not mobile-friendly, so you are stuck having to answer surveys conveniently on a computer or laptop.
It can serve as a decent secondary site to earn from. Just don't expect to earn a lot from it. If you are looking for sites that will allow you to earn a decent amount, I recommend you check out the top survey sites in your country.
The sites on this list all have good earning potential. Plus, they are mobile-friendly, so you can earn even when you are not in front of the computer. And best of all, you will find a site that will fit your needs regardless of where you live.
If you have any comments, questions, or have any experiences with SurveyDownline yourself, I would love to hear from you in a comment below.