Survey Pop is an app that claims it is the easiest way to earn $5.
So if you are looking for an app to earn extra cash, you might be tempted to download and install this app.
However, I urge you to stop and read this Survey Pop review first before you do anything else.
I have tested the app since I also got curious about its claim, so I wanted to find out if it does what it says it does. If you continue reading this review, you will find out if Survey Pop is legit or just another scam to stay away from.
You will also know exactly what to expect from it, so you can properly decide if it is an app worth using or not.
What is Survey Pop, and what does it offer?
Survey Pop is a survey app that will reward you for answering surveys. It is indeed a legit app because you will really get paid when you complete the surveys it offers.
However, this fact doesn't automatically mean the app is worth using.
To find out if you should use it, you must first understand how it works. And the best way to do that is to examine the earning opportunity it offers.
So, here's how to earn from Survey Pop.
The earning opportunity – Paid Surveys
The only way to earn from Survey Pop is to answer the paid surveys it offers.
During your first log-in, you will encounter a couple of surveys offered by Survey Pop if you went through the phone verification during sign-up (which I will discuss later), and each survey will reward you $1 for completing it.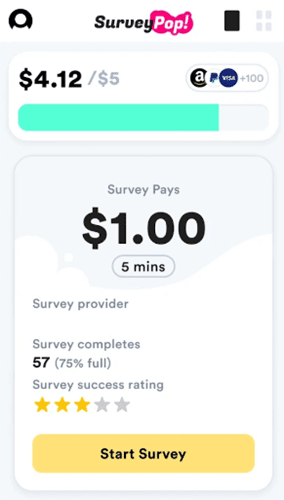 These surveys are actually profile surveys designed by Survey Pop so that they can figure out your demographics and assign you the appropriate surveys, and you will never get disqualified when you answer them.
After you've completed these surveys, the next succeeding surveys will be offered by Survey Pop's partner survey providers.
These surveys don't pay as much as the profile surveys, though.
Now, when answering a survey, you will again have to go through a qualifying phase. During this phase, you will have to answer a set of qualifying questions first.
If you pass the qualification phase, you get to answer the actual survey. If you don't, then you just have to move on to the next survey available. Take note, though, that in some surveys, you will still receive a small compensation ($0.02 usually) even if you fail to qualify for the survey.
But most of the time, you won't receive any compensation if you fail to qualify. Plus, each survey will have a maximum number of respondents. If that number is reached, you will automatically fail to qualify if you attempt to complete it.
The thing I noticed while I was testing Survey Pop was that, as mentioned above, the surveys provided by Survey Pop's partner providers don't pay as much compared to the profile surveys offered by Survey Pop. Later, I will explain the implications of this.
There's a decent number of surveys available at any given time, but you have to remember that you won't always qualify for the surveys you attempt to complete. So, it's hard to say if you will be able to earn regularly from this app.
Recommended: Check Out the Top Survey Apps
How do you get paid?
Every time you complete a survey from Survey Pop, you will earn a specific amount, and it will be stored in your Survey Pop account balance.
Once you've earned at least $5, which is a relatively low payout threshold, I might add, you will be able to redeem a reward of your choice.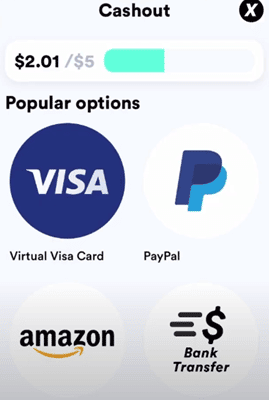 You can withdraw your earnings via PayPal or direct bank transfer. You also have the option to convert your earnings to a prepaid Visa card or gift card. Survey Pop has a decent selection of gift cards available (Amazon, Walmart, Target, Starbucks, and more).
The payment system of Survey Pop is relatively straightforward, and I like the fact that it offers convenient payment methods like direct bank transfer and PayPal.
If you are interested in more sites/apps that offer a convenient payment method, I recommend you also check out the top sites that pay via direct bank transfer.
How much money can you make?
As mentioned earlier, surveys offered by Survey Pop's partner providers don't pay that much. Usually, you can earn around $0.40 to $0.90 per survey you complete.
So even though Survey Pop has a relatively low payout threshold, it will still take some time before you can hit it and cash out.
Plus, the qualifying rate for surveys when I was testing the app wasn't that great. The good thing, though, is that you will still receive something for some of the surveys you fail to qualify for. That should at least help you earn a bit more from the app.
Overall though, I would still say the earning potential of Survey Pop isn't that good. You might be able to earn $5 quickly, which is what the app claims it does, but it will take longer and longer to get to the next payout after you finish the high-paying profile surveys, in my experience.
Can you use it on a desktop?
Survey Pop is a mobile-only platform, so you will need to use a mobile device to earn from it. The good thing is that you can download the app from both the Android and iOS app stores.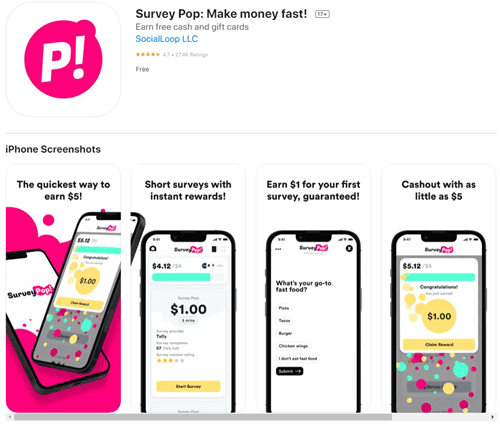 The app is relatively easy to use, so you won't have a hard time using it. You also will not encounter any annoying pop-up ads while using it. The overall user experience Survey Pop offers is actually quite decent, in my opinion, which is all you can ask for from a survey app.
Who can join Survey Pop?
The app and the website don't tell you exactly which countries it is available in. So the best way to check if it is available in your country is to search for it in your app store.
If it appears among the search results, it means it is available in your country. If it doesn't, then you are out of luck.
To sign up as a member, you have to install the app first. Then when you open the app for the first time, you will be asked to create your login information. Just enter the necessary information to finish the registration.
Once you've done this, Survey Pop will send you a confirmation link via email. Just click the link to complete the sign-up process.
However, Survey Pop offers an alternate confirmation of your registration. You can choose to go through the phone verification to complete your sign-up.
Just provide your mobile phone number and the app will send you an SMS with the verification code. Simply input the code to complete the verification. By doing so, you will actually unlock the profile surveys that Survey Pop offers.
These are the surveys that will pay you $1 once you complete them. And as explained earlier, you will never be disqualified from these surveys, so I highly recommend you go through the phone verification to earn $2 quickly when you answer the profile surveys.
Can you get support?
If you have any questions about the app or your account, you can check out the FAQ section found inside the app or on their website. It discusses some of the basic topics you need to know about the app.
If you can't find the answers you are looking for, you can get in touch with their support team instead. You can do so using the app, or you can just email them directly at support@surveypop.com.
Overall, I would say the app has a decent support system in place for its members since it offers a convenient way for you to communicate with their support department.
Final Verdict
Survey Pop is a legit survey app that will pay you for completing surveys. It has a couple of decent features, but it also has a few drawbacks you need to be aware of.
Let me finish this review with a summary of its pros and cons to give you an overview of what Survey Pop offers exactly. Then, you can decide if this is the right opportunity for you or not.

Pros:
It offers a straightforward way to earn
The app is user-friendly
Offers payment via PayPal

Cons:
Limited earning opportunities offered
Low rewards
In my opinion, Survey Pop isn't a bad app. However, it's not that great, either. The good thing is that it really does pay you to answer surveys, and you will most likely earn $5 quickly. However, after your first payout, it will take a bit longer to get to the next cashout because of the low rewards it offers.
That's why I would only recommend you use this app if you need a secondary survey app to earn from. As a primary way to earn extra cash from, Survey Pop won't cut it simply because of its low earning potential.
If you are looking for primary ways to earn extra cash, I suggest you check out the top survey and GPT sites in your country instead. The sites on this list all have good earning potential, so you will be able to earn a decent amount in no time.
Plus, you will definitely find a site/app you can join regardless of where you live.
If you have any comments, questions, or have any experience with Survey Pop yourself, I would love to hear from you in a comment below.