If you are looking for ways to earn a few extra bucks, you can actually do so by joining Get-Paid-To (GPT) sites.
If you aren't familiar with this type of site, it is basically an online rewards site that will ask you to complete offers and in exchange, you will receive rewards.
One such GPT site is PayPrizes. Before joining this GPT site though, you have to verify its legitimacy. You need to make sure the site you are joining is legit and will really allow you to earn money.
So, for all intents and purposes, PayPrizes is a legit GPT site. It does pay you for completing their offers.
But this doesn't necessarily mean you should go ahead and sign up right away. There are several things you need to take a look at.
This PayPrizes review will examine everything the site has to offer so you can gauge if spending your time on this site will prove profitable or not.
What is PayPrizes and what does it offer?
As mentioned, PayPrizes is a GPT site that pays you for completing tasks and offers. It is a relatively new site (established in 2019).
It offers several ways for you to earn rewards and to truly gauge the earning potential of this GPT site, we need to take a closer look at the earning opportunities it offers.
So, here are the ways you can earn from PayPrizes.
I have made a video tutorial that shows exactly how it works. You can also read all the details below the video if you prefer reading:
Option 1 – Paid Surveys
One way for you to earn rewards on PayPrizes is by completing paid surveys. It is worth noting though that PayPrizes doesn't offer any of their own paid surveys. They only act as survey routers.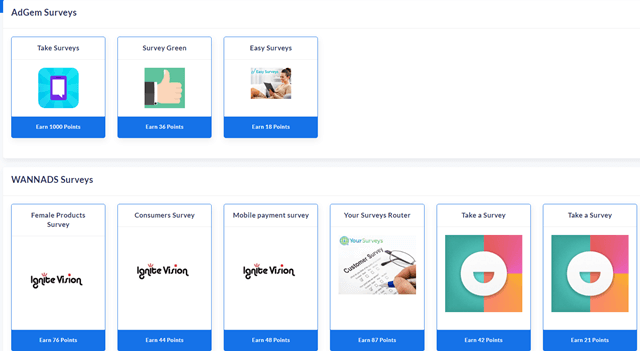 Once you log in to the member dashboard, you can access all the available paid survey offers by clicking the Surveys tab on the left side.
You will then see a list of all the available paid surveys. And let me just tell you, there are a lot of paid survey offers.
When you click an offer, it will tell you which site is offering the survey and how many points you will receive when you complete the survey. When you start the offer, you will be taken to the site that will be hosting the survey.
You will then have to answer a couple of qualifying questions. Survey sites do this to make sure that you really do belong to the demographic that their survey is targeting.
If you qualify, then you get to answer the actual survey. If you don't, then you can simply move on to the next survey offer.
And as mentioned, once you complete the survey, you will receive the points promised at the beginning of the offer. It will be credited to your account.
The surveys on PayPrizes, in general, pay decent compared to other similar sites even though it is not at the very top, in my experience.
Option 2 – Paid Offers
Another way you can earn rewards on PayPrizes is by completing paid offers. The premise for paid offers is a lot like the paid surveys.
The difference is, aside from doing surveys, you will also be asked to do other activities like sign up to websites, play games, answer quizzes and a lot more.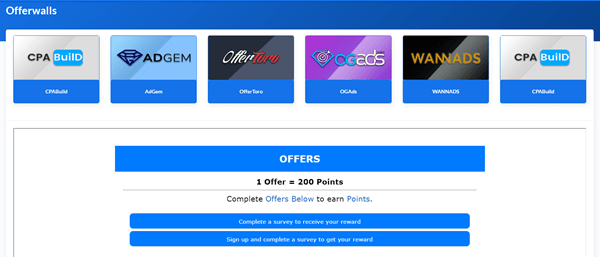 And just like the paid surveys offered, the paid offers on PayPrizes will come from other sites.
One difference between the two earning opportunities is, with paid offers, the reward you will get will be fixed if you go to the offerwall section.
As shown in the photo above, every offer you complete from the offerwall will be worth 200 points. What you need to remember when doing offers is, you have to follow the instructions provided by each offer.
That is the only way you can make sure you complete the offer. One missed step, and you won't be able to complete it. So, make sure to read the instructions carefully when you decide to do the offer.
However, one disappointing thing I found on the offerwall of PayPrizes was that most of the offers here were actually to sign up for a contest.
At first, these contests looks like a great chance to win amazing prizes. But make sure to read the conditions for each of them carefully.
In my experience, for most of these contests, you will agree to be contacted by advertisers when signing up – and usually A LOT of advertisers.
So this is definitely something to consider before using the offerwall on PayPrizes.
However, if you go to the "Top Offer" section, you can also find other types of paid offers. But overall I am not impressed with the paid offers on PayPrizes compared to other GPT sites.
Option 3 – Watch Videos
PayPrizes also offers a more simple way for you to earn rewards. That is by watching video ads. The premise is really simple. If you see a video ad offer, all you have to do is watch it.
At the end of the video, you will receive compensation for the time you've spent watching the video. The longer the video, the more points you will get.
One thing I can say about their video ads is, there isn't a lot offered on a regular basis. So, if there is one available, I suggest you watch it right away.
However, do not expect to earn a lot from it as the rewards for this usually are very low.
Option 4 – Spin and Win
Every day, you will be given one chance to spin the wheel and win a reward.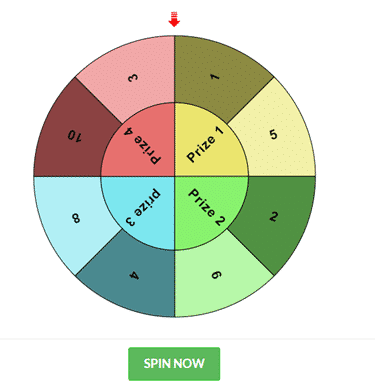 As you can see in the photo above, the prize you will win will range from 1 to 10 points. The good thing about this earning opportunity is, even though the prize is really very low, you will still be assured of receiving points.
Think of it as a bonus for simply clicking on the spin button. You will be able to spin only once every 24 hours, which is expected since, in essence, these are free points.
Option 5 – Coupons
PayPrizes will give you the chance to unlock and redeem coupons.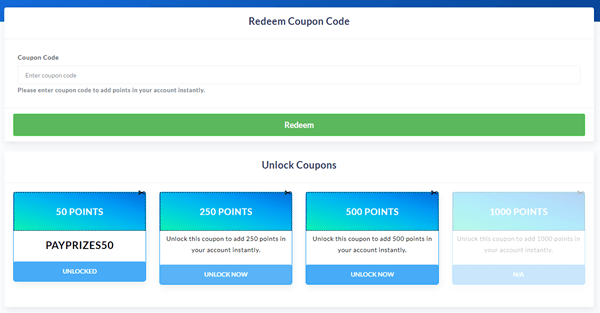 The process is fairly straightforward. If you want to unlock an available coupon, just click it and you will be taken to a different window where typically, you will have to answer a survey or complete an offer.
Once you finish answering the survey or complete the offer, you will be able to unlock the coupon and see the code you need to type in to redeem it. To receive the points for the coupon, just type in the code in the redeem box.
However, many of the offers you have to take here are the same as I mentioned in the offerwall section – so to get the coupon code you will in many cases have to agree to be contacted by A LOT of advertisers.
Option 6 – Referral Program
Most GPT sites have a referral program in place so that their members can earn additional rewards. PayPrizes is no different.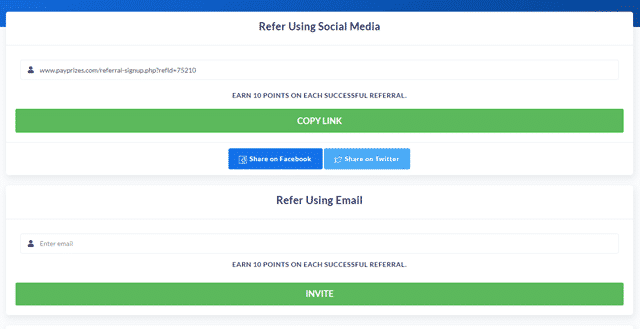 Their referral program is really very simple. When you invite a person to join their site, you will receive 10 points once they register as a member. Just make sure to remind them to verify their membership to ensure you will receive the 10 points.
To invite a person to join, you can share your referral link in your Twitter or Facebook account. You can also email them your invitation by providing their email address. PayPrizes will generate and send an invitation link.
Although the reward you will receive per referral is VERY low, what I like about their referral rewards is that you will be guaranteed to receive something from the start.
Normally, with other sites, referral programs will require the referral to be active on the site before you will receive anything.
However, the reward is so low that it really does not have any earning potential compared to referral programs on many other GPT sites.
How do you get paid?
Every activity you complete on PayPrizes will earn you a certain number of points, which will be accumulated in your account.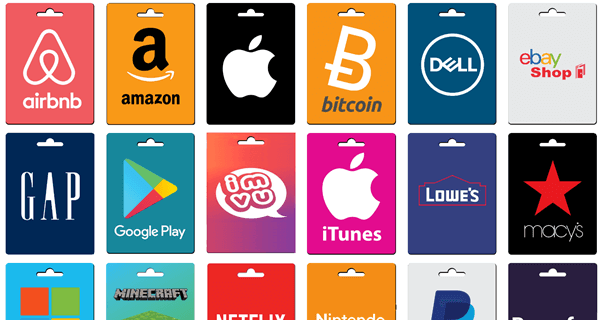 You can then use the points you've accumulated and exchange them for rewards. Most of the rewards available are gift cards from various companies like Amazon, Macy's, Apple, Google Play, etc. The required number of points needed to redeem gift cards will vary.
For example, if you want to redeem an Amazon gift card, you will need to accumulate 1000 points, which will be equivalent to a $10 Amazon gift card. If you prefer to receive cash, you can do so by redeeming via PayPal.
If you want to withdraw your earnings via PayPal, the minimum required points will be 2000. That will be equivalent to $20 (which is quite high). You can only do $20, $50 and $100 withdrawals. So keep that in mind when redeeming via PayPal.
You also have the option to convert your earnings to Bitcoins. The minimum points needed for this is 2500.
Overall, I do like how they provide rewards to their members because you will have plenty of options to choose from. You can withdraw your earnings via PayPal, which is the most convenient option, in my opinion.
However, for some rewards, the threshold is a bit high so if you want to get paid faster, you can check out the fastest paying survey and GPT sites here.
How much money can you make?
The amount of money you can make from a GPT site will mostly depend on how active you are on the site. Basically, the more offers, surveys, and bonuses you get, the more points you can earn.
And the more points you earn, the more rewards you can redeem. Speaking of bonuses, PayPrizes does reward you with bonuses for completing things on a daily basis. One good example is the daily login. The first time you log in every day will earn you 2 points.
What I've also noticed on their site is, you will suddenly earn points without even doing anything. You will notice that your point total will increase even if you haven't completed any offer. I was actually surprised by this, in a good way.
That means they incentivize members who remain active on the site. Although the points you get won't really be that significant, it is still a nice thing to have because it will slowly pile up and will help you reach the threshold for redeeming rewards.
All in all, I can say that PayPrizes has a decent earning potential because it offers several earning opportunities and some of the offers pay quite well, so to speak.
The only thing I can say though is, their payment system is quite limited in terms of the denominations you can redeem for since they only allow you to redeem rewards in certain increments.
Can you use it on mobile?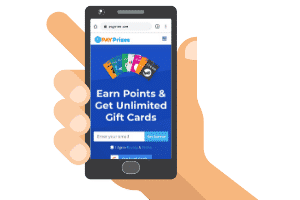 If you were hoping that PayPrizes has a mobile app you can download, you will be disappointed. They don't have one. However, you will be able to access their site on a mobile device by using a mobile web browser.
The good news is, their site is mobile-friendly. So, you will be able to navigate through the site with no problems.
Although some of the earning opportunities they offer aren't really ideal for mobile devices, there are offers that require a mobile device to complete.
So, at some point, you will really need to use a mobile device. Fortunately, as stated, their site is really easy to use on a mobile device.
Who can join PayPrizes?
What I like about PayPrizes is that it is available globally. So, no matter where you live, you will be able to register as a member.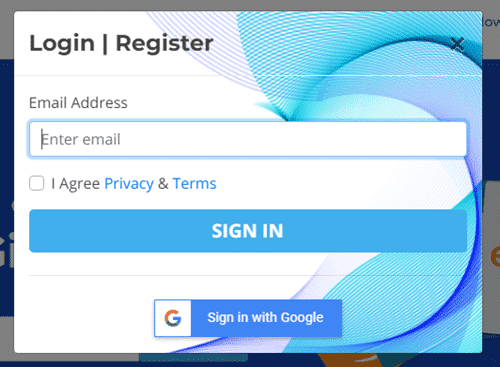 To become a member, just click the Register button on their homepage. You will then see the form shown in the photo above. You can sign up by providing your email address and password.
There is no information on their website about the age requirement for membership, but in my experience, sites like this will usually require you to be at least 18 years of age in order to be eligible.
This becomes especially true if you want to redeem rewards via PayPal. This is because the age required to create a PayPal account is 18 years old or older.
Can you get support?
PayPrizes has a pretty comprehensive FAQ section, which is good. That means you will be able to find answers to most of the questions you have.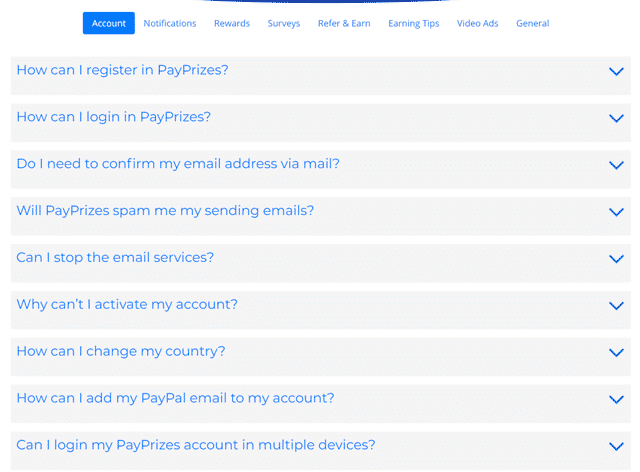 And if you are not able to find answers to your questions, you can send your inquiries to their support team by using the contact form they've provided on their website.
To access their contact form, just go to their homepage and scroll all the way down.
Then, click the Contact Us link at the bottom of the page. Overall, they do provide a decent form of support for their members, in my opinion.
Final Verdict
PayPrizes is a legit GPT site that does pay you for completing the offers and activities available on their site. It has some fairly nice qualities and a few drawbacks as well.
I've listed down its pros and cons to help you decide if you should sign up or not.

Pros:
Available globally
Has several earning opportunities offered
Payment via PayPal is available

Cons:
High payout threshold for PayPal payments
Limited denominations available for rewards
Poor offerwall section
Very low referral rewards
Overall, even though PayPrizes is a relatively new GPT site, it is a decent site to join because you will be able to earn a decent amount.
There are plenty of offers available and they pay decently, it's not as good as other GPT sites in my opinion, but it is good enough as a secondary site you can earn from.
You just need to be a bit patient because the payout threshold is quite high, especially if you want to withdraw your earnings via PayPal. And also you have to be careful which paid offers you take if you do not want to be contacted by too many advertisers.
For more sites like PayPrizes, you can also check out the top GPT sites. The sites on this list all have good earning potential. Plus, most, if not all of them have versatile payment systems.
You will also be able to find a site you can register to regardless of where you live.
If you have any comments, questions, or have any experiences with PayPrizes yourself, I would love to hear from you in a comment below.