Mystery shopping is a fun and interesting way of earning rewards. If you are into this kind of activity or you are thinking about becoming a mystery shopper, there's a site called IntelliShop that offers such opportunity.
IntelliShop promises to reward you for becoming one of their mystery shoppers. But before you sign up, you first have to confirm if it is legit. So, is IntelliShop a scam or is it a legit mystery shopping site? Let me address this right away so we can discuss more about what the site has to offer.
No, IntelliShop is not a scam. It will definitely reward you for being a mystery shopper. But is it worth joining though?
Well, we can figure that out if we take a closer look at the site. This IntelliShop review will reveal the truth so you can decide if it is a site worth joining or not.
What is IntelliShop and what does it offer?
IntelliShop, at its core, is an independent customer experience research and improvement firm.
They offer several ways to help companies understand and improve their customer experience. One of the ways they do that is through mystery shopping. And this is where you come in, if you want to earn a bit of extra cash.
Now, in order to fully understand how well you can earn from IntelliShop, we have to take a close look at the earning opportunities it offers. So, here's how you can earn from IntelliShop.
The earning opportunity – Mystery shopping
When you become a member of IntelliShop, you only have one way to earn and that is by becoming a mystery shopper. To start the mystery shopping process, you simply have to log in to their site and apply for a shopping job.

Then, click the Job Board tab on the upper right-hand corner. It will then show you all the available shops you can apply for. If there aren't any stores listed, you can expand the default search parameters of the site.
However, it is important to understand that by expanding your search parameters, the shops listed will usually be farther away from your location. So, it might not be a good idea to do so unless you are planning to travel.
If you see a shop you are interested in, just click it and hit the apply button. Wait for IntelliShop to approve your application before you begin your shopping.
When you get accepted, you will be given a checklist of things you need to do when shopping as well as a deadline.
Make sure to complete the mystery shopping before the deadline so you can receive the rewards. From time to time, IntelliShop will also assign a certain shop to you. When this happens, it will show up on your Shop Log.
For every shop you are assigned, you MUST log into your shop log and click on "CONFIRM". You have to do this within 24 hours of being assigned the shop.
If you fail to confirm it within the allotted time, it will be canceled and you may be issued a cancellation citation which will lower your shop grade, which will in turn affect your earning rate.
It is, in my opinion, a little bit stressful that you therefore more or less need to log in every day not to risk getting a lower grade but I guess that is their way of keeping you active on the platform.
When doing mystery shopping tasks, it is important you understand clearly what the task is asking you to do. Usually, it will ask you to take a picture of the product you're supposed to buy as well as the receipt to prove you bought it.
So, make sure to take clear pictures. Once you are done with everything you need to do for your mystery shopping job, you have to submit your report for review in the Shop Log section.
If everything checks out, then you are qualified to receive the reward (I will talk about their rewards next).
How do you get paid?
As a mystery shopper, it goes without saying that you will be reimbursed for what you spent during shopping. But aside from that, you will also receive additional payment based on your shop grade.
So, for example, if you spent $20 for a purchase, the total disbursement you will receive once your mystery shopping job is done will be $25. Take note, this is just an example.
I'm not saying you will earn $5 per job. The additional earnings you will receive will depend on your shopper rating (which I will explain in detail later).
Client disbursements for jobs you've completed will automatically be sent through PayPal approximately 30 days after the last day of the month in which your jobs were completed. They normally pay on the 20th of the month (or on the following business day).
So, you don't have to request payment every time you complete a job. IntelliShop will process it automatically for you. If you complete more than one job during a pay period, they will combine those into one payment to PayPal for you.
However, it will be your responsibility to keep detailed records of payments owed to you so that you can reconcile what is sent via PayPal with what you are due to be paid.
It's nice they process payments automatically. But for some, this can be quite a long wait. If you prefer to get paid quickly, I recommend you check out the fastest paying sites instead.
How much money can you make?
You will be able to earn a decent amount of money from IntelliShop if you are able to complete a lot of jobs.
However, when you become a member of their platform, there is really no guarantee you will even get to complete jobs on a regular basis.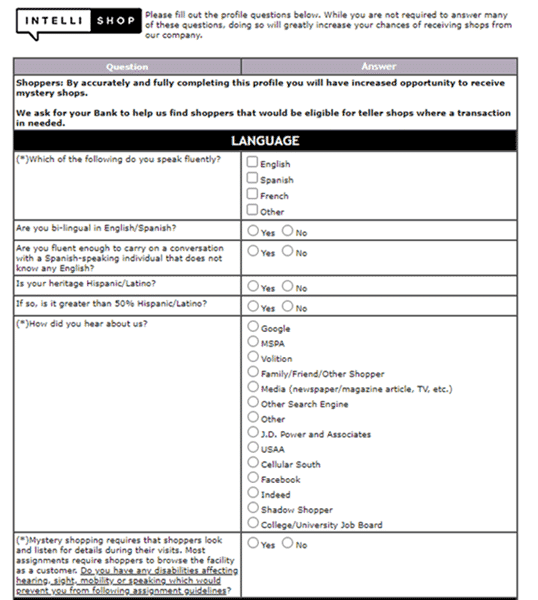 Availability of jobs will depend on your location. The best thing you can do to increase your chances of finding shops to apply for is to complete your profile. So, make sure to do that during your first log in to the site.
Aside from completing your profile, there are also some things you can do to improve your shopper rating so you can earn more for each job you complete. They don't really break down how the Shopper rating is calculated but you can increase it by:
Writing thorough reports.
Following the shop guidelines closely (your Shopper Rating may be reduced if you deviate from the guidelines during the shop).
Performing jobs on time (your Shopper Rating may be reduced if you cancel or "flake" on a shop).
Accepting opportunities for which a "Hero Citation" is offered.
A Hero Citation is a note on a shopper's record that positively affects the shopper's overall rating and indicates to other coordinators that the shopper can be counted on. So, if you see an opportunity for Hero Citation, I suggest you grab it right away.
Overall, I would say the earning potential of IntelliShop is pretty good if you live in an area where there are plenty of jobs available (mainly in the US). For anywhere else, the earning potential is rather low.
In general, remember to factor in the time it takes to get to and from the shops and the money you need to spend on transportation before applying for a job.
If you do not plan wisely, it will really not be profitable.
Can you use it on mobile?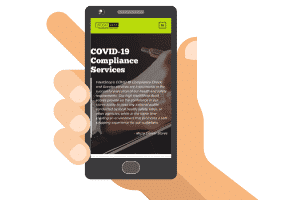 The nature of the work you need to do on IntelliShop really doesn't warrant the need to use a mobile device.
However, being able to log in to the site from a mobile device does come in handy because you can review the tasks you need to do for the job while you are on site.
So, if you are not sure what to do, you can always grab your mobile device, log in to the site and check your Shop Log. You will be able to do that with relative ease because their site mobile-friendly. You will be able to read all the content clearly without having to zoom in.
Another purpose for using your mobile device is if you are already in a location where there are plenty of shops, you can quickly check the site to see if there are any available jobs in your area. That will save you plenty of time.
Who can join IntelliShop?
IntelliShop is available globally. That means you can sign up as a member regardless of where you live.
But you have to be at least 18 years old to join since that is the age requirement to create a PayPal account.
Take note, you will need to have a PayPal account to receive payment from them. So, before you sign up, make sure you already have a verified PayPal account.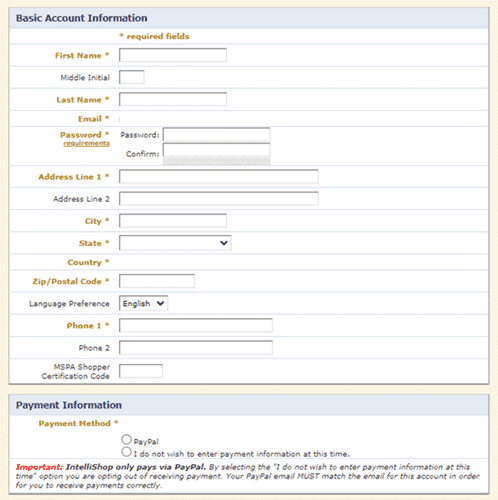 To become a mystery shopper, simply fill out the registration form. Once you are done with the form, you have to activate your account by clicking the activation link that will be emailed to you.
After you've done that, you can now log in to the site. During your first log in, you will be asked to take a test. This will be a test on how well you are able to retain information.
You will be asked to read a paragraph. Make sure to take note of all the information provided because the questions you will be asked will be about what you have read. It's relatively simple test.
Once you pass it, you will become a provisional shopper and you can start apply for mystery shopping jobs.
Can you get support?
IntelliShop has a FAQ page that discusses the most important topics you need to know about being a mystery shopper. So, you should be able to get a good grip on what you need to do by reading their FAQ page.

Plus, they also have a couple of other tools you can use to familiarize yourself on what you need to do as a mystery shopper. You can go to their Shopper HQ (refer to the photo above) to access their tutorials.
If you still need to ask questions, you can submit your inquire to their support team by going to their contact page. Simply fill out the contact form and submit your inquiry.
Overall, I would say they provide decent support for their members. The mini-tutorials are especially helpful for beginners, which, in my opinion, is a nice touch on their end.
Final Verdict
IntelliShop is a legit mystery shopping site that will pay you for becoming a mystery shopper. It certainly has a couple of interesting features to offer but it also has a few drawbacks.
Let me finish this review with a summary of its pros and cons so you can decide if it is really worth becoming an IntelliShop mystery shopper or not.

Pros:
Payment is processed automatically
Pays via PayPal
No payout threshold
Cons:

Limited earning opportunities offered
Availability of jobs will depend on your location
You risk getting a lower grade if you do not log in often
What I like about IntelliShop is the hassle-free payment system they have. Since they process payments automatically via PayPal, you can just focus on finding shopping jobs to do once you become a member.
However, in my opinion, this site will only be beneficial for people who live in areas where there are plenty of jobs available, and in my experience, these are usually in metropolitan areas in the US.
So, essentially, if you live in the US, you have a higher chance of earning a significant amount from this site.
If you live outside the US or are in general just looking for a more reliable way of earning extra cash, I recommend you check out the top survey sites in your country instead.
The sites on this list will allow you to earn on a regular basis. Plus, you will definitely find a site you can join regardless of where you live and you can do it from your home.
If you have any comments, questions, or have any experiences with IntelliShop yourself, I would love to hear from you in a comment below.