Vivatic is one of the many paid survey sites, and it promises you can earn real money in your spare time.
But is Vivatic a scam or is it a legit opportunity to make money online?
I have tested the site thoroughly myself, and in this Vivatic review, you will get all the details.
You will find out exactly what the site has to offers, how much money is it possible to make, and if it is even worth joining – all the things you need to know before deciding whether it is a site you want to spend your time on or not.
Important Update:
Vivatic has closed and is no longer an active survey site. You can see the best survey sites through the link below instead:
>>Click to See the Best Survey Sites in Your Country<<
What is Vivatic, and what opportunities does the site offer?
I like to do a little background check on the survey sites I use to see what comes up – it has however been difficult to find any real information about Vivatic.
On the website itself, it just says that they are "a bunch of enterprising people that see the real value in leveraging outsourced labour and contractors to help build your business".
It does not say when it was founded, who this bunch of people are etc. A little bit strange, but that does not mean the site is not legit – let´s go into what earning opportunities the site offers to find out more.
Option 1- Vivatic surveys:
On Vivatic you can take paid surveys. It has a decent amount of these. But how often you qualify depends a lot on your profile, where you live etc. If you do not live in the US and UK, there will be no available surveys. Vivatic is however one of the sites that offer more than just paid surveys.
Vivatic mentions on the website that certain times are better for surveys than others. You will find most surveys on Wednesday and Friday evenings as well as all day Saturday. In general, you will not receive emails every time there is an available survey or offer, so it is better to check the site regularly yourself.
Option 2 – Cash offers:
Vivatic also offers what is called Cash offers and that can for example also be surveys, but can also be to download an app, watching videos and more. It can also be to join a site, which means that you can get a small bonus, if you sign up for certain websites – be aware which websites you sign up for though, as it might open you up to spam (read the terms and conditions before taking any offers).
New offers like this come and go all the time – Vivatic is however not a site where I have found the best offers. And again, if you are not from the US or UK, you will not find any at all, and even if you are from the UK or US, it will not be the best offers you find here.
Option 3 – Polls/comps:
Polls and competitions are where you can get a small reward for answering 10 short polls and by doing so, you will also enter into draw for hourly, weekly and monthly prizes. The rewards for this are very low, so it is more something you should do for fun and because it takes vey little time, and not to make real money.
Option 4 – Tasks/writing jobs:
The tasks are small online jobs through CrowdFlower. You can see before you start how much it will make you, but it is usually not very much, but also often only takes a few minutes. Examples of tasks can be to check a website for certain mistakes, report inappropriate content, etc.
Once you have done 20 of these tasks, you will get access to the writing jobs. I tried to get to a point where I would get access to the writing jobs, but I have given up on this as there is not very many small task available in the area where I live. So can unfortunately not say anything more about how these writing jobs are and how well they pay.
As you can see from the above, Vivatic has quite a lot of different ways to earn. That does not mean that I am impressed with the earning opportunities though – I will go more into details about this a bit later.
Recommended: Check Out the Top Survey Sites in Your Country
How to use Vivatic?
I have made a little video to show you how Vivatic looks like and how to use it. You can check it out below:
How does Vivatic pay?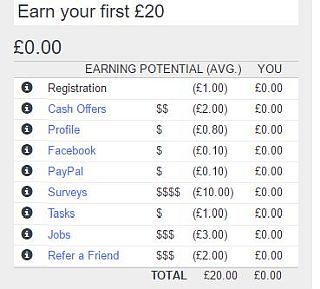 Vivatic pays out through PayPal. Be aware that you have to have a verified PayPal account before you can get a payout. You can read more about how to do this on PayPal's website, but it is easy and free to do.
You can request a payout once you have earned £20/$20. How quickly you will be able to get to this amount depends how many of the opportunities you use. Surveys are usually what pays the best, but when you login, Vivatic has also made a suggestion to how you can get to your first payout (see picture).
As you can see, you will also get £1 reward just for joining, and you will also get a small reward for connecting your account with facebook, confirming your PayPal account, and filling out your profile. Once you have done one of the things on the list, there will be a green tick, so you can see how close you are to the payout. Be aware that you do not have to do all the things on the list to get a payout. It is just a way to show you how you can get there and try to motivate you, but if you for example only wish to make money on surveys that is also an option.
In general, you should however expect that it will take you a while to reach the payout threshold, even if you follow the earning suggestions on the image. Once you have requested payment, you will get the money on the last working day of the following month. So if you request in January, you will get the money in the end of February. That is a very long wait compared to other sites that pay through PayPal where you will usually get the money within a few days or in some case within a few hours.
How much time do you have to spend to make money on Vivatic?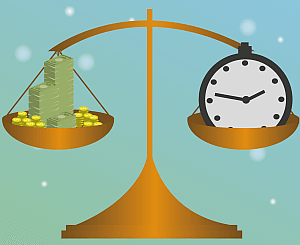 As with any other survey site (or any other online job for that matter), how much time you have to spend, depends how much money you want to make. Vivatic is however not one of the survey sites where you get most value for your time.
The surveys pay ok in relation to the time spend, but most of the surveys are from other companies, and Vivativ is kind of middle man. So many of the surveys, you would also be able to take directly on the provider's website or through other survey sites, and often they paid better.
You can make some extra money if you invite other people to join the site. This can be more difficult than it sounds though, as the person you invite has to make £10 before you get a reward from Vivatic (£2). But if you know people that are interested in signing up and doing the surveys, tasks or anything else there, it can be a nice way to boost your earnings a bit.
The tasks pay very litlle, but if you have the time, it might be worth trying to do enough to get some of the writing jobs. These jobs can be transcribing videos, doing reviews, write blog posts, proofreading and more.
As mentioned above, I have not managed to do the number of small tasks I need to qualify for the writing jobs, so I cannot say whether it is worth aiming for the writing jobs. But they do sound very interesting and I am curious about knowing more about them, so if you have experience with these writing jobs on Vivatic, I would love to hear from you in a comment below.
As in all my other reviews of survey sites, I want to make you aware that Vivatic will not make you rich and will not make you a full time income. If this is what you are looking for, you should look for other options to make money online.
Don't risk losing your earnings
It is important to know that if you do not have any activity on Vivatic for 2 months, your account will be cleared. That is a short period of inactivity they allow compared to most other survey sites. So be aware of this, so you do not go away on a long holiday and when you come back, your account will be back to zero.
So if you plan not to use Vivatic for a while, make sure to cash out before that.
In which countries is Vivatic available, and who can participate?
You can sign up for Vivatic no matter where you live. Most offers are however only available to you, if you live in the UK or the US, with the exception of tasks and jobs that are available for everyone.
You can sign up if you are at least 16 years old.
Final verdict
Vivatic is not a scam site, so you can make legit money on it, but it is not necessarily the best place to do so. Let's sum up the pros and cons to get a better overview:

Pros:
You can get paid through PayPal
Decent amount of surveys (but only if you live in the UK or US)
You can do a number of different things to get paid

Cons:
Many of the surveys and offers the site has give better rewards on other sites
General low rewards
Your account will be cleared, if you do not have activity for 2 months.
Slow payment (takes over 1 month).
Only available in the US and UK.
Not very user-friendly
Overall, I can say that Vivatic will be able to make you a bit of extra money.
But as mentioned, many of the offers or surveys that are available are also available on other sites, and many of these are in my opinion better survey sites – they have higher rewards, more opportunities, and are in general a lot easier to use. If you live in the UK or the US, Vivatic can be a way to make a bit extra, but even if you live here, I would recommend to join other sites instead.
If you live in any other country, it will be very difficult to make enough money to get a payout, as all you can do then is the very low paying tasks and refer friends.
If you have any questions, comments or have any experiences with Vivatic yourself you want to share, I would love to hear from you in a comment below.