There are a lot of good survey sites out there you can join so you can earn extra cash. Plus, you get to have your opinion heard. It has definitely become a viable option nowadays. That is, of course, if you join a good survey site.
But with so many survey sites out there today, it's kind of hard to choose the right one to join without doing some research. One such site you may have already encountered during your research is Surveys2Cash.
This survey site offers you a way to earn extra cash. But is Surveys2Cash legit or a scam to stay away from?
I have examined and tested this site and let me just say right away that it is not your usual survey site. In fact, it is more of a survey aggregator rather than a survey site.
This Surveys2Cash review will give you a detailed inside look so you know exactly what to expect and you'll know if it is worth your time or not.
What is Surveys2Cash and what does it offer?
As explained above, Surveys2Cash is not your typical survey site where you can register and then start taking surveys. Instead, it is a survey aggregator that only recommends survey sites you can join.
If you are new to paid survey sites, it is not very clear what this means and what you can expect before you join.
Because when you first come to the Surveys2Cash.com site, it says "Get Paid for Your Opinions".

From this, you might think you can just sign up and then get access to start taking paid surveys.
But if you were expecting to earn by answering surveys, you were only half right.
Yes, you will be able to earn by answering surveys with the help of Surveys2Cash. But that is only if you join the survey sites that they recommend.
All it's really doing is pointing you in the right direction, which isn't what a survey site should do, in my opinion (refer to photo above).
And most importantly, I do not think they make it very clear what you can expect when you first come to the site.
That is why I decided to write this review as there are some very important details you need to know before giving away your details to sign up. So let's go more into that next.
I have created a video that shows exactly how it works and what you need to be careful of before signing up. You can also read all the details below the video:
What happens when you join?
At first glance, you would think that this is a normal survey site because it has the same registration form you would encounter on typical survey sites.
You fill out the registration form the same way you would in any survey site.
But you will quickly notice at the bottom of the form hinting of what the site is really all about. It will ask you for your consent to receive SMS messages and phone calls about the sites/companies that have partnered with them.

These messages and calls will basically be just promotional offers. So, if you choose to give your consent, expect them to contact you.
At least they have a small link so you can see a list of the companies you will allow to contact you. I honestly gave up counting how many partners it is, but it is 100+ partners that they will share your contact info with.
This means that if you tick this box you can expect a lot of messages and calls and already here it becomes clear that Surveys2Cash is all about getting access to promoting offers to you.
And you have to be aware that the majority of these partners that will contact you have nothing to do with paid surveys.
The crux of the matter is, you actually don't need to give your consent to complete the registration. You can opt to just agree with the terms of use and privacy policy to complete the registration.
If you decide to join after reading this review, I would definitely encourage you to NOT tick the box but just continue the registration without – unless you would love to get A LOT of promotional phone calls and text messages.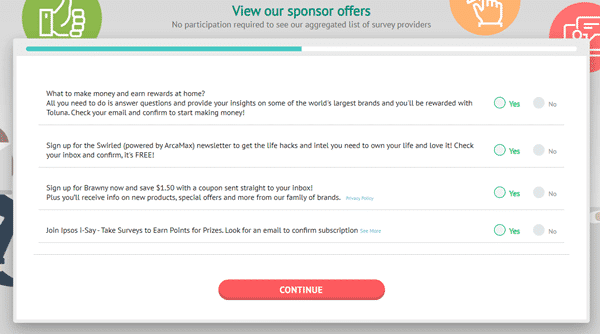 Once you've done that, you will have to go through a bunch of promotional offers from different sites.
Many of them are from survey sites you can join but there are also a lot of offers that have nothing to do with surveys.
Also, the majority of the survey sites I have seen them promote are not really worth joining, in my experience.
They are, for example, promoting SaySo4Profit and also a site like Panel PayDay – both of these sites are just other survey aggregators as well where you cannot actually take any paid surveys.
So you sign up for Surveys2Cash to get a lot of promotional offers for other so-called survey sites that will also just promote offers to you.
This means that it can be very difficult and time-consuming to ever get to the survey sites that will actually pay you.
In addition to this, you have to say yes or no to all the offers which also takes time.
When you then finally get through the so-called registration process, all you get to is a screen with some last offers – most of these are, however, from real survey sites from what I have seen.
But that is it – you never get to any members' area, you do not get any in-depth information about how to choose the right survey sites for you, and you will have to go through a lot of promotional offers that have nothing to do with paid surveys.
And now you are on their email list and they can start sending more promotional offers to you.
So all you are basically doing when signing up for Surveys2Cash is to sign up to go through a lot of promotional offers and if you tick the box when signing up, you will also get a lot of promotional phone calls and text messages.
Who can join?
Surveys2Cash doesn't really indicate on their website which region it is available. It is only when you will fill out the registration form that you will realize this site is only available in the US.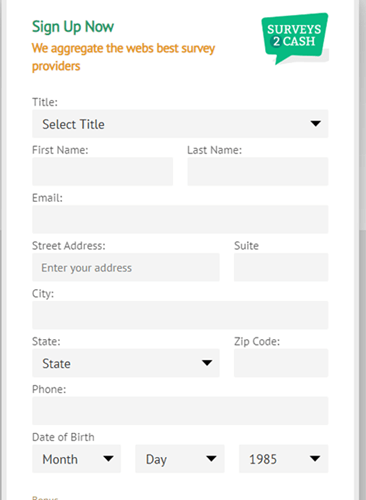 As you can see in the photo above, it will ask you to state which state you live in and the only options you can choose from are states from the US. So, in effect, you will only be able to join if you live in the US.
It also requires you to be at least 18 years old in order to sign up. However, unless you really love getting promotional offers there is really no need to join, in my opinion.
There are so many great survey sites in the US where you can actually start earning right away by actually taking surveys so I would suggest joining some of these instead.
Can you get support?
Let me just say it right now, the way this site works, you actually won't need to contact support. That's because there's really nothing to do with the site after you register. All you will see are a bunch of sites you are suggested to join.
When you click the site you are interested in, a new window will open taking you to the site. So, you will actually be leaving the domain of Surveys2Cash. So, there's really no need for them to provide support because essentially, they don't really have members.
You can consider the people who sign up as those who opt into a newsletter type of subscription. That's because it is essentially what the site is all about. So, to answer the question, no, you won't get support because you really won't need it.
Final Verdict
Surveys2Cash is a survey aggregator that suggests which survey sites to join. But I honestly can't really see any benefits you can get for becoming a member. All it offers are drawbacks, in my opinion.
But let me finish this review by listing its pros and cons so you can get a clear overview of what the site has to offer. That way, you can make an informed decision on whether joining this site is worth your time or not.

Pros:
Some of the survey sites it promotes are decent
Cons:
Doesn't really offer opportunities to earn
Basically, only has promotional offers (many has nothing to do with surveys)
Promotes many poor survey sites
You risk getting A LOT of promotional phone calls after signing up
Surveys2Cash, in my opinion, is just a fancy way of getting you to look at promotional offers from sites that they have partnered with. You don't actually stand to gain anything by joining this site.
All it does is point you in the direction they get paid to point you. And in my experience, many of the offers/survey sites they promote are really not even worth it.
So, in my opinion, don't even bother to sign up for this website unless you are interested in receiving A LOT of promotional offers and you live in the US.
For a better way to earn extra cash on a regular basis, I recommend you check out the top survey sites in your country instead. The sites on this list all offer good earning potential.
You will be able to earn rewards directly on the sites on a regular basis and withdraw your earnings conveniently. Plus, you will be able to find a site you can join regardless of where you live.
If you have any comments, questions, or have any experiences with Surveys2Cash yourself, I would love to hear from you in a comment below.