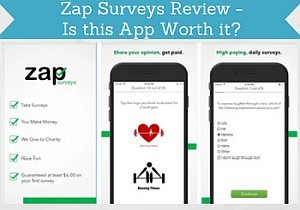 Zap Surveys is a survey app. So unlike most of the other survey opportunities I review on this site, it does not as such have a website, but only an app.
Let me reveal right away that I am not very excited about this app. That does however not mean that it might not be the right way for you to do surveys.
In this Zap Surveys review, I will share all the details, my experiences about the app, and what I like and dislike about it, so it will be easy for you to see, if it is an app you want to download.
What is Zap Surveys app and what does it offer?
Zap Survey is an app for Android and iOS. It is owned by the company "Apps that pay" that also owns other survey apps and survey sites.
You can mainly earn by doing surveys, but there are also a few other ways to earn a bit extra. The opportunities in the app are:
Paid surveys:
Paid surveys is what Zap Surveys app is all about, and it is the way you can make the most money. The surveys are offered through two different third party portals – Peanut Labs & SaySo For Good. If you are using survey sites already, you have probably seen these names before as these portals are used by many other surveys sites like for example PrizeRebel and ClixSense. These sites do however offer a number of other earning methods as well, and not having more opportunities is in my opinion the biggest weakness of Zap Surveys. .
These two portals are the only ways to take surveys through Zap Surveys, which can give very limited options in some countries. Be aware that the first time you want to take a survey through one of these portals, you will be asked to fill out your basic demographic info again (age, where you live, gender, income etc.) and you have to do it for both portals. It is annoying, but at least it is only the first time you are using them, you have to fill it out. After that, it will be remembered by the app.
Joining bonus survey:
When you first join Zap Surveys, you get a starter survey to get you going. This is a very short and easy survey. It is 8 easy questions, and it only takes a few minutes to do. To do this introductory survey, you get $6.25. That is a very nice start.
But be aware that it will NOT be this easy to earn with the surveys you will have access to after that. This is just a joining survey with extra high reward and very quick and easy questions to get your started. So do not expect that you will be able to continue making money this fast and easily through the app.
Share on social media:

You can earn a little bonus by sharing about Zap Surveys on Facebook or Twitter. In the app, you choose "more" in the menu line and then you can select "share". It will then show you the screen, you can see on the picture here.
By clicking Facebook or Twitter, you will be taken to the platform, where you share a link to Zap Surveys to promote them. This will give you $0.50 for each of the platforms you share on. Be aware that you will only get this bonus once, so you will not earn more, if you for example share several times on Facebook.
Personally, I do not really like promoting like this on my personal profile, but that is of course a matter of personal preferences. And if you do not mind, it can be an easy extra 50 cents to make.
When you go to the option of sharing, it can be a bit confusing, as you can also see the option to like Zap Surveys on Facebook and rate the app. At first, I thought that I would also get paid to do this – that is not the case. You will only get paid, if you share a link about Zap Surveys on your personal profile.
Also, if you try to like Zap Surveys on Facebook, you will be taken to the page of "Apps that Pay". This is the company behind Zap Surveys, so you have ended up the right place even though it is a bit confusing being taken to a page with another name than expected.
Refer people:
You can earn a very small bonus by referring people to the Zap Surveys app. When you are logged in, you can find a referral code in your profile. If you send this code to somebody, and they write this code when they join, you will get $0.15. A very small bonus, and almost not worth it in my opinion.
As you can see there are a few ways to earn on Zap Surveys, but the only one where you can earn long term is paid surveys. Zap Surveys is free to download and free to use.
Below, you can get a preview of how the app looks like, in this little video I found that is made by the company itself:

Recommended: Click to See the Best Paying Survey Options
Use Zap Surveys referral code to get joining bonus
I shortly mentioned above that as a member of Zap Surveys, you will get a referral code, you can share with people. The bonus you as a referrer gets is so small that it is almost not worth it. As the person joining, using a referral code can however give a nice extra starting bonus.
If you use a referral code when joining, you will get $0.75 bonus. So by using this, and doing the initial short welcome survey, you will have earned $7 within a few minutes. So if you want to join, this can be a great way to start. It can still take a while to get to the payout threshold, which you can read more about below, but it is still great to get a fast start.
If you want this joining bonus, you can use my referral code (you will get $0.75 by using it, and I will get a $0.15 bonus for you using it). If you are not using a referral code when joining, you will NOT get the extra 75 cents bonus, but you will still get the easy starter survey.
Zap Surveys referral code for $0.75 free bonus: XDSEWSG7UQ
How do you get paid?
You earn cash in dollars on Zap Surveys app. Once you have reach the payout threshold, you will be able to cash out through PayPal or Amazon gift cards.
The payout threshold is $25, so you have to make this, before you can get the money out. In my opinion, this is a bit too high, and I prefer survey sites or apps that have a lower payout threshold. It is especially seems high because Zap Surveys app does not offer that many ways to earn, so in some countries, it can take a long time to get to the threshold even with the great joining bonuses.
If you use the portal SaySo For Good, you can alternatively choose to use your earnings to donate a meal to starving children.
Zap Surveys also says that it will donate 10% of whatever you earn to charity. I think this is really nice and a great idea from a survey company. I was however not able to find more information about which charity it donates to, so I cannot tell more about it than this.
How much money can you make?
Zap Surveys App will be able to make you a little extra money, but do not expect more than that. The portals that it offers surveys through has some opportunities, but it very much depends on the country you live in. Where I live, they do not give a lot of options, and therefore the app is not great for me.
In general, it does not offer very many options. To do surveys on the go, I instead prefer using some of the big survey sites that have apps as they have many more options, and therefore also better earning opportunities.
Who can join?
As long as you have an Android or iOS phone, you can download and join Zap Surveys app. Just be aware that not all countries will have very many opportunities.
Conclusion
Zap Surveys app has some potential, but I am not impressed by it. But let's sum up the pros and cons to get a better overview.

Pros:
Very easy to use
Pays through PayPal
Great joining bonus

Cons:
Very limited opportunities in many countries
Only offers surveys through 2 third party portals
Has a high payout threshold
As you can see, the app has both some good and not so good sides. Personally, I prefer taking surveys through other sites, as there are many better survey sites that offer more opportunities and lower payout threshold. As Zap Surveys is so easy to use, it can however be worth considering joining as a little extra survey option.
How to join Zap Surveys?
If you want to join Zap Surveys, you just simply go to your app store on your phone and search for Zap Surveys and download it. When you sign up, you can do it either with your Facebook account or with an email.
If you decide to join, remember that you can get a bonus by using a referral code, as I showed earlier in this review.
If you have any questions about Zap Surveys app, any comments, or any experiences with it yourself you would like to share, feel free to leave a comment below.
Zap Surveys App
Money/time ratio

Frequency

Usability
Summary
Zap Surveys app is really easy to use. It has a great joining bonus, but unfortunately the survey opportunities are not as great as on many survey sites, so it can take you a long time to reach the high payout threshold.