UserCrowd is a survey site that promises to pay you for participating in quick design surveys which will help make products better.
So, if you are looking to earn a few extra bucks, you might be considering UserCrowd as a viable source of extra income. Now, the first question you should be asking is, is it worth your time?
Ideally, you will want to join a site that will allow you to earn efficiently. So, making sure UserCrowd will allow you to do that is the first thing you need to confirm.
But to answer that question, we need to consider several factors and this UserCrowd review will help you make a decision on whether it is really a site that is worth your time or not.
So, let's go ahead and examine what this site has to offer.
What is UserCrowd and what does it offer?
From what it advertises on its site, UserCrowd is a site that will ask you to test the usability of products.
They do that though in the form of a survey. So, in all actuality, they are really a survey site.
And in order to gauge the earning potential of the site, we have to take a closer look at how you will be able to earn from this site. So, here's the earning opportunity that UserCrowd offers.
The earning opportunity – Paid Tests
The only way for you to earn from this site is by completing their paid tests. If you've been a member of other survey sites before, these paid tests are actually a lot like paid surveys.
When you become a tester, you will be able to log in to the website and view all the available paid tests you can do. You will also be notified via email if there are available tests.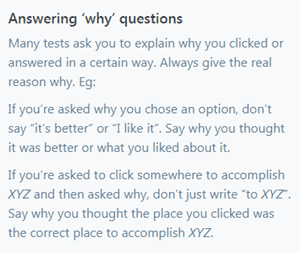 The only difference between these paid tests and paid surveys is, you won't actually have to answer qualifying questions. When you click on a paid test offer, you will be taken directly to the test you need to complete.
And as you can see in the photo above, the tests will usually ask you questions about a certain product or service (which is from one of their partner companies). Most of the tests will ask you to explain why you answered in a certain way.
These are the most crucial parts of the test and you must always take your time and elaborate on why you answered that question. In other words, you have to answer these questions seriously.
The reason for this is, UserCrowd will review the answers you've given and determine if you should get the reward or not.
If they feel that you just rushed through the test without taking it seriously, they will reject your answers and won't give you the reward.
But if they see you took the test seriously, you will be awarded the credits promised. As for what you can do with the credits you received, I will talk about that next.
To summarize the process, testing will involve answering several questions. Once you are done answering the questions, you then have to submit them for review.
Once UserCrowd finishes reviewing your answers, they will decide whether you should receive the reward or not based on the answers you've submitted.
How do you get paid?
All the tests in UserCrowd will reward you with credits. This is the currency they are using.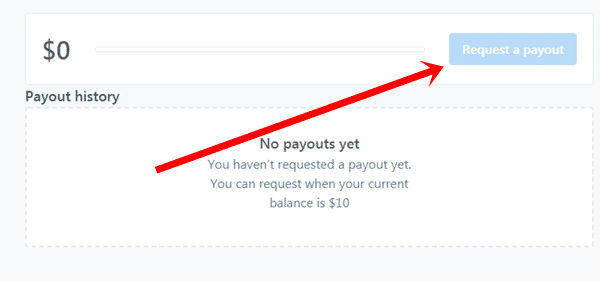 Once you've reached 100 credits (which is equivalent of $10), the request button shown in the photo above will be available to click. That means you will be able to request payment.
The payment will only be done via PayPal. They don't offer any other payment method.
Although PayPal is considered the best and most convenient payment gateway available today, it would still have been better if they offered additional ways for you to receive payment, in my opinion.
That would have made the site a bit more versatile in handling payments. Anyway, payment via PayPal, as mentioned, is a perfectly fine way of receiving payment.
However, don't expect to receive the payment right away. They normally review the payment requests first. And if everything lines up, they will approve the request. If it is approved, then you can expect to receive the payment within 30 days.
That is quite a long time, in my opinion. There are other survey sites that pay a lot faster. Although their payout threshold is relatively low, the processing of the payment takes quite some time.
If you are looking for sites that will allow you to receive your payment a lot faster, I recommend you check out the fastest paying survey sites instead.
How much money can you make?
With survey sites like this, the amount of money you can make will mostly depend on how often you receive test offers. The more test offers you receive, the more chances you will get paid.
The other factor that affects the amount of money you can earn is how well they pay for each test.
Granted the answers you've provided on every test are all good, you will be able to earn more if they reward you with more credits.
However, there is no specific information on their website about the number of credits you will receive for each test.
In my experience, this will usually depend on how complicated the test is. Typically, the longer it takes to complete the test, the more credits will be awarded to you.
Plus, there is also one factor that will affect the earning potential of the site. This is their tester rating. The premise for this is pretty simple. Low-quality responses will impact your rating as a tester.
This will then result in fewer tests being offered to you. And if worse comes to worst, your account will be deactivated. So, make sure to always take your time when answering tests and make sure to provide high-quality answers.
You can do that by providing clear and concise answers to the questions. When you have a high tester rating, you will receive more test offers and therefore, earn more.
Overall though, the earning potential of this site, in my opinion, isn't really very high. So, don't expect to earn a lot from this website.
Can you use it on mobile?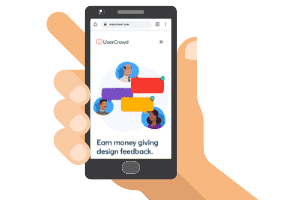 You will be able to use UserCrowd on a mobile device through a mobile web browser. It doesn't have an exclusive app you can download though.
The good news is, their mobile version of their site is mobile-friendly. So, you will be able to work on tests conveniently.
This also makes you more efficient because you can answer tests even when you are not in front of the computer. And the nature of their tests doesn't really make it difficult to do the work on a mobile device.
You just need to make sure your mobile device has a stable internet connection to ensure that you will be able to submit your answers properly.
Who can join UserCrowd?
UserCrowd is available globally. That means you will be able to register as a tester regardless of where you live.
You do have to be at least 18 years of age since they are using PayPal as the mode of payment and the minimum age required to open a PayPal account is 18.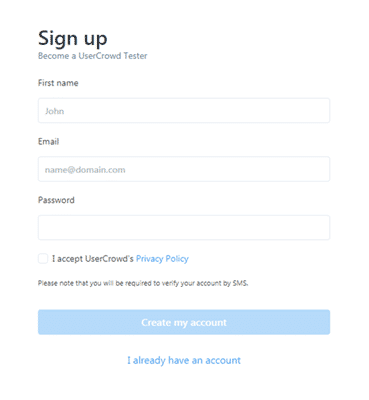 To register as a tester, all you have to do is fill out the form. The registration process is fairly easy. You do have to provide your days of availability, which is the first time I've encountered such a thing on a survey site.
It's not really a bad thing. In fact, it can work to your advantage since you can set the days on when you can receive test offers.
However, it might not be the same every week, so it does seem like a bit of a strange question.
And lastly, you will have to provide your mobile number because they will be sending you a confirmation code via SMS to complete the registration.
Apart from that, all the other information you need to provide is pretty much basic information.
Can you get support?
They do provide decent support for their website. First, they have an FAQ section that covers most of the basic questions about the site.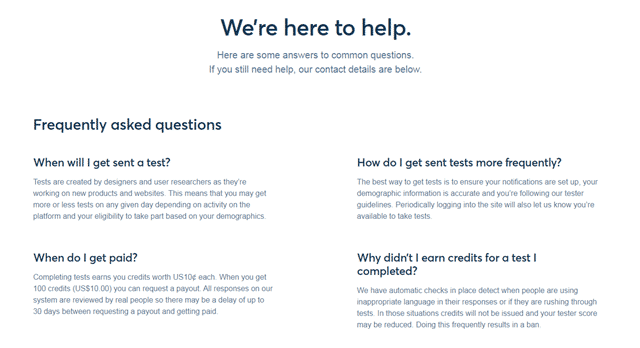 If your question is not answered by their FAQ section you can reach their support team by emailing them at support@usercrowd.com.
They don't have a contact form on their website, so the only way to get in touch with their support team is via email.
It's not as great compared to other websites, but it is decent enough since they do provide you a way to contact their support team.
So, I don't really see any issue with how they provide support to their members.
Final Verdict
UserCrowd is a survey site that does pay you for participating in their paid tests.
To help you decide whether this site is truly worth your time or not, here's a summary of its pros and cons to give you a clear picture of what the site can offer.

Pros:
Payment via PayPal is available
Available globally
Site is mobile-friendly

Cons:
Limited earning opportunities
Low earning potential
Takes quite a long time to receive payment
UserCrowd is a decent survey site in my opinion. However, the main drawback of this website is that it takes too long to receive payment even though their payout threshold isn't very high ($10).
That fact that they need to verify every payment request makes the process a whole lot slower. The limited earning opportunities also don't help its cause.
There are simply other survey sites that will allow you to earn more. So, in my opinion, your time will be better spent working on those sites.
For a list of these sites, I recommend you check out the top survey sites in your country. All the sites on this list will allow you to earn a decent amount of money. Plus, you won't have to wait that long to receive your earnings.
If you have any comments, questions, or have any experiences with UserCrowd yourself, I would love to hear from you in a comment below.