If you are looking for a simple way to earn extra cash online, one good site to join is a survey site. This kind of site is a good entry point to the world of online rewards sites. That's because this kind of site offers a very simple way to earn.
You simply answer a survey and once you complete it, you get paid a certain amount. It's that simple. BTCSurveys is one such site that promises to pay you for answering surveys.
Now, the big question is, is BTCSurveys a scam or really a legit way to earn?
Let's address this issue right away so we can talk more about the site. Yes, BTCSurveys is a legit survey site that will pay you for answering surveys. But is it worth it though?
Well, answering this question is a different story and in order to do that, we have to consider several things. This BTCSurveys review will reveal all the details you need to know so you can figure out if this site is worth your time or not.
What is BTCSurveys and what does it offer?
As mentioned above, BTCSurveys is a survey site that will pay you for completing the surveys they offer. It is a relatively new survey site, so it doesn't have as many members as other survey sites.
Now, for you to clearly understand the earning potential of this site, we have to examine the earning opportunities it offers. This is also the best way for you to familiarize yourself with what the site has to offer.
So, here's how you can earn from BTCSurveys.
Option 1 – Paid surveys
The main earning opportunity offered on this site, as you can probably guess, is by answering paid surveys.
When you log in to the site, you will be able to see all the available surveys you can answer by clicking on the Surveys section of the dashboard.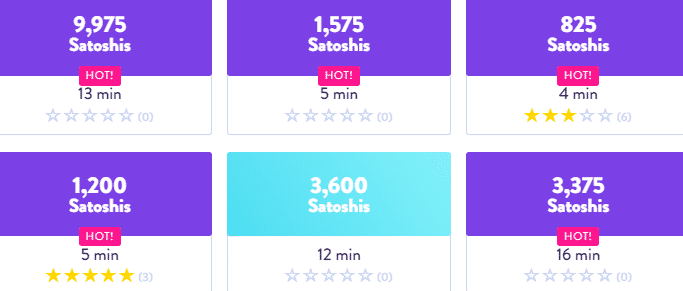 As you can see in the photo above, every survey will tell you how much you will earn for completing it and how long it will take for you to complete the survey.
This is actually good information to know beforehand because it will help you determine which surveys to prioritize if you are in a hurry.
Now, when you answer a survey, you will first have to go through a qualifying process. This means you will have to answer a few qualifying questions to determine if you are the right person for the survey. This is a kind of safety net to make sure the data gathered from the surveys are actually relevant.
If you qualify, you get to the actual survey questions. Once you complete the survey, you will receive the reward and it will be credited to your BTCSurveys account balance.
If you don't qualify, the answering process stops there and you simply move on to the next survey. They will, however, give you a small compensation for the time you spent answering the qualifying questions. So, you won't go totally empty-handed.
BTCSurveys has a decent number of surveys but it does not offer quite as many options as many other sites.
As for how good value the surveys will give for your time really depends on the specific survey.
And it can be a bit confusing to quickly figure out the value of each survey – but we will go more into the earning potential a little later in this review.
Option 2 – Referral program
As with most survey sites, you will also be able to earn bonus rewards by simply inviting other people to join the site. This is called a referral program.
All you have to do is share your invite link with the people you want to invite. Once they sign up to BTCSurveys, they will become your referral. You will then receive a commission for every survey they answer.
You will receive 10% of what your referral will earn for every survey they complete. It's not much, in my opinion, but if you were able to get several active referrals, you will earn a nice passive income from it.
How do you get paid?
As the name suggests, every survey you complete will earn you a certain number of satoshis.
If this is your first time hearing about this term, a satoshi is the smallest unit of a bitcoin. So, instead of earning cash like you usually would in most survey sites, you will earn bitcoins.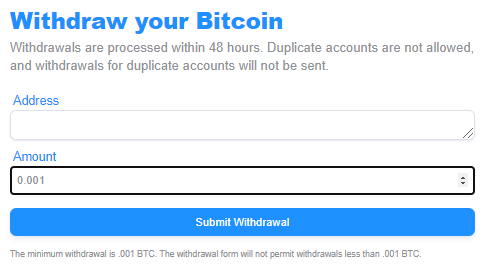 This also means that for you to withdraw your earnings from this site, you will have to have a bitcoin wallet set up. You can use any bitcoin wallet you want.
If you don't like earning bitcoins though, then unfortunately, this site isn't for you since this is the only payment method they offer.
But if you are interested in more sites that pay in bitcoins, I would recommend you also check out the top survey sites that pay via bitcoin.
To withdraw your earnings, you have to earn a minimum of 0.001 BTC which is currently around $10 (as of writing this review). There is also a transaction fee of 2900 satoshis for every withdrawal you make.
You also have to keep in mind that the value of satoshis will depend on the exchange rate. So, before you convert your satoshis in your bitcoin wallet, I would suggest you check the bitcoin conversion rate first.
How much money can you make?
With survey sites, the amount of money you can make will mostly depend on how many surveys you complete and how well they pay you for each survey. With BTCSurveys, it's the same case.
You really won't be able to control the number of surveys you can complete because this will vary mostly on your location and the profile information you provide. The best thing you can do to maximize your chances is to always answer surveys honestly.
As for how well they pay, they claim that you can earn up to $10 per day for answering surveys. This is actually a very high rate, in my opinion, and in my experience, this is hardly ever the case.
Most of the surveys they offer will only net you around $0.5 to $3 at most. Consider yourself lucky if you are able to complete surveys that are worth more than $1.
Keep in mind that you won't always qualify for surveys. So, there's no guarantee you will earn from every survey you will see when you log in.
Overall, I would say that BTCSurveys does have decent earning potential but it is not as good as the top survey sites.
Can you use it on mobile?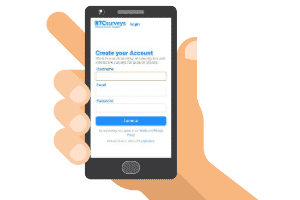 The site doesn't have a mobile app you can download so you can answer surveys conveniently on your mobile device. However, you won't actually need to have an app to work comfortably on a mobile device, in my opinion.
This is because their site is very mobile-friendly. You will be able to read all the content properly without having to zoom in.
The links are also pretty easy to click, so you will be able to get around the site easily. In my opinion, they did anticipate the fact that more and more people prefer to work on survey sites on their mobile device.
This is good news if you are one of those people because answering surveys from a mobile device can actually be pretty useful. If you don't know yet, surveys always have a maximum number of respondents allowed. If it reaches that number, it will stop accepting respondents.
That's why getting to the surveys as quickly as possible is important to be able to qualify for it. And obviously, if you can get to a survey without having to sit in front of a computer, you have a better chance of qualifying.
Who can join BTCSurveys?
BTCSurveys is available in 53 different countries. If you want to know exactly which countries are included in this list, I suggest you try to register since it will ask you to choose the country you live in.
If you don't see your country in the list, then this site is not available in your area.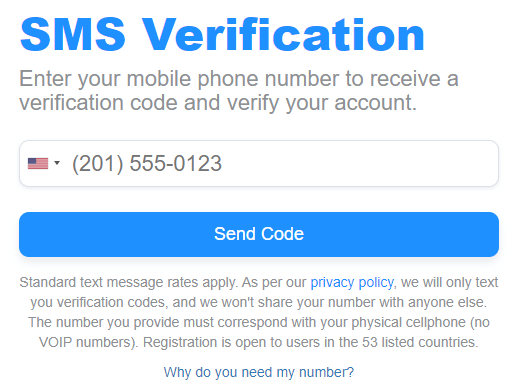 To register, you have to be at least 13 years of age. Just fill out their sign-up form. And as mentioned, you have to choose your country. But you also have to provide a mobile number (refer to the photo above).
This is crucial in their registration process because this is how they will verify your identity.
After you've provided your mobile number, they will send you a verification code that you will have to input to confirm your registration. So, make sure you provide your real mobile number if you want to be a member.
Can you get support?
Before joining BTCSurveys.com, the site isn't really transparent with what it has to offer.
All they give you is a general explanation of how the site works. So, if you want to learn more about the finer details of the site, you can usually expect to see it on an FAQ page.
The problem is, the site doesn't have an FAQ page. So, if you want to confirm something or if you have a question about the site, you are left with no choice but to contact their support team, which they do provide a way for you to do so.
It's a minor thing really, but it would have been nice if they provided an FAQ page that discusses most of the basic things you need to know about the site.
But overall, I would still say that they do provide decent support since they have a contact form you can use to get in touch with their support team.
Final Verdict
BTCSurveys is a legit survey site that will pay you for answering surveys. It has a couple of good qualities and it also has certain limitations.
So let's finish this review with a summary of its pros and cons to give you a better overview of what the site is so you can decide if this is really a site you want to register to or not.

Pros:
Their site is mobile-friendly
Relatively low payout threshold

Cons:
Limited earning opportunities offered
Only pays via bitcoin
Site lacks relevant information
BTCSurveys is a decent survey site, in my opinion. It can serve as a good secondary site to earn from because the rewards you will earn are quite decent. This is of course, provided you have a bitcoin wallet.
If you prefer to get paid via PayPal or other payment gateways or even just receive gift cards, then this is not the site for you.
If you are looking for a site that can be your primary online source of extra cash, I recommend you check out the top survey and GPT sites in your country instead.
The sites on this list all have good earning potential and they all offer various payment methods. Plus, you will also be able to find a site you can join regardless of where you live.
If you have any comments, questions, or have any experiences with BTCSurveys yourself, I would love to hear from you in a comment below.