If you live in Australia and are looking for a good survey site to join, chances are, you've already encountered WDYT. This survey site promises to reward you for completing surveys but is only available in Australia.
So, if you live somewhere else, this is not the right survey site for you (see sites in other countries). If you do and you want to confirm if WDYT is indeed legit and worth your time or a waste of time, then you are in the right place.
This WDYT review will take a full stock of what the site is all about and what it can offer. After reading this article, you will know exactly what to expect and easily make a decision about whether you should join this survey site or not.
So, let's get this review started.
What is WDYT and what does it offer?
WDYT (an acronym for What Do You Think) is a survey site that will reward you for completing their surveys and get paid to share your opinion as the name implies.
It is exclusive to Australian residents and you will understand why later.
In order to get a good grip on how good this survey site is though, we have to take a closer look at the ways you can earn from the What Do You Think surveys.
I always consider looking at a survey site's earning potential and usability as the main factor on whether or not you should sign up and become a member.
So, here's how you can earn from WDYT.
Option 1 – WDYT Surveys
A survey site won't be a survey site if there aren't any paid surveys available. So naturally, you can expect that the main way to earn on WDYT is by answering paid surveys.
When you log in to the website, you will be able to see all the available surveys you can take when you click on the My Surveys tab on the left side of the dashboard.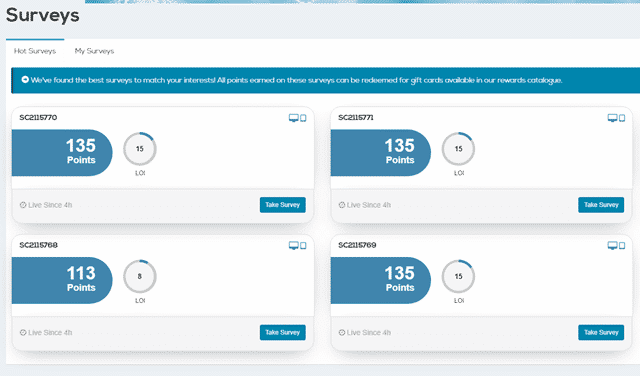 You will then see (refer to the photo above) the surveys listed along with the reward you will receive upon completing each survey.
You will also see the estimated time to complete the survey, as well as whether or not the survey is available on a mobile device which is quite user-friendly and makes it easy to prioritize your time.
Lastly, each offer will also indicate when the survey went live. This is an important piece of information because it will allow you to prioritize the surveys you can take.
Ideally, you will want the latest surveys because these are the survey offers that will give you the best chance of qualifying. Let me explain this.
Typically, each survey offer will have a maximum number of respondents. When that number is met, any succeeding member who takes the survey will just be disqualified.
So, if the survey has been live for quite some time, there's a higher chance that it has already reached its maximum number of respondents. That's why it is always best to prioritize the newer surveys.
This doesn't mean though that you should not try and take the older surveys. What I really mean is, you should prioritize the new ones because these are the surveys that will give you the highest chance of qualifying and therefore earn rewards.
When you take a survey, you will have to answer a set of qualifying questions first. This is done to make sure you are included in the demographic the survey is intended for. If you qualify, you will then get to answer the actual survey.
If you don't qualify, you will receive a small compensation for your time which is quite nice and something you will not find on many survey sites.
Once you complete the survey, you will then receive the reward promised, which will be credited to your WDYT account balance. It does not have quite as many surveys as, for example, Toluna Influencers has in Australia, but WDYT definitely still has enough to make it worth considering.
Option 2 – Referral Program
WDYT also has a referral program in place to supplement what you will earn from answering surveys. In my opinion, they have decent referral programs in terms of the reward structure.

For every person you invite and signs up to the site, you will receive 100 points as soon as they complete their first survey or attempt to do 10 surveys.
You will then receive 10 points for each survey they complete. It's a decent referral program, in my opinion, mainly because you are ensured you will receive something in return for every referral (of course, only if the person will be active).
Plus, you will continue to receive rewards every time they complete a survey.
In short, it is a nice form of passive income that will help you earn more, provided of course, your referrals remain active on the site.
How do you get paid?
WDYT uses a point system for their rewards. This means for every survey you complete or referral you make, you will receive a certain number of points. The points will then be stored in your point balance.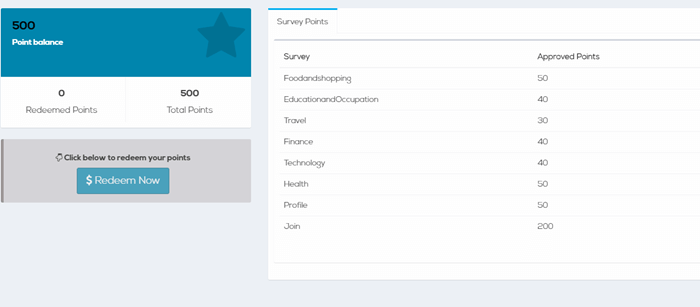 Once you've hit a total of 2500 points (cash equivalent of $25), you will be able to redeem vouchers from Prezzee or withdraw it via cash through bank transfer.
The redeem button (shown in the photo above) will only be available if your point balance has reached the threshold.
If you choose to withdraw your earnings via cash, it will take up to 10 business days to be processed. So, don't expect to receive it right away.
All in all, they do have a versatile payment system, in my opinion.
How much money can you make?
The amount of money you can make on WDYT will mostly depend on how many survey invites you will receive, the number of surveys you actually complete, and the amount you will receive per survey you complete.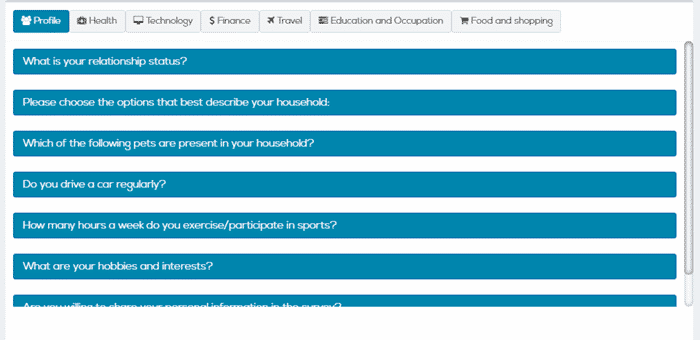 To maximize your chances of receiving survey invites, you have to make sure you complete the profile survey.
This will help you become qualified for more survey invites. Plus, you will receive a total of 500 points once you've completed it, which is a nice bonus, in my opinion.
As for the reward you receive for each survey completed, it will vary depending on a number of factors including but not limited to how long the survey is and the type of survey. Usually, the longer the survey is, the more points you will get.
And from what I can see on their survey offers, the average points you will receive per survey completed is around 100 points (equivalent to $1), which is not bad, in my opinion. There are plenty of survey sites that pay lesser than they do.
So, overall, the site does have a decent earning potential mainly because it pays quite well. This will help you get to the relatively high payout threshold of $25 quicker.
Can you use it on mobile?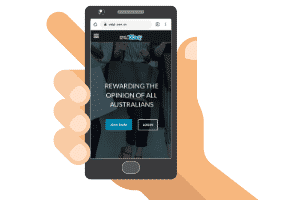 If you want to answer surveys on your mobile device, you can do so by accessing their website using a mobile web browser since they don't have an exclusive mobile app you can download.
The good news is, their site is optimized for mobile use so you won't have a hard time answering surveys and navigating through their site. Most of their surveys are also available on mobile, so you get to earn whenever and wherever you want.
This can prove useful for helping you reach that high payout threshold that they have because it will allow you to get to the survey offers as soon as you receive the invite even when you are not in front of your computer or laptop.
And as we've discussed earlier, getting to the surveys quickly can increase your chances of qualifying for the survey.
Who can join WDYT?
As I've mentioned at the beginning of this article, WDYT is one of the purely Australian survey sites so it is, of course, only available to residents of Australia. So, if you don't live in here, joining the site will be pretty useless.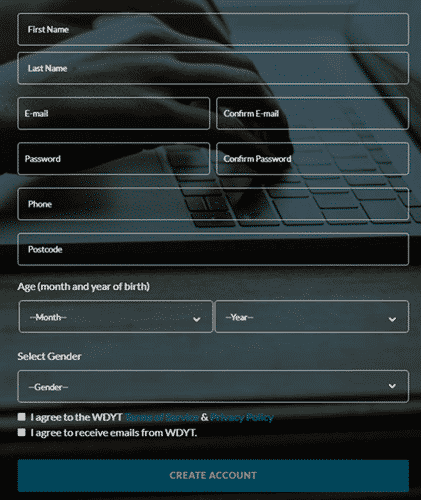 Their registration process is fairly simple. All you have to do is complete the registration form and confirm your membership (by clicking on the activation link in the email you will receive from them).
Once you've confirmed your membership, you can then start earning right away. In my experience, there will already be survey offers available, which is a good sign.
You do have to be at least 18 years of age or you have your parent or legal guardian's consent to be a member and participate in the activities if you are under 18 years of age.
Can you get support?
If you want to contact their support team, you can use their contact form to send your inquiry. They also have an FAQ section that covers most of the important topics.
One thing I can say about their site though is, you won't be able to get to their contact page once you are logged in to their member dashboard. The same goes for their FAQ page.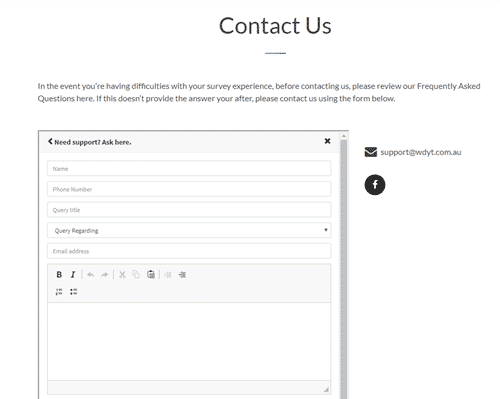 If you want to contact their support team, you have to log out from the site and go back to the home page to access their contact form and FAQ page.
This is really just a small thing, but it helps make the user-experience feel more seamless, in my opinion.
But overall, their support system is pretty decent and I have been in contact with them myself and have received the help I needed quickly which is a big plus.
Final Verdict
WDYT is a legit survey site that will reward you for completing surveys and inviting people to join the site. It has some nice qualities and some not so good qualities.
So let's finish this What Do You Think review by summing up its pros and cons to give you an overview of what the site can offer before deciding if you should join or not.

Pros:
Pays well
The site is mobile-friendly
Good referral program

Cons:
Limited payout options
High payout threshold
The best thing about WDYT, in my opinion, is that it pays well for a survey site. So, even though it has a high payout threshold, it won't take too long to reach it since it gives fairly high rewards and you get a good joining bonus.
You just need to make sure you complete your profile to maximize your chances of receiving survey invites.
The downside is, if you live outside Australia, you won't be able to join the site. And if you don't have a bank account, the only rewards you will be able to redeem will be vouchers.
However, if you are eligible to become a member of WDYT, it is a decent site to join because it has good earning potential even though it is not one of the absolute top paying survey sites in Australia.
If you don't live in Australia and are looking for good survey sites to join, I recommend you check out the top survey sites in your country instead.
You will find plenty of survey sites comparable to WDYT in terms of earning potential. Plus, all of the sites listed have various payment options available.
How to join WDYT?
If you want to register as a member, you can click the button below that is an invitation link that gives you access to register.
The registration process is pretty easy, so you can start earning right away.
If you have any comments, questions, or have any experiences with WDYT yourself, I would love to hear from you in a comment below.