You Cubez is a Paid-To-Click (PTC) site that rewards you for completing certain activities. Now, it is natural to be wary about PTC sites because there are plenty of scam PTC sites out there today.
There are also a lot of PTC sites that are not worth joining because you will just be wasting your time due to the low earning potential.
So is You Cubez legit and worth joining or a scam to stay away from?
This You Cubez review will answer that question and more and there definitely are some important things you need to know as it is not for all.
After reading this review, you will know exactly what to expect and can easily decide if this site is a good fit for you or not.
What is You Cubez and what does it offer?
As already mentioned above, You-Cubez.com is a PTC site that rewards you for completing tasks and activities. It has several earning opportunities, which can make it seem appealing at first glance.
But in order to tell if it is definitely worth joining or not, we have to take full stock of what this site has to offer. That way, we can gauge its true earning potential.
So, here's how you can earn from You Cubez.
I have made a video that gives you an inside look and shows exactly how it works. You can also read all the details below the video:
Option 1 – View Ads
The first, and most common method of earning in PTC sites, including You Cubez, is by viewing ads.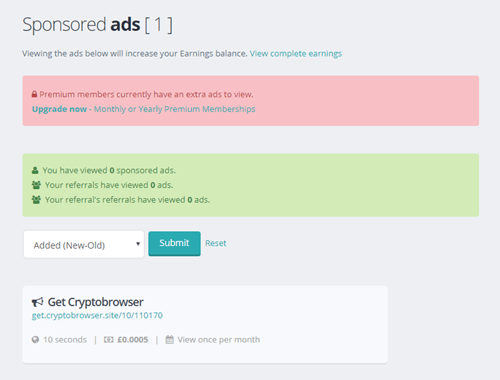 If you are not familiar with this type of earning the opportunity, the premise is pretty simple. You simply click on an ad offer and view it for several seconds.
In You Cubez case, you will have to wait around 10 seconds and then input the code provided (just like a captcha) before you will receive the reward offered.
This type of earning opportunity doesn't reward much but it takes so little effort to do. The weird thing I noticed about the ad offers available on You Cubez though is that it is pretty minimal.
In my experience, PTC sites usually have a lot of ad offers available for their members but You Cubez only has a few. This makes this earning opportunity less than ideal in terms of earning potential.
Option 2 – Paid Offers
Based on how they structure their earning opportunities, the bulk of your earnings from You Cubez will come from completing paid offers.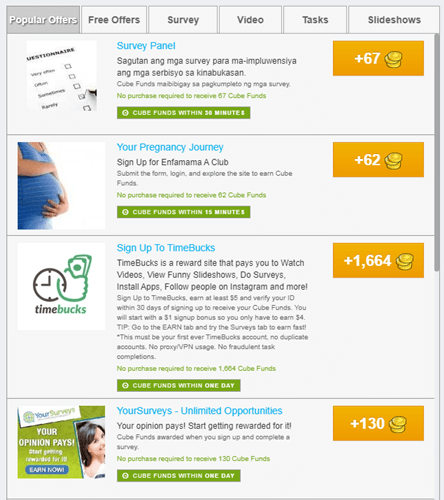 You will find all the paid offers you can take on the different offer walls available on their site. Once you log in to their website, just view any of the offer walls and you will a list of paid offers you can do.
The key thing about their paid offers is that you have to completely follow the instructions provided by the offer in order to get the reward.
Once you've met all the requirements of the offer, you will receive the reward, as well as cube points (I will discuss this later). These paid offers will usually ask you to answer a survey, sign up to a website or a combination of both.
Other paid offers will ask you to watch videos or play certain games. But really, it doesn't matter what it will ask you to do. The important thing is, you have to follow the instructions to earn the rewards.
And seeing as this is the only earning opportunity that is always available and in multiple numbers, you will have to complete plenty of these paid offers in order to earn a significant amount.
Option 3 – Adboard
This is not an earning opportunity per se, but rather a way for you to increase traffic to your website. So, if you don't own a website, you can skip this one and proceed to the next part.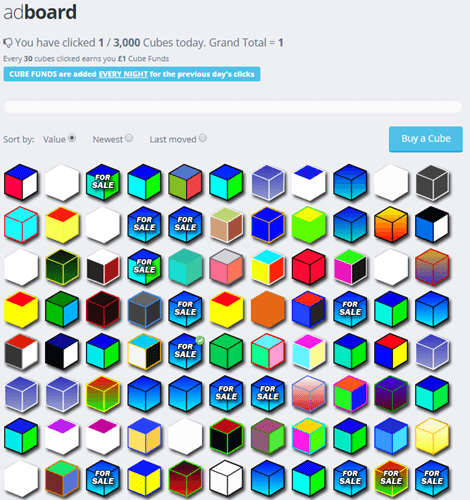 But if you do have a website and want to increase its traffic, You Cubez' Adboard might be able to help you out. The way this works is, when you go to the adboard section, you will see a bunch of cubes you can click.
Each cube will lead you to a different website. The process is almost identical to the view ads method of earning. But instead of earning rewards, after you click on a cube and view the content completely, you will instead receive a certain amount called Cube Funds.
You can then use the Cube Funds you've accumulated to buy a cube in their adboard. You can then advertise anything on the cube you bought. So, every time a person clicks that cube, it will lead them to the website you want to advertise.
That's basically how it works. Again, as I've said, it won't really be beneficial for you if you don't have a website. Plus, the Cube Funds you've earned can't be withdrawn or converted into other rewards. It can only be used to purchase a cube in their adboard.
And even if you have a website, the quality of the traffic for this kind of method is rarely very good as people only click to get visits themselves, but are rarely really interested in visiting your site.
Option 4 – Referral Program
The last way of earning from You Cubez is by inviting someone to become a member of their site.

In order for the person to become your referral, that person has to use your referral link when getting to the sign-up page of You Cubez. That's the only way to refer someone to the site.
Normally, in my experience, sites with referral programs have a couple of ways of inviting people to join.
They can provide the referral link or use referral banners to embed it into their website. Some even provide you with a page to enter the email address of your referral.
So, it's a bit strange to see a PTC site with only one way of referring a person to the site, in my opinion. But the issue doesn't stop there. As you already know, Cube Funds can't be used to redeem actual rewards or money from this site.
And seeing as the only reward you will get for referring members to the site will be Cube Funds, it's actually pretty useless if you don't plan to purchase any cubes (since that's all Cube Funds are good for).
In my opinion, this is a poor way to incentivize you to invite people to join the site.
How do you get paid?
Since we're now on the topic of getting paid, let's talk about how You Cubez will pay you for your time and effort.
As you may already know, you can earn from clicking ads or doing offer walls. Each offer will reward you with a certain amount in £.
Once you've hit £8, you can then request for payment via PayPal or Bitcoin. You can lower this threshold by upgrading your membership level (which I will talk about later).
Each time you cash out, there will also be a 5% processing fee which will be deducted from the amount you will cash out. Although PayPal is a very convenient payment method, what stood out most is the lack of other choices or modes of payment.
To receive payment via Bitcoin, you have to contact support with your wallet address before requesting payment.
In my experience, other PTC sites also offer gift cards as another choice of reward. It's surprisingly missing from the payment options available on You Cubez. I say surprisingly because gift cards are the most common rewards you can find on online rewards platforms like this.
In fact, there are more sites that offer gift cards as rewards than there are through PayPal withdrawals.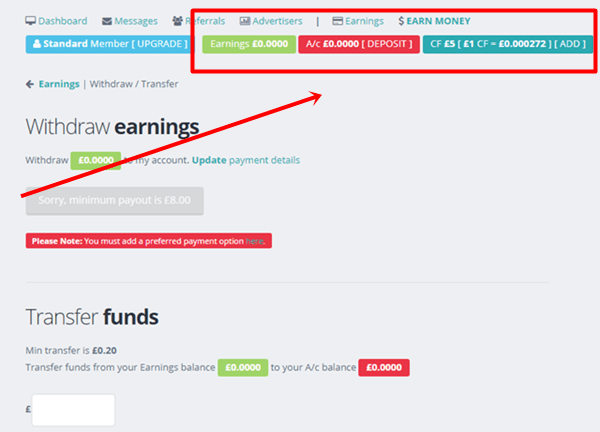 Also, when you look at your account balance, there will actually be 3 types of currencies. You have your earnings, account balance and cube funds.
As stated previously, you can't use the cube funds for rewards. The account balance can be used for upgrading your membership account or renting referrals (which, apparently you can do). What you need to pay attention to are your earnings.
This will be the amount you need to look at when it's time to withdraw your earnings. You can pile up your earnings by completing ad or paid offers. You can also convert your earnings into account balance money so you can go for the upgrade.
So, basically, in their system, their earnings currency is their universal currency.
How much money can you make?
You may probably already have an idea about the earning potential of You Cubez. As you can see, its earning potential is pretty low. There aren't a lot of ad offers you can do on a daily basis, which I find weird for a PTC site.
There are plenty of paid offers though, but they don't really pay well. You will have to complete a lot of offers before you can get to the £8 cashout threshold. However, as mentioned, there's a way for you to lower that threshold.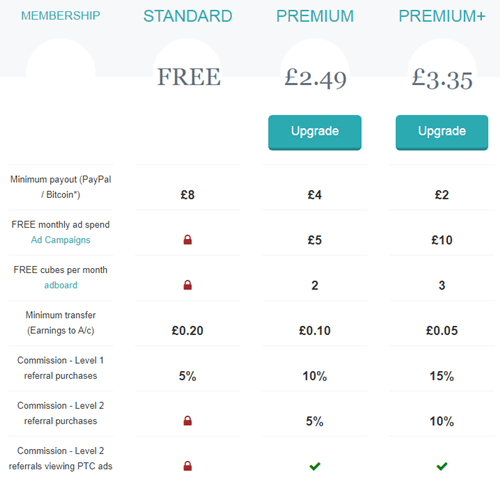 You can upgrade your membership and reduce the cashout threshold to £4 and £2 respectively. These thresholds are relatively low. For a list of other sites with a low cashout threshold, I suggest you check out the fastest paying survey sites.
As you can see in the photo above, the more expensive the upgrade, the more benefits you get.
You can earn more from offer walls by upgrading, plus you will get more commission from referrals too. These are just some of the benefits you will get for upgrading.
However, I don't really recommend going for this upgrade though if you don't have a solid plan to earn the money back.
And considering that You Cubez has noticeably fewer earning opportunities than other PTC sites, you will have to have a great plan in order to get your money back.
All in all, the earning potential of You Cubez really just pales in comparison to GPT sites and even other PTC sites, in my opinion.
Can you use it on mobile?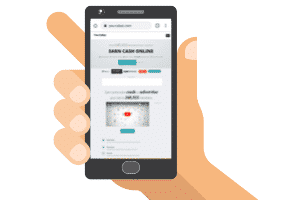 There is no mention on their website about a You Cubez app you can download on your mobile device so you can work on offers even when you are not sitting in front of a computer.
But, you will be able to access their website using a mobile web browser. The mobile version of their site is relatively mobile-friendly, however, the links are simply too small, especially if you are using a mobile phone. So, you won't really be able to navigate through the site conveniently.
This is not surprising though, because, in my opinion, PTC sites are really designed for use in a computer and not on a mobile device.
It's really not too inconvenient to click on ads and offers because it opens a lot of different windows, and that can be annoying when you are on a mobile device.
So, it is best you work on offers on your computer.
Who can join You Cubez?
Probably the only good thing I can say about You Cubez is that almost anyone can join their site regardless of where they live.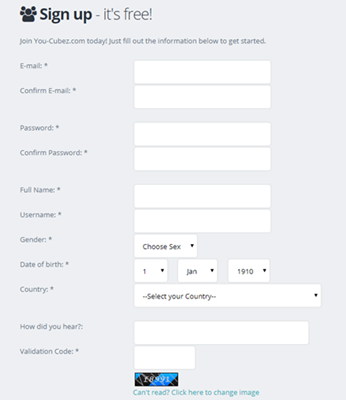 When I say almost anyone, what I really mean is that you have to be at least 16 years of age in order to be eligible as a member of their site.
Of course, if you look at the payment option they offer, which is PayPal, you will have to be at least 18 years old to join the site if you ever want to withdraw your earnings via that payment gateway.
Their registration process is fairly simple. You fill out the registration form, wait for the activation email and then click the activation link in the email. Once you've done that, you are now a member of You Cubez.
Can you get support?
If you need to contact their support team (which you will have to do if you plan to withdraw your earnings via Bitcoin), you can do so by using the contact form provided on their website.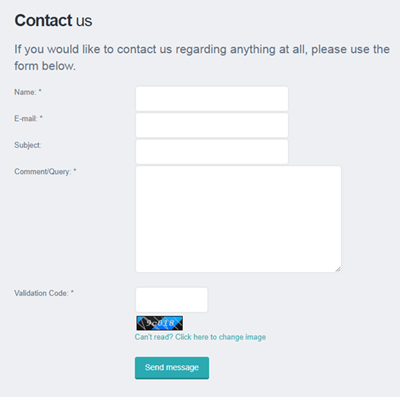 You can also refer to their FAQ page for common questions regarding their site.
They don't have a social media page, so if you want to get in touch with them, you will really have to use the contact form, which in my opinion, should be enough.
Final Verdict
You Cubez is a legit PTC site that will pay you for completing offers. But is that enough reason to become a member of their site?
Let's finish this review with a summary of its pros and cons to help you answer that question.

Pros:
Simple registration process
Offers a convenient payment method (PayPal)

Cons:
Limited earning opportunities
Low earning potential
Limited reward options
So, as you can see, the main drawback of You Cubez is the lack of earning potential.
The limited reward options don't help either in convincing people to join the site. There really is no incentive in joining this site, in my opinion.
Your time will be better spent joining other sites that offer better earning potential.
And speaking of better earning potential, if you are interested in other sites that pay better, I suggest you check out the top GPT sites.
The GPT sites on this list are all known to offer good earning potential. And best of all, they also have plenty of reward options.
If you have any comments, questions, or have any experiences with You Cubez yourself, I would love to hear from you in a comment below.