TapInbox claims you get rewarded for taking surveys. Sounds like a simple enough deal, right? Well, before you join, the first question that should be on your mind right now is, is TapInbox legit or a scam?
This is a very important question to ask and this TapInbox review will tackle this question and more.
I have joined and tested the platform myself and compared it to the hundreds of other survey sites I have tested and in this review you will get an insider's look at everything the site has to offer so you'll know exactly what to expect before you even sign up.
That way, you can figure out if it is really worth your time or just another survey site that doesn't really pay that well. So let's get the ball rolling, shall we?
What is TapInbox and what does it offer?
As stated above, TapInbox is a survey site that will pay you for answering surveys. As to whether it is legit or not, there are reports of it really paying members. However, personally, I wasn't able to reach that point and later on I will explain to you why.
Now, to understand how this site works, we have to take a closer look at the earning opportunities it offers.
I have, therefore, made a video that gives you an inside look and shows exactly how to earn from TapInbox. You can also read all the details below the video:
Option 1 – Paid surveys
The main earning opportunity this site offers is their paid surveys. Just like with other survey sites, when you become a member, you will be invited to participate in surveys.

When you log in to their member dashboard, you will immediately see all the available surveys. And as you can see in the photo above, you will immediately receive survey invites. However, these surveys are actually just profile surveys.
They are relatively short (3 questions for every survey) and you supposedly get paid around $1 for each survey. So basically, you'll be paid to complete your profile. All the information you've provided in these surveys will be used to determine which surveys they will send your way.
As for the actual surveys, this is where things start to become a little strange compared to how it works on other survey sites.
Because I was actually not able to find any real paid surveys inside TapInbox. And most of the time, when you click a supposed survey or profile survey, a spammy ad just pops up instead – so my antivirus program was really busy while I tested TapInbox, to be honest😊
However, you can see some earnings going into your TapInbox account – but what really matters is if you can then get them out. And that is what we will go more into later. Let's first go over one more way you can supposedly earn inside TapInbox.
Option 2 – Referral program
Another way to earn from TapInbox is by inviting other people to join the site. However, their referral program isn't exactly the same as the referral program offered by other survey sites and I will explain why.
The premise is still the same. You invite people to join the site using your referral link. Once they sign up using your link, they will become your referral. But they will have to answer the profile surveys first before you will receive the reward. Once they complete the profile surveys you will earn $5.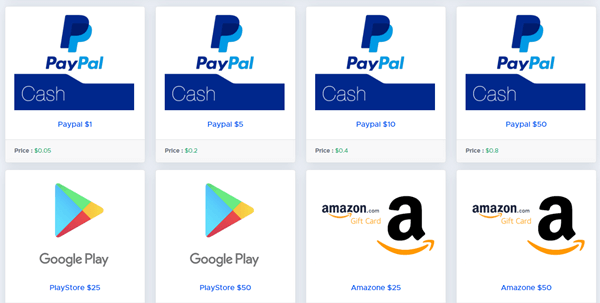 Here's where their referral program is a bit different. The $5 you will earn for every referral will actually be credited to your referral balance. This balance can't be converted to cash. Instead, you can only use it to buy tickets for their prize draw (refer to photo above).
As you can see in the photo, there are several prizes displayed. Each has its own raffle draw. And you will see in the photo how much a ticket will cost to join the draw.
You have to use your referral earnings to join any of the prize draws. When you click the prize, you will see when the raffle will be drawn. So, just choose which one you want to join and buy tickets and wait for the results.
So, in essence, you aren't really guaranteed to earn from their referral program. You only get a chance to win prizes. That's why, in my opinion, it's really not very enticing. So, I wouldn't blame you if you don't really focus on this earning opportunity.
And also, before inviting anyone I would encourage you to finish reading this review first so you know if it will even be worth recommending as there are several more important details you need to consider.
Recommended: Check Out the Top Survey Sites in Your Country
How do you get paid?
For every survey you complete, you will earn a certain amount. And as mentioned earlier, it will be credited to your survey balance. This is actually the amount you can withdraw.

TapInbox.com offers multiple payout methods. As shown in the photo above, you can withdraw your earnings via PayPal, Skrill, Western Union, and WebMoney (yes, they offer that too). You can also convert your earnings to a prepaid Visa card, Amazon, or Google Play gift card.
The way they set up their payment system is, you can choose which payout options you want to use. So, you either have to add a gift card or add a payment option.
The reason why WebMoney is not in the photo above is, I don't have an account for it. So, I can't actually add it as a payment method.
Now, in order to use any of the payment methods, you will have reach their payout threshold. And this actually caught me by surprise. Their payout threshold is $200. Yes, you read that right. You need to earn $200 before you can withdraw your earnings.
That's actually a very high payout threshold and that's the reason why I wasn't able to get to the point where I could test if they really do pay. With that high of a threshold, it almost feels like they don't want you to get paid.
That alone is a big NO for me – I have tested hundreds of survey sites and, in my experience, it is definitely suspicious when a site has this high a payout threshold.
It will literally take several months (or even a year) for you to earn that kind of amount from answering surveys on this platform. And because it has so many red flags, you should not even necessarily expect to get paid, but I will go more into these red flags below.
If you prefer a site with a lower payout threshold, I would recommend you instead check out the fastest paying sites.
Red flags you need to be aware of
There are a couple of red flags for this survey site that you need to be aware of. Let me discuss each one and how it impacts the overall usability of the site.
Red flag 1 – Very high payout threshold:
As stated above, you need to earn $200 before you will be able to withdraw your earnings. That's a bit weird, in my opinion, because most of the survey sites that I encounter don't usually have that high of a threshold.
At most, the threshold would be around $50. So, as I've explained earlier, it's almost as if they really don't want to pay you because believe me, it will take a long time to earn that amount.
And one more thing, they don't have that many surveys. So, it will really take a long time before you are actually able to withdraw your earnings.
Overall, you should always be VERY suspicious if a survey site has this high a payout threshold.
Red flag 2 – There are MANY pop-up ads:
The reason why I consider this a red flag is, you don't usually encounter pop-up ads on survey sites – especially not the kind of pop-up ads you will see on TapInbox.
I would expect this from PTC (Paid-To-Click) sites where you are literally paid to view ads, but even on sites like that you will rarely find this type of ads.
Most of their pop-up ads will ask you to download strange programs, which, from my experience, are actually often viruses or malware. And the other type of ads you will see inside TapInbox are inappropriate ads.
That is why I don't trust these kinds of pop-up ads. And for a site that hosts these kinds of ads, you naturally have to be a bit concerned.
Can you use it on mobile?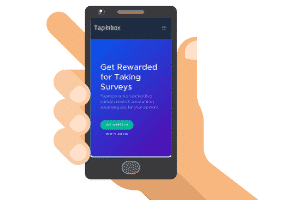 TapInbox doesn't have a mobile app you can download, but you will be able to access their site from a mobile device. You just have to use a mobile web browser.
Their site is mobile-friendly, so you'll be able to navigate through their site with ease. However, as mentioned above, their site does have a lot of spammy pop-up ads. So, it can get quite annoying pretty fast when you are trying to close browser tabs from your mobile device.
Who can join TapInbox?
TapInbox.com is available globally. You will be able to register as a member regardless of where you live.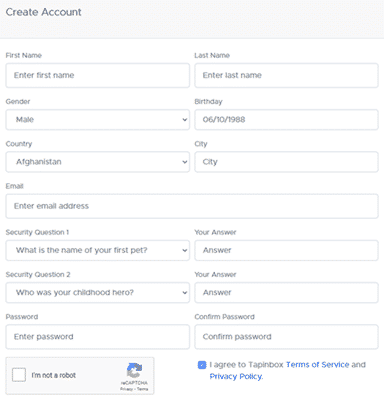 To become a member, all you have to do is fill out their registration form. The registration process is relatively straightforward. Once you are done with the registration form, you will receive an email asking you to confirm your registration.
Can you get support?
The site doesn't have a FAQ page you can refer to and their "How It Works" page isn't really a lot of help. It almost feels like a filler page, in my opinion. While that page technically answers how the site works, you will find little useful information.
But the site does have a contact form you can use for your inquiries. So, at least they have that covered.
Overall, when I look at how else the site works and the methods it uses, I would say that you should not expect too much from their support.
Final Verdict
TapInbox is a survey site that will supposedly pay you for answering surveys. It really doesn't have a lot of advantages but it has a lot of disadvantages.
To give you an overview of what this site has to offer, let's finish this review with a summary of its pros and cons to help you decide if you should join this site or not.

Pros:

Cons:
Limited earning opportunities offered
Their referral program doesn't offer a guaranteed way for you to earn
Very high payout threshold
Their site is very spammy and doesn't contain a lot of useful information
No proof the site actually pays
In my opinion, this survey site really isn't worth joining. The very high payout threshold alone should be a reason to not join this site. A $200 payout threshold simply is a huge red flag.
Plus, their site has a lot of spammy pop-up ads, so its usability is terrible and at times, even unsafe because of the type of ads you get. If you decide to test it, make sure you have a good antivirus program installed.
There are simply better and safer options out there if you want to earn extra cash online.
And speaking of better options, I would suggest you check out the top survey and GPT sites in your country for a list of great sites you can join to earn extra cash. All the sites on this list have good earning potential and they don't have a high payout threshold, so you'll be able to withdraw your earnings pretty quickly.
If you have any comments, questions, or have any experiences with TapInbox yourself, I would love to hear from you in a comment below.