If you've been looking for websites or mobile apps to earn extra cash from, there's a chance you've encountered a site called TheoremReach.
And if you are reading this, then there's a high chance you are wondering what this site is all about.
This TheoremReach review will not only show you if this site is legit or just another scam – it will also explain what you really get from it as it can be a bit confusing if you are not used to taking paid surveys.
So, let's take a closer look at what TheoremReach is all about so you can see if it is the right option for you or not.
What is TheoremReach and what does it offer?
First and foremost, let me just say this right away. TheoremReach is a legit survey router but it is not your typical "survey site".
If you were thinking TheoremReach is a regular survey site where you can just sign up and answer surveys to earn extra cash, then you will be disappointed. It doesn't work like that. This is not a site where you can take surveys directly.
I have made a video that explains exactly how it works and shows you how to get the most out of it. You can also read all the details below the video:
However, you will be able to earn by taking TheoremReach surveys, but you just need to take them through other sites (more about this later)
TheoremReach itself is mainly for app developers and people who have Get-Paid-To (GPT) sites. If you are one of those people, you can contact them to get them included in your inventory so your users or members can get access to the surveys they offer.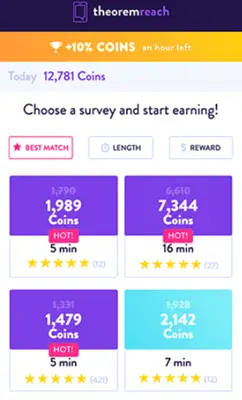 Now, if you are just looking for apps or websites you can join to earn extra money, and are really interested in answering TheoremReach surveys, I will give you a couple of sites you can join later to get access to these.
The good thing about TheoremReach's surveys is, they are pretty easy to complete. The questions aren't really complicated, so it is easy enough to answer them.
The way their surveys work is pretty much the same as most other surveys. You will first have to go through a set of qualifying questions to determine if you belong to the demographic group the survey is intended for.
If you qualify, you get to answer the actual survey. If you don't qualify, the process stops there. But what makes TheoremReach a bit different is, if you fail to qualify for a survey, you will still receive compensation, albeit not a large amount.
In my opinion, this is what separates them from most sites that offer surveys because there aren't a lot of sites that will pay you even if you don't qualify for a survey. So, it's a pretty nice thing to have because you aren't totally wasting your time if you fail to qualify for a survey.
As for qualifying for surveys, it's relatively easy compared to other survey sites as well. They do have a higher qualifying rate than their competitors. So, there's a higher chance of earning when you answer a TheoremReach survey. But overall, you will still need to be a bit patient because you won't always qualify.
That being said, the availability of surveys will still depend on your location and your profile. This means the availability of surveys will vary depending on the country you live in.
In terms of the rewards you will get per survey, there's actually quite a difference in rewards depending on the site you take them through. There are sites that pay more for the same survey. So, it is important to choose the right site to maximize your earnings from TheoremReach.
Sites that offer TheoremReach surveys
It is important to note that the surveys you can take from TheoremReach will be the same surveys no matter which site you take them through.
So, joining different sites will not give you access to more TheoremReach surveys. Plus, if you do that, there's a risk chance that you will be completing the same survey several times.
When that happens, it can potentially get you banned, which is, of course, something you should avoid. So if you join several sites that offer TheoremReach surveys, I would suggest you only take them through one of them. Now, as for the sites, you can join that offer TheoremReach surveys, here's a list of some great options.
PrizeRebel
PrizeRebel is a GPT site that offers plenty of ways for you to earn including answering TheoremReach surveys. You will typically find the TheoremReach surveys under their offerwalls. Just look at the AdGem or Revenue Universe offerwall and you will find the surveys for TheoremReach there.
What makes PrizeRebel a great site is that you will be able to earn rewards on a regular basis. So, even if there aren't any TheoremReach surveys available, there's still plenty of ways for you to earn.
ySense
Another GPT site you can join that offers TheoremReach surveys is called ySense. And just like PrizeRebel, you will be able to access the surveys on their offerwalls.
It offers many earning opportunities so you won't run out of things to do to earn rewards. So, you'll be able to earn rewards on a regular basis.
Superpay.me
Superpay.me, just like the other sites on this list, is a GPT site that gives you access to TheoremReach surveys. When you become a member, simply go to their offerwalls and look for AdGem or Revenue Universe to find the TheoremReach surveys.
Aside from answering surveys and the usual earning opportunities you will encounter on GPT sites, Superpay.me also offers cashback opportunities. So, if you love to shop online, you might want to consider joining this site.
TimeBucks
Lastly, you will also be able to answer TheoremReach surveys through TimeBucks. This GPT site offers plenty of other ways for you to earn as well, but you do need to be a bit more patient with this site because some of their earning opportunities don't really have high rewards.
The one unique thing about TimeBucks compared to other sites on this list is, you can earn for using TikTok, watching slideshows, doing social media tasks, and more. You won't find these opportunities on the other sites mentioned.
CashKarma
If you would like to take TheoremReach surveys through an app, then CashKarma is one of the best options.
CashKarma also offers many other types of surveys and other ways to earn and it gives some great bonuses the more active you are. If you join through an invitation link (click link to the full review above to get this), you will also get a 500 points joining bonus which gives a great start.
Are their surveys worth taking?
In my opinion, TheoremReach does pay a decent amount for every survey you complete. It's not the highest paying survey provider around, however. Also, the availability of surveys will depend on your location, as well as your profile.
But the thing I like most about TheoremReach is, even though they don't pay that great, you will still get paid even if you were not able to complete their surveys. So, for both app/site owners and survey takers, this is important because believe me, qualifying for surveys isn't that straightforward. More often than not, the disqualification rate will be higher than the qualification rate.
The fact that you will still earn even when you get disqualified for a survey makes it worthwhile. So, the simple answer to the question above is a YES.
But (yes, there is a but), it is important to set your expectations right when answering surveys from TheoremReach. Keep in mind that the surveys available on TheoremReach can be taken from different sites.
It makes sense to join several of the sites that offer them as they also have other opportunities. But the TheoremReach surveys should only be taken on one site and you should just stick to that one site to take them.
Because as mentioned, answering TheoremReach surveys on multiple sites will increase your risk of completing the same survey several times which will lead to your account potentially getting banned. So, if I were you, I'd pick the site that has higher TheoremReach survey rewards.
Final Verdict
TheoremReach is a legit survey router that will allow you to earn by answering surveys from a site that has partnered with them. This platform offers a couple of interesting features but it also has certain limitations you need to be aware of.
So, let me summarize its pros and cons to give you a better overview of what TheoremReach has to offer so you can decide if it is worth it or not.

Pros:
Offers a very simple way to earn rewards
Will reward you even if you don't qualify for the survey

Cons:
Relatively low rewards
Can take some patience to qualify for the surveys
TheoremReach offers quite a lot of surveys through their router, so you can more or less find surveys here every day.
But if you are looking for a way to earn extra cash, I would suggest you join a site that not only offers TheoremReach surveys, but other earning opportunities as well (see list of the best options earlier in this review). That way, you won't have to rely only on the availability of TheoremReach surveys.
You can also just check out the top survey and GPT sites in your country. The sites on this list all have good earning potential and offer different reward options. And you will definitely be able to find a site you can join regardless of where you live.
If you have any comments, questions, or have any experiences with TheoremReach yourself, I would love to hear from you in a comment below.