There's decent money to be made by joining a survey site, especially if it is one that is available in your local area.
The advantage of this kind of survey site is the rewards you will get will be tailored to what's available where you live.
If you live in Singapore and are looking for survey sites you can join, chances are, you've already encountered HapyDot.sg and you are wondering if you should join this panel or not. It's not a simple decision to make.
Before you can decide if this site is worth joining or not, there are several factors you need to consider.
And this HappyDot.sg review will help you take a closer look at all the factors you need to consider so you can make an informed decision.
Hopefully, after reading this article, you will be able to decide if HappyDot.sg is worth joining or not.
What is HappyDot.sg and what does it offer?
As mentioned at the beginning, HappyDot.sg is a survey site that promises to reward you for participating in survey offers. Technically, it is an online survey community for Singapore residents.
So, if you don't live in Singapore, let me just tell you right away, this survey site is not for you (Check out survey sites in your country here).
Now, if you are, before you can judge if this site presents a decent earning potential, you have to take an in-depth look at the earning opportunities it offers. So, here are the ways you can earn from this site.
Option 1 – Paid Surveys
Since it is a survey site, the number one method of earning rewards is by completing paid survey offers.
When you become a member of their panel, new survey invitations will be sent to your email. So, make it a habit to check your email regularly.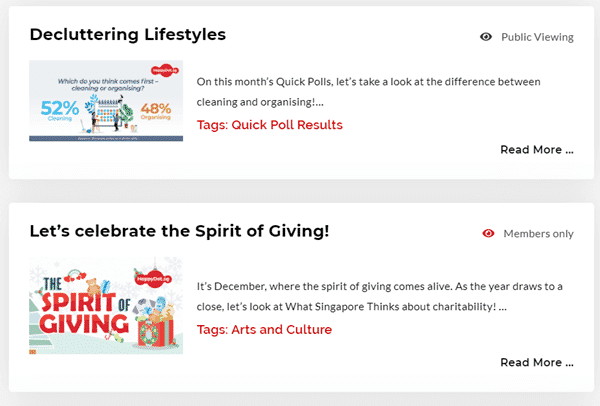 You can also view all the available surveys (refer to the photo above) when you log in to their member dashboard.
If you do not see any surveys, it is likely that you've finished all the surveys available to you at the moment. So, don't worry if that happens. New ones will appear later.
Every survey offer will involve you having to answer a set of questions. Once you finish, you will see your total point balance (including the points you've earned from the survey you've just completed).
When you answer a survey and the page doesn't display anything, do not worry because you may have encountered one of the following:
the survey deadline has passed
the survey is closed because the targeted number of respondents for this survey has been met
there may be technical issues about the survey.
If the latter is the case, you can resolve that with their support team, which I will discuss later.
Option 2 – Referral Program
The other way you can earn from this site is by inviting friends/other people to join this site.
If this is your first time hearing about this earning opportunity, it is called a referral program. Most survey sites offer this.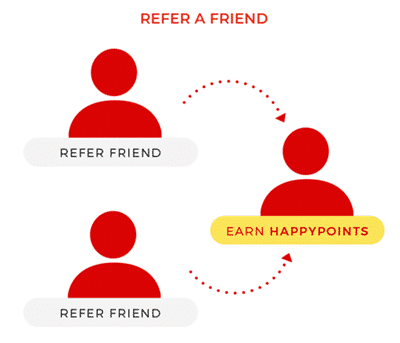 It's pretty simple to do. You just have to click on the Promotions tab located at the top of the page of their member dashboard and input your friends' names and email addresses.
They will then receive an email from the HappyDot Team inviting them to join their panel.
Keep in mind though that your friends must sign up through your unique referral link in the email that they've received in order for them to become your referral.
Once they've done that, you will earn 50 points for every friend between the ages of 15 to 54 and 150 points for every friend aged 55 and above.
So, it's a pretty straightforward referral program since you will earn rewards easily (once they sign up using your referral link). The downside is, you won't earn much from it.
How do you get paid?
HappyDot.sg uses a point system. So, expect to receive points after completing surveys.
You can then use the points to redeem rewards from their catalog. However, let me just tell you right away, there won't be any option to redeem cash.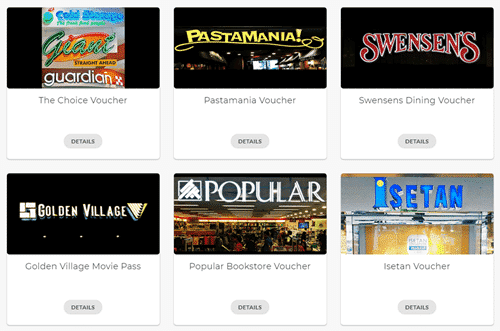 As you can see in the photo above, all the rewards available will be in the form of vouchers. To start redeeming vouchers, you need to at least accumulate points worth $10. That's their payout threshold.
The vouchers will be sent to you via postal mail. So, when you redeem a voucher, you will have to provide your preferred mailing address. It usually takes 2-3 weeks from the date you redeemed the reward for it to reach you.
That's quite a long time to wait. Probably the reason why they chose this type of reward system, in my opinion, is that the vouchers offered are from stores you can only find in Singapore.
So, there's really no point sending out digital copies of it since you can only redeem it locally.
All in all, this site is not very versatile in terms of rewards offered, in my opinion. If you prefer to earn cash, I suggest you check out the top survey sites that pay via PayPal instead.
How much money can you make?
Technically speaking, you won't be able to earn cash from HappyDot.sg. But you can argue that vouchers can be considered as money since you can use it to pay for purchases you make.
So, if you are wondering how much you can earn from this site, then you have to consider a couple of things.
The first is how often you receive survey invites. This will dictate the possible amount you can earn. The more survey invites you receive, the more chances of completing surveys and earning points.
The other is how well the site pays. Based on feedback from members, the points you earn from each survey won't be a lot. But the good thing is, the surveys won't really take too long to complete. So, the money/time ration isn't really that low.
The real value of this survey site, in my opinion, is really what the surveys are about. It allows you to share your opinions about issues that are related to Singapore. So, if you are a resident, you get the chance to be heard, which is more than what any reward can offer.
But overall, if you are just in it for the money (so to speak), there are better survey sites out there.
Can you use it on mobile?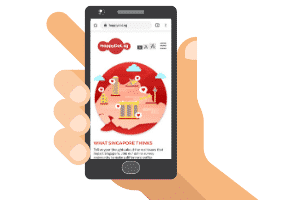 HappyDot.sg doesn't have a standalone app you can download so you can work on surveys on your mobile device. But, you will be able to access their site from your mobile device using a mobile web browser.
And fortunately for you, their site is mobile-friendly. That means you won't have a hard time reading all the content on their site and navigating through it.
And seeing as their surveys aren't really that long, to begin with, this survey site is actually quite easy to use on a mobile device. So, it fits perfectly with any Singapore resident who is always on the go.
Who can join HappyDot.sg?
As mentioned at the start of this article, this survey site is only for residents of Singapore. So, if you don't live in Singapore, then don't join this site.
Technically speaking, you either have to be a Singapore Citizen (holding a pink NRIC) or a Singapore Permanent Resident (holding a blue NRIC) to register. You must also be at least 15 years old to register.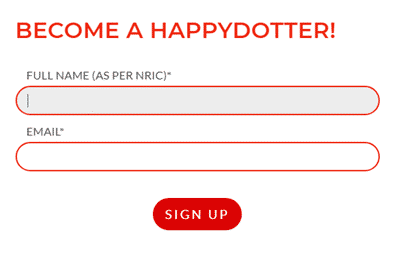 To sign up as a member, all you have to do is fill out the registration form.
Once you've done that, you will receive a verification email that will ask you to activate your account. When you click on the activation link, you will then receive an email after a few minutes.
This email will contain the link for the profile survey you will need to answer.
Once you've finished it, you will receive the last email which will contain the choice of welcome gift package you want. Yes, this welcome gift package will be a sort of sign up bonus.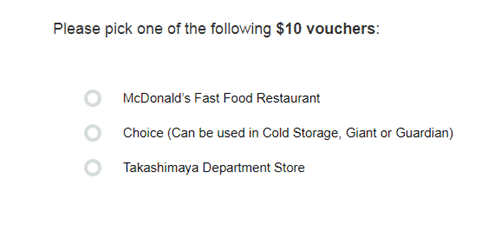 As you can see in the photo above, the welcome gift package is a $10 voucher from a store of your choice. It's a nice bonus to get, in my opinion. The gift will be sent to you via postal mail, just like how it is with the rewards you will get.
The only thing I don't like about their registration process is, you won't become a fully-registered member once you finish the registration process yet.
HappyDot.sg will still review your registration. It will take around 3 days before you become a full-fledged member of their panel.
So, don't expect to start earning once you finish filling out the forms.
Can you get support?
If you ever need to get in touch with their support team, HappyDot.sg offers two ways for you to do that.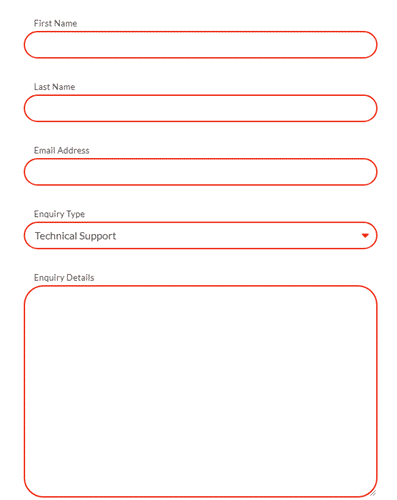 The first one is through their contact form. Simply fill out the form with the necessary details and the question you want to ask.
Then, you just have to wait for a reply from their team. They promise to do their best to reply to you within 3 working days.
If you still haven't heard from them within that span of time, you can email them at Enquiry@HappyDot.sg. That's the second method of contacting their support team.
They also have a FAQ page that covers the basic topics of the site, but it isn't as comprehensive as you might have hoped.
In my opinion, they could at least, reduce the number of inquiries by discussing more relevant topics on their FAQ page.
But overall, they do provide a decent way for you to get support.
Final Verdict
HappyDot.sg is a legit survey site that does reward you for participating in surveys. It has some nice qualities about it, but it also has some glaring limitations.
Here's a summary of its pros and cons to help you decide if you should join or not.

Pros:
You will receive a nice sign-up bonus
Their site is mobile-friendly and easy to use
The surveys are about issues related to Singapore

Cons:
No cash payment option available
Limited to Singapore residents only
Long wait period to become a member
As you can see, in terms of pure earning potential, HappyDot.sg isn't really the ideal survey site to join.
You won't get the chance to earn cash. All you get to earn are vouchers, which can take quite a while to receive (since it will be sent via mail).
The one good thing about this site if we talk about earning potential is the welcome gift bonus you receive after signing up. And, if you are really into providing your own opinion on the issues affecting the place you live (in this case, it's Singapore), then this can be a good site to join.
But, if you are purely looking to earn a bit of extra cash, I suggest you look elsewhere. I recommend you check out the top survey sites in your country instead.
The sites on this list all have good earning potential and you will surely find one you can join regardless of where you live.
Plus, you won't have to wait that long to start earning.
If you have any comments, questions, or have any experiences with HappyDot.sg yourself, I would love to hear from you in a comment below.