SendEarnings is a Get-Paid-To (GPT) site that claims to pay you for completing offers and doing small online micro-tasks.
But is SendEarnings legit or a scam site to stay away from?
That's a fair question and a necessary one to ask before joining any GPT site. So let me just answer it right away. Yes, SendEarnings is a legit site. It does what it claims to do.
But, this isn't really the true measurement of whether becoming a member of the site is a good idea or not.
This SendEarnings review will tell you everything you need to know about the site, so you'll know what to expect if you decide to become a member.
Important Update: SendEarnings is closing!
As of updating this review, there has been an important notification from SendEarnings. As of July 2, 2020, SendEarnings.com will be permanently closed.

Until that date, you can still log in if you are already a member but they do not accept any new members. And if you are a current member, make sure to get your earnings out before the date mentioned above.
You can instead join their sister site InboxDollars if you want to earn in more or less the same way as you can on SendEarnings.
What is SendEarnings and what does it offer?
As mentioned, SendEarnings is a GPT site that will pay you for completing their offers. It's a lot like DailyRewards.
In fact, they both have the same structure and site design.
It's no surprise really because both sites are owned by the same company that is behind InboxDollars.
To understand what SendEarnings can offer when you become a member, we have to take a closer look at how you will be able to earn from this site.
Here are the earning opportunities of SendEarnings.
Option 1 – Cash Offers
Cash offers are your bread and butter on SendEarnings.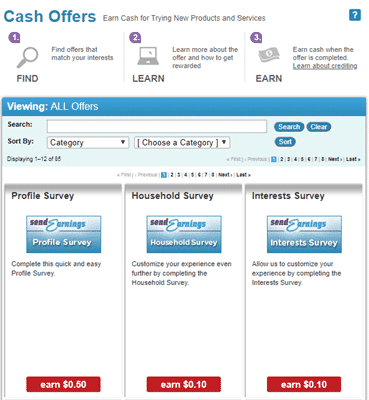 When you finish registering as a member, you can log in to the member dashboard and view all the available cash offers. Simply go to the Offers tab and you will see all the available offers you can take.
All you have to do is click an offer and you will see a set of instructions you have to follow to the letter in order to get the reward.
Cash offers will either ask you to register to a site, complete a survey, watch a video, or try out a product or service. But there are other offers that will ask you to do something else.
The important thing is, you have to follow the instructions down to the last letter so you can get the rewards. Normally, the more work you need to do to complete the offer, the more rewards you will get.
The process is pretty straightforward. Once you complete the offer, the reward will then be credited to your SendEarnings account.
Option 2 – SendEarnings surveys
SendEarnings also offers paid surveys as another way to earn money.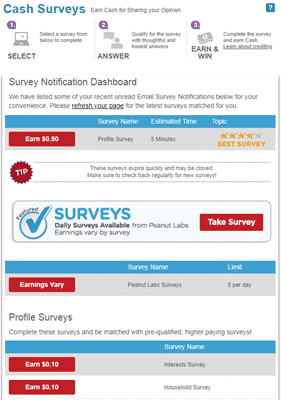 You will be able to view all the available paid surveys when you log in to the dashboard. Just click the Surveys tab and you will see all the paid surveys you can take.
The process goes like this. You have to build your profile first. So, I recommend you take the profile surveys first. That way, you will increase your chances of receiving survey invites.
Then, you can take the actual paid surveys. For answering paid surveys, you will first have to answer a few pre-qualifying questions. This is done to ensure you are really included in the demographic the survey is targeting.
It's also a good way to ensure you don't waste your time answering surveys that won't earn you a reward. As I was explaining, when you qualify for the survey, you will then proceed to the actual survey.
Once you complete the survey, you will then receive the reward, which will be credited to your account.
If you don't qualify, however, you can just simply move on to the next paid survey available. It's a much more efficient process, in my opinion.
Option 3 – Cash Games
Another way to earn rewards is to play cash games on their platform.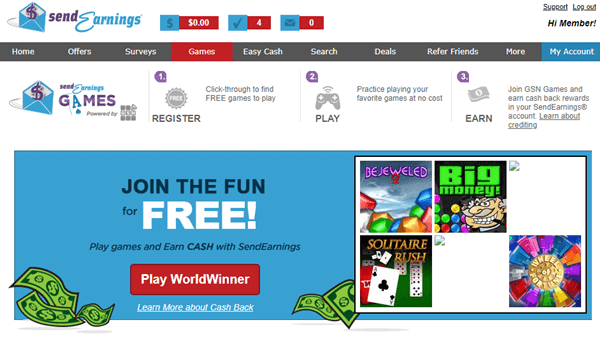 Their games are powered by WordlWinner/GSN. It works like this. You have to sign up to a WordlWinner/GSN subscription. You can do this by clicking any game you want to play.
WordlWinner/GSN will then use the email address you used to register to SendEarnings. So don't be surprised if you receive promo emails from them from time to time.
In order to earn money from playing their cash games though, you will have to deposit your own money into your WorldWinner/GSN account. So, in effect, it is actually a way to earn cashback rewards.
What happens is, the money you deposited will be used to upgrade your account in WorldWinner. You need an upgraded subscription to compete against other players to win cash and prizes.
It's a bit risky because there is no guarantee you will be able to earn back the money you spent on it. If you are good with these types of games though, it can be a decent way to earn an extra bit of money.
Option 4 – Referral Program
Another way to earn rewards from SendEarnings is by referring friends to the site.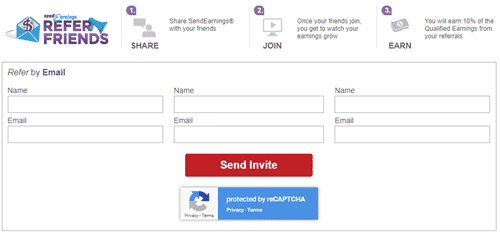 You stand to earn up to 10% of the earnings of your referral. All you have to do is, provide the name and email address and then send the invite. You can send up to 3 invites at a time.
You can also use a banner to refer people to the site. If you have a website, this is a nice bonus you can use.
All you have to do is visit their Referral Banners page and copy the code from the banner you like to use and insert it into your site's HTML if you have a website.
Every person who clicks that banner and registers to SendEarnings will then become your referral.
As I've said, this is a nice passive way to earn a bit of income. Of course, it will all depend on whether your referral will stay active on the site.
So keep that in mind. But overall, it's a good bonus since you don't really have to do a lot to earn a bit of money.
Option 5 – Search and Earn
This type of earning opportunity is not available on DailyRewards. Up to this point, both sites are pretty similar in terms of earning opportunities. This is where they differ though.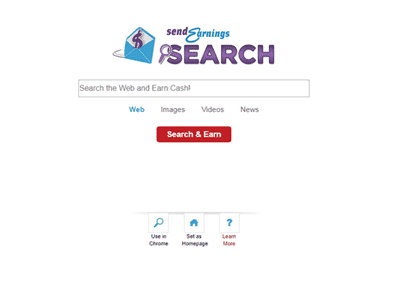 How this works is, you will have a chance to win cash every time you complete 4 qualified searches. So, basically, you treat this as some form of contest. The more you search, the more chances of winning.
Plus, any week where you search four or more days, you will receive a $0.05 search loyalty reward.
Take note that a qualified search is a search result that is done naturally. So, you will actually be looking for actual search results for the query you entered.
They mention on their site that "Repeat, variations of terms or fraudulent search attempts, including those made by robots, hackers and computer scripts, do not count as qualified searches."
Also, rewards will not be earned when you search for:
Images or videos
"Search This Site" searches
URL or website domains, including terms that end in .com, .org, .net, .edu, etc.
Well-known websites, such as AOL, CNN, Facebook, Gmail, Hotmail, MySpace, etc.
Stock quotes or word definitions
Searches that contain a phrase that yields no search results or gibberish
Your account will be credited within 15 minutes for each qualifying credit. You will receive a weekly email that will summarize the search credits you've earned in the past week.
The rewards for this are pretty low as you can see but if you are searching online anyway, it can be a nice way to earn a little extra.
Option 6 – Deals
You will also be able to earn cashback rewards and coupons for participating in deals.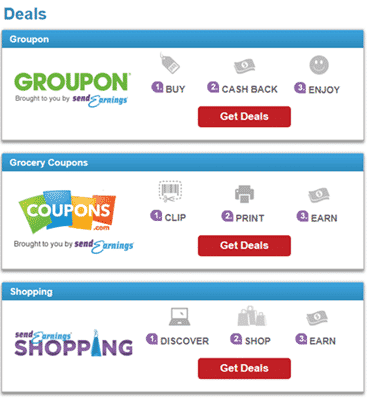 You will be able to earn 5% cashback on all valid items you purchased in the Deals section. But again, the important thing to take note here is, you will have to purchase something in order to get the cashback reward.
So, in reality, you are just really getting a discount on purchases you make. The better option in their Deals section, in my opinion, is to clip your favorite grocery coupons. This will not involve any purchase.
You simply have to enter your phone number to have a verification code sent to you via text. Once you receive the verification code, you can start printing the coupons and cutting them out so you can use them.
You will also be able to earn $0.01 per coupon printed up to 25, plus $0.10 per coupon redeemed. So, it's not a bad deal, in my opinion.
You can also shop at their partner stores and earn cashback rewards. It works just like the Groupon part. The only difference is, the percentage of cashback reward will vary with each partner store.
SendEarnings is not one of the best cashback sites, in my opinion, but if you ever shop online it can definitely still be worth checking out this section on their platform.
How do you get paid?
Every reward you will earn in SendEarnings will be in the form of $. They don't use a point system.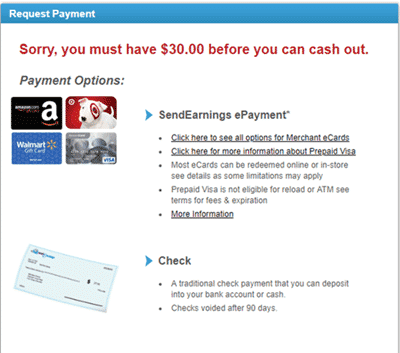 As shown in the photo above, you can start requesting for payment once you reach the $30 threshold, which, in my opinion, is pretty high.
Once you reach a $30 balance in your SendEarnings account, you can then request for payment. You can either choose to receive it as a check, e-gift card or prepaid Visa card.
If you choose the e-gift card, you will receive an email that will have an activation code and a Pin number for you to use. Once you click the link, you can see what options are available for you to choose from.
They have plenty of choices like Amazon, iTunes, Best Buy and a lot more. You can then use the e-gift card for any purchase you make on the online store of the respective site.
If you choose to go the prepaid Visa card method, you need to take note that it is not eligible for reloading or ATM. The prepaid Visa card will then be mailed to an address you've provided during the payment request. The same goes for checks.
In my opinion, their payment methods lack one crucial aspect, which is convenience.
Unfortunately, the payment methods they offer isn't as convenient compared to if they offered to do payments via PayPal, which, DailyRewards (and many others ) offers.
So, in this aspect, DailyRewards is a much more convenient site when we talk about payment methods.
If you are interested in sites that will allow you to request for payment via PayPal, I recommend you check out the top survey sites that pay via PayPal.
How much money can you make?
The answer to this question will entirely depend on how active you are on SendEarnings.
This is how it is with GPT sites. And considering that SendEarnings has quite a number of earning opportunities, you can stand to earn a bit of money if you are very active on their site.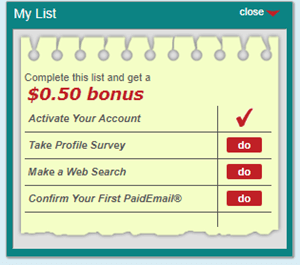 Plus, they have a to-do list you can follow to earn a small bonus amount (which is $0.50). It's not much, but it can help you reach the $30 threshold faster.
The rewards for the offers they present are pretty varied. So, it's really hard to put a specific amount you can earn on a daily basis. The good thing is, there will always be something to do in SendEarnings to get you closer to the $30 threshold.
But in terms of earning potential, it is a promising site, especially if you do a lot of referrals. Just don't expect it to replace the income you will earn from a real job.
You do have to be careful about some of the offers they present because just like DailyRewards, some of the offers will involve you having to shell out a bit of money before you can get the reward promised.
So, make sure to read the instructions of the offer carefully before you do it.
Can you use it on mobile?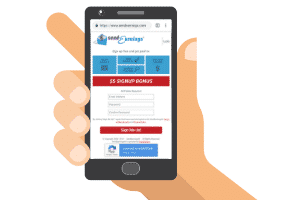 SendEarnings doesn't mention anything on their website about a DailyRewards app you can download on your mobile device. So, if you are hoping to use an app to complete an offer, then you will be disappointed.
However, you will still be able to access their website using a mobile web browser. And, the mobile version of their site is optimized for mobile use.
So, you will be able to view all the content properly without having to scroll left and right or zoom in and out.
So, if you were hoping to work on offers even if you are not sitting in front of a computer, you can do it that way.
It is good, in my opinion, because it helps you become a more efficient earner since you can complete offers even when you are not in front of a computer.
Who can join SendEarnings?
SendEarnings is a US-based GPT site. So, you will only be eligible to become a member if you live in the US. This is expected since they will have to send the payment via postal mail.
It would be a logistical nightmare for them if they were to send the prepaid Visa or check overseas.
However, there are US-based GPT sites that will allow you to register even if you are not a resident of the US.
But all of those sites offer payment methods via crypto-currency or via PayPal, which can be done online. Do you see the difference? Logistics wise, it is more feasible that way.
They also mention on their site that only one account per household and only one account using the same computer, device or IP address is allowed.
So, make sure to discuss this with the members of your household before you register.
Can you get support?
SendEarnings has a knowledge base you can use if ever you have any questions about the site or about your account. This is the first form of support they offer.
You can access their knowledge base when you log in to the dashboard. Click on the Support link on the upper right-hand corner.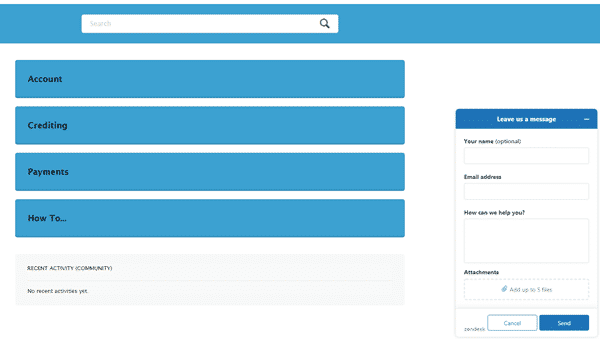 If you are not familiar with a knowledge base, think of it as a compilation of frequently asked questions plus, several more common topics.
If you have a question or an issue that can't be resolved with the use of the knowledge base, you can send your questions using the contact form provided in the same page as the knowledge base. Just click the help button on the lower right-hand corner.
Overall, they offer a pretty decent form of support for their members.
Final Verdict
SendEarnings is a legit GPT site that pays you for completing their offers. But, it's not without flaws.
Here's a summary of their pros and cons to help you decide if it is indeed a good fit for you or not.

Pros:
Plenty of earning opportunities
Pays real money
You have the option of redeeming e-gift cards aside from real money

Cons:
Relatively high payment threshold
Payment via PayPal is not available
Exclusive to US residents
As you can see, SendEarnings has decent earning potential.
The downside is, it has a pretty high payment threshold compared to other GPT sites. Plus, you won't be able to request payment via PayPal, which, in my opinion, is the more convenient method.
But if you don't mind receiving checks or prepaid Visa cards in the mail, this can be a good site to join, provided you are a resident of the US.
However, if you are looking for sites that will allow you to request payment more conveniently, I recommend you check out the top GPT sites.
The GPT sites on this list are all known for their good earning potential. Plus, you will be able to request for payment regardless of where you live.
If you have any comments, questions, or have any experiences with SendEarnings yourself, I would love to hear from you in a comment below.