SurveysForU.com claims one of the benefits of joining the site is that you can create a recurring passive income.
But is SurveysForU a scam or can it really live up to its claims?
I have joined and tested the site myself to see what it really offers.
In this SurveysForU review, I will show you all the details, and let me reveal right away that I will also show you why it, in my opinion, might NOT be worth joining.
That does not mean it cannot be for you but you need to know what you get before spending time on it. Read below to see exactly what you get and decide for yourself.
What is SurveysForU and what does the site offer?
SurveysForU.com is actually not only a survey site even though the name implies this. But, of course, it does offer Surveys For U:-)
It does, however, also offer other earning opportunities.
So let's start by going over each of the ways you can earn on SurveysForU and how good each of these opportunities are, so you can see if it will be worth it for you or not.
Option 1 – Paid surveys
As already mentioned, SurveysForU offers you to share your opinion and get paid for taking online surveys.
You can get access to the surveys either through the top menu or on the front page where there are links to all the platform has to offer.
I would, however, clearly recommend using the top menu, as the overview on the front page is a complete mess and makes it very difficult to use.
The site, in general, has some usability issues. But if you use the top menu, you can better get an overview of the surveys available.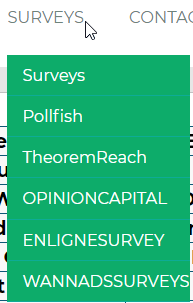 All the surveys are through survey routers, which means you will click a link and then go to another site to take the survey. Once you have completed the survey, you will be taken back to SurveysForU and get the earnings into your account here.
It does give access to quite a lot of surveys. Just be aware that you will NOT qualify for all of them and on some of the options it offers, it can take time to find the surveys you qualify for.
Also, the rewards per survey are a little lower than on many of the highest paying survey sites that in many cases offer the exact same surveys.
But you can find a good amount of surveys on SurveysForU.
It is a little confusing to get an overview and I have seen higher rewards on other sites, but it is definitely possible to earn some money by sharing your opinion here.
Option 2 – Offer walls
The most earning opportunities you can find on SurveysForU are through the offer walls. It gives you access to a lot of these walls.

Like with the surveys, it is difficult to get a good overview. In the image above, you can see the overview of all the opportunities and they are all mixed together and it is not very user-friendly.
Luckily you can also access the offer walls through the top menu and here it is a little easier to get an overview.
The offer walls gives you access to all kinds of paid offers.
It can, for example, be to click ads, download apps, play games, sign up for free trials, sign up for newsletters, and you can also sometimes find more surveys here.
Sometimes you can find some really great offers here that can boost your earnings. But on offer walls in general, you just always need to make sure to read all the conditions before taking an offer.
Sometimes they are really great and an easy way to make money. Other times you have to pay to get a reward or take a lot of actions before you qualify. So just make sure to check this.
Many of the offer walls SurveysForU gives access to are, however, also offered by other similar sites. Personally, I prefer taking the offers through other sites I think give better overall opportunities.
But before you make the decision if that will also be better for you, let's look more into what else it offers.
Option 3 – Invite friends to join
You can earn a commission by inviting friends to join SurveysForU.
You will earn 15% commission on everything they earn.
This might sound very appealing, but it can only really give you any extra money if you know A LOT of people you can invite.
Also, even if you do know a lot of people you can invite, you need to make sure you truly recommend SurveysForU.
If you do it just to earn and end up referring friends to a platform that does not really give them good options, you will risk making them angry and you will also not earn.
So it can be a way to earn extra but it is not as easy as it might sound.
Option 4 – Contests
On SurveysForU they advertise that there are a couple of contests you can participate in. One for the most referrals and a monthly contest for the people that earn the most on the offer walls.
It, however, looks like there are no referral contests going on and in the history, it also does not show any.
And the opportunities in the offer wall contest does not look very appealing to me.

There is a top 100 with the people that earn the most in a month but look at the image above. It shows that the prize is "well done".
What does this mean? Does that mean it is just a contest where all you can win is a "well done"?
I tried to find info about this, but I could not find any info on the website about the contests or the rewards for these.
Contests like these are a very nice option and on some sites, you can win some nice extra money like this. On PrizeRebel you can, for example, win cash in several bi-weekly contests and a site like Superpay.me has a quarterly contest where you can win up to $350.
So in general, I think free contests like these are a great option. But from what I can see the prizes on SurveysForU are really NOT impressive:-)
How do you get paid?
You, of course, also need to know how you can get paid on SurveysForU.
This is important to know before deciding to join or not.
On SurveysForU, you can get paid in cash through PayPal or you can get paid through Amazon Pay. The threshold for PayPal is $1 and $5 for Amazon.
These are good ways to get paid and nice low payout thresholds.
However, I am a bit confused about the conditions for the payouts. Just look at how SurveysForU describes the PayPal option in the image below.

As I understand it, SurveysForU explains that they have to pay 8% transaction fee for every payment. For this reason, they will charge you a minimum of 2% per transaction.
It worries me that they say you will be charged a minimum of 2% – I would like to know what the maximum would be.
There are other survey sites where you have to pay a small transaction fee when withdrawing, but usually, you are then 100% sure what the fee will be. It looks like you cannot really be sure on SurveysForU.
With so many other great sites that offer PayPal as a payout method, I would personally prefer some of these instead where you are for sure know the conditions and that in general are easier to use.
How much money can you make?
SurveysForU does give you some options to earn. But it is quite confusing to use compared to many similar sites.
If it will then be worth it depends a lot on your expectations.
One thing that might give you the wrong expectations and can disappoint you if you join, is a statement on SurveysForU website.

It mentions that you can create a recurring passive income today as one of the benefits of joining.
I honestly think this is an exaggerated claim.
In theory, you can earn a passive income if you invite A LOT of people to the platform and if they will be very active.
But it will not just happen automatically and today. Even if you know 1000 people you can invite, if you are very lucky maybe 20% of these will join – but then you have to be lucky.
How many of these will then become active is a whole other story and probably not many of them will actually become active.
And my guess is that with the opportunities SurveysForU offers, they will not be active very long if they decide to join, as it is just not very user-friendly.
However, SurveysForU has changed this statement since I first reviewed and now it instead says you can "Start to generate additional income stream today".
But you still need to know exactly what this means and you need to know that this does NOT mean you will be able to make a full-time income easily by joining SurveysForU.
If this is what you expect, you will very likely end up being disappointed. Yes, you can earn a bit of extra cash by joining SurveysForU but you just need to do it with the right expectations.
Can you use it on mobile?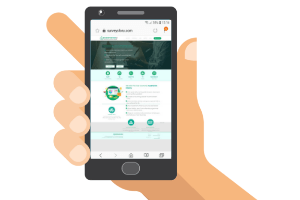 In general, I do not think SurveysForU is very user-friendly.
If you are trying to use it on mobile it becomes even worse.
The website is very poorly optimized for mobile devices and it is very difficult to use on smaller screens.
So if you would like to take surveys and offers on the go, SurveysForU does not make it easy.
It is possible to log in from your mobile and use the site, but it is difficult to navigate and it will take a lot of scrolling in and out.
Who can join SurveysForU?
You can join SurveysForU no matter where you live. From some of the things that are written on the site, it does, however, look like it was originally mostly for India and now they are trying to target the US market more.
The reason I am saying this is that you, for example, in the image about PayPal earlier can see that it mentions that they are using the INR (Indian Rupees) rate.
Also, in the section where you can see the latest activity, it mostly shows people from India.
At the same time, in the FAQ section, there is a question saying "Can I withdraw if I live outside the United States?" – this indicates that they have a lot of US members as well.
Anyway, If you live in India, there are many better Indian sites, in my opinion, and if you live in the US there are a huge amount of awesome USA survey opportunities with better options.
You can, however, join no matter where you live and you will find opportunities for most countries, BUT most countries have better opportunities, in my opinion (see a link for these at the end of the article).
Can you get support?
If you should need support, there is a contact form you can submit on SurveysForU.
It does not say how long it will take before you get an answer, but it is nice to know it has a support option if you should need it at some point.
Final verdict
SurveysForU offers legit ways to earn money online and legit payout methods.
This does, however, not mean it is worth the time. In fact, it will in many cases not be worth it, in my opinion.
But let's finish this review by summing up the pros and cons so you can get a better overview and decide for yourself.

Pros:
Free to join
Available worldwide
Low payout threshold

Cons:
Confusing to use
Not optimized for mobile
Lower rewards than many similar sites
Not clear about the fees it charges for paying out
Overall, SurveysForU offers several ways to earn some extra cash online.
It can, however, quickly become a waste of time, in my opinion, as it is quite confusing to use, it is not clear about the fees you have to pay when cashing out, and if you believe its claim about it being a way to create a good passive income online, you will likely be very disappointed.
There are so many great paid survey and get-paid-to sites, and therefore I would recommend you to join other options instead if you want to focus on only joining the best sites.
You can check out the list of the best survey and get-paid-to sites in your country here. All these sites have more opportunities and are easier to use, in my experience.
If you have any comments, questions, or have any experiences with SurveysForU yourself, I would love to hear from you in a comment below.