CashCrate, is an online rewards portal, where you among other things can get paid to take surveys. But is CashCrate legit and a good way to make some extra cash, or is it just another internet scam?
In this CashCrate review, I will give you a detailed overview of what CashCrate is about, what the site has to offer, and what your actual chances of making money on the site are.
Let me reveal right away that it NOT on my list of the best survey sites. That does not necessarily mean it will not be a good option for you, so keep reading this review to find out the details and find out, if it is a good site for you to join or not.
The review is a bit long as CashCrate has many options, and I want to cover as much as possible. But if you are not interested in all the details but just want the conclusion, you can just scroll until you get to the conclusion:-)
Important Update: CashCrate closed!
CashCrate used to be a site where you could earn directly by being a member there. On the 1st April 2019 it, however, closed.
The website itself is now live again but it is no longer a Get-Paid-To site where you can earn by just a list of other sites it refers you to. So you can NOT earn on CashCrate anymore. So the review below does no longer describe what CashCrate offers but only what it used to offer.
Check out some great CashCrate alternatives instead:
>>>Click to See the Best CashCrate Alternatives in Your Country
What is CashCrate and what opportunities does it offer?
CashCrate has existed since 2006 and has over 2 million members worldwide, and has paid out over $4 million to its members.
There are a number of different ways you can make money on CashCrate. Below, I will go over the different options. The easiest ways of making money are usually to take offers and do surveys. But the other ways can also make you some money:
Surveys:
Paid surveys are a great way to make money on CashCrate, and there are usually several daily options for this. Exactly how many surveys that are available to you depends a lot on where in the world you live. In some countries you have to be a bit patient to qualify for surveys, and in others there are many daily opportunities. The surveys usually pay pretty well in relation to the time spent compared to other survey sites.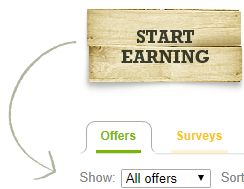 Offers:
You can earn cash by doing what is called offers. This is a way to really boost your earnings. Offers can, for example, be to sign up for a free trial for a certain website, that you register and play a few games on a certain website, download an app on your phone and similar offers. The offers can make you quite a lot of money, as some of them gives you a really good reward. For some of the offers, you will have to register at a certain website with a credit card. This will be marked with a red $ next to the offer, so you can easily see if you need a credit card or not. These offers can be worth using, if it is a service you are interested in anyway, as the reward for these offers are quite high. Often, the reward will also cover the initial investment. But if you do not want to use any offers where you need a credit card, you just avoid the ones with a red $ next to them.
You find the offers by pressing the "offers" tab when you are logged in (see picture).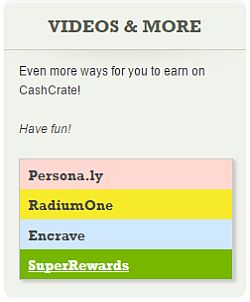 Videos & more:
You can also find a tab called "Videos & more" when you have logged in. As the name suggest, you can among other options find videos you can watch here and get paid for it. Personally, I have not found many videos to get paid for, but it might be different for you depending on the country you live in. But there are plenty of other options under this category as well. Many of the options here can be compared to the "offers" tab. So here you will also find websites you can register for and get paid for, and a lot of games you can either download and play or play online and get paid for that. But here, you will also be able to find other surveys, that are not available under the surveys tab. Under this category, you can see a little box with different "portals". You can click the different ones, as they all have different offers. You can see how it looks like on the picture, but be aware it might look different at your profile, as the portals available can be different depending on the country you live in.
Bonus offers:
CashCrate also has something called "Bonus offers". It is similar to normal offers, but just called something else. In general, offers, bonus offers and videos & more are not much different. It it just different names and different accesses to a number of different ways to earn cash. But even though they might seem similar, the offers are mostly different. So check them out as some of them might fit you better than the other.
Shopping:
Through CashCrate, you can go to a number of online shops. If you buy something through the link on CashCrate's website, you will get a bonus on your account. So if you need to do some online shopping anyways, it might be worth doing it this way, and then earn some cash back.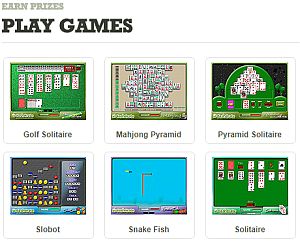 Play games:
CashCrate offers a number of different games you can play on the platform. Most of them have daily tournaments where the top players earn rewards. If you like playing games, this can be a great way to earn some extra points. The points does not go into your CashCrate account as cash, but you can instead use them in the point shop. Here you can choose between a long list of vouchers to for example Amazon, Strabucks, Walmart, Itunes and much more. You can also use the points to CashCrate's own lottery called "Crates". Here you have to select a green crate, between a whole screen of them. Once you pick one, you will right away be told if you win or not. The prizes ranges from 1 cent to $1000, and each entry cost 5 points.
Contests:
CashCrate regularly runs contests, where you can win cash prizes. Sometimes it is a monthly contest, sometimes a weekly contest and other times something else. You can see the current contests when you are logged in. It can for example be a contest where the 20 people that makes the most money in a week will get an extra reward, a contest where the 20 people that has completed most surveys in a certain period gets extra rewards or something similar to this. Usually the prize will be $20 for first place, $15 for second etc. ending with $1 for number 20.
Referrals:
You can also earn extra cash by referring others to CashCrate. If you invite somebody to join the site, you will receive a commission from CashCrate, when that person takes an offer or a survey. Your commission will be paid by CashCrate, and will not affect the amount your friend will earn. So inviting others to join the site, if you enjoy the site yourself, can be a nice way to make a bit extra. How much you will earn, depends how many people you have invited, and how much money you have made yourself on the site. But in general, it will be between 10-30%, and you will also gain other benefits and bonuses when you refer other people.
Upload Payment proof:
When you receive a payment from CashCrate, you have the chance to upload a payment proof to the payment wall. You will make 20 points doing this. It can also be a great place to check out before you join to see that people are actually getting paid and to see how much people are making.
It is free to sign up and participate on the site.
How do you get paid?
When you take a survey, an offer or any of the other options on CashCrate, you will earn cash in dollars. You can request a payout once you have earned $20.
The first time you request a payment, it has to be through check. But after the first time, you can get paid through PayPal, which I personally prefer, as it is much easier and faster.
There is also a section on CashCrate, where you can take different offers and make points instead of cash. You find this section in the top menu of the screen under "Earn prizes". These points can then be used to a number of different vouchers to for example Amazon, Itunes, Starbucks and many more. You can also use the points to different games, where you can win more points as mentioned above.
Personally, I prefer to use the cash offers and surveys, but you might also like to try out the points and the games to win even more, and see if you like that option. If you like playing games online anyway, you might as well do it a place where you will earn a bit while doing it.
You will get $1 bonus just for signing up, and if you fill out a bit of basic demographic information about yourself, you will get another 50 cent.
How much time does it take to make money on CashCrate?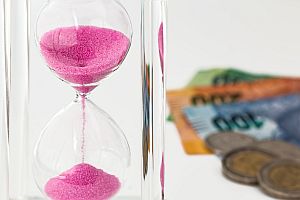 As you can see from above, there are many different options on CashCrate, which also means that you can end up spending a lot of time. Because there are so many things you can do on the platform, it is also fairly easy to make enough money on the platform to get a cashout, if you are willing to use the different options.
The money you get for the surveys, offers etc. in relation to the time spent is similar to most other good survey sites. I can unfortunately not make it clearer than that as many factors affects how much that will actually be. These factors include where you live, your age, your interests and more.
In general, CashCrate is one of the survey sites, where you have the chance to make some pretty nice money on the side. Especially if you dedicate some time every day to do some surveys or take offers. And it can boost your earnings quite a bit, if you do some of your shopping through the platform, if you know people you can invite to join the site as well, and if you are doing so well that you will be in the top 20 of the contests as this will give you an extra reward.
Even though CashCrate is one of the survey sites that has good earning potentials, do not expect to become rich from signing up for it. That goes for all survey sites, and it is important to remember. If you sign up and expect it will make you rich or a full time income, you will quickly be dissapointed, lose motivation, and then you will not have success with paid surveys. So sign up if you want to make some extra cash, but manage your expectations:-)
In which countries is CashCrate available and who can participate?
You can join CashCrate no matter the country you live in. But there can be a big difference in the opportunities available depending on the country you live in. There are by far the most opportunities for people living in the US, but there are also regular surveys and offers for people living in Canada, Australia, the UK, Germany and France. There are lesser in the rest of Northern and Southern Europe, but there still are opportunities here. At the moment CashCrate has very few surveys and offers available for people living in Asia and Africa.
You have to be at least 13 years old to sign up.
Can you get support?
CashCrate has a nice support service. I have a couple of times needed some assistance or have had some questions, and all the times they have been very quick at getting back to me with a useful answer. For me, good and trustworthy support tells a lot about a site, and ads to the credibility of CashCrate
Final verdict
In general, CashCrate is a decent survey site, and one that has a good earning potential. Let's look at the pros and cons:

Pros:
Many daily opportunities.
Open for all countries to join.
You can get paid through PayPal.
Pretty good rewards in relation to the time spent.
Great contests.

Cons:
Can be a bit difficult to find your way around the site in the beginning.
You cannot get paid through PayPal the first time you are getting paid.
Payment threshold is a bit high ($20)
You often do not qualify for surveys
Overall, I think the good aspects and the potentials of CashCrate are ok compared to the downsides. The cons are minor things that is not really a problem once you start using CashCrate more often.
So in conclusion, I can say that CashCrate is definitely legit, and you can make some extra cash on the site. But do be aware that how many opportunities and options you have depends on where you live in the world.