Joining a survey site is a good way to earn extra cash online. However, you have to make sure you join a good survey site to ensure it will be worth your time.
If you've been searching for survey sites to join, you might have already encountered a site called Surveyo24.
So, you might be wondering, is this site legit or is it a scam? And if it is really legit, is it worth joining or not? These are valid questions to ask and this Surveyo24 review will address these questions and more.
This review will give you an inside look at what the survey site has to offer so you can decide if it is worth investing your time into or not. So, let's go ahead and get started, shall we?
What is Surveyo24 and what does it offer?
Surveyo24.com is actually a survey router that offers surveys as a way for you to earn extra cash online. If this is your first time hearing about the term "survey router", then let me explain to you how it works.
A survey router is a site that will list down surveys from different survey providers. So, you'll essentially get access to different surveys from different providers without having to sign up as a member.
Now, for the question as to whether Surveyo24 is legit or not, I would say that it is definitely legit since you will really get paid to answer the surveys. But whether it is worth your time or not still remains to be seen.
We have to first look at the earning opportunities it offers so we can understand how the site works and how well you can earn from it. So, here's how you can earn from Surveyo24.com.
Option 1 – Paid surveys
The main earning opportunity of this site is the surveys it offers. As explained above, Surveyo24.com doesn't have its own surveys. Instead, it shows you a bunch of surveys offered by different survey providers like Wannads, PeanutLabs, YunoSurveys, and a lot more.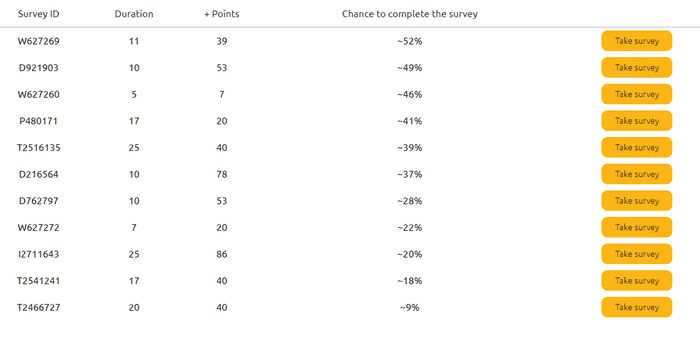 When you are logged in to the site, you will be able to see all the available surveys you can answer. As you can see in the photo above, you will immediately see the reward you will get (points), the estimated time it takes to complete the survey, as well as your chance of completing the survey.
While I'm a bit hesitant to believe that the percentage they show for your chance of completing the survey is accurate, it's nice to have that information laid out to you. It can help you determine which surveys to prioritize if you are in a hurry.
As for the process of answering a survey, all you have to do is click the "Take survey" button and it will open a new window which will redirect you to the survey provider. You will first have to provide your basic info so that the survey provider can gauge if you qualify for their surveys.
Then, you'll have to answer a set of qualifying questions. If you qualify, you get to answer the actual survey. Once you complete the survey, you will receive the points. If you fail to qualify for the survey, you will have to move on to the next survey available on Surveyo24.
The process is fairly simple and it's good that you get access to multiple survey providers. It's one of the main advantages of Surveyo24. You can answer surveys from different providers.
The disadvantage of it is that it can sometimes take quite some patience to find the surveys you qualify for.
Option 2 – Referral program
Another way you can earn rewards from Surveyo24 is by inviting other people to join the site. This is called a referral program.

However, they don't really explain in detail the rewards you will get for inviting other people to join. As shown in the photo above, you will earn bonus points for inviting other people to join the site. All you have to do is share your invite link with the person you want to invite.
When they sign up using your link, they will become your referral. You will then earn a certain number of points. And if your referral completes a survey, you will also earn additional points. Again, they don't mention how many points you will get.

The one thing you need to take note about their referral program is, you will have to sign up for it first before you can invite other people. Your invite link won't be available if you don't sign up for their referral program separately.
Usually, in my experience, referral programs are readily accessible once you sign up as a member so this is just something to be aware of.
It's a bit unusual to encounter this kind of referral system. Plus, you can only access their referral program through the link included in the email that will be sent to you once you register as a member of Surveyo24. It's not accessible from your member dashboard, which is a bit weird, in my opinion.
Recommended: Check Out the Top Survey Sites in Your Country
How do you get paid?
Surveyo24 uses a points system. So, for every survey you complete, you will earn a certain number of points. You will then have to exchange the points you've earned for a reward of your choice (refer to photo below).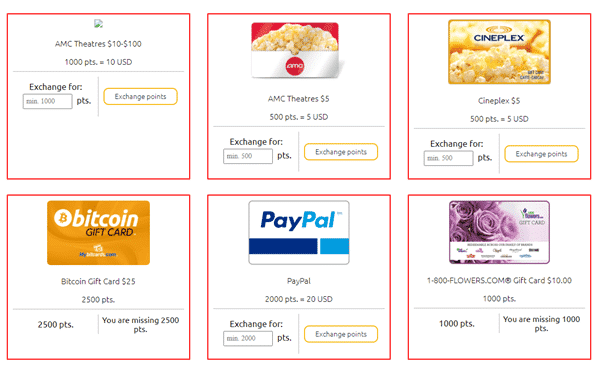 You can choose to redeem gift cards or you can convert your points to cash via PayPal. You also have the option to convert your points to Bitcoin.
The gift cards available will depend on the country you live in. For example, if you live in the US, you can redeem AMC Theatre, Cineplex, Apple, or Starbucks gift cards. The amount you can redeem will also depend on the gift you choose. The smallest amount you can redeem is $5 which is worth 500 points.
As for PayPal withdrawals, the payout threshold will depend on where you live. In the US, you need to earn $20 to make a withdrawal. For Bitcoin redemptions, the threshold will be 2,500 points ($25).
Redeeming rewards is fairly straightforward but as you can see, and I like that the payout threshold is low. If you are looking for more sites that have a low payout threshold, I would recommend you check out the fastest paying sites.
How much money can you make?
Let me be blunt with you. The rewards you will earn from Surveyo24.com is actually quite low, in my opinion. You will typically only earn around $0.2 to $0.7 per survey. That is a quite low rate.
There are some that pay more, but not a lot.
And while Surveyo24 does have a decent number of surveys available, you have to also consider the fact that you won't qualify for every survey. That's why it will really take some time before you will be able to reach their payout threshold, which makes it not an ideal site to join, in my opinion.
You are better off joining an actual survey site because they pay more than survey routers in my experience. So, I would say the earning potential of this site is fairly low. I would only recommend you join this site if you desperately need an additional survey site to earn from.
Can you use it on mobile?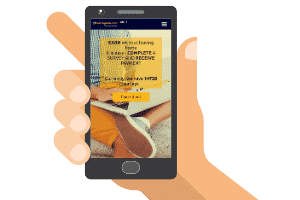 Surveyo24 doesn't have a mobile app you can download so you can answer surveys from your mobile device conveniently. But, you will be able to access their site from a mobile device using a mobile web browser.
Their site is mobile-friendly, so you will be able to read all the content without zooming in. However, I don't really recommend you use your mobile device when answering surveys from this site. That's because when you answer a survey, it will keep opening a new tab. You will have to keep closing the new tab to get back to the Surveyo24 site to answer the next survey.
While it's certainly not impossible, it can get quite annoying in the long run. So, if you want a more seamless user experience, I would recommend you only answer surveys using your laptop or desktop.
Who can join Surveyo24?
Surveyo24 is available in many different countries. You will immediately know which countries it is available in when you first go to their website.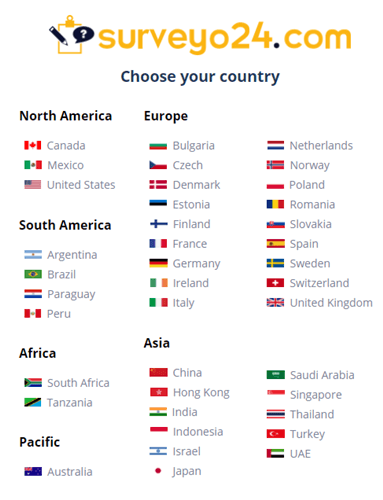 As shown in the photo above, you will have to choose which country you live in when you first visit their website. If your country is not listed, that means it's not available. While you may be able to register even when you use a different country, the limitation will still be applied.
What will happen is, if you use a different country when you register since your country is not in the list, you won't qualify for any surveys. Their system will still recognize which country you live in and will automatically disqualify you for the survey you are attempting to answer.
That's how their system works and there's no way around that. That's why if your country is not in the list, don't even bother signing up.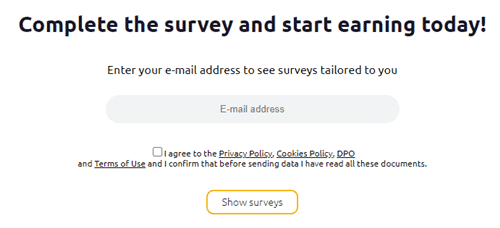 As for how to sign up, it's actually a bit different than most survey sites. You have to scroll down the middle of their website and look for the section where it will ask you to enter your email address. As soon as you've provided your email address, it will list down all the available survey.
But, at the same time, it will also send an email that will contain your login details and a few other links (including the link to their referral program). In that email, you will see the password that was automatically generated for you.
You can use that to log in to the site. During your first login, you will be asked to change your password. That's where you'll be able to enter your own password. Their registration process is a bit different than what you usually encounter, so don't be alarmed when it doesn't ask you to provide your login details right from the start.
Can you get support?
The site doesn't have a FAQ page you can refer to if you have any questions about the site. So, you will be forced to contact their support team if you encounter any issue or if you have any inquiry.
To contact their support team, just scroll all the way down their website and click the "Contact Us" link. Or, you can also get to their contact form by clicking on the menu symbol on the upper right-hand corner of the site. You will then see the "Contact Us" link.
Overall, I would say they have a decent support system in place for their member since they provide a way for you to get in touch with their support team. But I wish they would have provided a FAQ page you could refer to if you had a question. That would significantly improve the overall user-experience, in my opinion.
Final Verdict
Surveyo24 is a legit survey router that will give you access to multiple paid surveys. It has a couple of good features but it has its limitations.
So, let me finish this review with a summary of its pros and cons to give you an overview of what the site has to offer so you can decide if it is worth your time or not.

Pros:
Has a decent number of surveys available
Offers payment via PayPal

Cons:
Limited earning opportunities offered
Low rewards
Their referral program is not readily available
Surveyo24 is not a bad site, in my opinion. However, it doesn't really offer anything special. The main drawback of this site, in my opinion, is the rewards they offer per survey. They are relatively lower than what many other survey sites offer.
So, it would be better to invest your time in sites that will pay more. I would only recommend you join Surveyo24 if you really need to join an additional survey site.
Otherwise, I would recommend you check out the top survey and GPT sites in your country instead. The sites on this list all have good earning potential and they pay better than Surveyo24. So, it won't take a long time to earn a decent amount.
Plus, you will definitely find a site you can join regardless of where you live.
If you have any comments, questions, or have any experiences with Surveyo24 yourself, I would love to hear from you in a comment below.