PaymeDollar claims to be the #1 global online community with many earning options.
But is PaymeDollar really great and legit or a scam to stay away from?
I have joined to see exactly what it offers and if it is worth it.
In this PaymeDollar review, I will give you an inside look so you can see what you get after joining, how to use it, and if it is worth it for you.
And there are some important things you need to consider before joining as everything is not quite as it seems at first.
What is PaymeDollar and what does the site offer?
PaymeDollar.com is a Get-Paid-To (GPT) site that offers several ways to earn.
According to the site itself, it is the #1 global online community for this purpose.

This is a very bold statement. Especially when looking at their stats.
According to the site itself, it has around 14,000 members and has paid out just around $26,000 at the time of writing this review.
These numbers are not bad but shows that it is not the biggest –  bit that big is necessarily better.
But when you compared what is probably the biggest GPT site Swagbucks that has more than 20 million members and that has paid out more than 300 million to its members, you can really not say PaymeDollar is the #1 in term of size.
So that statement on PaymeDollars' website seems to be a little bit of an exaggeration. But many sites claim to be the best to get members to join, so that alone does not say much about if it will be worth it or not.
And how to judge what is #1 is, of course, also subjective.
So let's look into what really matters – that is what the site offers you and how you can supposedly earn on the site.
But make sure to also read the warning I have later in this review because even though you can earn by doing the tasks described below, there is a risk you might not get your money as I will explain later.
Option 1 – Paid surveys
One of the best ways to earn on PaymeDollar is by taking paid surveys. You share your opinion and get paid for it.
It offers paid surveys through third-party providers as many other GPT sites do. It has quite a lot of providers it works with, so it gives access to quite a lot of paid surveys.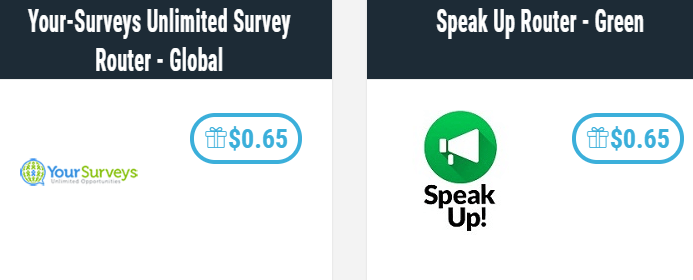 The above image just shows a few examples of the survey providers it works with.
It is, of course, great to get access to many survey providers in one place. Just be aware that you will not qualify for all of them and sometimes it can take A LOT of patience to find the surveys you qualify for on PaymeDollar.com compared to on many other sites.
But with some patience, it does give access to several daily surveys.
In my experience, there are however site that give a little higher rewards for some of the same surveys.
As you can see in the image above, PaymeDollar gives $0.65 for surveys taken through the provider YourSurveys. A site like PrizeRebel gives around $0.80 for the same surveys.
It is not a big difference but in the long run, it can still make a difference if you take a lot of surveys. And in general, the rewards on PaymeDollar are just not as good as on many other survey sites.
Option 2 – Watch videos
PaymeDollar has a section where you can find videos to watch and get paid for this.
It offers several video options.

You can find videos within more or less any category to watch. The earnings for these videos are more or less the same compared to other sites.
Just be aware that videos on GPT sites are in general not a way to earn a lot. You have to watch a lot of videos including ads to just earn a little.
You can, of course, just let the videos run on a screen you are not watching. But it will still take a lot of time to earn any extra money like this.
In general, I think watching these types of videos can be fun for entertainment purposes and then it can be nice to earn a little at the same time.
But if you are doing it just to earn, then there are better ways to spend your time on PaymeDollar.
Option 3 – Paid offers
You can find several offer walls inside PaymeDollar, where you can get paid to take different offers.
It can, for example, be to sign up for free trials, to sign up for a contest, download games, and more.
PaymeDollar gives access to quite a lot of these walls. Below you can see just some of them.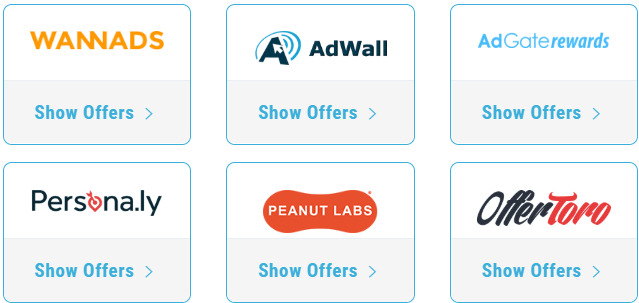 You can at times find some very good deals on these walls. Just make sure to read the exact conditions for each offer so you know exactly what you need to do to get your rewards.
Some of the offers are very easy while some of them take a bigger effort or an investment. So just be sure to know what you are saying yes to if you use this option.
If you take the right offers, it can be a good way to boost your earnings.
Option 4 – Paid to sign up offers
As a way to try to get more attention, PaymeDollar offers you some one-time rewards for some social media tasks.
They are in the section called "paid to sign up offers". What it really is, is that you can earn a small reward by following them on social media or sharing some of their stuff on social media.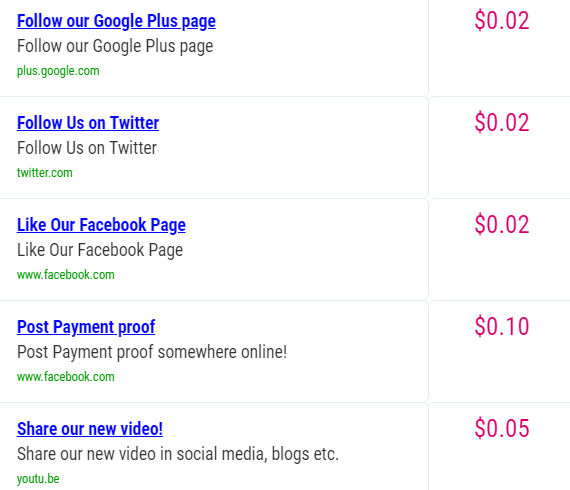 As you can see in the image above, it will not be a lot of money you can earn like this.
If you like this site, then why not follow them on social media and get a small reward for it. But personally, I would not share payments proof on forums etc. to earn $0.10.
Many forums and groups see this as spam and will block you, so if you will use this option, just make sure you do not do it places where it will get you banned – not really worth that for 10 cents, right?
Option 5 – Performance contests
If you are actively participating in PaymeDollar, you will automatically participate in their free performance contests.
They regularly have these contests where the people that earn the most on the platform within a certain period will get an extra reward.
Sometimes it is for a month and other times the contest is for a shorter period, but they more or less always have a contest like this going.
I have seen prizes of up to $75 to the winner, which is actually a really good reward for a contest like this compared to many similar sites.
So if you become an active member, you have the chance to win some extra prizes like this.
How do you get paid?
Before deciding if PaymeDollar is a site you want to join, you do not only need to consider what earning methods it offers but also its payout methods.
You can get paid in several ways on PaymeDollar. When you first join, you can get paid through PayPal, Amazon gift cards, or prepaid Visa.

Once you have been paid through PayPal once, you can also get paid in Bitcoin and other gift cards.
The payout threshold for PayPal is $1 and $5 for the other rewards which a nice low threshold.
So overall some good payout options PaymeDollar offers.
However, even though I had been a member for around 1 year, I never managed to get my earnings out. One day they just decided to block my account and take my earnings before I managed to get my earnings and I will explain a bit more about this below.
How much money can you make (Warning)?
PaymeDollar has quite a lot of earning opportunities.
I will, however, not say that it is one of the TOP GPT sites, as there are sites that overall have better opportunities in my opinion.
When you first join it seems like you can earn some nice extra cash on PaymeDollar. For that reason, I even recommend joining it to people that wanted to join as many sites as possible.
However, one day when I tried to log in to PaymeDollar.com, I just got this message:

In case you cannot see the image, it simply says "Access Restricted" and that I had been blocked from entering my account.
This seemed very strange to me as I was at the same computer and on the same internet connection I have logged in with for all the time I had been a member.
Now I suddenly could not get access and there was not even a proper explanation. But I know technical problems can happen, so I stayed calm and contacted their support.
I eventually got an answer but all it said was "Your account is fine but it seems that you're trying from the IP which is not allowed as it may be proxy or VPN. So try from clean IP".
This does not make sense at all. I know VPN is not allowed and warn people against using it for survey sites all the time. And I was using the exact same computer and connection I always was.
But I then tried from a clean IP as they suggested but I still could not get access.
In fact, I just got that message just by clicking the login button no matter which computer, internet connection, or phone I tried from. So it seemed very strange and like they had suddenly blocked certain countries without warning.
If that was not the case, I would have been able to at least click the login button without getting that warning and a device and connection I had never used before but that was not the case.
I wrote this to the support, send information that proved I had done everything honestly, and asked what the reason could then be – I never heard back from them again. I wrote them 3 more times, but they never even bothered to reply and just kept my account closed and kept my money.
I am not saying this will necessarily happen to you and that you will not get paid – but when a company deals with things like this and refuses to reply to emails, it tells a lot about their approach to their members.
So if you decide to still join, I would encourage you to take your earnings out as often as possible so you do not end up losing too much if they suddenly close your account.
Can you use it on mobile?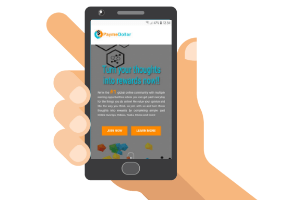 It is good being able to use GPT and survey sites on mobile so you will have easy access whenever it fits into your schedule to earn a bit extra.
PaymeDollar does not have an app, but the website is mobile optimized and works well on most screen sizes.
Just be aware that even though the site itself works well on mobile, the surveys are taken through third party providers.
This means that when you click to take a survey, you will be taken to a different website in the browser on your phone. Not all of these surveys will be optimized for mobile so in some cases you might have to scroll in and out a bit.
Who can join PaymeDollar?
There are supposedly no restrictions for who can join PaymeDollar as long as you are at least 18 years old.
So no matter the country you live in, you can join.
The number of available surveys and offers will, however, vary from country to country.
Can you get support?
There is a support section on PaymeDollar. So if you need support, you can contact them here.
When you send a message, you can see it will take maximum 48 hours before they get back to you.
However, as explained earlier, I have had really bad experiences with their support. They just denied me access suddenly one day and refused to reply to emails about why and kept the money I had earned.
So in my experience, they have terrible support which is a big drawback of any site.
Final verdict
From what I have been able to find out and from looking at what it offers, PaymeDollar can be a way to earn some extra cash.
However, even though it started well the first year I was a member, it ended up very bad as explained in this review and I never got the money I had earned.
This does not mean the same will necessarily happen to you, but there definitely are some important things you need to consider before investing too much time.
So let's finish this review by summing up the pros and cons of PaymeDollar so you can get a better overview before deciding if you want to join or not.

Pros:
Free to join
Available worldwide
Low payout threshold

Cons:
Takes patience to learn to use in the beginning
Rewards are not as high as on similar sites
Takes patience to find the surveys you qualify for
Terrible support
They never paid me but just closed my account
Overall, PaymeDollar is a site where it is possible to earn some extra cash and it has a low payout threshold.
In my experience, there are, however, sites that are easier to use and that has better opportunities. Especially considering the fact that they suddenly closed my account and took my earnings without any explanation and refused to reply to emails to clarify what was going on.
It might be different for you, but based on my experiences, I do NOT recommend PaymeDollar.com in any way.
I would instead suggest you check out the best survey and GPT sites in your country here.
I have good experiences with all those sites and they also give better earning opportunities and better user-experiences.
If you have any comments, questions, or have any experiences with PaymeDollar yourself, I would love to hear from you in a comment below.