DollarClix is a Get-Paid-To (GPT) site that promises to pay you for completing their offers and other activities.
There are a lot of GPT sites nowadays and it's getting pretty hard to discern which ones are good and which ones are bad.
So is DollarClix legit and one of the good opportunities or a scam site to stay away from?
Let me just clear the air right away and say, yes, DollarClix is a legit GPT site. It does what it promises, which is pay you for completing their offers.
But that does NOT mean it will necessarily be worth your time becoming a member. This DollarClix review will answer that question and more.
After reading this review, you will know exactly what to expect and will be able to make a decision on whether or not you should become a member of DollarClix.
So, let's get to it.
What is DollarClix and what does it offer?
As mentioned above, DollarClix is a GPT site that will pay you once you complete offers and other tasks.
But in order to get a clear picture of the earning potential of DollarClix though, we need to take a closer look at all the earning opportunities available once you login to DollarClix's member area.
I have, therefore, made a short video that will give you an inside look and show exactly how you can earn from this GPT site. You can also read all the details below the video:
Recommended: Check Out the Top Survey Sites in Your Country
Option 1 – Paid Surveys
One of the ways you can earn rewards from DollarClix is by completing a paid survey.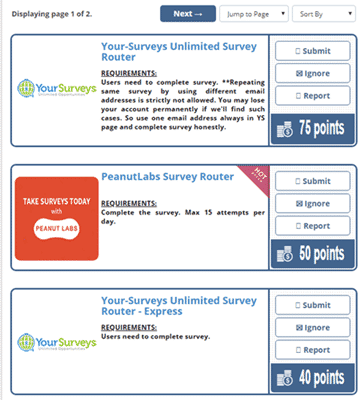 If you've already signed up as a member on a survey panel, this opportunity will be very familiar to you.
Once you log in to the member dashboard, you will be able to see all the available surveys you can take.
The main difference of DollarClix with other survey sites is, it also offers paid surveys from other survey sites. Aside from the paid surveys they offer, you will also be able to take daily survey offers from other survey sites.
The paid surveys they offer work just like how you would expect from any survey site. You take a survey, answer pre-qualifying questions and if you qualify, you get to complete the actual survey.
Once you complete the actual survey, you will then receive the reward promised.
On the other hand, their daily surveys actually act as a survey router where you can view paid surveys offered by other survey sites. All you have to do is pick an offer. You will then be redirected to the site hosting the survey offers.
The good thing about these survey routers is, you can complete any number of surveys every day and each time, you will receive the reward promised in the offer.
Take note though that some sites will limit the number of times you can complete a survey per day and surveys are not always available. You will also not always qualify for one.
If you are interested in survey sites, I recommend you also check out the top survey sites in your country.
Option 2 – Paid Offers
The bulk of your earnings from DollarClix will possibly come from completing paid offers. This is normally the case with all GPT sites.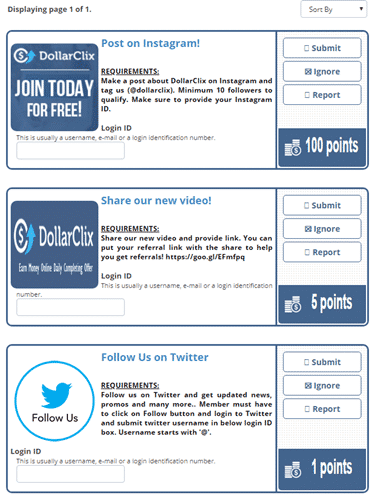 If you are not familiar with paid offers, they are basically tasks you can complete in order to earn rewards.
Each offer will be unique and will be asking you to do a specific task. Some offers will ask you to sign up to a website, while some offers will ask you to do something on a social media site.
Whatever the offer is, it all boils down to you completing it in order to get the reward promised. The main thing you need to make sure is you follow the instructions down to the letter to make sure you earn the reward promised.
Just like the paid surveys, DollarClix has its own paid offers and it also has what you call an offerwall. These offerwalls are like survey routers, only it is for paid offers.
What's good about DollarClix is, it has plenty of offerwalls you can check out. So, you won't really run out of stuff to do on the site.
When you are doing an offer on an offerwall, you will be redirected to the site that hosts the offer (just like with the paid surveys). You simply have to complete the instructions stated on the offer to receive the reward.
One thing to take note with offerwalls is, sometimes, the rewards don't get credited right away after completing them. Sometimes, it takes some time before their system can validate the completion of the offer.
So don't be surprised if you don't receive the reward right.
Just make sure to keep track of them and if several days have passed and you still haven't received the reward, you might want to talk to their support team (which I will talk about later).
Option 3 – Watch Videos
You can also earn rewards simply by watching videos. You do this by watching short clips hosted from a different site.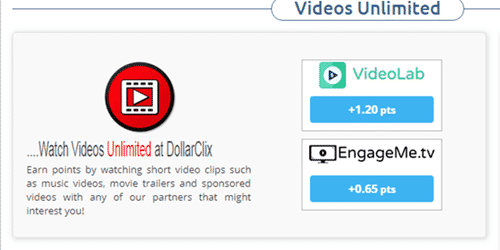 The logic is pretty simple. Click the link to the video offer and watch a video. Once you've finished a video, you will receive the reward. You can keep watching videos however long you like, as long as there are videos to watch.
In my experience though, the rewards you get from watching these videos aren't really much. But it can be a fun way to spend your extra time. At least, you will be earning rewards.
Option 4 – Referral Program
Another good way to earn rewards from DollarClix is by referring friends to their site.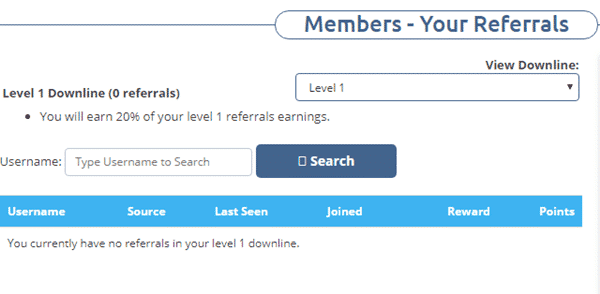 When you invite a person to DollarClix, you stand to earn a 20% commission. If your referral also invites another person to join DollarClix, you will also be able to earn 10% from that person's earnings.
It's a good passive form of income, in my opinion. That's because minimal effort is required. Of course, it will all depend on whether your referral and their referral stays active on DollarClix.
You also need to be active every 7 days in order to earn from your referrals. If you become inactive, you will stop earning from your referrals until you become active on the site again. To be considered active, you have to click on at least 10 cents worth of links.
To refer someone to DollarClix, you can either give them your referral link or you can embed your referral banner to your website if you have one. Whenever someone clicks the banner and register to DollarClix, they will become your direct referral.
Recommended: Check Out the Top Survey Sites in Your Country
How do you get paid?
For every offer you complete on DollarClix, you get rewarded with a certain number of points. If you complete offers from offerwalls, you will be rewarded with a specific amount.
When you check your account, you will see two values, one for your account balance and one for your point balance.
If you wish to withdraw your earnings, the value you need to look at is your account balance (which will be in dollars).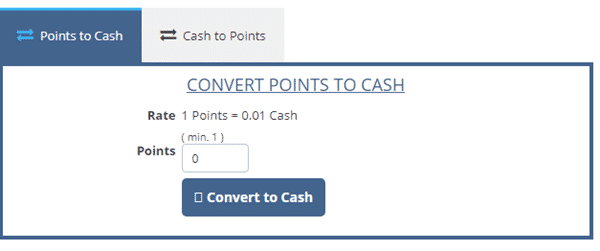 As you can see in the photo above, you will be able to convert your point balance into cash, which you can withdraw. 1 point is equal to 1 cent.
You can also do it the other way around where you convert your account balance to points. The reason for this is, you will also be able to redeem rewards using your point balance. This option is not always available though.
So, the more common method of getting paid on DollarClix is by converting your points into cash.
You can get paid in several different ways. You can choose from the options below.
Bank Wire
Virtual Visa
Prepaid Mastercard
Flipkart
Bigabazar
Shopperstop
Tesco card
Amazon
Tango Card
Tipalti
Each payment gateway will have a different payment threshold you need to meet in order to withdraw your earnings. Refer to the photo below for the different thresholds.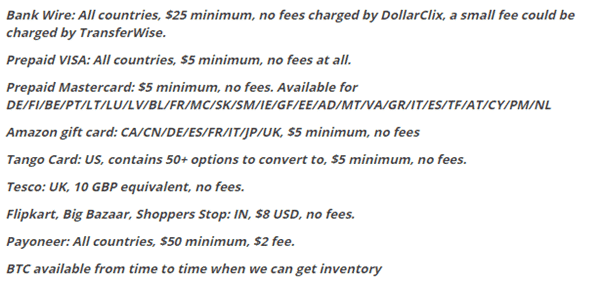 As for Tipalti, this is their newest payment gateway. If you choose to withdraw your earnings via this method, it will allow you to get paid via Paypal, check, ACH or transfer.
Their payment methods are a bit complicated, in my opinion. Most GPT sites usually have a uniform payment threshold regardless of which payment gateway you choose.
Plus, some of the payment gateways, as you can see in the photo above, charge a small withdrawal fee. So make sure to take that into account when you withdraw your earnings.
How much money can you make?
With GPT sites, the answer to this question will mostly depend on how active you are on the site. Basically, the more offers you complete, the higher your earnings will be.
With DollarClix, you will be able to earn a decent amount of money simply because there are lots of offers you can do. But, don't expect to get rich from it.
What I like about the earning potential of DollarClix is the high commission rate you get for referring people to their site. Yes, it's a given that it will all depend on whether or not your referral will be active on the site.
But still, the 20% commission is relatively high.
The only downside to their system is the different payment thresholds on each payment gateway. If you can only do Bank Wire transfers, you will have to meet a $25 threshold, which is quite high, in my opinion.
However, the other payment gateways have relatively lower thresholds. You will then be able to withdraw your earnings rather quickly if you choose any of those payment gateways.
If you are looking for sites that will also allow you to withdraw your earnings quickly, I recommend you check out the fastest paying survey sites.
Can you use it on mobile?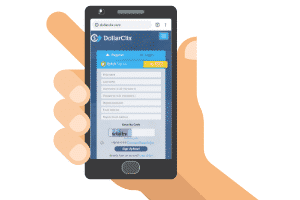 They mention on their website that their platform is mobile-friendly. However, I could not find any DollarClix app on Google Play or the Apple App Store.
This means you will only be able to access their website on your mobile device using a mobile web browser.
The good thing is, their site is optimized for mobile use. In fact, the mobile version of their site looks pretty much like an app, in my opinion.
This is a good sign. This means you will be able to work on offers on your mobile device conveniently, which can significantly increase your earnings because you don't have to sit in front of a computer to do offers.
You can do this while standing in line in a bank, while you are traveling or having coffee in a coffee shop. You get the drift.
The point is, you will be a much more efficient earner if you can also complete offers conveniently on your mobile device.
Who can join DollarClix?
Another good thing about DollarClix is that anybody can join. There is no geographic restriction. So, regardless of where you live, you will be able to sign up as a member.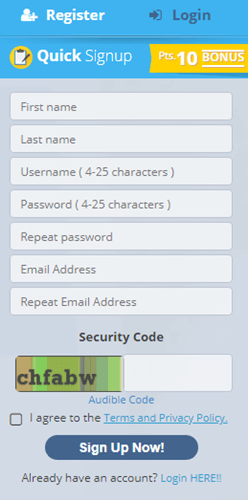 Just fill out the form on their website to register. Then, you will receive a confirmation email. To finish the registration process, just click the link in the email and you'll be a full-fledged member of DollarClix. It's that easy.
You don't even have to provide your birth date, which is usually the case with most other GPT sites.
They do mention on their site that you have to be at least 18 years of age in order to join, which is weird, in my opinion, because they have no way of verifying that in their system.
Of course, you do have to make sure you meet the age requirement of whichever payment gateway you decide to use when withdrawing your earnings. So, keep that in mind before you register.
Another thing to note is, the earning opportunities will vary depending on where you live. So, it's not a guarantee that the same earning opportunity is available in all regions.
Can you get support?
Another way to gauge the worth of a GPT site is to look at how they provide support to their members. With DollarClix, you are able to get support pretty well.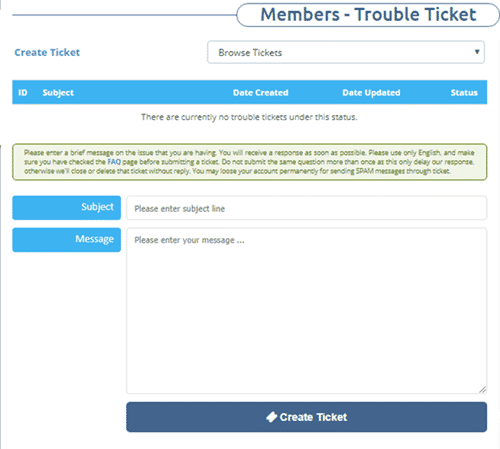 As you can see in the photo above, they have what they call a "Trouble Ticket System". It's basically a ticketing system where you submit a ticket for any inquiry you have for their support team.
What I like about this system is, you will be able to track the progress of your inquiry quite easily.
They also have an FAQ section that covers most of the basic questions about the site. Plus, they provide guides and tutorials, which can be very useful especially during the first week of being a member.
You can also visit their Facebook page for more information about their site. You won't be able to send them a message on that page though because they disabled that feature.
So, for any inquiries, you will have to use their ticket system. All in all, I'd say, they have an excellent support system in place for their members.
Final Verdict
DollarClix is a legit GPT site that does what it claims to do, which is to pay you for completing their offers and other activities.
It does have some flaws, though.
So let's finish this review with a summary of its pros and cons to help you decide if it is indeed worth signing up for or not.

Pros:
Has several earning opportunities
Has several payment options
You can sign up to become a member regardless of where you live

Cons:
Payment system is a bit complicated
Earning opportunities will vary depending on the country you live
What I like most about DollarClix is the fact that you will always have something to do every day. That guarantees you will be earning something on a daily basis. The money you earn won't be anywhere near the money you earn from say, an actual job.
But, it's a pretty decent amount, as long as you stay active. Don't get me wrong, it will require a significant amount of time to earn a significant amount of money. But, that is usually the case with most legit GPT sites.
The only downside is, withdrawing your earnings can be a bit complicated because of the different payment threshold required per payment gateway.
But overall, DollarClix can be a decent site to join. You just have to be patient.
If you are interested in more sites like DollarClix, you can check out the top GPT sites. The GPT sites on this list have an even better earning potential than DollarClix, in my experience.
If you have any comments, questions, or have any experiences with DollarClix yourself, I would love to hear from you in a comment below.