MoolaDays looks like it offers what most other get-paid-to sites offers.
But is MoolaDays a scam or one of the sites worth your time?
As you have probably already figured out from the title of this article, I am not a big fan of MoolaDays after having tested it.
This does, however, not mean it cannot be for you.
In this MoolaDays review, I will give you an inside look so you can see exactly what it offers and judge for yourself.
What is MoolaDays and what does the site offer?
When I first logged in to MoolaDays.com, it looked very familiar. In fact, it looks very much like Cash4offers and the site Surveys Email.
I cannot confirm if it is the same company behind as there is no info on the websites about who is behind them. But if I am just going by the look of them and what they offer, they definitely could be by the same person.
Or at least people that have been VERY inspired by each others' websites and created very similar sites.
Anyway, even though I prefer knowing who is behind a get-paid-to site (GPT) like MoolaDays, what is even more important is what it offers.
So let's go over the different ways you can earn once you are a member.
Option 1 – Paid surveys
As most other GPT sites, MoolaDays offers you to earn by taking online surveys.
This is often a great way to earn on GPT sites, but I am honestly not impressed with the options on MoolaDays.

There are two reasons I am not impressed.
First of all, because it does not have a lot of options. You can take surveys through the two routers Your Surveys and Opinion Surveys.
Both of these are legit survey providers and offer a decent amount of surveys, but it is still not a lot of offers compared to many other sites.
The second reason I am not impressed is the rewards you get per survey on MoolaDays. You get $0.50 per survey as you can see in the image above.
But you can take these exact same surveys from the same providers on many other platforms for higher rewards. On PrizeRebel you can, for example, take Your Surveys for around $0.80 per survey.
In the long run, this makes quite a big difference, so 50 cents for these two particular surveys is just too low compared to other sites.
Option 2 – Paid offers
Another thing most GPT sites offer is paid offers or offer walls, where you can earn by taking different kinds of offers.
Some sites have a lot of these opportunities, and if you choose the right options, it can be a great way to boost your earnings.
This is, however, not really the case on MoolaDays. Even though it, in the top menu, has several offer categories, it shows very few offers if you click to see all offers.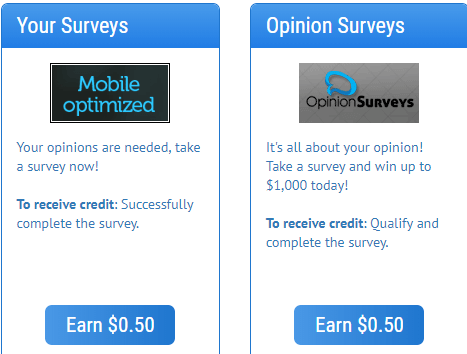 Do these offers look familiar?
They are just the same two survey routers you can find in the survey section. Now they just have a bit of graphic and text but it is still the same.
So you cannot really find any offers in this section of MoolaDays, in my experience. It is just the surveys presented differently.
However, you can click the "Points" tab in the top menu and this will give you access to an offerwall from PeanutLab with some offers.
Again, this same offer wall is available on a lot of other sites with better overall opportunities, but at least MoolaDays does have some offers if you know where to look.
Option 3 – Read paid emails
Once you are a member of MoolaDays, you will start receiving paid emails. You cannot opt-out of these emails. The only way to do that is by canceling your membership.
The paid emails are emails with offers. You get paid a few cents to click the link in the email, and then MoolaDays hope you will end up taking the offer so they earn commissions.
That is why they pay you to click the links in the emails.
The strange thing is that you can kind of choose the reward per email yourself.

Or you can choose between $0.01-$0.05. The higher the reward you choose, the faster your Guaranteed Paid Emails (GPE) will reach zero.
When it reaches zero, you will no longer be able to earn by reading and clicking in the emails.
You can, however, earn points by taking surveys and offers and then use these point to increase your GPE again.
So you basically have to pay to be able to keep getting more emails you will get paid to take. To me, this is a little strange, but this is just how they have decided to create the system.
Option 4 – Shopping cashback offers
MoolaDays has a cash back option where you can earn some money back if you shop online through their links.
Again, I am not impressed with the options it offers compared to similar sites.

It does have some good shops you can get some money back from but it has very few shops there.
I saw a total of 9 shops. So not really a lot of opportunities. A site like SwagBucks, for example, offers access to hundreds of online shops where you can get cash back. And so does a platform like WowApp.
So if you shop online, you can find a few ways to get cash back on MoolaDays but many other GPT sites offer way more and better opportunities.
Option 5 – Invite friends
You can earn 15% commissions if you invite friends to join MoolaDays.
Honestly, I do not think this is a very good option. Because you would have to invite friends to a panel that, in my opinion, has very limited opportunities.
First of all, that might make them annoyed. Secondly, even if they join there are limited earning opportunities which means you will also not earn money from it anyway.
So not really a good way to earn on MoolaDays, in my opinion.
Option 6 – Coupons
MoolaDays has a section called "coupons".
This is, however, just a link to coupons.com. It is a link where MoolaDays earns a commission if you use it, but it does not give you any advantages.
You might as well just visit the coupon site directly.
How do you get paid?
It is always important to look into what kind of payout methods and payout conditions a survey or GPT site offers before joining, so you are sure you can get your money out in a way that fits you before spending any time on the site.
On the website of MoolaDays, it looks very promising at first, as you are told on the front page that you can get paid instantly by PayPal or Amazon gift cards.

Now, I do not know how you define instant payment, but my definition is very different from what MoolaDays offers.
How it really works on MoolaDays is that you earn either points or cash for the activities you have on the website.
The points can be used for Amazon gift cards or to increase your GPE (how many paid emails you can get). You can request a gift card once you have earned $15.
The cash you earn can be paid out through PayPal once you reach $15. The cash can be exchanged to points, but the points cannot be exchanged to cash.
So this means you actually can end up having to earn quite a bit more as there are two different rewards and you have to collect enough earnings for each of them.
In addition to this, your first payment will not be until 15 days after the end of the month you have requested it in.
Does any of this sound like instant payment to you? There are sites that pay instantly – as in after you have only earned $1 (or less) and within minutes or hours.
So I really think the claim on the front page about MoolaDays paying instantly is a big exaggeration when, in fact, it has some really poor payout conditions compared to other sites, in my opinion.
How much money can you make?
I really do not see a lot of earning potential on MoolaDays.
It has limited opportunities and the fact that you can not freely exchange between cash and points makes it very inflexible compared to other sites.
In my opinion, you should, therefore, not expect to be able to earn much by joining MoolaDays.
Can you use it on mobile?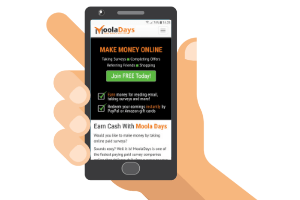 MoolaDays is optimized for mobile and the website looks pretty good on even smaller screens.
However, just be aware that some of the offers or surveys you can take on the site might not be mobile optimized so they might not work as well on mobile.
But even with a mobile-optimized website, which I think is important to be able to earn on the go, it is just not enough to make MoolaDays a good option, in my opinion.
You do not get more opportunities or better conditions on mobile so it does not really change the overall options you have on the site other than you then just have access to poor opportunities on mobile:-)
Who can join MoolaDays?
Anyone can join MoolaDays and there are no country restrictions.
The number of surveys and offers you will get access to will, however, differ from country to country.
Also, the shopping cashback options are mostly for US shops, but it does not really have many options anyway.
So you can join from anywhere, but no matter where you live, you should also know that there will be sites with more and better opportunities.
Can you get support?
MoolaDays has a support option where you can submit a ticket. It does, however, not say how quickly they answer.
But just be aware that they write that if you ask a question that is already answered on their website, they will not respond.

I understand that people always need to check the FAQ section first, but still think it is not very user-friendly to just not reply in case people have missed the info somewhere.
It is, in my opinion, not a very informative or user-friendly website, so it would be easy to not be able to find some info. But anyway – you can contact support but there is no guarantee they will get back to you based on what they write.
Final verdict
MoolaDays is not a scam as you can earn some extra money there and it offers legit payout methods.
However, as you can see from this review, I am not impressed with what it offers. But let's finish by summing up the pros and cons so you can get a better overview before deciding for yourself if it is for you or not.

Pros:
Free to join
Available worldwide

Cons:
Not very user-friendly
Low rewards compared to similar sites
Not instant payout as it claims
Few earning opportunities
Overall, I think the claims MoolaDays has on the front page before you join are exaggerated.
Also, it does really not offer a lot of opportunities and the rewards are lower for the exact same options as you can get on other sites.
It is, therefore, NOT a site I recommend and not one I will be using anymore myself. You should instead check out the top paying sites in your country.
All these give better and more opportunities and better payout conditions.
If you have any comments, questions, or have any experiences with MoolaDays yourself, I would love to hear from you in a comment below.