If you are looking for an easy and fast way to earn some extra money online for free, one of the best options is to join a Get-Paid-To (GPT) site.
That's because GPT sites usually have plenty of available offers you can do regularly, and you can start earning right away without any effort.
One GPT site that claims to offer you plenty of ways to earn is called Gain.gg.
But is Gain.gg legit and really worth your time?
Well, to answer that question, we have to consider several things.
This Gain.gg review will give you an inside look so you will know exactly what to expect if you decide to become a member.
What is Gain.gg, and what does it offer?
As mentioned above, Gain.gg is a GPT site that promises to pay you for completing their offers. Since it is a GPT site, expect to have at least more than a couple of ways to earn rewards.
And to be able to figure out if this site really does present a good earning potential, we have to take a closer look at how you will be able to earn from it.
I have made a video tutorial that will give you an inside look and show exactly how Gain.gg works. You can also read all the details below the video:
Recommended: Check Out The Top GPT sites
Option 1 – Paid Offers
With every GPT site, there will always be paid offers available. If this is your first time hearing about paid offers, they are basically tasks that you can do in exchange for rewards.

Once you log in to the member dashboard of Gain.gg, you will be able to view all the available offers you can take.
They will be located in the offerwall section. They have their own offers, but they also give you access to offers from other GPT sites.
This is a good thing since it gives you more options to earn rewards. Every offer will tell you what you need to do and how many points you will earn once it is completed.
Most offers will ask you to sign up to a website, answer a survey, play a game, or basically anything. But whatever the task may be, there is one thing you need to remember. You need to make sure you follow the instructions provided on the offer down to the last letter.
That is the best way to make sure you will earn the reward promised.
Among all the earning opportunities offered by Gain.gg, this is by far the most reliable since there will always be plenty you can do at any given time.
And since I first tested it, they have added more offerwalls, which means you can definitely regularly find ways to earn here.
Option 2 – Paid Surveys
Another way you can earn from Gain.gg is by answering surveys. However, the surveys you will have to answer will come from other survey sites that have partnered up with them.
So, don't be surprised when you click a paid survey offer and it takes you to a different site.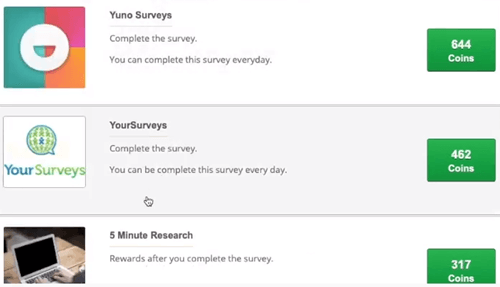 The process of answering a survey is really pretty simple. When you click an offer, you will be taken to a different window where you will have to answer pre-screening questions.
Survey sites do this to ensure they only let people who belong to the demographic they are targeting answer the survey. If you qualify, you will then get to answer the actual survey. If you don't, you simply move on to the next survey available.
Once you complete the survey, you will be awarded the points promised on the offer. But don't be alarmed if the points are not reflected in your Gain.gg account right away.
It usually takes a couple of hours to be credited to your account, mainly because the site offering the survey will still have to verify it.
One thing to note about their paid survey offers is that you have to earn a specific number of coins (3,000 points to be exact) before surveys are made available to you.
This is, in my opinion, quite strange and something that I do not really like about this site. Most other sites just let you take surveys right away so you can choose exactly what earning methods you prefer from the start.
Option 3 – Watch Videos
If you are annoyed with all the video ads you encounter all the time, well, in this part of the website, you will actually be wanting more.

That's because you will be able to earn by watching videos. Some of them will be advertisements, of course, but from time to time, you will also encounter videos that will be informative and fun. So, doing this type of earning opportunity won't really be boring.
The way it works is that you will receive 8 coins for every 3 videos that you watch. You can keep watching videos as long as there are videos available.
A word of advice, though, seeing as you won't really earn a lot of points for watching videos, I recommend you only do this if there aren't any other offers you are interested in doing. That way, you can maximize your time properly.
Option 4 – Referral Program
Not much is discussed about how their referral program works. They only mention that you will be able to earn 5% of your referral's earnings.
That's a pretty low percentage for GPT sites, in my experience, so you would need to invite a lot of people to earn any real money from this.
To invite people to join the site and become your referral, you simply need to share your referral link with them.
Once they register to the site, they will automatically become your referral. The commission you will get from their earnings will be shouldered by Gain.gg.
How do you get paid?
Every offer you complete will earn you a certain number of points. You can then convert the points you've earned into different rewards.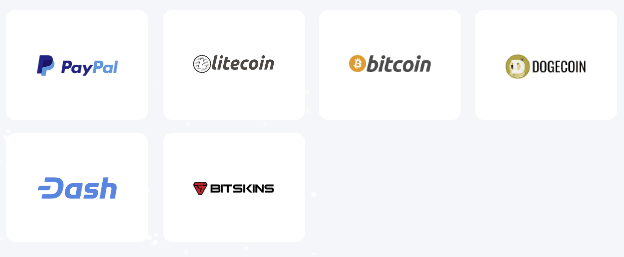 You can withdraw your earnings via Bitcoin, Litecoin, PayPal, Dogecoin, Dash, Bitskins, and Visa gift cards.
But overall it is mostly a GPT if you are interested in earning cryptocurrency.
Gain.gg has introduced PayPal as a payment option since I first tested it, and great they have started offering this again, so you can get paid in cash if you prefer this.
But if you are interested in sites that will allow you to withdraw via PayPal, I suggest you check out the top GPT sites that pay via PayPal instead.
You will be able to withdraw your earnings when you have earned $0.50. But this varies from payout method to payout method.
The lowest threshold of $0.50 is for Litecoin. For Bitcoin it, for example, is $5, and for PayPal $7.50.
So overall some good payout options and fairly low thresholds.
How much money can you make?
With a GPT site, the amount of money you can make will mostly depend on how active you are on the site. The more offers you complete, the more rewards you will earn.
GPT sites don't always pay that much, in my experience, especially if the offers come from other sites – but that really depends on the specific sites.
But on Gain.gg the rewards you will get will not be among the highest, in my experience.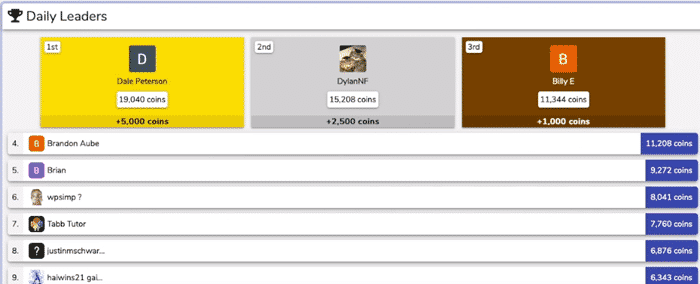 They do offer a way for you to boost your earnings. As shown in the photo above, you will receive bonus points if you are among the daily leaders of points earned.
If you are the top point earner for the day, you will receive 10,000 points. That's equivalent to $10.
It isn't much, but it is a nice addition to the money you can earn. It can also serve as a nice goal to reach. This is their way of motivating members to be more active on the site.
Also, there is a monthly contest where you can earn $100 if you become the top earner. But be aware that it will take a lot of time and effort to get a chance of getting close to the top spot.
And if you are active enough to get there, you will get more out of going for a top spot on the leaderboard of a site like Freecash, as you can win even bigger prizes there.
But overall, don't expect to earn much from this site since it doesn't really pay that well. But you can earn a decent amount of side cash.
Can you use it on mobile?
Gain.gg doesn't have an exclusive mobile app you can use to work on offers on your mobile device. But you will be able to access their website on a mobile device using a mobile web browser.
The good news is, their site is mobile-friendly, so you will be able to navigate through the site quite conveniently. However, due to the nature of the earning opportunities that it offers, I don't really recommend you use a mobile device.
That's because most of the offers will open up new browser windows and it can get quite inconvenient when you do it on a mobile device.
That being said, watching video ads is the perfect earning opportunity you can do on a mobile device since it will work seamlessly.
Don't get me wrong, the site still works perfectly fine with mobile devices. It's just more convenient to work on paid offers and surveys on a desktop or a laptop.
Who can join Gain.gg?
Their site doesn't specify which countries it is available on. So, that means it is more or less available worldwide. But don't be surprised if it is not available in the country you live in.
It does, seem to favor users from the US, UK, and Canada. So, keep that in mind before you register. If you try to register and you aren't allowed, that means the country you live in is banned.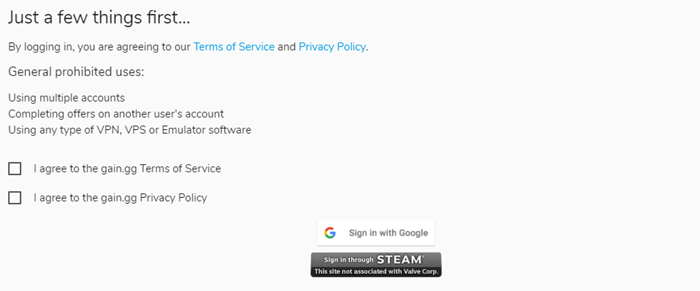 And as you can see in the photo above, if you try to circumvent that by using a VPN, your account will be banned once they find out (and they will).
So, if it is not available in your country, then don't try and force it by using a VPN.
To become a member of their panel, you can use your Google or STEAM account to sign in. Those are the only two options available for sign up.
Can you get support?
One glaring problem with the site is, there isn't much information about what the site is all about.
There are several details not discussed and the site has an overall confusing design, in my opinion. So, naturally, it will leave you with some questions that will need to be answered.

And because their FAQ section doesn't cover all the important topics, you will still be able to find the answers to your question if you contact their support team. The good thing is, there are several ways you can do that.
You can either chat with their support team on their website, send them an email at contact@gain.gg, communicate with them via Discord, message them on Twitter or simply find the answers you are looking for in their Steam group.
Overall, the several options you can contact them makes up for the lack of information they provide on their website. So, I would say that they do provide decent support options.
Final Verdict
Gain.gg is a legit GPT site that does pay you for completing the offers they provide. It has some nice qualities that you would expect from a GPT site, but it does have some drawbacks as well.
Here's a summary of its pros and cons to help you decide whether you should join their site or not.

Pros:
Plenty of offers available on a regular basis
Their site is mobile-friendly
Low payout threshold

Cons:
Their site lacks some of the relevant information you should know as a member
Low rewards
You cannot start taking surveys right away
In terms of availability of offers, Gain.gg has that covered. There are plenty of offers you can do. However, it won't really be very rewarding since they don't pay you that well.
So, even though they have a low payout threshold, it can still take quite some time to earn a significant amount.
Overall, I can say that Gain.gg can be a decent secondary site to earn from. But don't expect too much from it. If you prefer to earn a decent amount, I suggest you check out the top GPT sites instead.
The sites on this list all have good earning potential and pay relatively well. They also offer convenient payment options like PayPal. Plus, you will surely find a site you can join regardless of where you live.
If you have any comments, questions, or have any experiences with Gain.gg yourself, I would love to hear from you in a comment below.