Wallace is a mobile app that claims you can earn free crypto just by using it. So, if you want to get free crypto, you might be tempted to download this app.
However, I suggest you read this Wallace app review first because it will reveal the truth of what it has to offer. That way, you'll know exactly what to expect from it before you even install it.
Then, you can make an educated decision on whether the Wallace app is truly worth using or not. So, let's go ahead and check out Wallace, shall we?
What is Wallace, and what does it offer?
At its core, Wallace is a crypto wallet app that will let you store and trade cryptocurrencies. It also allows you to earn free crypto from the earning opportunities it offers. And yes, it is really a legit app since you can earn free crypto from it.
However, this doesn't automatically mean that Wallace is worth using. To find out if you should use it, the first step is to understand how it works. And the best way to do that is to examine the earning opportunities it offers so you will have a clear idea of how much time and effort is needed to earn from it.
So, here's how to earn from Wallace.
Option 1 – Surveys
One way to earn from Wallace is by answering surveys. When you log in to the app, you will immediately see all the surveys you can answer. Most of the time, these surveys are designed to gather data about you.
The site says the app will gather your information anonymously, so there won't be any security concerns. Personally, I would say it's a relatively safe way to earn since you won't be providing any sensitive information like your bank account, social security number, etc.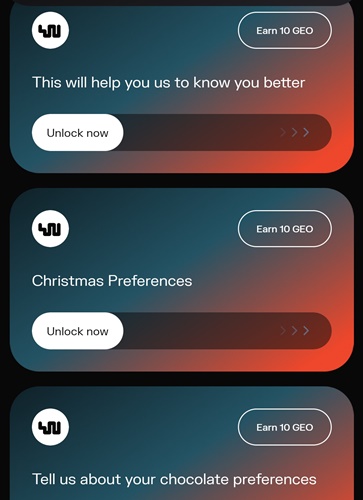 Another thing about the surveys from Wallace is that you don't have to qualify for them. When you see a survey, all you have to do is answer it, and you will earn the reward promised once you finish answering. The reward will be in the form of GEO tokens.
It's a very straightforward opportunity since you don't need to answer qualifying questions, unlike the surveys you encounter on most survey apps and sites. There's also a decent number of surveys available, and they typically only take a minute or so to complete.
Option 2 – Spin the Wheel
You can also earn GEO tokens from Wallace's Spin the Wheel game. Every 24 hours, you are given one free spin (refer to the photo below).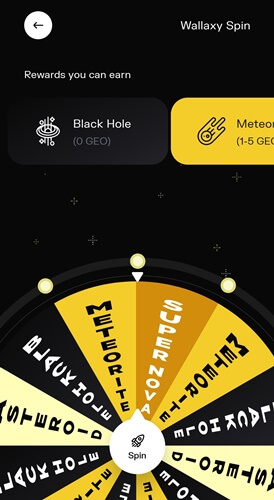 You can potentially win up to 10 GEO tokens from this opportunity. The reward isn't much, but considering that it only takes a few seconds of your time, I would say it's worth it. The timer will start after your first spin. You can just check back after 24 hours and spin the wheel again.
Option 3 – Referral Program
Lastly, you can also earn by inviting other people to use the app through its referral program. All you have to do is share your referral code with the person you want to invite, and when they sign up as a member of Wallace, they have to input your code.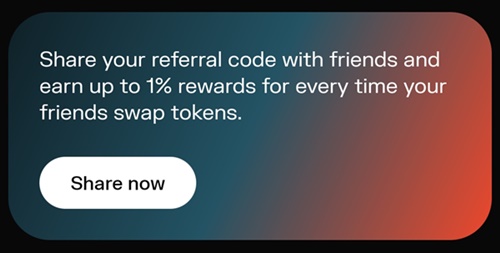 Once they do that, they will become your referral. As a reward, you will receive up to 1% commission every time your referral swaps cryptocurrencies inside the app (more on this later). Wallace's referral program has three levels, which means you will still earn from your referral's referral, and so on.
It's a decent way to earn GEO tokens passively, in my opinion, but you have to make sure that the people you invite are really interested in earning from Wallace. Otherwise, you won't earn anything from this opportunity.
Recommended: Check Out the Best Ways to Earn Free Bitcoin
How do you get paid?
As explained above, you will earn GEO tokens from the earning opportunities of Wallace. But what can you do with the GEO tokens you've earned?
Well, you can swap them for various cryptocurrencies. Then, you can transfer them to other crypto trading platforms so that you can convert them to cash if you want to.
As for how many GEO tokens you need to earn to swap to other cryptocurrencies, that will depend on the blockchain you will be using. Currently, Wallace supports Ethereum, Polygon, and BNB Chain. You need to make sure that the amount you will withdraw is significantly higher than the gas fee involved.
The rate of the gas fee will also depend on the blockchain you will be using. Overall, the payment system of Wallace is relatively straightforward if you are already used to dealing with crypto. But if you are new to the world of crypto, then I suggest you brush up on crypto trading first so that you will be familiar with the process.
If you are interested in more sites and apps that will let you earn free crypto, I suggest you check out the best sites to earn free Bitcoin and the best ways to earn free Ethereum.
How much money can you make?
Let me tell you right now that you won't earn a lot from Wallace because it offers very low rewards. It will take quite a long time before you accumulate enough GEO tokens to convert them to more stable cryptocurrencies like Bitcoin and Ethereum. 
Based on my testing, the most you can earn from a survey will be 10 GEO tokens. To put it into perspective, 1 GEO token is worth $0.001032 at the time of writing this review. You will literally have to earn thousands of GEO tokens just to earn $5, and that will take quite some time.
That is why I would say the earning potential of Wallace is very low, in my opinion. It's not surprising because the earning opportunities it offers require very little effort and time on your end. As a rule of online rewards apps and sites, if it doesn't take a lot of time and effort to earn, then you will also not earn a lot.
Can you use it on a desktop?
Wallace is a mobile-only platform, so you will need to use a mobile device if you are interested in earning from it. The app is available for both Android and iOS users, so compatibility won't be a problem.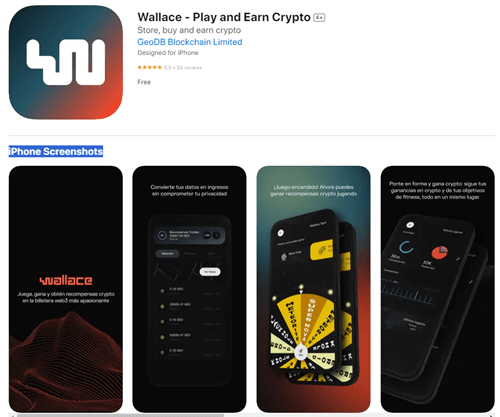 The app is also very easy to use, and the user interface is quite intuitive, in my opinion. Plus, you will not encounter any annoying pop-up ads while using it. The overall user experience it offers is generally pleasant, in my opinion.
Who can join Wallace?
The site isn't quite clear about which countries it is available in, but as far as I can tell, it is available worldwide. So, you should be able to sign up as a member regardless of where you live.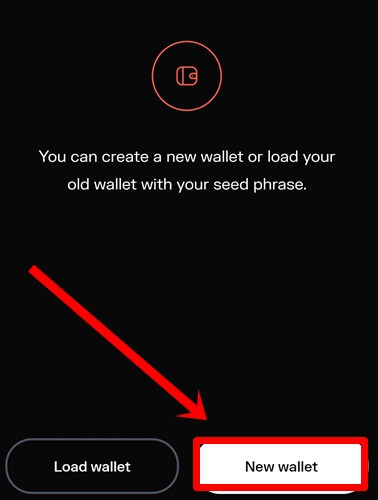 The sign-up process is also relatively simple. After you install the app, you just need to create a new wallet (refer to the photo above). After you've done that, you'll have to answer a few questions. Then, you can log in to the dashboard and start earning.
However, before you start earning, I recommend you set up a passphrase and PIN for your wallet to secure your account.
Can you get support?
If you have any questions about the app or your account, you can check out the FAQ section of the app. It discusses most of the important topics you need to know about Wallace.
But if you can't find the answers, you can just get in touch with the support team by emailing them at h[email protected]. You can also reach them at X or Telegram.
Overall, I would say the app provides decent support for its members since it offers a couple of ways for you to get assistance.
Final Verdict
Wallace is a legit app that will let you earn free crypto. It has a couple of decent features, but it also has certain limitations you need to consider.
Let me wrap up this review by summarizing its pros and cons to give you an overview of what it has to offer. Then, you can decide if you should go for it or not.

Pros:
Offers a simple way to earn
Available more or less worldwide
The app is user-friendly

Cons:
Limited earning opportunities
Low rewards
Wallace is not an app I recommend you use for the reason that it has low earning potential. It will take quite a long time for you to earn a significant amount from it. You are better off investing your time in sites or apps that have better earning potential.
If you are really intent on earning free crypto, I recommend you check out the best sites to earn free Bitcoin instead.
But if you want to earn extra cash, I suggest you check out the top survey and GPT sites in your country instead.
The sites on this list all have good earning potential, so you will be able to earn a decent amount in no time. Plus, most (if not all) of the sites and apps on this list offer cash rewards.
If you have any comments, questions, or experiences with Wallace, I would love to hear from you in a comment below.