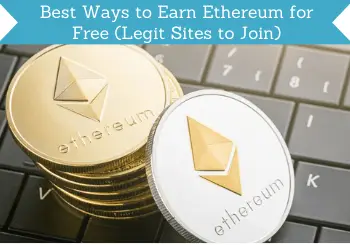 Ethereum has become one of the most popular cryptocurrencies today. And as you may already know, the value of Ethereum has skyrocketed since it was first developed.
If you are looking to get in on the action, there are a few sites you can join to earn Ethereum without mining it or investing money. All you need to invest a bit of your time and some effort.
This guide will show you the best ways to earn Ethereum for free.
It will show you online rewards sites and apps you can join that will pay you in Ethereum (they offer other payment options too).
But if you are looking to earn Bitcoin instead of Ethereum, I would recommend you check out the top sites you can join to earn Bitcoin for free.
Disclosure: Some articles on this website contain affiliate/sponsored links. Click for more info.
How to get paid in Ethereum?
If you are new to cryptocurrency and want to know how to earn Ethereum for free, then let me shortly explain to you how it works.
Ethereum is a decentralized, open-source blockchain with smart contract functionality platform. The resulting cryptocurrency from this platform is called Ether (ETH). So, technically speaking, you will be paid in Ether and not Ethereum.
As for how you will get paid, the online rewards sites that offer this as a payout method will ask you to participate in the earning opportunities they offer in return for a small compensation. The reward you will receive from these earning opportunities can then be converted to Ether when you reach the threshold required to do so.
To do that, you will need to use an Ethereum wallet. Think of this as your Ethereum bank account. It will allow you to check your balance, do transactions, and more. This is what will allow you to spend the Ethereum you earn.
So, before you sign up to any site that will allow you to earn Ether, I would suggest you create an Ethereum wallet first. There are plenty of Ethereum wallet providers online, so it shouldn't be hard to find one.
Now, when it's time to convert the rewards you've earned from online rewards sites, you just have to provide your Ethereum wallet address so the site will know where to send it. If you want to learn more about the ins and outs of Ethereum, I suggest you visit Ethereum.org.
Where can you get paid in Ethereum?
As mentioned earlier, you can earn Ether by joining online rewards sites, specifically GPT (Get-Paid-To) sites and apps. There are several sites and apps you can join that pay in Ether.
The question is, which ones should you join and how to earn Ethereum for free by using them?
Ideally, you will want to join a site or app that has good earning potential so you can earn a decent amount without investing a lot of time.
But let me be frank with you. There aren't a lot of great sites and apps that offer this mode of payment yet compared to Bitcoin. But the ones I will be including in this guide are decent and are also legit and free to join. You really just need to invest your time and a bit of effort.
And to maximize your earnings from these platforms, you have to take advantage of all the earning opportunities they offer. The reason for this is, GPT sites and apps offer multiple ways for you to earn. So, to earn the most, you should participate in all the earning opportunities these platforms offer.
Plus, I would recommend you join around 5 to 7 sites and apps to earn as much Ether as you possibly can.
10 best sites that pay in Ethereum
The sites and mobile apps on this list aren't the only sites that offer Ether as payment. Instead, these are the sites and apps I think are really worth joining since these sites offer decent earning potential.
I will keep updating this list so make sure to bookmark this page and check back from time to time for new opportunities.