Are you looking for a convenient way to earn extra cash? If yes, then one of the easiest ways is to use an app that will allow you to earn by completing short tasks anytime and anywhere.
However, there are plenty of apps that offer this kind of opportunity, so it's a bit confusing to figure out which ones are worth it and which ones are not. So, in this article, we will be talking about an app called Prediqt.
Prediqt claims they will pay you for doing fun activities in their app. Now, the question is, do they hold true to their claim? In other words, is this app legit or is it a scam?
This Prediqt app review will not only examine if the site is really legit or not, but it will also give you an inside look so you will know what to expect before you even install it on your mobile device. And after reading this review, you will be able to decide if you should use this app or not.
So, let's go ahead and take a closer look at Prediqt, shall we?
What is Prediqt and what does it offer?
Prediqt is a Get-Paid-To (GPT) app that will pay you for completing short tasks. It is indeed a legit app because it will really pay you for completing tasks.
But, that doesn't really tell us if this app is worth it or not. To figure this out, we first have to understand how it works. So, let's examine the earning opportunities it offers so you can get a clear picture of how to earn from this app.
Option 1 – Offerwalls
One way to earn from Prediqt is by working on their offerwalls. In case you don't know, offerwalls are in-app/site advertising platforms that are designed to promote specific websites or mobile apps through their offers (hence the name offerwall).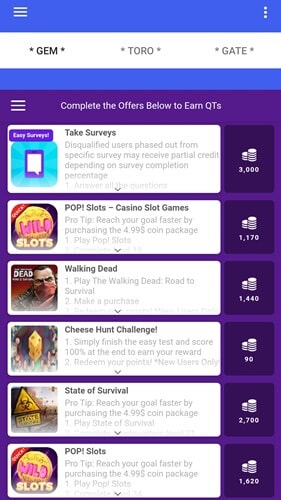 When you log in to the app, you will be able to access the offers by pressing the "Offer Wall" section. As you can see in the photo above, the app has three offerwalls available (at the time of writing this review). Simply choose which offerwall you want to work on.
You will then see all the paid offers you can do. These paid offers are basically just short tasks that will either ask you to answer a survey or puzzle, download a mobile app or game and use it, or sign up for certain websites.
Each offer will show you how much you will earn. If you want to work on an offer, just press it to see the full details. You will then see the instructions you need to follow to complete the offer. Make sure you follow the instructions provided down to the letter or else, you won't earn the reward promised.
Once you've completed everything the offer is asking you to do, you will then receive the reward promised and it will be credited to your Prediqt account balance (I will discuss later how you can withdraw your earnings).
Option 2 – Paid surveys
Another way to earn from Prediqt is by answering their paid surveys. Just go to their "Recommended Surveys" section to view all the available surveys you can answer.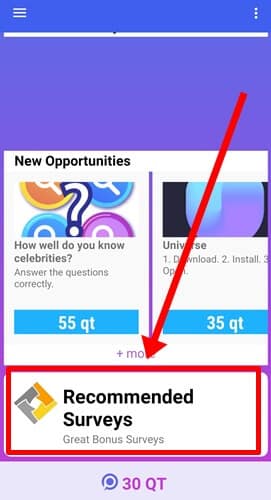 Just keep in mind that the availability of surveys will usually depend on your location. In my experience, people who live in the US, UK, and Canada receive more surveys than other parts of the world.
As for the surveys you will be answering, it will come from other survey providers and not really from Prediqt. So, they don't have control over how many surveys they can send your way. All the app does is it matches you with any survey from their partner survey providers.
The process of answering a survey is pretty much the same as other survey sites or apps. You will first have to go through a series of qualifying questions to determine if you are indeed suited for the survey. If you qualify, you get to answer the actual survey. If you don't, then you just have to move on to the next available survey if there are any.
Once you've completed the survey, you will receive the reward as promised. Sometimes though, the reward will not be credited to your account right away. This is because the survey provider is still in the process of reviewing your answers. It will eventually be credited to your account but there's really no exact information on how long it will take for the reward to be credited.
So, just make sure to take note of all the surveys you've answered in case there's an issue with the rewards you are supposed to receive. If that happens, then you will be able to contest it with Prediqt's support team (I will discuss later how you can contact their customer support).
Option 3 – Cashback offers
Prediqt offers a little bit of everything. It also has cashback offers you can avail of so you can earn back a small amount of what you've spent when you shop online.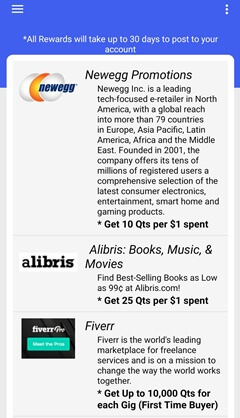 But, they don't really have as many cashback offers compared to apps that are specialized in cashback offers. So, don't expect to find a lot of cashback offers.
To avail of the cashback rewards from their offers, just make sure to shop by going through the Predict app first. To do this, just go to the cashback section of the app and look for the offer you want to avail of and press it. You will then be redirected to the online store.
Then, you just have to go through the normal check out process and complete the purchase. As long as you pressed the offer inside the app, Predict will be able to track your purchase and award you with the appropriate cashback reward.
But as you can see in the photo above, it usually takes up to 30 days for the reward to be credited to your Prediqt account. So, don't expect to receive the reward right away. It has to clear the "Refund Period" first before the store can send the reward to Prediqt.
Option 4 – Watching videos
You can also earn additional rewards by watching videos. These videos are actually just ads of other mobile apps. To start watching videos, just go to the "Watch Videos" section and press it. It will then load a video app.
Just watch the video ad until the close button appears on the upper right corner. Once that happens, you can close the video and proceed to the next video ad. Their videos aren't really that long (usually around 30 to 60 seconds long) but they aren't also very interesting.
For every video you watch, you will earn 1 QT (the currency the app uses), which is a very low reward, in my opinion. So, it's not exactly the best way to make use of your time.
Option 5 – Idle rewards
One unique way to earn from Prediqt is by doing their "Idle Rewards". Just press the "Idle Rewards" option and you will be led to the page with a timer (refer to the photo below).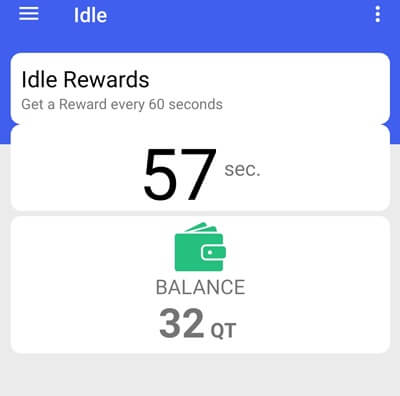 All you really have to do with this earning opportunity is to let the timer run. Every 60 seconds, you will earn 2 QTs. The timer will keep on running as long as your mobile device doesn't go to sleep. The best way to do this is to disable the power saving mode of your device so that it won't go to sleep or shut off the screen.
That way, the timer will continue running and you will keep earning 2 QTs every 60 seconds. It's an effortless way of earning but it does take a toll on your device since you have to keep it running all the time.
Unfortunately, they don't really explain why they offer this kind of earning opportunity. In my experience, GPT sites usually offer earning opportunities that they can also profit from. So, I'm not sure how they are able to make money out of this.
For that reason, this is an option I would be careful about using as you do not really know what it does.
Option 6 – Referral program
Lastly, you will also be able to earn more rewards by inviting other people to join the app. This is called a referral program.
To invite a person to join, just share your referral link with them. When they click the link and install the app, they will become your referral.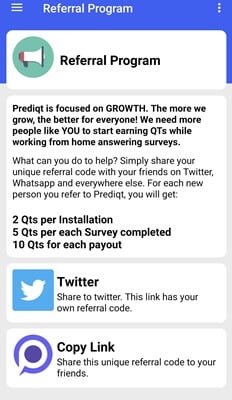 You will then receive 2 QTs once they've installed the app. You will also receive 5 QTs per survey your referral completes and if they request for a payout, you will receive 10 QTs.
While it does look like their referral program is quite generous, the rewards you will earn are actually very small. So, don't expect to earn a lot from this passive form of earning opportunity.
Recommended: Check Out the Top Survey Apps
How do you get paid?
As explained above, you will earn QTs for every earning opportunity you complete on Prediqt. This is the currency the app is using. You can then use it to redeem various rewards.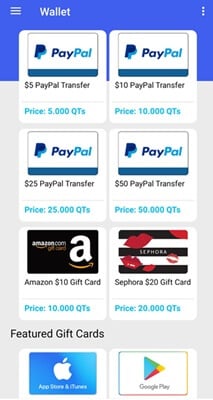 The number of QTs required to redeem a reward will depend on the actual reward you want to redeem. For example, if you want to earn cash, you can convert your QTs via PayPal. A $5 PayPal withdrawal will require 5,000 QTs.
You can also convert your QTs to cryptocurrencies like Bitcoin, Litecoin, or Ethereum. The cryptocurrency with the lowest payout threshold is Ethereum. You will only need 900 QTs to redeem $1 worth of Ethereum. For Litecoin, you can redeem $1 for 1,000 QTs. And for Bitcoin, the minimum amount is $5 (5,000 QTs).
You also have the option to redeem various gift cards instead. They have a decent number of gift cards available. The minimum amount of gift card you can redeem is $10 and that will be worth 10,000 QTs.
Overall, their payment system is relatively simple. I like the fact that they offer multiple payment methods and that their lowest payout threshold is $1.
If you are interested in more sites that have a low payout threshold, I suggest you check out the fastest paying sites.
How much money can you make?
Since the app offers plenty of ways for you to earn rewards, you won't really run out of ways to earn. As for the amount you will be able to earn, that will mostly depend on how much time you can invest on it.
Most of the paid offers on their offerwalls will pay you around 100 to 500 QTs which is equivalent to $0.1 to $0.50. These are the offers that don't really take up a lot of your time. While there are offers that reward thousands of QTs, these typically take longer to complete, hence the higher reward.
I would say the time-to-money ratio of the earning opportunities of Prediqt isn't bad, but it's not that good either. But I do like the fact that there are plenty of ways to earn.
That's why overall, I would say this app has a decent earning potential. You just have to invest a bit of time and some effort to earn a decent amount.
Can you use it on a desktop?
Unfortunately, Prediqt is a mobile-only platform. So, you will really need to use a mobile device to earn from it.
But as mentioned at the beginning of this review, it will allow you to earn anytime and anywhere. Whether that is a good thing or a bad thing will entirely be up to your preference.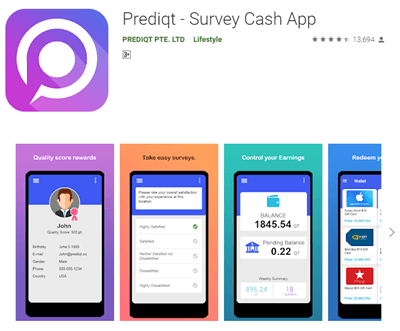 Take note though that their app is only available for Android users. So, if you are an iOS user, then this is not for you. As for their app, it is user-friendly enough, and apart from the video ads on their "Watch Videos" section, you won't really see any pop-up ads. So, that's a good thing because it isn't spammy.
Who can join Prediqt?
Prediqt is available globally. According to their terms of service, you just have to be at least 18 years of age to join their platform.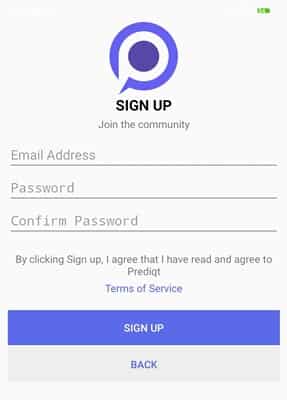 To register as a member, you just have to fill out their registration form. Once you've done that, you can log in to the app and start earning. You don't even have to confirm your registration like you normally do on other GPT sites and apps.
Can you get support?
One missing thing about Prediqt is, it doesn't have a support page inside the app or even on their website. So, if you have any questions about the app, you won't get any answers from their app or their site.
However, they do have a contact form on their website you can use so you can get in touch with their support team. But, overall, I would say they don't have a very good support system in place for their members since the only way for you to communicate with their support team is not easily accessible.
In my opinion, it would have been better if they also provided a way inside the app for you to get in touch with their customer support or at least a FAQ page you could refer to.
Final Verdict
Prediqt is a GPT app that will pay you for completing different tasks it offers. It has a lot of good features to offer but it also has some drawbacks you need to be aware of.
Now, let's wrap up this review with a summary of its pros and cons to give you an overview of what the app has to offer so you can decide if it is really worth using or not.

Pros:
Offers plenty of ways for you to earn rewards
Payment via PayPal is available
Available globally
Has a low payout threshold

Cons:
Some of their earning opportunities don't pay well
You can't communicate with their support team using their app
It is only compatible with Android devices
Overall, Prediqt is a decent GPT app, in my opinion. It offers plenty of ways for you to earn and it has several payment options you can choose from. It also has a low payout threshold so you can withdraw your earnings relatively quickly.
So, if you are looking for additional apps to earn from, this can be a decent secondary app to earn from. Just don't expect to earn a lot from it because some of their earning opportunities don't pay that well.
Now, if you are looking for a primary source of extra cash, I would instead recommend you check out the top survey and GPT sites in your country. The sites on this list all have good earning potential and pay relatively well too.
If you have any comments, questions, or have any experiences with the Prediqt app yourself, I would love to hear from you in a comment below.