HCD Surveys is a survey site that promises to pay you for sharing your opinion.
Before joining though, the first question you need to ask is, is HCD Surveys legit? Let me just answer that right away.
Yes, HCD Surveys is a legit survey site that does pay you for completing their surveys. But is it worth your time?
This HCD Surveys review will tell you everything you need to know so you can decide if this site is for you or not.
So let's get the ball rolling, shall we?
What is HCD Surveys and what does it offer?
HCD Surveys, as mentioned above, is a survey site that will reward you with cash for answering the surveys they offer.
It has been around for more than 10 years. HCD stands for Holistic Communications Decisions. Their company deals with marketing and communications research.
Honestly, their website looks like it has not been updated since it was first launched and looks quite old-fashioned.
But this does, of course, not mean it will not be worth using, so let's now talk about how you can earn money with this survey panel so you can see exactly what it offers and if it will be worth it.
Option 1 – Paid Surveys
The main method to earn from HCD Surveys is through paid surveys. After all, they are a survey site.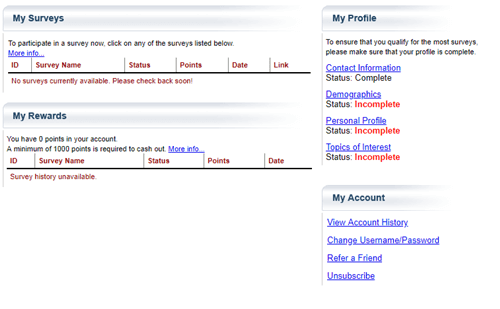 After you've finished the registration process, you will be able to log in to their member's dashboard.
You can find all the available surveys displayed on the dashboard.
Before you are offered any surveys though, you have to complete your profile.
As shown on the photo above, your profile will have 3 sections, the Demographics, Personal Profile and Topics of Interest section.
Clicking on one section will redirect you to a page with several questions.
You need to answer those questions truthfully because that will be HCD Surveys' basis for sending you surveys that you are qualified for.
It can be a bit tedious to have to fill out this profile since HCD does not pay you for this as some other sites do. But if you want access to the surveys, you need to fill out your profile.
HCD Surveys uses a points system. For every survey you complete, you will be awarded a certain number of points. You can then exchange those points into a specific amount when you decide to cash out.
Take note that you will not receive the reward if you did not complete the survey.
Normally, with survey sites, they have a screener system in place where you will have to answer a few questions in order for them to validate if you are indeed qualified for the survey or not.
After answering the screener questions, they will tell you if you qualified for the survey. If you did, then you can proceed with answering the survey.
If you don't qualify when taking a survey on HCD Surveys, they will still reward you with 10 points, which will be credited to your account.
Also, after taking the screening questions, they will also notify if the survey has reached the quota for answers. If it already did, they will reward you with 10 points, which will also be credited to your account immediately.
This is not a big reward, but it is still nice they give you at least a small reward in these cases, as it can otherwise be quite frustrating if you do not qualify.
However, overall HCD Surveys is not one of the survey sites that will offer a huge number of surveys.
Option 2 – Referral Program
HCD Surveys also runs a referral program where you supposedly can get paid to invite other people to join.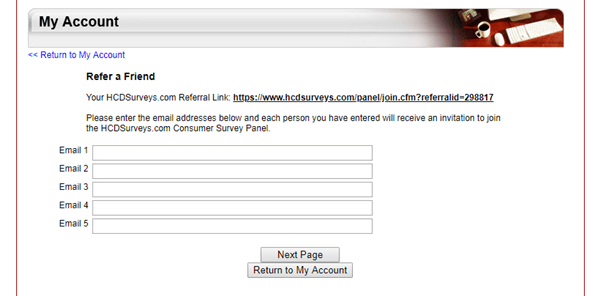 But, the problem is, I can't really find any information on their website about what you get for referring a friend to their website.
If you click the Refer a Friend link on the dashboard, you will only be redirected to a page where your referral link is displayed.
In my opinion, their referral program is a bit clunky. Take PrizeRebel for example. They really tell you what you get for referring a friend and are very transparent about this.
So as a member, you will naturally be more motivated to refer a friend because you'll be getting something out of it.
You could argue that you will get something for referring a friend to HCD Surveys since they made the referral program available for members.
But it would have been better if they made sure that the information about what you will get for referring a friend be readily available, in my opinion.
How do you get paid?
HCD Surveys has a quite simple reward system.

As shown in the photo above, there is only one way for you to get paid.
You can request for payment once you reach the minimum required number of points, which in this case is 1,000 points which are worth $10.
The payment will be sent to you via a check through postal mail, which means it will take 6 to 8 weeks before you actually receive it.
In my opinion, this mode of payment is actually a bit obsolete nowadays seeing as there are already a lot of more convenient payment methods like PayPal.
Plus, this type of payment mode can actually be exploited. Case and point is the warning on their home page.
Apparently, some third-party entities have been mailing fake checks that offer participation in surveys, secret shopper, mystery shopper, or investigative shopper opportunities.
This then will require that you submit personal information in order to win a cash prize. This is all they are after actually.
This could have been avoided if they opted to have a different payment method available for their members.
A check can be a fine method to receive payment, but there are sites that offer check as payment that is easier to use and has better options, in my opinion.
And it would also be nice to at least have the option to also get paid electronically as you can on most modern survey sites.
How much money can you make?
The potential income you can make out of survey sites like HCD Surveys will really depend on how often you receive paid survey offers as well as how high the rewards they offer for each survey completed.
Seeing as you need to reach a minimum of 1,000 points in order to request for payment, it will really take some time before you can hope to receive money from them.
That will be especially true if the survey invite frequency is low. I've also read some feedback about members receiving survey invites only once a month which is really a very low frequency.
Let's paint a picture here.
If for example, you will regularly receive a survey invite once a week and you are able to complete it and receive the reward. According to their website, on average, you will earn between 100 to 500 points per survey completed.
So if you were able to complete a survey with maximum rewards, it will take you two weeks to reach the payment threshold.
And to make it clearer for you how much you will earn, 100 points is actually equivalent to $1. So in the situation above, it took you two weeks to earn $10, which really isn't much.
And to be honest you will probably very rarely be offered the highest possible reward for a survey, so in most cases, you should expect it to take a lot longer to be able to cash out.
In my opinion, the potential income you get from HCD Surveys pales in comparison to the top survey sites in the US.
So combined with the low potential income and long waiting period for you to receive the money, you are actually better off joining a survey site that offers more rewards and faster and more convenient payouts, in my opinion.
Can you use it on mobile?
There is no mention on their website about an HCD Surveys app that you can download and install on your mobile device.
So you are left with one option if you want to use it on your mobile device. You have to use a mobile browser in order to access their website.
The bad news is, it seems like their website isn't optimized for mobile use. You will have to zoom-in in order to read the content clearly.
In my opinion, it just shows that their platform is really outdated. Most survey sites nowadays at least make sure that the mobile version of their site is optimized for mobile use.
So if you were hoping that you could just rely on your mobile device for answering surveys, you will really have quite an unpleasant time with HCD Surveys.
If you prefer taking a survey on mobile, you can instead check out the best-paid survey sites with apps that make it very easy to use on the go.
Who can join HCD Surveys?
During the registration process, it is clearly shown that HCD Surveys is only available in the US.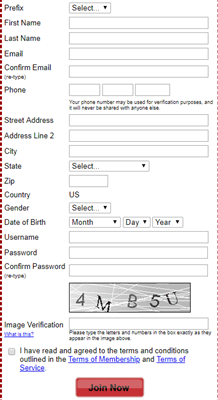 As you can see from the photo above, there is no option to change the country. So that means membership is only limited to residents of the United States.
And according to their terms of service, you have to be at least 18 years of age in order to sign up as a member. Also, only one member is allowed for each household, which is really the norm on most survey sites.
There is no information on their website about how often you need to be active on their site before they consider your account as inactive.
So, I presume that you do not need to be active within a specific span of time just to avoid having your membership status labeled as inactive.
Can you get support?
Apart from the FAQs section they provide, HCD Surveys also has a contact form you can use in case you have inquiries or experience any issues with your account.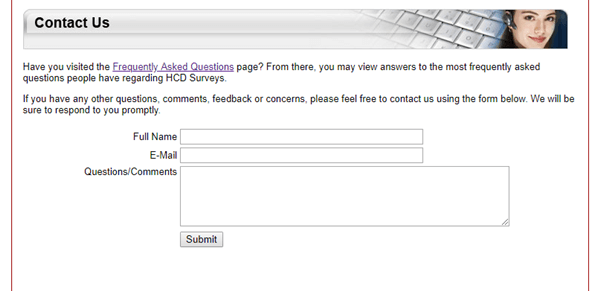 Their FAQs section in my opinion also doesn't cover a wide range of topics.
And seeing as there are plenty of information not provided on their website (i.e. referral program rewards), it would have been better if they also covered that in this section.
They also don't have any social media pages which are really evidence of their platform being outdated. When you look at other survey sites today, almost all of them have at least one social media page.
Why does this matter though? As you already know, people are quite active on social media sites. These sites can actually be used as a form of support for members.
The whole purpose of social media pages is to let you interact and engage with other people. So, you could argue that having a social media page allows you to be more in touch with your members because they can use it as an outlet to communicate with you.
Final Verdict
HCD Surveys is a legit survey site that does pay you for completing their surveys.
But that doesn't mean they are a good fit for you. Here's a summary of their pros and cons to help you decide whether this site is for you or not.

Pros:
Low payment threshold
Relatively high reward per survey

Cons:
Low survey invite frequency
Payment via check is the only available payment method
Has limited avenues for support
Site is not user-friendly
Overall, even though HCD Surveys does pay you for completing their surveys, the limited earning potential, lack of support avenues and limited payment methods makes it an option that is NOT really the best choice.
And considering it is limited to residents of the United States, people living in other regions really won't be able to take advantage of it.
I instead suggest you check out the top survey sites in your country no matter where you live.
You can find plenty of survey sites on that list that can provide better offers and better payment methods, which will allow you to earn a decent amount a lot faster than on HCD Surveys.
If you have any comments, questions, or have any experiences with HCD Surveys yourself, I would love to hear from you in a comment below.