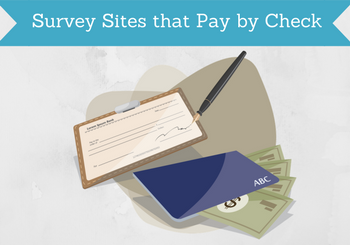 When getting paid for doing surveys, it is, of course, important how you can get the money paid out, and to select the sites that offer a method that fits your preferences.
By now, most survey sites and online reward portals pay through online methods or through gift cards.
There are, however, still some survey sites that pay by check, which can also be a great way to get paid. But if you like getting your money by check, it is difficult to find the legit sites that offer this.
I have, therefore, put together a list of the best survey sites that pay by check so you can easily find them and get access to them.
Disclosure: This article contains affiliate/sponsored links. Click for more info.
How does it work?
When you join a survey site or an online reward portal, you can earn by doing surveys, watch videos, do tasks, take online offers, and some sites have several other ways to earn as well.
The sites that offer several ways to earn instead of just paid surveys are known as GPT (get-paid-to) sites. It is a good idea to use some of the different earning methods some of the sites offer as it can really boost your earnings.
Once you have reached a certain payout threshold, you can request a payment. The payment threshold varies from site to site, but on the fastest paying survey sites, it is usually between $1-$10, but on some sites, it can also be a lot higher.
Sometimes you have to select your preferred payout method when you join, and other times you just wait to decide until you have reached the payment threshold and are ready to request the payment. On most sites, you can change your preferred payout method whenever you want to.
Advantages of getting paid by check for taking surveys
To choose check as a payment method for survey sites can have its advantages.
It is a very easy way to get paid, and it is as good as getting cash in your hand. That means you can use your reward for whatever you like and use it in shops, get it exchanged into cash or whatever you want.
The fees to get a check cashed are in some cases also less than using online payment portals, but this depends on your bank and the country you live in. So even though the world is becoming more and more virtual, checks can still be a great payment method and an easy way to get paid – at least for now.
Disadvantages of getting paid by check
The disadvantage of having check as your preferred payout method, when it comes to survey sites, is that fewer and fewer sites offer this option.
Just a few years ago a lot more offered this option. I am guessing that it is a lot easier for them to transfer rewards electronically, and they can avoid a lot of administration this way. So not very many sites still offer this option – but you can definitely still find some good sites that offer this as you will see on the list below.
Another disadvantage is that it can take a bit of time for you to get the reward. If you get paid electronically, you can sometimes have access to the money within a few hours. When you get paid through a check, you have to wait for the survey site to process the payment and actually send it by post to you.
Depending on where you live, it will not take too long, but it can in some cases take a bit of patience.
What about checks in a foreign currency?
On many survey sites, you get paid in USD. There are some sites that pay in your local currency depending on where in the world you live, and there are also survey sites that in general just pay in another currency.
But if you use a site that is paying in USD or any other currency, and you live in a country where you have a different currency, you have to be aware that the check will probably also be issued in the currency the survey sites use.
That can mean that there will be some extra fees involved in cashing the check, and often also fees for currency exchange. Exactly how much this will be, you have to check with your local bank, as it can vary a lot from country to country and bank to bank.
Also, in some countries, it is becoming increasingly difficult to exchange checks, as banks are using more and more electronic transfers.
In the country I live in, in Scandinavia, the banks for example no longer accept foreign checks at all. This is something to be aware of and make sure to check if you are using a survey site that is paying in a different currency.
Because of this and because of the convenience of getting paid electronically, I personally prefer survey sites that pay through PayPal. But in many cases checks can also still be great, depending on where you live and which survey sites you use.
7 Survey and GPT sites that pay by check
As mentioned already, there are not many survey sites and online reward portals that still pay by check. But of all the ones I have tested, I have found some that are still using check and that are actually worth it and pay out.
To get the most opportunities, it is a good idea to join several sites as they all offer different options and by using several of them, you get more earning opportunities.