Mindswarms is supposedly a site that offers to reward you for answering surveys.
But is Mindswarms a scam or really a legit way to get paid for your opinion?
Well, let me tell you right now that Mindswarms is definitely legit.
But there is a catch you need to know about so before you go to their site and register, I suggest you read this Mindswarms review because it will tell you all you need to know about their site and what you can expect from joining.
That way, you won't go in blind and get disappointed later.
So let's get to it now.
What is Mindswarms and what does it offer?
As you already know, Mindswarms is a survey site that promises to reward you for sharing your opinions.
But, there is something a bit more unique about Mindswarms compared to many other survey sites. When you take their surveys, normally, you would expect to just fill out a questionnaire with all your answers.
With Mindswarms, you actually have to answer the surveys through a video. That's what makes this survey site unique.
But how do you earn from Mindswarms?
Let's take a closer look at their earning opportunities.
I have made a short video that gives you an inside look and explains exactly how it works. You can also read all the details below the video:
Option 1 – Mindswarms surveys
As already mentioned above, Mindswarms offers paid surveys. In exchange for answering their surveys, you will be rewarded with cash.
The catch is though, you have to provide the answers to the survey through a video.
This is how it works. Once you log in to their website, you have to make sure you complete your profile (more on that later).
Once you've completed your profile, you will then have access to the member dashboard.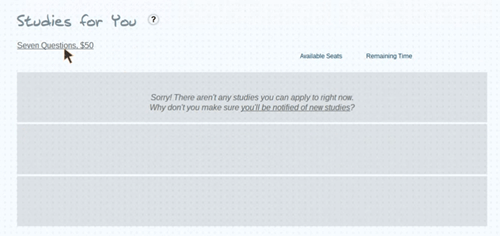 You will find all the available surveys once you are in the member dashboard area. There are two types of surveys that will be available to you.
The first one is the one-question type survey. This survey will, as you can probably guess, only ask one question.
The other type is the multiple-questions survey. This survey will actually have up to seven questions that you need to answer. Obviously, this type will yield a higher reward.
The good thing is, all the surveys that will appear in the available surveys are actually surveys that you are already qualified for. You simply have to apply to the survey you like.
During the application process, you will have to answer a few multiple-choice questions. Once you finish answering the questions, just submit it and a researcher will review your answers.
Typically, it takes 24 hours for the researcher to finish the review process and remember, you can only apply for a survey once. So it is not like many other survey sites where you can start taking the survey right away.
Once you get accepted for the review, you can begin answering the survey. Just be aware that you do NOT get paid for the application and the time you spend on this. You will only get paid if you end up getting chosen for the actual survey.
To answer the survey, you will need to record a video. So if you are working on a desktop or laptop, you will need to have a microphone and a webcam in order to record the video.
It becomes a lot easier though if you are answering the survey on your mobile device since it already has a built-in camera and microphone but most laptops also have that now so you will likely have a webcam and microphone already no matter your chosen device.
Plus, Mindswarms has an app you can download to make it easier for you to record videos (more on that later).
Typically, the surveys will ask you up to seven questions. You need to make sure you read the questions carefully before answering them while you are recording the video.
Most surveys will also ask you to talk about a specific product. So make sure you have that product at hand when you answer the survey.
Then, when you are done, all you have to do is wait for them to review your video answer. Once everything checks out, they will award you with the reward that was promised.
In one sense this can be a fun and different way to answer surveys. But it might also be a bit intimidating if you do not like to be on camera.
So if it is a good way to take surveys depends on your preferences.
Option 2 – Referral Program
The other way to earn rewards as a member of Mindswarms is to refer a friend to the website.
You simply invite a friend to become a member of Mindswarms and once they sign up, you will get a reward.
As to how much you will be getting, unfortunately, they don't have that information available on their website.
How do you get paid?
Before you sign up for Mindswarms, you need to make sure you have an active PayPal account. So if you don't have one, I suggest you sign up for PayPal first.
That's because all payments will be made via PayPal.
Mindswarms is quite unique because it doesn't use any points or type of currency for their rewards.
They simply pay you the amount that you are owed for successfully answering the survey.
According to their FAQs section, their system will automatically pay you 24 hours after you post your answers to the survey.
The payment will be directly reflected in your PayPal account. It won't pass to your account anymore.
If you don't receive the payment by then, you can contact them so they can take a look at what happened to the payment.
In my opinion, this is actually one of the better payment systems that I have encountered. It saves you the trouble of having to redeem the rewards you accumulate.
This straightforward approach of their reward system is most suited for people who are basically looking to earn extra income.
How much money can you make?
As mentioned above, there are two kinds of surveys that Mindswarms offer, the one-question type and the multiple-questions type.
The one-question type will allow you to earn $10 after completing it, while the multiple-questions survey will reward you with $50.
It's actually a pretty high reward considering that it is only one survey.
The question now is, how often do you get these surveys?
Well, although the surveys yield high rewards, the frequency of the invites is quite low.
So if your eyes brightened up when you read the $50 reward, don't get your hopes up just yet.
Plus, there is also the question of being accepted to take the survey. Remember, you do have to apply for the survey first before you can actually take it. And you do not get paid for that part.
Most members say that the acceptance rate for a survey is actually quite low.
Although that's the case, once you get accepted, the reward you get will actually be quite worth it compared to other survey sites in general.
Just don't expect to earn a constant amount every month. Plus, you actually have to be patient and don't get discouraged if you get denied for a survey.
So overall even though the earning potential for one survey is quite high, the overall earning potential on the site is not impressive.
Can you use it on mobile?
Mindswarms is actually one of the survey sites that are better when done on a mobile device.
That's because it will require you to record a video in order to answer surveys and your mobile device can easily do that for you without you having to invest in a better webcam or microphone.
Mindswarms realizes that. That's why they also made an app that you can download and install on your mobile device.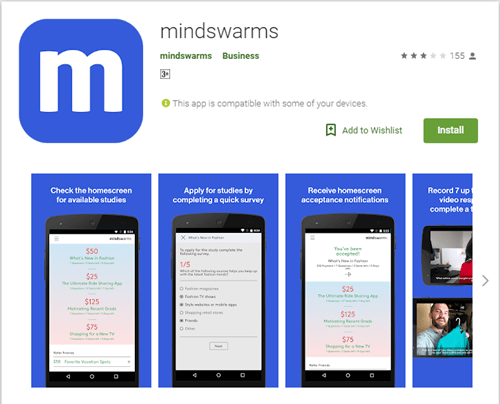 Their mobile app is available for download on both Android and iOS devices.
Just download it to your mobile device and grant permission to record videos once it is installed.
Once you log in to the app, you can then start applying for surveys.
The app is also pretty simple to use, which makes it a very user-friendly platform.
Who can join Mindswarms?
What's great about Mindswarms is that it is open to members all over the world.
If you are 18 years of age, you can become a member. If you are below 18, but above 13 years of age, you can actually get your parent's or guardian's permission to join the site.
Take note that the guardian has to be at least 18 years of age in order to agree to the terms of use.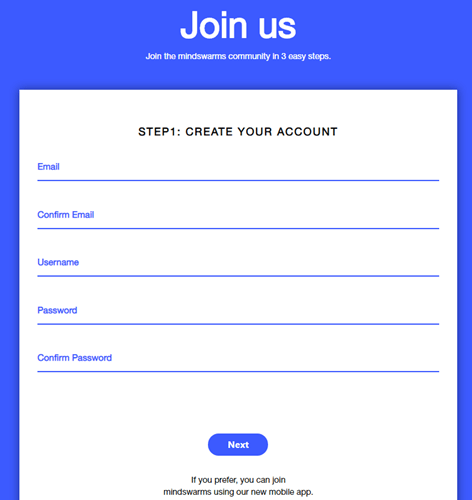 Signing up is very easy too. You just fill out the form (shown on the photo above) and complete the details on the next page. Once you've done that, you are already a certified member of Mindswarms.
Take note that you do have to complete your profile before you can start receiving the survey invites.
Your profile will be done via a video as well. Now, this is important. You have to make sure that you include pertinent information when doing your profile video.
This will help in making sure that you qualify for the most surveys possible.
Also, in order to work on Mindswarms, they require that you have an internet connection on your desktop, laptop or mobile device that is capable of sustaining at the very least, a 384 kb/s connection.
You will be, after all, sending videos, which will require a fast internet connection.
As for other technical requirements, if you are working on a desktop or laptop, of course, you will need a webcam and a microphone. A webcam that has a built-in microphone also works.
You also have to use a modern web browser like Chrome 60+ or Firefox 52+. Plus, the latest version of Adobe Flash Player software.
Can you get support?
In terms of support, Mindswarms actually has a decent support system in place.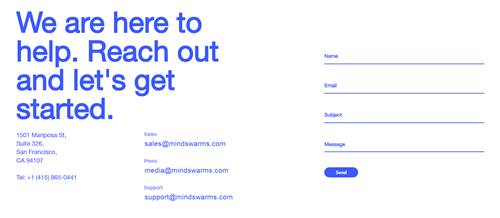 If you need to contact them, you can use the contact form (photo above) they've provided on their contact page.
And as you can see, they've also provided their mailing address in case you want to mail them.
You can also use the phone number provided on the page if you badly need to talk to them.
A quick look at their Facebook page shows that they haven't been posting a lot lately. But, you can message them for inquiries. They typically reply within a day, which in my opinion, is a decent response rate.
So overall, Mindswarms has provided a decent amount of mode of communication in case you ever encounter any issues.
Final Verdict
Mindswarms is definitely a legit survey site that rewards you with real money for sharing your opinions.
The catch is, you have to provide video answers for the surveys that they offer and it is not as easy to earn as it first sounds like.
But let's finish this review by summing up the pros and cons so you can get a better overview before deciding if it is for you or not.

Pros:
Open to members globally
High rewards for each survey
No payment threshold is required
Payment is done via PayPal

Cons:
Low survey invite frequency
Requires you to apply for a survey first
The acceptance rate for surveys is low
As you can see, Mindswarms is a global platform that offers a very convenient payment method (PayPal).
The reward for each survey is quite high. In fact, it is one of the highest in all the survey sites I've encountered. Plus, it is available globally.
The only problem is, the survey invite frequency is quite low and you do actually have to be screened first before you can take the survey.
This significantly decreases the possible income you will earn. But overall though, it is a decent survey site to earn extra income. You just have to be patient.
If you are looking for survey sites though that have a more stable earning method, I recommend you check out the top survey sites in your country.
There are plenty of sites listed that will allow you to earn a more stable income.
If you have any comments, questions, or have any experiences with Mindswarms yourself, I would love to hear from you in a comment below.