Nicequest is a survey site that supposedly offers you rewards for your opinions.
But is Nicequest a scam or legit and one of the good survey options?
Let me just reveal right away that it definitely is a legit website. But to get right down to business, in my opinion, this site might not be worth your time and effort.
This Nicequest review will explore all the ins and outs of the platform so you can see for yourself and make an informed decision on whether you want to pursue this kind of endeavor.
What is Nicequest?
To put it simply, Nicequest, as mentioned above, is a survey site that will reward you for taking surveys.
The rewards you will get are in the form of a currency they call Korus.
You can exchange those Korus for gifts, vouchers, credits and sweepstakes entries. But more about the reward options later.
It is a company that has been around since 2005, so it has existed for quite a while. And as already revealed, it is a legit site.
This does, however, not necessarily mean it is a good option for you.
The most important thing to find out if it is a site for you is to look at the earning opportunities.
Speaking of earning opportunities, actually, the more appropriate term is reward opportunities since you won't really earn any real money with this site.
But there are a couple of ways you can accumulate rewards for Nicequest. Here's how.
Option 1 – Nicequest surveys
Nicequest is primarily a survey site, so naturally, it will offer you paid surveys.
You will normally get 1 to 3 surveys a month. Here is where the problem lies.
For a site that doesn't reward real money to you, you could at least expect to receive more surveys so that you can rack up your Korus and exchange them for more rewards.
1 to 3 surveys a month simply won't cut it even if they reward you for surveys that you've already answered but don't qualify for (which they do).
It is a very nice touch that they actually give you rewards for surveys you do not qualify for as not many survey sites do this.
But that alone is just not enough to make it one of the top survey sites, as 1-3 surveys in very little. This can, however, vary depending on your profile so you might get more surveys at times.
As an extra site, it might still be worth it as it is quite user-friendly, but you should definitely also join other sites if you want to have any chances of getting regular rewards from taking surveys.
Option 2 – Premium Respondent Program (Nicestats)
The information for this reward opportunity was actually hard to find. I had to scour the internet and their help page just to learn about it.
The Premium Respondent Program is another way for you to earn rewards on Nicequest. But this one involves installing the app Nicestats to your computer or mobile device.
Upon installation, you will immediately receive some bonus Korus as a reward.
When you take a survey using their app, you will be rewarded with additional shells compared to when you just take it on your computer.
Nicestats will actually collect your browsing data and use it to do statistical and group analysis.
As to why they do that, I can only surmise that they will also use that information (aside from market research of course) to determine which surveys to send to you.
There are other panels that use this method of gathering data for research purposes like, for example, Nielsen Computer and Mobile Panel and also a panel like Smart Panel does this.
So it is not an unusual way for companies to gather data about internet behavior and use this to improve services and products.
Whether you then feel comfortable about this, I will leave up to you to decide.
The limited ways you can earn rewards is actually one of the most glaring problems of Nicequest, in my opinion.
There are plenty of other survey sites that offer more and better rewards.
If you want to take a look at how Nicequest itself describes how it works, here's a short official video from them showing it:
How do you get paid?
If you are looking to earn real money with Nicequest, then you are barking at the wrong tree.
Nicequest doesn't reward you with real money for taking their surveys. As mentioned above, you can only receive gifts, vouchers, credits and sweepstakes entries.
You can exchange the currency in their site (which is called Korus) for merchandise, vouchers and sweepstakes entries.
The sweepstakes usually consist of prizes like mobile phones, tablets, and more Korus.
And many survey sites, sweepstakes prizes are big enough for you to want to join just in case you win. But if all you get is a mobile phone or more Korus, that doesn't really hold up to other sites who also do that kind of thing – especially because you have to use your earnings to participate.
There are other websites that have sweepstakes that award $100,000 to the winner. Now, that is a better prize.
Although some could argue that a smartphone is a more realistic prize than say a hundred grand, it still isn't enough to justify the time and effort you invest, in my opinion.
Personally, I prefer not spending my earnings on survey sites for chances to win but want to know for sure I get rewards for the time spent so, therefore, using the Korus for prize draw entries is not really a great option, in my opinion.
The Korus you accumulate can also be converted into donations. There are a few non-government organizations that Nicequest supports.
You can choose which one to donate to if you are feeling generous
Overall, getting products can be almost as good as cash if you can find products you like. Personally, I, however, prefer sites that offer PayPal as a payout method as well so I at least have the choice to get paid in cash.
That is, of course, a matter of personal preferences, but you just need to be aware that if you are looking to earn cash, then Nicequest is not the panel for you.
How much money can you make?
As already established, you won't earn real money with Nicequest. You can only receive gifts from them.
The only positive thing I can say about this site is that they do have an extensive list of merchandise you can exchange your Korus for.

When you exchange your Korus for the reward you choose, they will ship it to you free-of-charge. That's the other positive thing going for them.
The only thing you have to worry about now is accumulating the number of Korus to exchange for the reward you want.
This is where the problem lies. Their payout system isn't as fixed as it could be and as they are on many other survey sites.
In some surveys, you can earn 20 Korus, while in others you can earn a lot less. The problem is, you can't really find much info about their reward system.
It would have been better if they explained it a bit more on their website. It would have been a more attractive way to persuade you to become a member.
But one thing Is for sure – it can take some patience to earn enough to get any proper rewards.
At least, the Korus you earn do not expire so if you decide to join, you do not have to worry about losing your earnings if it takes you a while to save for your favorite gift.
Just be aware that gifts in their catalog change all the time so there is no guarantee the same gift will keep being available.
If you really want to earn a bit of cash and do it a bit faster, you are better off joining one of the top paying survey sites, in my opinion.
Can you use it on mobile?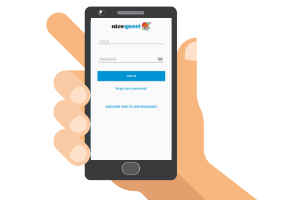 What makes it more unique than most other survey sites is that it has a mobile app that you can download from Google Playstore or the App Store.
So, it actually has two ways for you to use it on mobile.
First, you can log in to their website using a mobile web browser.
The developer of their mobile site did something right because, in my opinion, their website looks better when viewed in a mobile web browser.
That's because it doesn't look as empty as it does on a regular web browser. That is actually pretty unique.
Most mobile versions of survey sites don't actually look as good as the desktop version, so this is a plus on their end.
The other way to use Nicequest on mobile is to download and install the Nicequest app which can be an easy way to earn on the go if you prefer this.
Who can join Nicequest?
When you first visit their website, a pop-up window will ask you to choose a country. This is an indication of the available countries that Nicequest can cater to.
All in all, there are 27 available countries you can choose from. If you reside in any of those, you should be able to qualify.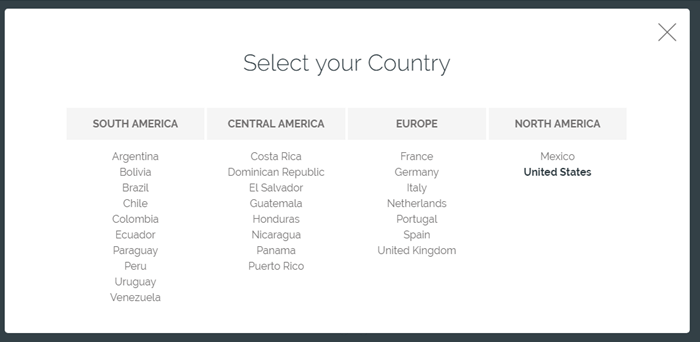 But that isn't really the problem. The most glaring issue is that it is an invite-only survey site.
The reason why I call it a problem is because it can be very troublesome to become a member and there is not much information about how they decide who can join and who cannot.
All they say is that you have to sign up for their waiting list and then will send out invites to people that have the right profiles for their current or future projects.
And sometimes they also have contests on Facebook where current members can do certain tasks and if they are "lucky" they can then get an invitation and are allowed to invite one of their friends to join.
This is how special Nicequest tries to make their community – in a sense, it is clever as people like getting access to exclusive communities. But on the other hand, it becomes a bit annoying with all these demands to get access to a survey site, in my opinion.
There are hundreds of great survey sites so if there is too much hassle just when joining, then why not use one of the many others that will just let you join right away instead?
Can you get support?
A quick look at their website shows that they do have a contact form, albeit it is a bit hard to find.
You have to go to the help page and click the contact us link just to get to the contact form.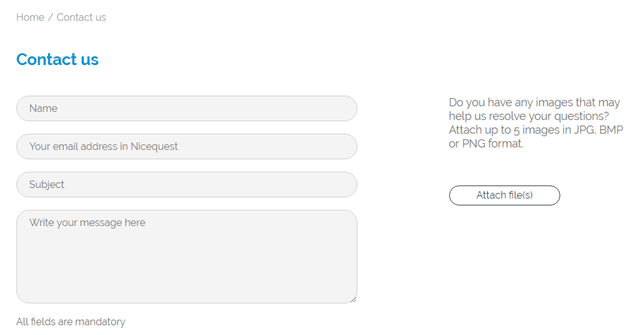 I also looked around their social media sites and it looks like they are quite active. They post regularly, which is a good sign. Just be aware that many of their posts on their social media account are in Spanish.
One thing I noticed though is that they do engage with their commenters, although sparingly and only when needed.
That shows that they are at least concerned with the issues that their members face. The replies they do also don't seem generic and are always in relation to resolving the issue at hand.
That is a good sign. At least they got that part right.
They do also have a good FAQ section on the website which means you might just be able to find the information you need there instead of having to contact their support.
Final Verdict
Nicequest is a legit survey site that offers you a good way to receive gifts or vouchers, but it doesn't allow you to earn real money.
The glaring problem that this site has is that it is pretty hard to become a member since it is an invite-only website.
To compound the problem, once you become a member, there aren't really a lot of reward opportunities available for you.
To make it easier for you to decide whether you want to pursue becoming a member of Nicequest, let's finish this review by summing up its pros and cons.

Pros:
Available in both desktop and mobile devices
Rewards you get will be shipped to you free of charge
Has an extensive list of rewards
Has a good support structure

Cons:
Limited reward opportunities
Invite-only survey site
No real money opportunities
Overall, Nicequest is a legit site that is a good way to get products or vouchers as a gift. But it doesn't offer real money opportunities.
The downside is, it is really hard to become a member and once you become a member, you won't be able to start racking up the points to exchange for rewards.
The reason is, there are only limited ways to acquire their currency for redeeming rewards.
In my opinion, it would be a waste of time to pursue becoming a member because there are plenty of other sites that reward better and where you do not have to chase around for an invite.
You are better off joining other survey sites that pay better and faster.
If you have any comments, questions, or have any experiences with Nicequest yourself, I would love to hear from you in a comment below.