One Day Rewards claims you can start making money from home today.
But is One Day Rewards a scam, or can is it really a legit opportunity to earn money online?
I have joined this Get-Paid-To (GPT) and survey site myself to test it, and in this One Day Rewards review, I will show you exactly what you can expect from joining.
Let me reveal right away that it has both good and bad sides, so let's look into what it has to offer, so you can see, if it is for you or not.
What is One Day Rewards and what does the site offer?
OneDayRewards.com is a GPT and survey site that started in 2016, so it is fairly new. Despite this, the design, however, looks like the site has existed for many moor years:-)
However, looks are not everything when it comes to survey and GPT sites. unfortunately, the design of One Day Rewards makes it quite confusing to use and it is difficult to find out exactly what it offers. So, in the beginning, it will probably take you a bit of time to figure out how to use it.
I will therefore below go over what you can find there, so you can easily see what ways it offers you to earn money, so you can see, if it will be worth your time or not.
Option 1 – Paid surveys:
One Day Rewards offers paid surveys like most other GPT sites. I personally think this is a great way to make some extra cash while having your opinion heard.
The surveys are luckily easy to find on One Day Rewards, as you can find them through the main menu.
All the surveys you can take there are through third-party providers, which means you will click the survey and will then be taken to an external site to take the survey. But you will then get the reward into your One Day Rewards account.
That it uses third-party providers means that it has a good amount of surveys available, as it offers surveys from several providers, even though it can take some patience to find the ones you qualify for.
However, you will also be able to take many of the surveys on other survey sites that have cooperation with the same survey providers. The rewards on One Day Rewards are in many cases lower than they are on the top paying survey sites that offer the exact some surveys in some cases.
So you might get more value for your time if you take the surveys on other sites instead. But one thing that is great about One Day Rewards is that it only offers legit surveys that will actually pay you. So it is not a scam, and you can make some extra money by taking the surveys here.
Option 2 – Click advertisements:
One Day rewards also has a section, where you can get paid to click ads – also called PTC. This section can be a bit more difficult to find, as it is not in the main menu. You have to click "main" in the menu, and you will then see an overview of different options, where you click on "paid to click".
It is a very easy way to earn, as all you have to do is to click an ad and watch it for 10 seconds, BUT it will also give a very small reward.
PTC, in general, gives very small rewards, and that is also why I only rarely click them. On One Day Rewards, you will get around $0.001 per ad you click, so you can see it takes quite a lot of clicks to make any real money. And you cannot even find very many ads here.
So, in my opinion, this is not a way you should try to earn money on One Day Rewards, as it will simply not be worth your time.
Option 3 – Offer walls:
One Day Rewards has quite a big section with paid offers on offer walls.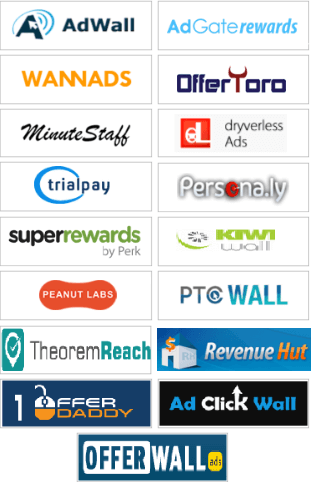 You can find this section through the main menu. As you can see in the image above, you can find quite a lot of offer walls here.
Each of the offer walls on the image above will give you different offers. It can, for example, be to take free trials, sign up for newsletters, download an app, buy a certain service, etc.
Sometimes you can find some really good offers with great rewards on the offer walls. Just make sure to always read the conditions carefully, so you know what you are saying yes to.
Again, the thing is however that you can find many of these offers on other similar sites like for example ySense. On the other sites, you will often get higher rewards for the same offers.
Option 4 – Free contests:
You can find a couple of free contests, you will automatically participate in if you are active on One Day Rewards. You can find these the same place as where you find the PTC section (see the image from the previous section).
There are two different kinds of contests. One is an offer contest, where there is a top 8 list of the people that have earned the most on paid offers in a 2-week period. The top 8 gets an extra reward.
The first prize is $20. It is, of course, a nice extra reward, if you win, but you have to be quite active to get a prize.
The second contest you can find there is a contest of people who have invited the most other people to join the platform. Here you can win up to $15, if you know enough people you can invite.
Just be aware that these contests are not always running – in fact, I have seen long periods where they do not have them so it is not something you can always count on.
Option 5 – Watch videos:
Getting paid to watch small videos might sound like a great way to make money, and One Day Rewards offers this way of earning as well.
It has quite a lot of videos you can watch within different topics.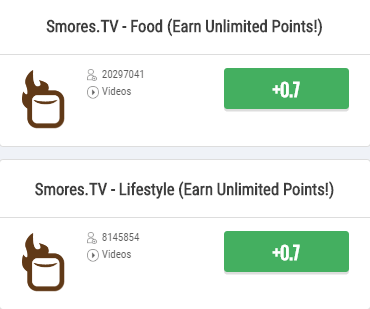 On the image above you can see it says "earn unlimited points". This, of course, sounds good, but it is really not as exciting as it sounds.
You can in theory watch as many videos, as you want to. But you have to watch 3 videos + ads to get credited. You will then get 0.7 points for every 3 videos + ads you see and can do this as much as you want.
This reward is however very small, as the points are not worth much, as I will explain in the getting paid section. So you would have to spend a lot of time watching the ads to make any real money. So, in my opinion, this option is only really worth using, if you want to watch the videos anyways.
Option 6 – Jackpot contest:
The jackpot contest is a daily contest, where you have to use your points as a chance to get the jackpot. So it is not free to participate in.
It only costs a few points to join, but the rewards are also very small, and you can only win around $1. So not really a great option, but now you know it is there.
I have created a video tutorial that gives you an inside look of One Day Rewards, so you can see for yourself how it works and what it offers. Below the video you can find more details and recommendations:
One Day Rewards memberships levels
Above you can see all the ways you can earn on One Day Rewards, but there is a way, where you can get more benefits. This is if you upgrade your membership.
You start as a free member but can then upgrade to bronze, silver, gold, platinum, or diamond.
unfortunately, it costs money to upgrade to the higher memberships and get more benefits. It costs $5 to upgrade to bronze, $10 to silver, $15 to gold, $20 to platinum, and $25 to diamond.
Each level will give you more benefits. Below you can see what you will get with the highest membership.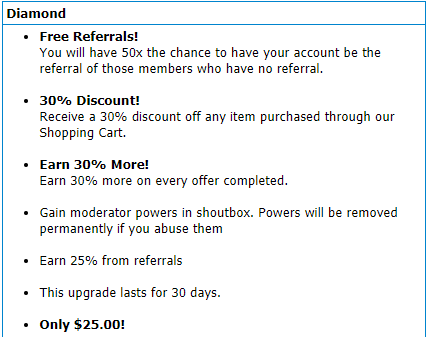 So what you will get is in general more discounts, if you buy anything through One Day Rewards, higher rewards on offers, and higher commissions for referring friends to the platform.
Be aware that the upgrades only last for 30 days. This makes it quite expensive in my opinion, and you have to be very active to make the investment back. I, in general, do not like when survey sites and GPT sites charge a fee for upgrades.
I do not mind different membership levels, and a site like PrizeRebel, for example, uses it in a great way. Here you can move to the next membership level and get more benefits simply by being active on the platform, but you do not have to buy upgrades.
So, in my opinion, it is not worth upgrading your membership on One Day Rewards unless you are very active and refer a lot of people. Even if that is the case, there will be sites where you get more value for your time.
How do you get paid?
Even though you can probably hear from the review so far that I am not too excited about One Day Rewards, I think its reward options are great.
You get paid in cash or points when you take surveys, offers, etc. on the site. These can then be exchanged into a number of options depending on your preferences. 1 point is equivalent to $0.01.
You can, for example, get Amazon gift cards, cash through PayPal or Skrill, and Bitcoin. What I really like is that you can get paid already when you have earned $1 if you want Amazon gift cards, and you will usually get your reward within hours after you have requested it.
When it comes to PayPal or Skrill, you can get your earnings out already when you have earned $0.10 and for Bitcoin the payout threshold is $0.50.
In my opinion, this low payout threshold and fast payout is the biggest advantage of One Day Rewards.
How much money can you make on One Day Rewards?
So One Day Rewards has some great payout methods, and you can get paid quickly.
However, this does not mean you will be able to make a lot of money on the site. As I have already explained previously in this review, there are many sites that offer higher rewards for the exact some surveys and offers.
It is definitely possible to make some extra cash on One Day Rewards, but mostly if you are willing to upgrade your membership, and if you invite a lot of people to join. It will, however, in my opinion, take too much effort to even just cover the cost of the upgrade.
And remember that survey and GPT sites are in general not a way to make a full-time income, and that also goes for One Day Rewards, even if you upgrade your membership and are very active.
Can you use it on mobile?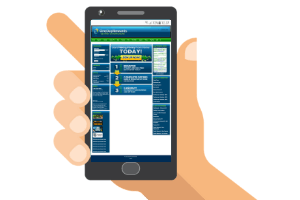 I prefer when a survey site can be used on mobile devices, as it is a great way to be able to take surveys and offers whenever it fits into your schedule.
One Day Rewards is not very user-friendly and is difficult to navigate on a desktop. And it becomes even worse on a mobile phone.
The website is not mobile-optimized, which means you will have to scroll in and out constantly to find out where you need to go and to be able to find the surveys and offers.
If you like taking surveys and offers on your phone, One Day Rewards is definitely not a good option for this.
Who can join?
A great thing about One Day Rewards is that you can join no matter where you live. So all countries are welcome.
Just be aware that you are not allowed to use VPN to take surveys or join the site trying to hide your location, and you will be banned if you try to do this.
No matter where you live, there are however sites with more and better paying opportunities in my experience. You can see a list of these by clicking the link at the end of this review.
Can you get support?
If you decide to join One Day Rewards and should have any problems with your account, payout, etc., you can submit a support ticket on the website and get help.
It just says they will get back to you asap, but not how long it will take. I have not needed to contact the support myself (since I have decided the site is not worth my time), so I cannot say for sure how long it will take to get an answer.
But it is always good to know it is a possibility to get support.
Final verdict – legit or scam?
One Day Rewards has both good and bad sides, so even though it is legit and you can earn as a member, it is not necessarily the best choice.
So let's finish this review by summing up the pros and cons, so you can get a better overview before deciding if you should join or not.

Pros:
Free to join
Available in all countries
Has great payout methods

Cons:
Not very high rewards compared to similar sites
Charges fee for upgrades
Difficult to navigate
Not mobile optimized
One Day Rewards is not a scam, as you can actually get paid to take surveys, offers, and more here, and all the surveys and offers I have seen there are legit.
This does however not mean it is worth your time. In my experience, it pays less for the same surveys and offers than other similar sites, and it is one of the least user-friendly sites I have tested.
You can make some extra money here, but in general, there are sites that are easier to use and with more/better opportunities. You can, for example, check out the list of the best survey and GPT sites in your country below.
==Click to See the Best Sites in Your Country<==
If you have any comments, questions, or have any experiences with One Day Rewards yourself, I would love to hear from you in a comment below.