Product Report Card supposedly offers you an opportunity to earn cash rewards simply by sharing your opinion about products.
But is Product Report Card a scam or really a legit way to earn?
I have tested hundreds of ways to earn online, and I decided to find out if it can really live up to what it claims or not.
In this Product Report Card review, you will get an inside look and learn all the details, so you know exactly what to expect.
But let me just say right off the bat that Product Report Card is not a scam. It is a legit site that allows its members to earn some cash.
But as to whether or not this platform is worth the time and effort, I will let you decide after getting all the details in this review.
So let's get on with it.
Disclosure: Some articles on this website contain affiliate/sponsored links. Click for more info.
What is Product Report Card and what does it offer?
Product Report Card is a market research company that rewards members for sharing their opinions through a survey or research panel.
At first glance, you won't really know exactly what it offers since it doesn't have an about page. It is, however, possible to see that it is a company located in the USA.
Other than that, all you can see are snippets of what it offers, but not many details about it.
So it can be a bit confusing to get an exact idea of what you might get out of joining. Therefore, I decided to take a deeper look to see if it would be worth it or not.
I have created a video that will give you an inside look so you can see exactly what it offers. You can also see all the details below the video in writing if you prefer that:
Recommended: Check Out the Top Survey Sites in Your Country
Option 1 – Paid Surveys
The paid surveys are where you most frequently will find a way to earn rewards on Product Report Card.
To start getting surveys to earn, you have to complete your profile. This is where it starts to get a bit tiresome.
That's because you need to fill out your profile to get started.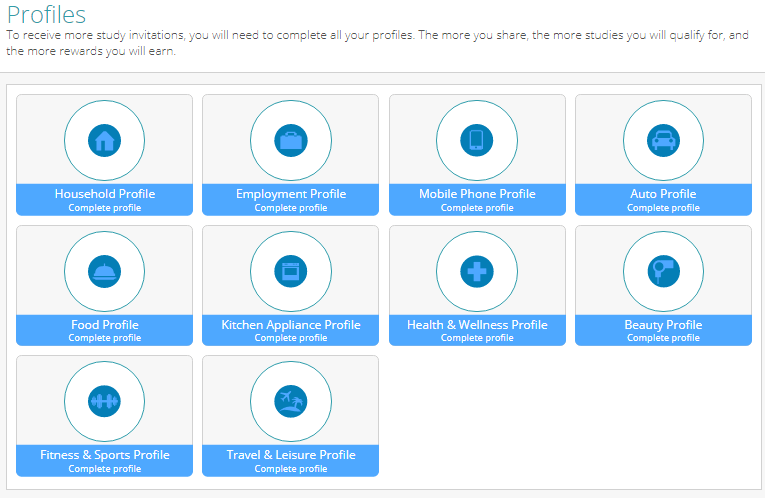 Filling out your profile is important on any paid survey sites, as that is a way for them to send the right surveys to you. But with Product Report Card, setting up your profile takes some patience compared to many other survey panels.
You have to complete this process because the frequency of the surveys that will be sent to you will rely on the information that you've provided in your profile.
But on Product Report Card there a lot of profile questions, and you do not get rewards for taking the profile surveys as you do on some other survey sites.
Keep in mind, though, that the surveys they, in general, provide tend to be quite long.
So aside from it having a very long setup process, the mode of earning, in my opinion, is also very quite long compared to other survey sites.
However, you also at times, get the chance to earn more than what you can on most other survey sites, but more about the full earning potential later.
Also, the surveys you find on Product Report Card are often surveys you cannot find on other survey sites, which is great.
Option 2 – Product Reviews
Another way to earn rewards on Product Report Card is through product reviews.
This is an option I have not seen like this on other survey sites, so at first, it seemed quite interesting.
To start reviewing products, you again have to complete your profile. Once you've done that, you can qualify for the product reviews.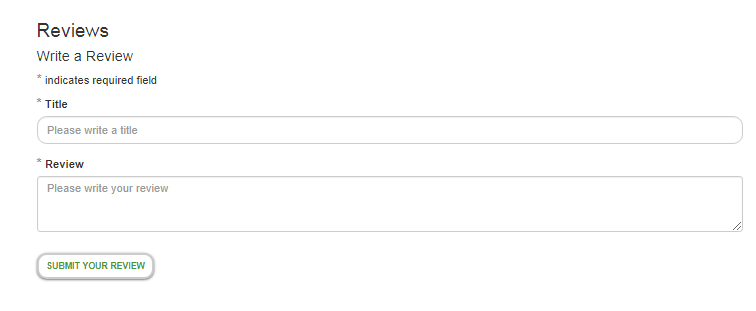 When I checked their website again for info regarding how the rewards work for product reviews, I couldn't find any.
In general, that is a bit of an issue of Product Report, in my opinion – that it is not easy to find information about how the different options work, and it is not very easy to navigate compared to many other sites.
I had to scour the internet for some info about the rewards you get from doing product reviews.
The general consensus is that you will get around $0.5 per review. In my opinion, that's pretty decent since you don't really have to spend a lot of time doing the review.
Option 3 – Product tests
As a member of Product Report Card, you can also get access to participate in product tests.
This means that if you qualify, you can get products for free to test them and share your opinion about them.
Sometimes you will get the product as a payment, and other times you might get paid in addition to getting the product.
This can be a great way to get free stuff, in my opinion.
Product Report Card says it on average has 32 free product tests available per month. That is a decent amount compared to many other product test websites.
Just be aware that you will not qualify for all of them.
Option 4 – Studies
Studies are a way for you to share your opinion in interviews. Often this has to take place at a certain time, so it does not have as much flexibility as the paid surveys.
However, the studies pay quite well, and sometimes you can earn hundreds of dollars for just one study.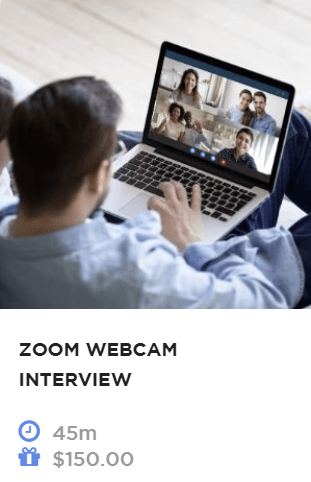 Of course, it will then also take some time and effort, but this is definitely one of the highest paying options on Product Report Card, so worth keeping an eye out for if you decide to join after reading this review.
Option 5 – Product Research
Another method of earning rewards is by doing product research.
This part allows you to earn rewards simply by researching any product listed in their system.
You can then input the price of the product, the location where you can buy them, and other relevant information.
Essentially, you are helping people make an informed decision about the product and where to find the best deal for it.
An interesting feature, but again, there is not much info on the site about what you will get for this, and it is not that easy to just get started.
So even though it is an interesting idea, the overall lack of usability of the site and the options is not something I am impressed with.
Recommended: See the Best Paid Survey Sites in Your Country
How do you get paid?
This is the golden question. How do you get paid for your efforts?
For Product Report Card, to earn rewards, you either have to qualify for their paid surveys or product reviews.
To qualify for the paid surveys and product reviews, you must fill out your profile. Remember that the more details you input, the better the chance you get more surveys.
Each review or survey that you finish and are qualified for will earn you rewards in the form of a dollar amount.
You will see the total rewards you get as well as the pending ones when you access your reward redemption page.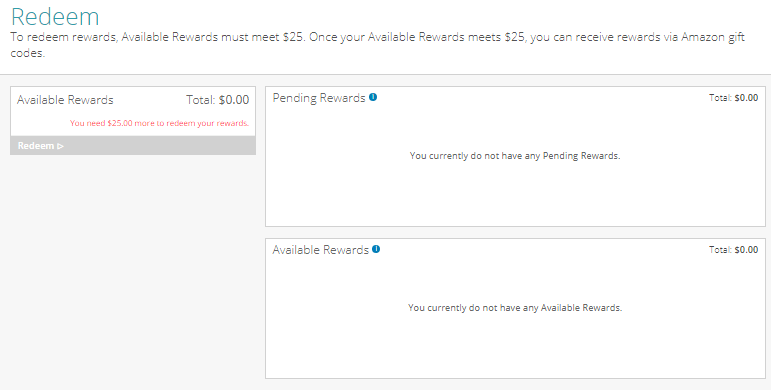 Remember that you have to reach the minimum threshold of $25 before you can start redeeming your rewards.
It is a little bit of a high payout threshold compared to the fastest paying survey sites, where some of them offer to pay you already when you have earned $1. But $25 is still an acceptable threshold, in my opinion.
Now, this is the important part.
How you can get paid depends on the earning method you have used. In general, what you will earn will be added to your account balance. This can then be withdrawn as an Amazon gift card code.
You will usually receive it within 3 days after having requested a payout.
But some studies, product tests, interviews, and shop-a-long studies that pay a higher amount will pay you via a Visa gift card or check.
Product Report Card supposedly offers to reward you with real cash or gift cards.
So overall, the payout options are decent, and you can definitely find some rewards that are useful.
How much money can you make?
As you probably already know, the minimum amount you need to accumulate before you can start redeeming rewards is $25.
That will be your starting income. But as to how much money you can make with Product Report Card, well, that would depend on how active you are on the platform.
As for the paid surveys, the good thing is, that they are transparent in terms of how much you will earn for a specific survey that you take.
Before you start a survey, you will be informed of how much you will get from it. That's a good way to prioritize which surveys to take so you can earn efficiently.
The biggest earning opportunity is if you qualify for some of the available studies. They are usually not easy to qualify for, but if you do qualify, you can earn between $100-$500 per study, which is definitely a great rate, in my opinion.
Also, be aware that once you get paid for a survey, you will have to reach the payout threshold within one year. If you do not withdraw within one year, you will lose the earnings for that survey.
So remember to take your earnings out when you reach the threshold – just leaving the earnings in your Product Report Card account can mean that you will end up losing them.
Recommended: Click to See the Best Survey Sites in Your Country
Can you use it on mobile?
Product Report Card has an app you can use to easily get access to its earning opportunities from your phone.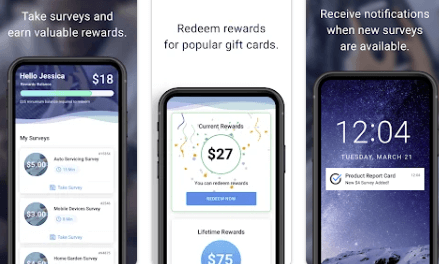 This was not available when I first tested the platform a few years ago, but great to see they have now developed this, and it makes it a lot more convenient to earn.
You can download the app for both iOS and Android devices.
Who can join Product Report Card?
The good thing about Product Report Card is that it allows residents from 17 countries to join. But they don't block others from joining the site.
You do have to keep in mind that they have to mail the check to your address if you get paid via check. If you live in a different country, that might become an issue because the company is located in the USA.
One good thing about signing up for Product Report Card is that there aren't any fees involved. It is all free.
You do have to input your complete address because as mentioned above, they will need it if they need to mail you the check for your rewards.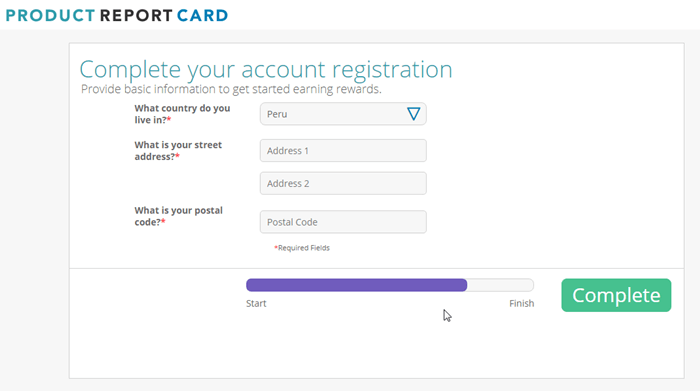 The registration process is quite easy, but as I've mentioned above, the work involved to start earning, isn't really in the sign-up process. It's in the profile completion.
So keep that in mind before you join.
Can you get support?
When you check the Contact Us page of their website, you will have three options on how to contact them.
One, you can fill up the form on the page. Second, you can email their support email, which is [email protected].
Lastly, their postal address is also displayed on that page. So if you want to go the postal mail route, you can use that address.
A quick check of their Facebook page shows that they do not use it very often.
You also won't be able to message them in case you were thinking of contacting them via Facebook.
I also dug a little deeper and checked their TrustPilot page. What I like is that if there is a complaint, Product Report Card actually replies to that complaint publicly and tries to find a solution – this is always a good sign, in my experience.
Final Verdict
Product Report Card is a legit site. They reward their members for the opinion they share. But that does not mean it is a good option for all.
To give you a full overview, let's finish this review by summing up the pros and cons, so you can better decide if this site is for your or not.

Pros:
Free to sign up
You can earn real money
Low disqualification rate on surveys
Some studies give very big rewards

Cons:
The sign-up process takes some patience
Payments usually take fairly long to arrive
No PayPal option
All in all, Product Report Card can be a way to earn a bit of income.
The payout options could be more flexible but that is just something you have to accept if you want to join.
It is especially interesting to participate in the paid studies, as they usually give very high rewards. But you just need to be aware that they can be hard to qualify for.
Overall, it can be a decent way to earn some extra money for free, but I suggest you also check out the best survey sites in your country to get access to even more options.
How to join?
If you want to join Product Report Card, you can just click the button below and you will be taken to the sign-up page.
If you have any comments, questions, or have any experiences with Product Report Card yourself, I would love to hear from you in a comment below.