When you first come to InstaCashSecret.com, it can look very promising and as an easy way to make good money online.
But is InstaCashSecret a scam or is it really a legit way to earn?
I have tested hundreds of survey sites, and I spotted some things that concerned me right away when I came to the website.
This does not mean it cannot be the right option for you but it is very possible it does not offer what you might think.
Therefore, this InstaCashSecret will give you all the details they do not reveal on the website itself so you can see exactly what to expect and judge for yourself if it will really be worth your time.
What is InstaCashSecret and what does it offer?
When I first came to InstaCashSecret.com, it looked very familiar as it looks very much like My Digital Survey.
There is not a lot of information about the platform. There is no info about who is behind the website and there is not even an FAQ page so you can get answers if you have any questions.
All you can see is that InstaCashSecret (also called ICS) is the #1 place for top paid surveys.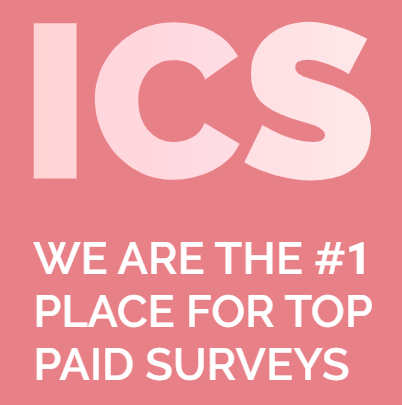 From this, you might think you can sign up and then get access to a lot of paid surveys inside the members area.
But if you look deeper into what they write on the website, it quickly becomes clear that this is not really what you can expect.
They say their goal is to match you with the most exclusive offers and highest paid market research opportunities.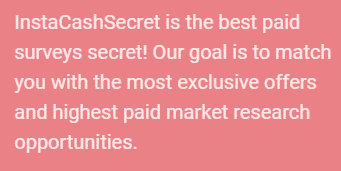 If you have not joined a lot of survey sites before, it might not be clear what this actually means.
Usually, when a site writes that it will match you with offers, it means that you cannot really earn on the site itself but that they will just present promotional offers to you.
That is also the case for InstaCashSecret – so you can actually not earn on the site itself even though you might think so when first coming to the website.
Joining a site that just gives you other offers can be fine if you then get some useful information to make your decisions and if you know the survey offers they will present will be worth it.
However, that is not really the case for InstaCashSecret, in my opinion. But do not just take my word for it – let's look deeper into what happens when you join so you can see and judge for yourself.
What happens when you join?
If you cannot really earn on InstaCashSecret what do you then sign up for?
Well, if you do not have a lot of experience with this kind of sites that can be tricky to spot at first.
Because after you have signed up, you get to a page that says that you are taking a qualifying survey.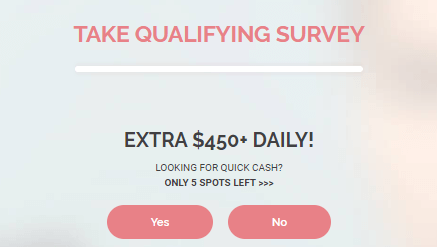 You just have to say yes or no. You might think you will get paid for this because before joining they do claim you can make up to $100 for your first survey.
But you will NOT get paid for this survey. In fact, it is not even a survey.
It is just promotional offers InstaCashSecret gets paid to promote to you. The offers might look very appealing at first. The question you can see in the image above, for example, claims you can earn $450+ extra daily and there are only 5 spots left.
If you answer yes, you will just be redirected to an offer they get paid to promote.
And let me just make it clear right away – any offer that claims that you can just easily make $450 per day and try to push you to sign up by saying there are limited spots is an offer to be VERY careful about, in my experience.
You will get 5-10 of these types of questions in the qualifying "survey".
So the so-called survey after you join is basically just promotional offers and, in my opinion, many of the offers are really not worth it and some of them do not even have anything to do with surveys.
After you finish the "survey", you will just be redirected to one final promotional offer away from InstaCashSecret's website.
That is all you get – you do not get to any members area or anything like that. You just get some promotional offers that they pretend is a survey. And then you have signed up for their email list as well so they can send further promotional offers to you.
As you can see from this, I am really not impressed by what you get out of joining InstaCashSecret. But there is more you need to know before deciding if you should sign up or not.
Red flags you NEED to know
When I tested InstaCashSecret, I spotted some red flags that worried me and I want to share these with you so you can also take them into consideration before deciding to join or not.
So let's go over these one-by-one below.
Red flag #1 – The terms you agree to
It is very easy to sign up for InstaCashSecret – you just have to give your name and email
However, before filling out the joining form on the website pay attention to what it says in small letters below the sign-up form.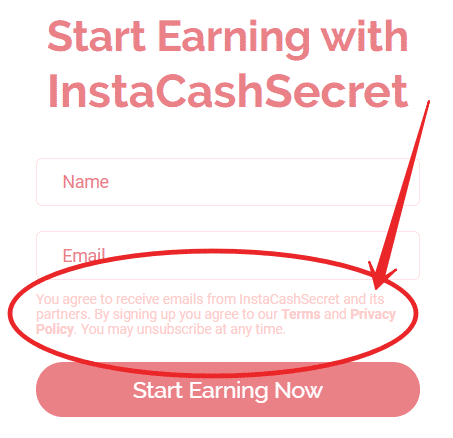 Here it says that you agree to receive emails from InstaCashSecret and its partners.
When signing up you will naturally expect to receive emails from InstaCashSecret. But what worried me is that they write you will also start receiving emails from their partners.
They do not mention who these partners are or how many there are.
So you have no idea how many they will share your info with so they can also start sending you promotional offers.
For me, this is definitely a deal-breaker that they say you will also start receiving emails from their partners but they do not even make it clear who these partners are.
When I see something like this, I definitely do not want to share my email address.
Red flag #2 – You do not know who is behind
I already mentioned earlier that there is not much information on the InstaCashSecret website.
This is a big red flag, in my opinion.
You have no idea who is behind the website and there is no contact information.
Usually, if it is a site worth joining, you will be able to see some background information about the company, get access to an FAQ section, or at least easily be able to find a way to contact them.
None of this is available on InstaCashSecret which is another big issue with the platform, in my opinion.
Red flag #3 – Exaggerated earning claims
Several places on the website of InstaCashSecret, you can see that you can earn up to $100 for your first survey.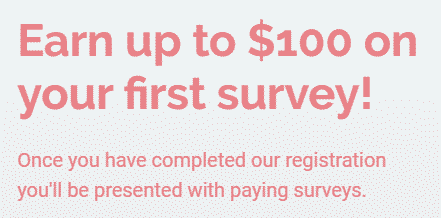 It even says that once you have completed the registration you'll be presented with paying surveys.
Clearly this will make you think that you can earn really good money just by taking the first survey.
But as I already have shown earlier in this review, you will NOT get any paid surveys after joining. And none of the offers you will get in the sign-up process will give you $100 just for taking a survey.
In general, you will usually not get this much for taking any survey. There are a few high-paying surveys that you can find online like, for example, on Respondent that can give you that much for a survey.
But then it is very specialized and long surveys.
So this is NOT the average you can earn on surveys and it is, in my opinion, clearly an exaggerated claim to make you believe you can make that much more or less right after joining InstaCashSecret – but that is NOT the case.
I really dislike tricks like this as it can be hard to spot for beginners and this gives people the wrong expectations about paid surveys.
Any company that makes claims like this and then just gives you promotional offers is definitely one I would recommend staying away from.
Red flag #4 – There are no surveys
Finally, I just want to make it completely clear that there are NO surveys you can take on InstaCashSecret.com.
In my opinion, they indicate on the website that you can start earning by taking surveys but that is just not what the site really offers.
I do not have a problem with a site offering promotional offers but they should be honest about this and only provide high-quality offers, in my opinion.
So you need to be aware exactly what you get before joining as it is not very clear on their website – personally, I do not want to support or join a website that is not more transparent about what it offers.
Who can join?
If you still want to sign up for InstaCashSecret and test it for yourself, at least it is free to join.
However, even though you cannot really see much on the website about who can join, it is not everybody that can join.

In their terms, I found out that it is only if you live in the US you can join. I am assuming that is because they only have promotional offers for the US.
However, there are so many legit and great survey sites in the US that it really does not make sense to join InstaCashSecret, in my opinion, even if you live in the US.
And if you do not live in the US, you will honestly not miss out on a lot by not joining InstaCashSecret, in my opinion.
Final verdict
As you can see in this review, I do not think InstaCashSecret is very clear about what it offers.
But let's finish by summing up the pros and cons so you can get a full overview before deciding if you should join or not.

Pros:

Cons:
It does not offer surveys
You will start receiving offers from their partners as well
All you get is access to some promotional offers
There are exaggerated earning claims on the website
I honestly do not have any pros I can think of when it comes to InstaCashSecret.
It is fine that a website has promotional offers but, in my opinion, they should be transparent about this and not make it look like you, for example, can take a $100 survey right away when that is NOT the case.
In addition to this, I think many of the offers InstaCashSecret presents are poor.
For these reasons, I do NOT recommend InstaCashSecret at all. There are so many great paid survey sites where you can actually earn on the sites themselves that are a better use of time.
You can, for example, check out a list of the best survey sites in your country here. All the sites on this list are transparent about what they offer and you can actually earn by taking surveys there.
If you have any comments, questions, or have any experiences with InstaCashSecret yourself, I would love to hear from you in a comment below.