VuPoint Research is a survey site that promises to reward you for taking their surveys.
When you search for good survey sites, this is one of the sites you will encounter. But is VuPoint Research a scam or one of the legit survey sites?
This is the most logical question you can ask when you are interested in becoming a member of a survey site. So, let me just answer that question right away.
No, VuPoint Research is not a scam. It is definitely a legit site.
But being a legit site isn't the only criteria you need to consider when looking for a good survey site. You have to consider if the site also has good earning potential.
This VuPoint Research review will tell you everything you need to know about this survey site, so you'll know what to expect when you become a member.
That way, you can make an informed decision on whether or not joining their panel is a good use of your time.
So let's begin with the review.
What is VuPoint Research and what does it offer?
VuPoint Research is mainly a market research company that provides valuable data to its clients by asking their members to answer surveys.
This company is based in Portland, Oregon but has two other offices located in New Mexico and San Francisco.
Its earning opportunity is structured a bit different though from most of the survey sites you encounter today.
To give you a clear picture, let's take a closer look at how you can earn from this survey site.
I feel that this is the best way for you to get the information you need so you can decide if this site is really for you or not.
The earning opportunity – Research participation
All of the methods of how you can earn from VuPoint Research is done through some form of research participation.

In order to earn from their website, you have to join a research activity. These research activities can be done either in-person, by phone or online.
In-person interviews are conducted in any of their offices. So, don't expect to get an invite if you don't live in an area where their offices are located.
There's not a lot of information on their website about this, but in my experience, you will usually get an invite either by email or by phone call if you qualify for an in-person interview.
Normally, this type of opportunity doesn't come quite often, and as I've said, this will only be possible if you live in the same area as their offices.
It's just not practical to join an in-person interview if you live far from their office. The reward you will get will not even cover the expenses for your travel.
So, if you don't live in Portland, New Mexico, or San Francisco, then don't expect to get this type of offer.
A better alternative is an over-the-phone interview. This opportunity is a much more common research activity in my experience. Logistically speaking, this is the fastest way for them to gather data and it covers a lot more ground.
Another more convenient method is through online focus groups. They also provide opportunities like this for members of their panel.
From time to time, they will hold focus groups that will discuss a certain product or service. After completing the discussion, they will then reward you for your participation.
Based on feedback from members, there are also online surveys being conducted from time to time. But the problem is, some of these surveys won't reward you with anything.
They do mention this on their website that some opportunities are uncompensated. So you have to be careful which ones you accept.
One thing you need to remember with VuPoint Research is they don't have a member's dashboard. So expect to receive an invitation for these research activities via email or phone.
Speaking of information on their website; the main problem really here is, not a lot of information is displayed regarding what the offers are.
In my opinion, this is just poor website planning. They don't even get into specifics about what you can get if you participate in any of their research activities.
So, looking into the potential of becoming a member, you won't really be enticed to join their panel because you don't really get a clear picture of what you get out of their earning opportunities (which I will talk about next).
How do you get paid?
As stated above, the VuPoint Research panel really doesn't mention a lot about what you can get when you participate in their research activities.

You get the feeling they are not always paying you for participating in their research activities as they mention they usually compensate participants. But that is all they tell you before you join.
But, in my experience, sites like this usually pay via check. I can say that because their site really doesn't have a member dashboard where you can typically view your account balance.
Normally, with survey sites, you will be able to log in to their website and view the total rewards you've accumulated either via points or the actual amount. But since VuPoint Research doesn't do it this way, this leads me to believe they send your compensation via postal mail.
I checked feedback from other members and this confirms my conclusion. VuPoint Research does pay you via check or some sort of product or merchandise.
And since they don't really have a member's dashboard to store the reward information you've accumulated, you can expect you will get the reward as soon as you complete the research activity.
This is the one good thing about their system. You don't have to reach a specific threshold in order to redeem your reward.
Just don't expect to receive it right away, because remember, they will be sending it via postal mail.
If you are interested in survey sites that will allow you to quickly receive your rewards, I suggest you check out the top survey sites that pay via PayPal instead.
How much money can you make?
Typically, the amount of money you can make from a survey site will depend on the number of invites to participate, the actual number of surveys or research activities you complete, and the amount you will receive as a reward per survey/activity.
The problem though is, again, their website really doesn't talk about the compensation you will get for the said activities. So, it's really quite hard to quantify the amount you will get.
But, based on my experience, in-person interviews typically reward more. So, if you happen to receive a lot of invites for it, then you can expect to earn quite a significant amount.
Phone interviews and online activities typically reward almost the same. But, this will usually depend on how long it takes to complete the said activity.
Normally, the longer it takes to complete an activity, the higher the reward you will get.
That being said, seeing as the in-person interview is really only available to people who live in the same area as their offices, don't expect to earn a lot if you don't live in those same areas.
For survey sites that will allow you to earn on a consistent basis regardless of where you live, I recommend you check out the top survey sites in your country.
Can you use it on mobile?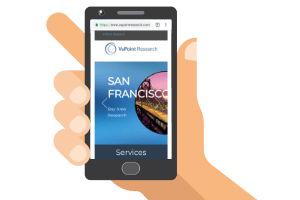 Being able to access a survey site on a mobile device will allow you to be a much more efficient earner. That's because you get to answer surveys or join online activities even if you are not sitting in front of a computer.
In VuPoint Research's case, there really isn't a lot of opportunities apart from the online surveys you get from time to time.
There is also no mention on their website about a mobile app you can download to your mobile device so you can work on offers or activities on your mobile device. However, you will be able to access their website using a mobile web browser.
The good thing is, the mobile version of their site is optimized for mobile use. You will be able to view all the content without having to scroll left and right or zoom in and out.
So, if ever you receive an invitation for an online survey, you will be able to use your mobile device to answer those surveys.
Who can join VuPoint Research?
There isn't any specific information about who can join VuPoint Research (which seems to be the main problem of this site).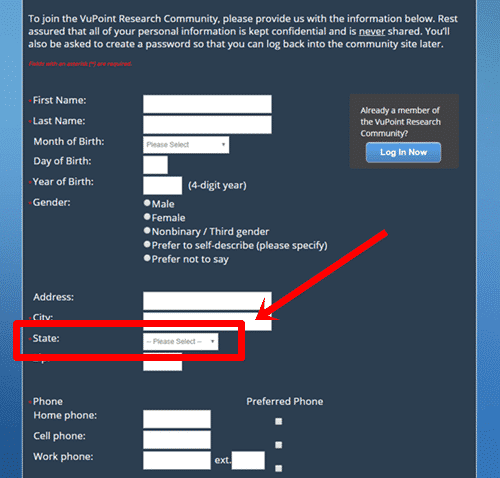 But as you can see in the photo above, it will require you to provide your address, state, and zip code.
The state field only has choices for US states. So, this site is only available for residents of the United States.
This makes sense really since the rewards you will get will be sent via postal mail. Logistically speaking, it would be pretty impossible for them to cater members from outside the US.
There also isn't any information about the age requirement. But normally, you'd have to be at least 18 years of age or older in order to join this type of panel.
The registration process is a bit longer because you have to answer several questions after you fill-up the registration page.
The questions during the registration process are used to build your profile so that VuPoint Research can determine what type of opportunities they can invite you to.
You have to make sure you answer those questions honestly because this will be their basis for qualifying you for research activities.
Can you get support?
Being able to get support is a good indication that a survey site is a good site. You will, at some point, have questions or issues that need addressing.
If you can't get an answer quickly, or have the issue resolved as soon as possible, then chances are, you'll just abandon a site and move on to the next opportunity.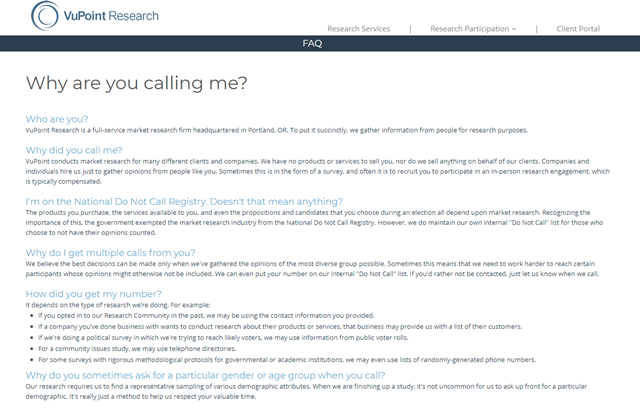 In VuPoint Research's case, they do provide an FAQ section, but it lacks several key topics that need to be addressed, like the rewards you will get, who are eligible to join, etc.
This is a serious mistake in my opinion.
Not only do you, as a potential member need this kind of information, but it can also help current members. Plus, they don't have a contact page on their website.
They do provide phone numbers for their 3 offices. So I presume you will be able to call those numbers if you have any inquiry or issue that needs to be resolved.
At least, you get the chance to talk to a representative if you call those phone numbers. They also provide an email you can use to contact their support team.
All in all, it's good that they provide a number you can call or an email address you can use if you have any inquiries. You will definitely need them at some point because of the lack of information on their website.
Final Verdict
VuPoint Research is a legit market research company that does pay you for participating in their research activities. But it does have some problems.
So let's finish this review with a summary of its pros and cons to help you decide if this site is for you or not.

Pros:
Has a phone number you can call if you have any questions
Has an in-person earning opportunity that will pay you significantly (if you qualify)

Cons:
Has a lot of important information missing on their website
Low earning potential if you don't live in the area of their offices
No option to get paid via PayPal
As you can see, the lack of relevant information on their website provides little incentive to really consider it as a good choice.
However, if you live in the areas where their offices are located, there's a chance you can earn significantly if you qualify for their in-person research activities.
The fact that you cannot redeem your rewards via PayPal makes it a significantly less ideal choice. There are simply plenty of other survey sites that you can join which would be a better use of your time, in my opinion.
If you are interested in these, I suggest you check out the top survey sites in your country instead.
The sites on this list are pretty transparent with what you will get. Best of all, you will be able to earn on a regular basis regardless of where you live.
If you have any comments, questions, or have any experiences with VuPoint Research yourself, I would love to hear from you in a comment below.