Participating in research activities will actually allow you to earn a decent amount of money. That is, of course, if you sign up for a legit company.
One example of a company that provides research activities is Mars Research (no, this is not the NASA one).
If you've seen this site while researching for ways to earn a few bucks online and you're interested in joining their panel, then the next step is to validate if they are a legit site or not.
So, is Mars Research a scam? Or is it legit? Let's just get this out of the way so we can focus on the other important matters about the site. No, Mars Research is not a scam. It does pay you for participating in their research activities.
However, this doesn't automatically mean the site offers a good way for you to earn a few bucks. There are actually plenty of factors you need to consider.
This Mars Research review will give you an in-depth look so you will have everything you need to know to make an informed decision on whether joining their panel is a good decision or not.
What is Mars Research and what does it offer?
Mars Research is a market research company that offers a comprehensive range of services. But if you were expecting it to be purely a survey site, you will be disappointed.
It mainly offers research activities as a way for you to earn extra money and let me just tell you right now, most of the activities will ask you to go to one of their facilities in order to participate.
So, if you this is not your thing, then this not the site for you.
They do offer one opportunity where you won't be required to go to their facility to participate.
Now, in order to get a clear picture of the site's earning potential, we have to take a closer look at how you will be able to earn from this site.
So, here are its earning opportunities.
Option 1 – Focus Groups
One way for you to earn a decent amount of money on Mars Research is to become a panelist in any of the focus groups they hold. This is the main way they gather information for their partners.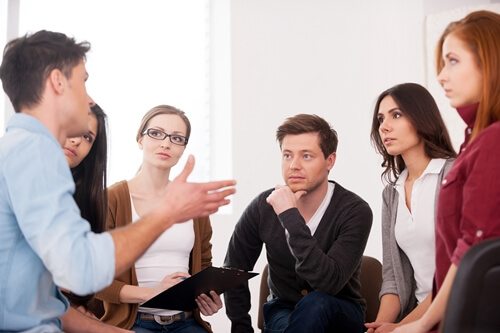 By definition, a focus group is " gathering of deliberately selected people who participate in a facilitated discussion intended to elicit consumer perceptions about a particular topic or area of interest."
So, as you can see, you will need to be physically present in a location in order to participate in a focus group. The facility where they hold their focus groups is located in Fort Lauderdale, Florida.
If you live far from this area, participating won't really be a good option since travel expenses may exceed the compensation you will receive after completing it.
But if you are near their location, once you finish a focus group session, you stand to earn a significant amount of money (typically in the hundreds).
Their focus groups will offer you the opportunity to give your opinions on new products, services, and ideas. You will be compensated for your opinions and/or receive free products or services.
If you live in the Mars Research area, focus groups like this can actually also even be quite fun to participate in, in my experience.
Option 2 – Taste Test
Mars Research also offers a unique opportunity for you to earn money.
You can also join their taste test panel and get the chance to give your opinions on new fast food products. So, you will essentially be paid to eat (and provide feedback, of course).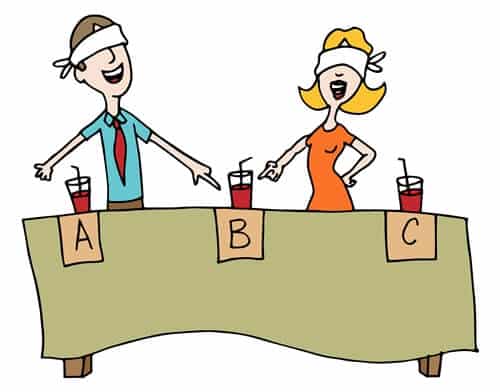 However, just like their focus groups, you will only be able to participate in this if you go to their facility just outside the Sawgrass Mills Mall in Sunrise, Florida.
Each taste test session will usually last about 30 minutes and you will receive $30.00 for completing it.
Option 3 – Paid Studies
From time to time, Mars Research also conducts paid studies. This usually starts with a survey.
When you visit their site, you can go to the Upcoming Studies (the link can be found at the bottom part of their website) section to view all the available studies.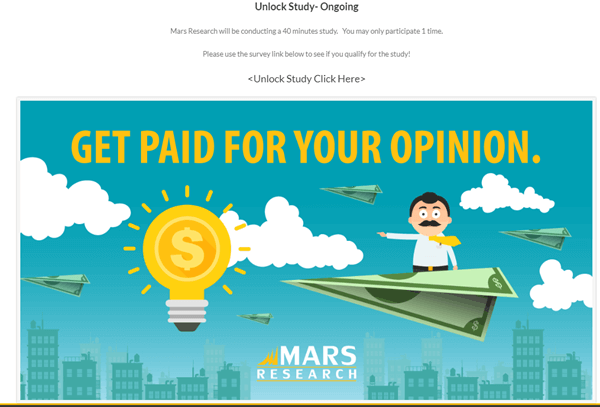 You have to click the link to get to the qualifying survey. You will then have to answer several questions.
These questions are designed to figure out if you belong to the demographic the study is targeting.
So, in essence, the process is actually pretty similar to the paid survey offers you will encounter on survey sites.
If you qualify for the study, they will contact you either via email or phone and give you more details on how you will be able to participate in the study.
How do you get paid?
All of their earning opportunities are conducted in their facility except for the paid studies.
In my experience, when a research activity is conducted onsite, you will usually be paid in cash or check once you complete it.
So, expect to receive compensation as soon as you finish the activity.
As for their paid studies, they don't mention any additional information about how they pay you.
But in my experience, in paid studies like these, the compensation will be sent via mail, usually in the form of a check or prepaid Visa card.
How much money can you make?
You can make a significant amount of money from Mars Research if you participate in their taste tests and focus groups. These kinds of earning opportunities typically pay well.
However, as you can see, the main issue with these types of earning opportunities is that it is only really ideal for people who live near their facility. So, it's not for everyone.
If you live far from their location, the only way you can earn is by participating in their paid studies.
They do mention that you will be compensated for it depending on the length of the study. So, the longer the study, the more you will earn.
But, don't expect to earn regularly from their paid studies because they aren't always available.
If you are looking for sites that will allow you to earn at the comfort of your own home, I suggest you check out the fastest paying survey sites instead.
The sites on this list all have a low payout threshold, so you will be able to earn quickly and regularly.
Can you use it on mobile?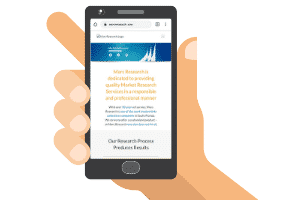 Your mobile device will only really be of use on this site if you are doing paid studies.
They don't have a standalone app you can download so you can only access their site using a mobile web browser.
Fortunately, their site is optimized for mobile use. That means you won't have a hard time navigating through the site and reading all the content.
This makes it easier for you to participate in their paid studies because you won't need to sit in front of the computer to do so.
Who can join Mars Research?
This panel is only available for US residents. If you want to participate in their focus group or taste test, you will have to be of legal age to do so (18 years old or older).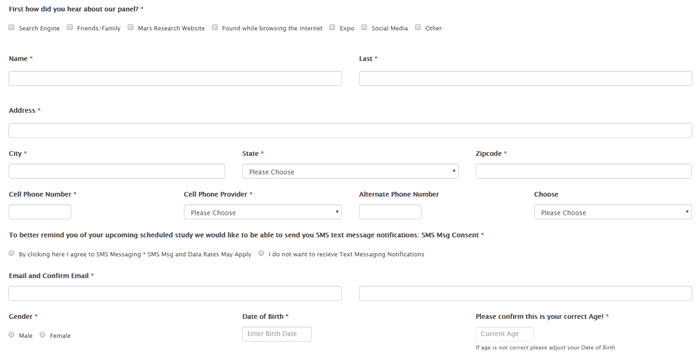 To become a focus group panelist, you will first have to apply by filling out their application form (shown in the photo above).
The form is a bit more comprehensive than the other registration forms you will usually encounter. So, if you are really interested in becoming a panelist, you have to take the time to fill that out.
Their taste test panel also has a separate application form. If you want to be part of their taste test panel, you will have to go through the application process just like their focus group panel.
Once you've submitted the application forms, they will then contact you to participate in their research projects. So, make sure to check your email from time to time after you've submitted your application forms.
Can you get support?
If you need to contact their support team, you can do so by using their contact form.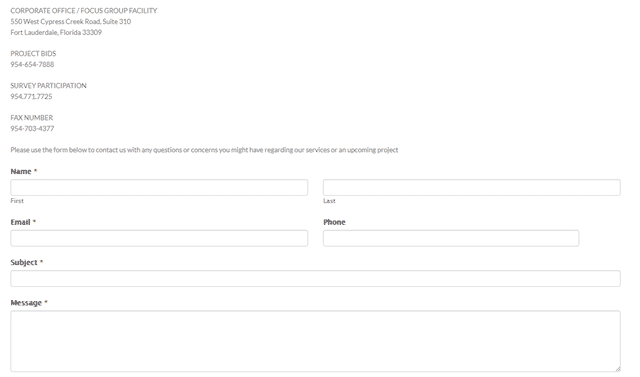 They also have a phone number you can call for your inquiries about the paid studies you participated in.
They don't have an FAQ page, which, in my opinion, is not a good thing. This could have at least helped them lessen the chances of receiving inquiries.
But overall, they do provide a decent way for you to contact their support team.
Final Verdict
Mars Research is a market research site that offers unique earning opportunities. It has a couple of good qualities but it also has some glaring disadvantages.
Here's a summary of its pros and cons to help you decide if you should become a member of their panel or not.

Pros:
Offers fun and unique earning opportunities
Pays well

Cons:
Limited earning opportunities
Most of the earning opportunities will require you to go to their facility
As you can see, the only way for Mars Research to be very beneficial to you is if you live near their facility. That way, it will be advantageous for you to join their panel.
Their focus groups and taste test sessions pay relatively well. But of course, that will only matter if you are able to participate.
The only real opportunity they provide if you live outside of Florida is their paid studies.
But you really can't rely on it if you plan to earn on a regular basis because their paid studies aren't always available. Yes, you will be able to earn a decent amount, but that won't be on a regular basis.
If you want to earn extra money regularly, your time will be better spent joining other sites. For a list of those sites, I recommend you check out the top survey sites in your country.
The sites on this list all have earning opportunities you can do in the comfort of your home. Plus, you will be able to find a site that you can join regardless of where you live.
If you have any comments, questions, or have any experiences with Mars Research yourself, I would love to hear from you in a comment below.