Are you a health professional looking to earn extra cash?
If so, there's a site called M3 Global Research that claims you can earn by answering surveys and participating in other market research activities.
But the question is, is this site legit, or is it a scam?
Well, if you continue reading this M3 Global Research review, you will know the answer to that question and more.
In this review, I will discuss everything you need to know about this site so you can find out exactly how it works. Then, you can decide if it is indeed the right fit for you or not.
So let's go ahead and take a closer look at this site, shall we?
What is M3 Global Research, and what does it offer?
M3 Global Research is a market research company that specializes in collecting data from healthcare professionals.
The data this company collects are used for various health research, and it is indeed a legit site since you will really get paid for participating in the market research opportunities it offers.
The video below shows a snapshot of what M3 Global Research has to offer if you decide to join the panel.
Recommended: Check Out the Top Survey Sites in Your Country
Now, to figure out if it is worth it, you must first understand how it works. And the best way to do that is to take a look at the earning opportunities it offers. That way, you'll know how much time and effort is required to earn from it.
So here's how to earn from M3 Global Research.
Option 1 – Paid Surveys
Once you become a member of the panel, you'll be offered surveys to answer to earn rewards. You can log in to the member dashboard to view all the surveys available. You'll also receive an email if there are surveys available.
Every survey invite will indicate how much you will earn for completing it. Every survey that will be offered to you will be specific to your profession, so there's not a lot available. When you start working on a survey, you'll first have to answer qualifying questions.
This is done to ensure that you are indeed the right person for the survey. Survey sites do this to ensure they are gathering relevant information. If you fail to qualify, you won't get to answer the actual survey. All you can do is move on to the next survey available if there are any.
If you do qualify, you get to proceed to the actual survey. It usually takes 20 to 30 minutes to complete a survey from M3 Global Research. Once you finish the survey, the site will review your answers, and if everything is in order, you will receive the compensation promised.
This process usually takes up to two days, so don't expect to receive your compensation immediately. Later, I will discuss how you will get paid. This earning opportunity is relatively straightforward, and if you are a member of other survey sites, this will be very easy for you.
The important thing to remember with this earning opportunity is to be consistent with your answers. You should also not speed through the survey by just clicking on any answer. Read all the questions thoroughly and give honest answers. This is the best way to ensure you earn from the surveys you receive.
Option 2 – Other Market Research Opportunities
Another way to earn from this site is to participate in other market research opportunities. These opportunities can be telephone interviews, focus groups, webcam interviews, in-person interviews, social media research, chat groups, and more.
They are not that common, but they pay more than paid surveys. That's because these kinds of activities usually take more time and effort to complete. So if you ever get invited to participate in one, I suggest you grab the opportunity if you want to maximize your earnings from this site.
Recommended: Check Out the Top Survey Sites in Your Country
How do you get paid?
Every time you successfully complete a survey or other market research opportunities, you will earn a specific amount. However, the payment you will receive will vary depending on the opportunity you participated in.
For example, if you successfully completed a survey or other opportunities done online, the payment will be sent to your M3 Wallet. Then you can request payment once the compensation is reflected in your M3 Wallet.
You don't need to hit a threshold to withdraw your earnings like you usually would with other survey sites. Payment can be done via check, which will be sent to you through the postal mail, or you can choose to receive a prepaid M3 debit card.
Just take note that these prepaid cards may not be available in all countries. You have the option to receive a virtual card or a physical one. Plus, you also have the option to receive Amazon gift cards instead.
For in-person opportunities that will require you to go to a specific location, you will receive a check once you've completed the opportunity. This seldom happens, so it's not something you can expect. Most of the time, your earnings will be sent to your M3 Wallet.
Overall, the payment system of M3 Global Research is relatively straightforward, and I like the fact that you can request payment immediately once you receive your earnings.
However, the payment system is rather inconvenient, in my opinion. If you prefer sites that offer a convenient payment method, I recommend you check out the top sites that pay via PayPal instead.
How much money can you make?
The thing with specialty sites like M3 Global Research is that they usually pay significantly higher than regular survey sites. For this site, you can usually expect to earn around $50 to $300 for surveys. For other more personal opportunities like interviews or focus groups, you can potentially earn more.
However, you have to keep in mind that you will not qualify for every survey you get invited to participate in. So you can't really expect to earn regularly from this site. So it's not something that you can do full-time.
Plus, while the pay is relatively high, the opportunities to earn aren't that many. You can consider yourself lucky if you get invited to participate in earning opportunities twice a month. This is why I would still consider the earning potential of M3 Global Research as not that good.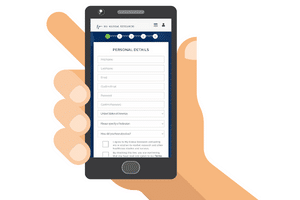 Can you use it on mobile?
The site doesn't have a mobile app you can download, but it is mobile-friendly. So you can still access the dashboard from your mobile device conveniently. You also don't have to zoom in to click links or read all the content properly.
So it is possible to answer surveys even from your mobile device, which is a good thing, in my opinion. This can significantly increase your chances of earning since you don't have to sit in front of a computer to answer surveys.
But for other market research opportunities like online focus groups, you'll have to use a computer to participate. It would be quite inconvenient to do it over your mobile device.
Who can join M3 Global Research?
M3 Global Research is available more or less worldwide. However, you need to know that the earning opportunities offered will still depend on the country you live in. Based on my experience, most opportunities are for residents of countries like the US, Canada, the UK, Australia, and other countries in Europe.
So if your country is not mentioned above, then the opportunities to earn might be few and far between. That's why I suggest you only join if you live in any of the countries mentioned above. If you take a look at their registration page, the first countries that are listed are the ones with the most opportunities to earn.
If you see your country listed in that section, then it would be safe to say that you can register as a member. Plus, you also have to be at least 18 years of age to register.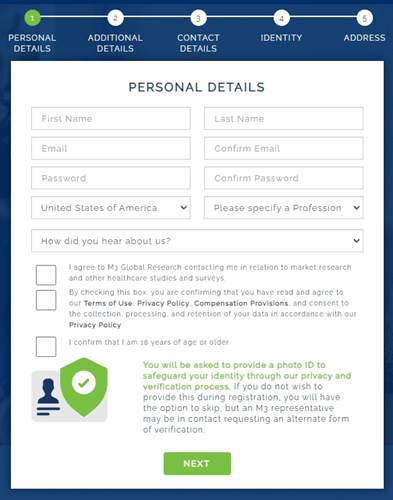 The registration process is a bit more complicated than your usual survey site. You will have to provide a photo ID and some details about your profession. You'll also have to provide your mobile number because the site will need to send you a confirmation code via SMS to verify your registration.
After you've completed the five steps of their registration process, you will be entered into their pool of participants. Once that happens, you can log in to the member dashboard and check if there are opportunities for you to earn.
Can you get support?
If you have any questions about the site or your account, you can check out the FAQ page first. It discusses most of the important topics you need to know. But if you can't find the answers you are looking for, you can get in touch with their support team in a couple of ways.
You can email your inquiry to them, or you can submit a support ticket. You can also call their hotline for specific countries. The details can be seen on their contact page. Just check it out to find out how to get in touch with their support team.
Overall, I would say the site does provide decent support for its members since it offers multiple ways for you to request assistance.
Final Verdict
M3 Global Research is a legit market research company that will pay you for answering online surveys and participating in other market research opportunities. It has a couple of advantages, but it also has a few disadvantages you need to be aware of.
Let me summarize its pros and cons to wrap up this review, so you can get a clear overview of what exactly it has to offer. Then you can decide if this site is a good fit for you or not.

Pros:
No payout threshold
High rewards

Cons:
Limited earning opportunities offered
Doesn't offer convenient payment methods like PayPal
You have to be a healthcare professional to participate in the earning opportunities
In my opinion, M3 Global Research is a decent site to earn extra cash, provided you are a healthcare professional. If you aren't, you are better off earning extra cash through other methods.
The site offers high rewards, but the availability of earning opportunities is low, so you won't earn regularly from it. It also doesn't offer convenient payment methods like most survey sites, so I suggest you only join if you are okay with the payment methods it offers.
Now if you are not a healthcare professional and you are looking for ways to earn extra cash, I suggest you check out the top survey and GPT sites in your country instead. The sites on this list all have good earning potential, so you will be able to earn decent money in no time.
If you have any comments, questions, or have any experience with M3 Global Research yourself, I would love to hear from you in a comment below.