Onlinepanel.net claims it has a lot of free ways for you to earn some extra money on the side online.
But is Online Panel NET legit and a site worth joining, or is it just a waste of time?
Let me reveal right away that it is legit, and I have been paid by it myself – but whether it is worth it or not depends a lot on your expectations and preferences.
In this Online Panel NET review, you will, therefore, find all the details about what this site has to offer, and it will be compared to other similar sites, so you can easily see if this is the site for you to join or if you should rather join other survey or get-paid-to sites instead.
What is Online Panel NET, and what does the site offer?
Online Panel NET was launched in 2018. However, it has not been updated much since, so it looks a bit outdated now, in my opinion.
That does, however, not necessarily mean it will not be worth it but just something to take into your overall consideration before you decide to join or not.
It was created by market researchers with more than 20 years of experience, and it has the company Buy Biz Charts Ltd. behind it.
So I can reveal right away that Online Panel NET is not a scam, but it is a legit site, and it is a site where it is possible for you to earn actual money and get paid. I know this, as I have been paid by it myself.
That it is legit does, however, not mean that it will necessarily be worth joining, and in my opinion, it has both good and bad sides. But let's go over what it has to offer, so you can see and judge for yourself whether it is worth joining or not.
Option 1 – Paid surveys:
There are a decent number of paid surveys available on Online Panel NET.
It can, however, at first be a little confusing to find out how to take them, as there are several categories with surveys.
The above image just shows three of the categories that have surveys.
The reason for this is that Online Panel NET does not in itself have surveys. All the surveys on the platform are offered through what is called third-party providers. So you are taking the surveys from other providers on Online Panel NET and will get paid into your Online Panel NET account.
There are many surveys and GPT sites that offer surveys like this, and it works well, and it means you will find many surveys here and often several opportunities every day. You do, however, have to log in and check for available surveys, as you will not be notified via email about available surveys.
The disadvantage of a platform that only offers surveys this way is that you, at times, have to be a bit patient to find the surveys you qualify for. But with a bit of patience, it is possible to figure out which providers are best for you and just focus on these.
Since the surveys there are through third-party providers, the same surveys are also often offered at other survey sites. In my experience, many of the same surveys will give you a higher reward by taking them through one of the top paying survey sites.
But you can definitely find a good amount of surveys on Online Panel NET, and it can be a great site to get access to many kinds of surveys within one platform.
Option 2 – Tasks:
Online Panel NET has a section with tasks. There are not a lot of these tasks, and in my opinion, the name "tasks" is not the best term as it does not say much about what you actually find here, and it is the thing I like the least about the platform.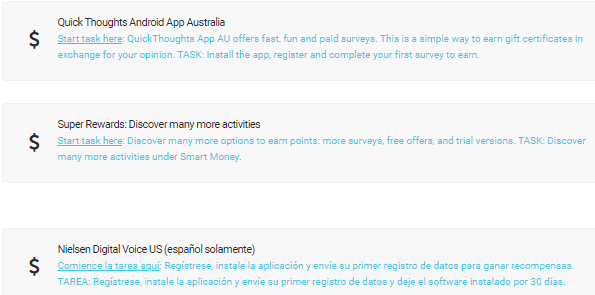 It is not as such tasks as you will often find tasks on other survey sites or as the micro-jobs mentioned in the next section.
It is just offers Online Panel NET gets paid a commission to promote. Nothing as such wrong with this, but you should be aware that it is not a task you will get paid to do. It is promotions to sign up for other survey platforms or GPT sites – by promoting these to you, they will get a commission.
There is nothing wrong with this, as they, of course, also need to make money developing and running the platform. And all the tasks I have seen there are for legit offers. I just think it is a bit strange to call it tasks and make it sound like you can do something to earn when it belongs in an offer section.
Also, in the image above, you can see one of the "tasks" I could earn by doing was from Super Rewards – when clicking this, I was just taken to the "popular offers" section on Online Panel NET. So that can be a bit confusing.
But it definitely can be a way to earn on Online Panel NET, and you might find some interesting sites you can sign up for and join here. It has a very limited number of these tasks, but if you find one available in your country, the reward is usually pretty good.
Option 3 – Apps & tests:
The apps & tests section used to be called the deal and trials section. It is what on many other similar platforms is called an offer wall or paid offers.
On Online Panel NET, you do, however, do get access to a list with a lot of different offerwalls as you do on the top GPT sites.
Instead, you just get to one offerwall. You can find different kinds of promotional offers you can sign up for and get a bonus here, but there are not that many options since you only get access to one offerwall.
The exact offers you will find here depends a lot on the country you live in.
It can be worth checking out this section once in a while, as you can sometimes find some great bonuses here. But always make sure to check the conditions of the offers before taking them so you are sure what the conditions are.
Some of the offers you have to pay for, but they can also sometimes even give a higher bonus than your investment, whereas others will not be so good offers.
Also, some of the free trials might continue as a paid subscription if you forget to cancel it, so be sure to check out the conditions and know what you are saying yes to.
But overall, if you like taking paid offers, there are many other sites that give better opportunities for this.
Option 4 – Wheel of Fortune
OnlinePanel.net used to have a weekly free contest you could participate in. It was called Wheel of Fortune.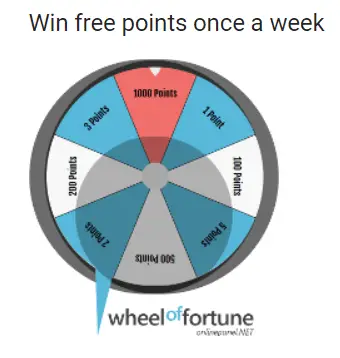 However, this option is not available anymore. But I still wanted to mention it here in this review as a lot of readers have asked about how to find it now.
I have created a video tutorial of Online Panel NET so you can get an inside look and see exactly what it offers and how to use it. You can read more details below the video:
Recommended: Check Out the Top Survey Sites in Your Country
How do you get paid?
As you can see, Online Panel NET has a decent amount of opportunities to earn. When you take a survey, do a task, etc., you get paid in points.
These points can then be exchanged into cash and are paid out through PayPal. 10 points are worth $0.01.
PayPal is the only payout method offered on Online Panel NET. Personally, I do not mind this, as it is a great and easy way to get your rewards, and I, therefore, actually prefer sites that offer PayPal as a payout method.
But if you live in a country where PayPal is not available, or if you do not like to get your rewards this way, Online Panel NET is not the right site for you.
You have to earn $10 (this is 10,000 points) to get your earnings out. Once you have reached this amount, your money will automatically be transferred to your PayPal account.
Be aware that the payout will not be processed until after the 15th of the month after you request a payout.
That means it can take 3-6 weeks before you will get your money, depending on when you request a payout.
This is a very long wait compared to some of the fastest paying survey sites, where you can sometimes get paid within hours after having reached the payout threshold.
So the wait to get paid is long, and this is something you need to be aware of.
How much money can you make on Online Panel NET?
Online Panel NET has quite a lot of opportunities to earn. Sometimes it can take a bit of patience to find the surveys you qualify for, but not more than most other survey sites that have surveys from similar providers.
So it is a site where you can earn some extra money.
Exactly how much you can earn, of course, depends on how active you are.
As mentioned earlier, the rewards on Online Panel NET are however not always quite as high as on some of the top paying survey sites, and overall its earning potential is not as high as it is on many other sites I have tested.
In general, you should, however, remember that paid survey sites and GPT sites are not a way to replace a full-time income. It is a way to make some extra money on the side, and you can also make some really nice extra money, but you should not do it if your expectation is to become rich or get a full-time income.
Can you use it on mobile?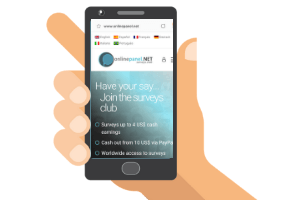 Being able to use a survey and GPT site on mobile is a great way to make some extra money while waiting when you have a little break etc.
It is possible to use Online Panel NET on your mobile. It has a fully optimized website for mobile, so it is as easy to use on mobile as on desktop.
As mentioned, it also has a whole section with app offers, and these you can, of course, only take by logging in from your mobile. So if you decide to join Online Panel NET, it can be worth logging in a checking out what it has to offer on your mobile once in a while.
Who can join Online Panel NET?
In theory, you can join Online Panel NET from any country. And since it first was launched, it has expanded and now actually offers quite good opportunities in many countries. This is one of the advantages of this platform.
The platform is also available in several languages, so it can be easy to use, even if English is not your first language. It is currently available in English, Spanish, Italian, French, German, and Portuguese.
Can you get support?
If you should need any support with your account, you can contact Online Panel NET's support. I have been in contact with the company a few times myself, and I have received a quick reply. So that is a good sign.
I have, however, not needed serious technical support or had problems with my earnings and similar. So cannot say how quickly you can expect a reply if you should need help with this.
It can at first be difficult to find info about how to contact the support, as there is no place to submit a form after you log in.
But if you scroll all the way to the bottom of the page, you will see an email address for support. So if you need support, this is where you find the email to contact them.
Final verdict
Online Panel NET is a legit survey and GPT site, and it has both good and bad sides.
So let's finish this review with a quick sum-up of the pros and cons so you can get a better overview before deciding if you want to join or not.

Pros:
Pays out through PayPal
Ways to earn in many countries

Cons:
Can take patience to find surveys you qualify for
The payout process is slow
Sometimes the rewards are not quite as high as on other sites
Overall, Online Panel NET is a legit site, and it can give you some decent chances of earning some extra cash on the side.
It is, in my opinion, however, not one of the absolute top survey sites, as it sometimes has a little lower rewards than some other sites.
Also, even though the payout threshold is fairly low, it takes a long time to get your earnings as the payout process is very slow compared to most other sites I have tested.
That is why I do not really use the platform much myself, as I prefer focusing on sites that offer better earning opportunities and that are more user-friendly.
If you have any comments, questions, or have any experiences with Online Panel NET yourself, I would love to hear from you in a comment below.